Travel / Berlin
Perfect misfit
The newly opened Orania Berlin in rough-and-ready Kreuzberg is hitting all the right notes with its innovative music-first approach.
"I like to leave things as they are – with rough surfaces," says hotelier Dietmar Müller-Elmau as his hand glides over the faint grooves of a tabletop. "If you leave people and things as they are they work together very well. It's only when you try to homogenise them that they don't fit anymore."
Elmau is already a noted master of making spaces in which people love to linger: his feted property Schloss Elmau in the Bavarian Alps nabbed headlines for hosting a G7 conference but it's also been an escape for the great and the good for the past century. The hotelier's latest project, Orania Berlin in rough-around-the-edges Kreuzberg, is another beast entirely. And not one that our host plans on taming entirely.
"My friend and partner bought the building 10 years ago. He wanted me to turn it into a hotel but I said no, there are too many hotels in Berlin," says Müller-Elmau. "Then he commissioned an architect to do it and showed me the plans and I said, 'That's garbage, you can't do it like that.'"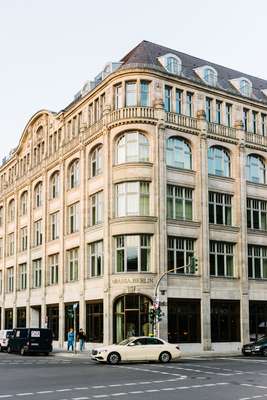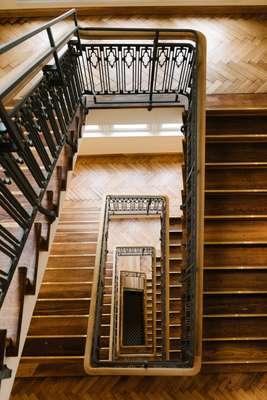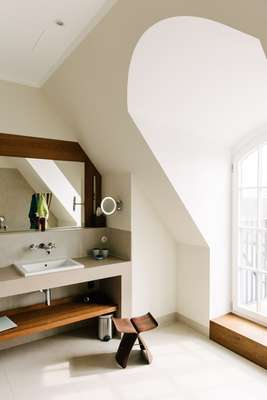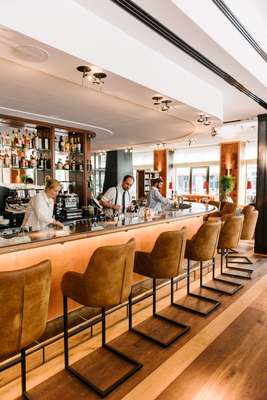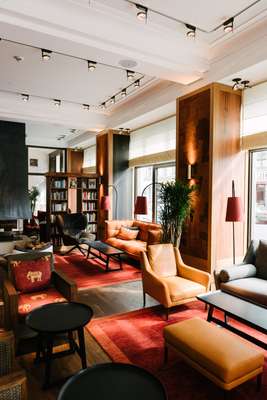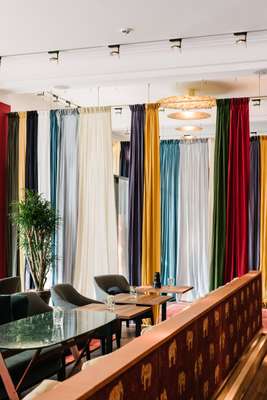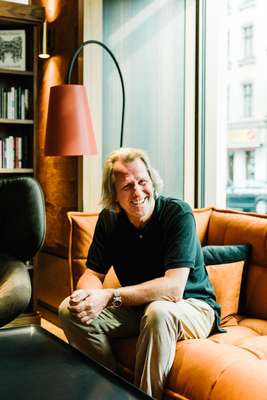 Müller-Elmau's condition for conducting the ambitious revamp was simple: creative control. The transformation of the six-storey building from 1913 into a smart new 41-room hotel was done with music in mind and about a quarter of the lobby bar is taken up with a deep stage holding a Steinway grand piano. Artistic director Julien Quentin has been charged with creating a programme of Kreuzberg artists (from electric to chamber musicians and jazz maestros) to play each evening.
True to his word, it was Müller-Elmau's keen eye for design that transformed the premises. The pillars and finishes are made from German apple, plus walnut, cherry and teak, while rose-red Iranian carpets and golden sconces come courtesy of Enzo Catellani. Upstairs the rooms (and 16 suites) are decked out with plush sofas from b&b Italia and furniture from Lambert Home, Saemmer rugs and comfy German-made Schramm mattresses.
"The design concept of this place is about celebrating the diversity of materials," says Müller-Elmau as he shows monocle around the Orania Salon, a screening room and kitchen bar on the fifth floor that will double as a free-to-use jam space for musicians. "A hotel is a place where strangers meet and you have to not impose on them – this has to be reflected in the architecture."
One echo of Müller-Elmau's other famous property is the elephants on the textiles, a design by London-based Andrew Martin that Elmau discovered 15 years ago, which can be seen on everything from cushions to headboards. It provides a welcome note of humour. "In Schloss Elmau the elephant has been popular with everyone from Obama to our carpenter."
But opening a high-profile hotel in such a spit-and-sawdust neighbourhood hasn't gone unnoticed by the locals. "This is the centre of the anarchy scene in Germany," says Müller-Elmau. He gestures towards leafy Oranienplatz, where a vast poster of a ponytailed anti-establishment political figure has been erected (Elmau believes it has been intentionally placed to stare menacingly in through the lobby window). "We were threatened by some radical leftists who said that we don't fit here," he says, pointing to a few paint splats on the wall outside. "Our managing director and chef are from here. We provide jobs and pay taxes but we are non-conformists too. It's very Kreuzberg that we don't fit. We don't want to fit."
orania.berlin
The Orania Berlin is an excellent place to lay your head, tap your toes and unwind but there's much more to discover in cosmopolitan Kreuzberg. Here are a few of our favourites.
Coffee:  Bonanza Coffee Roasters: The second outpost of this third-wave roastery and café that's all high ceilings, white-and-wood finishes and a great cup of joe.
bonanzacoffee.de
Dinner:  3 Schwestern: No-nonsense southern German (think roast pork and schnitzel) in an old nursing school, which dates back to 1845.
3schwestern.com
Drinks:  Rias: One of the neighbourhood's more grown-up joints, playing jazz and serving top-shelf tipples.
100 Manteuffelstrasse
---
Voo Store: A cracking collections of men's and women's streetwear, plus a desirable inventory of shoes, accessories and books.
vooberlin.com
Minimum: Furniture and homeware with a focus on the functional, stocking Hay, Alex Valder and Minimum's own range.
minimum.de
---
Gallery:  Berlinische Galerie: An underrated gem showing work by the likes of maverick eroticist Dorothy Iannone and futurist George Grosz.
berlinischegalerie.de