Retail / Global
Shop, read, watch
Briefing
Tasty tea, lush flowers, smart books and enjoyable albums.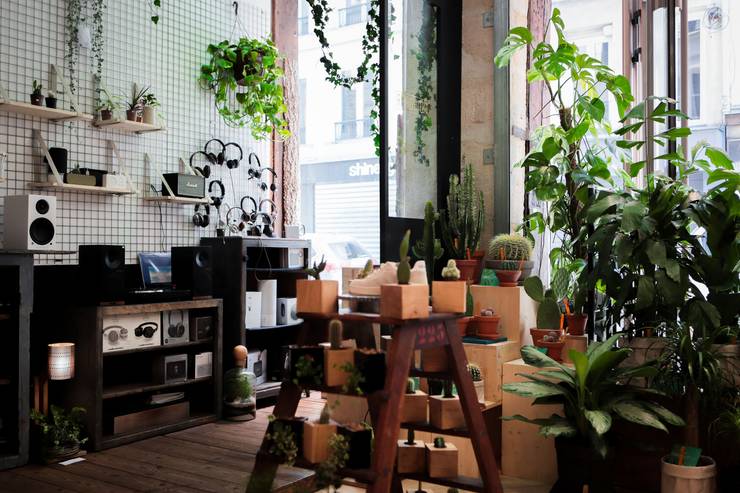 Tired of the classic retail-distribution circuit of shops and tradeshows, six young entrepreneurs joined forces to open a space dedicated to fine finds for men. Found in the 2nd arrondissement, the shop stocks a selection of 140 brands, among them the ones the founders had themselves started previously: Apto, Oncle Pape, Monsieur London and Newstalk. The inventory extends to ready-to-wear clothing, food, accessories, wine and gardening tools; there is also a barbershop and co-working space downstairs.
la-garconniere.fr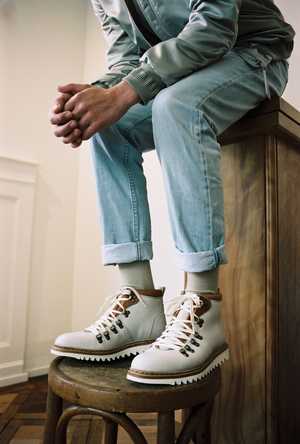 Le Majordome has sold made-to-measure men's shoes in Zürich since 2012. "People wanted our shoes but eight weeks is a long wait if you're getting married in two," says Daniel Bucheli, who joined founder Gian-Luca Cavigelli two years ago. To cater to the demand they opened a ready-to-wear shop. "We take time with every customer," says Bucheli. The shoes are made in Spain with a Goodyear welt sole and European leather. "There's only so much you can change; by adding touches we're developing our own style," adds Bucheli. A big workbench allows for minor alterations in minutes rather than weeks.
lemajordome.ch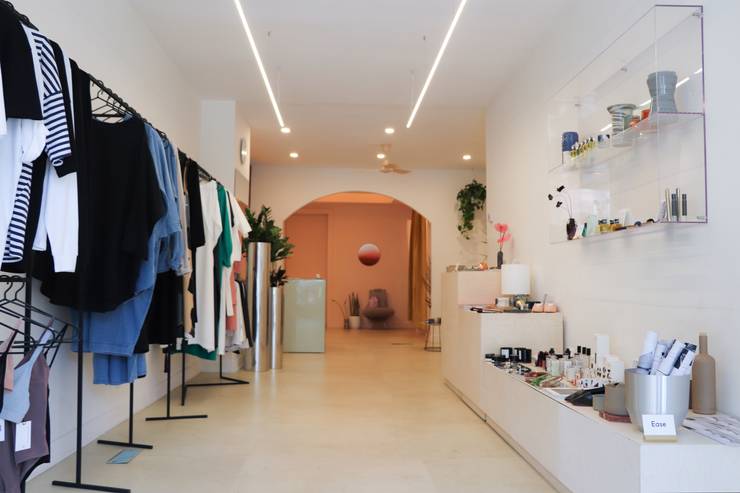 Ease is the sister space of Easy Tiger Goods across the way on Dundas Street West in Little Portugal, where owner Zai Rajkotwala selects stock for discerning women. Brands include bags from LA's Building Block, Markoo leather jackets from Toronto and Aydry & Co candles. "The pieces are intended to be a natural addition to enhance a woman's wardrobe," says Rajkotwala. The smart fit-out boasts a Muuto coffee table and a comfy Normann Copenhagen sofa.
everythingisease.com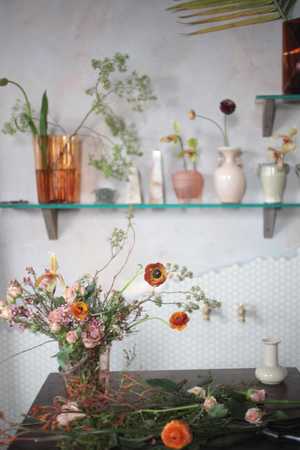 "I like flowers just at the moment before decline," says Sarah Ryhanen, who founded the Brooklyn florist Saipua in 2006. With a fine-art education but no botanical background, Ryhanen uses seasonal blooms and rare plants. "Cut something from the weedy side of the road," she advises would-be imitators. Commissions have ranged from fashion shows to Italian weddings but her heart is closest to her shop in Brooklyn's Red Hook and the upstate New York farm Worlds End, where she and partner Eric Famisan grow flowers, teach classes and raise Icelandic sheep.
saipua.com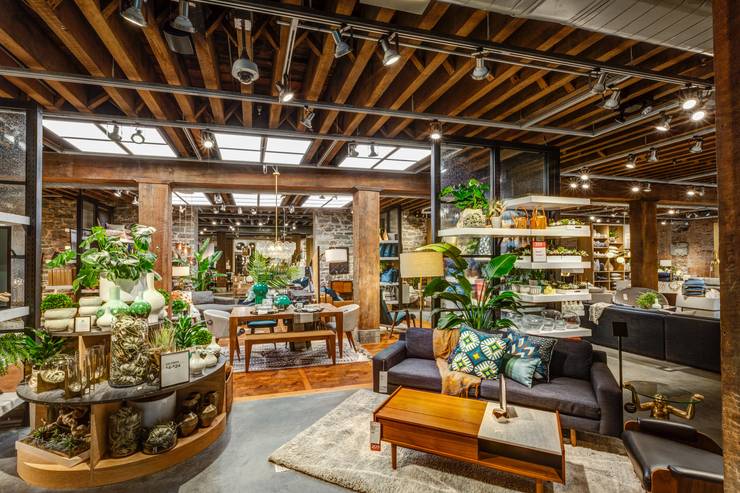 This collection of shops isn't a mall and with good reason: New Yorkers have long been wary of them. But a restored 19th-century red-brick warehouse hosting food, drink and shop options fits right in. You can grab a coffee at the Feed Shop + Café and stroll along the East River to Shinola's new Brooklyn outpost. And should you miss out on a table at Cecconi's – the London-born pasta spot – there's a rooftop park with a fine view of the New York skyline.
empirestoresdumbo.com
Q&A
haelan kim
Co-founder, Knok Store
Berlin
Started in late 2016 in Berlin, Knok Store is a platform stocking a wide range of South Korean-designed goodies, from backpacks to soap. With a plan to open their first bricks-and-mortar in Mitte, founders Haelan Kim and Inti Castellazzi are poised to make their mark in Europe.
Why start Knok?
It's all down to our shared attachment to Korean culture: I'm from there and Inti's grandmother is Korean. We met at a design start-up where we worked as buyers; it meant we got to understand the thriving Korean design industry. We would like to bring this creative energy to Berlin and the rest of Europe.
Why Berlin?
It's in the centre of Europe and a comfortable city for expats who can't speak German. I fell in love with the city on my first visit here to see a friend. It has space and potential.
How would you describe your buying direction?
We love products with a Korean provenance or twist. They can be actual Korean brands or items made by Korean expats abroad – or second-generation makers.
What are your bestsellers?
Bag brands are strong: items such as the waxed backpack from Rawrow and the waist bag from Gear3.
knokstore.com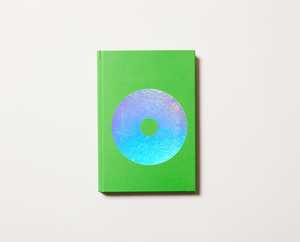 6.
Outside Material: The Cover Art of Preservation Music
Introduction by Dan Rule
A cynic might say that Sydney-based Preservation Music only released records so they'd have something to package the living daylights out of. Canny typography, spare graphic design, subtle use of photography, a tasteful colour palette. There is a lot to love, not just soberly appreciate, in this retreading of the work of founders and designers Andrew Khedoori and Mark Gowing; it's a masterclass in the depleted craft of sleeve design.
preservation.com.au
7.
Van Gogh – Duchamp: Oil & Water?
Fondation Vincent van Gogh Arles
The Van Gogh Foundation in Arles had a simple enough mission: to pay homage to the Dutch master's oeuvre. But it's gone beyond the marketing brief with this thoughtful collection of essays. The anthology compares two very different artists – a post-impressionist and post-modernist – but there's commonality, intrigue and magnetism between them too.
fondation-vincentvangogh-arles.org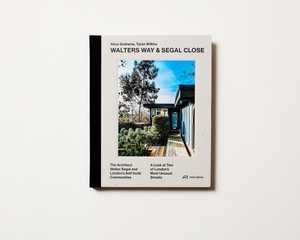 8.
Walters Way & Segal Close 
By Alice Grahame, Taran Wilkhu
Concerned by a growing waiting list for local-authority housing in the mid-1970s, a group of driven individuals at a south London council, who were taken by the architecture of Walter Segal, pushed for a self-built scheme. Documenting the residents building two tiny roads in Lewisham – which ended up containing 20 homes – the book is as much a study of community as it is interiors and architecture.
park-books.com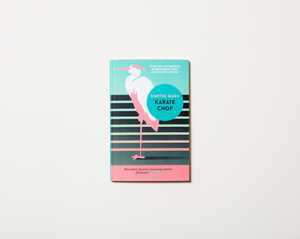 Jutland-based writer Dorthe Nors has achieved many things (such as a recent nomination for the Man Booker International prize) and her latest trio of works have maintained standards. The slim editions, adorned with abstracts by UK illustrator Aaron Munday, are proof that brevity is best. These short tales flash like lightning but echo like thunder on the themes of mundanity and madness. The books are saved from utter seriousness (and the reader from abject despair) by their wit and wisdom, and the fast clip with which they cover the details of everyday life.
pushkinpress.com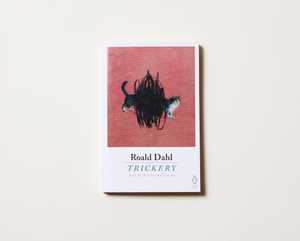 10.
Centenary editions
By Roald Dahl
To celebrate what would have been his 100th birthday, Penguin has amassed a few of Dahl's darker tales on the themes of lust, madness, cruelty, deception, trickery, innocence, war and fear, respectively. Macabre but devilishly thrilling, the editions are a glimpse of a literary titan at his finest.
penguin.com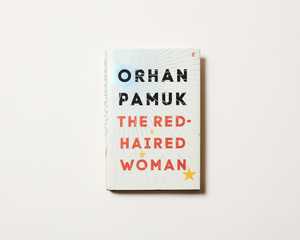 11.
The Red-Haired Woman 
Orhan Pamuk
Mysterious and immersive in its portrayal of a changing Turkey, this story follows a boy's journey into manhood and his infatuation with a titular and eminently intriguing auburn-haired maiden.
faber.co.uk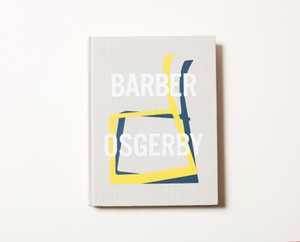 12.
Barber Osgerby Projects
Jana Sholze
Designers and collaborators for more than two decades, Edward Barber and Jay Osgerby are part of a venerable generation of British designers whose work started out at the top of its game and changed the rules for the better. Despite being split into somewhat mystifying chapters ("Folded structures" and "Frameworks", for example), the products – from Vitra shelves to Flos lights – are an estimable collection. The linen-bound book itself is also a handsome product in its own right.
phaidon.com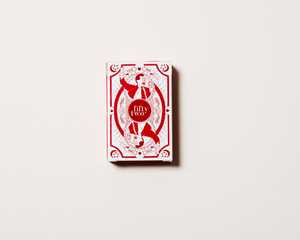 This deck is an homage to Singapore's 52nd year of independence by Singaporean branding agency Protocol. The icons, printed on French-linen stock, were drawn by artists and designers Goh Szeyi and Selva Priyanka, who didn't shy away from the less savoury sides of the "squeaky clean" nation, such as sketches of rabble-rouser Amos Yee and cross-dressing comedian Kumar. Players are advised to befriend a local to explain this finely composed national satire.
protocol.com.sg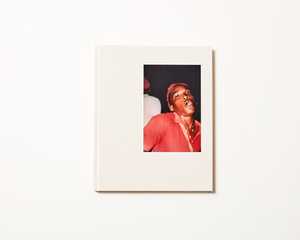 14.
Música en Santiago de Cuba
Thomas Pratt
"Being Cuban means a lot; being Santiaguero is everything," says Alain Garcia Artola, a musician and protagonist of Pratt's debut photography book. From rhythmic conga groups to Afro-Cuban-Franco-Haitian folk dances (shot on film with a Contax Aria), Pratt displays the colour and vim of the Cuban music scene.
thomaspratt.co.uk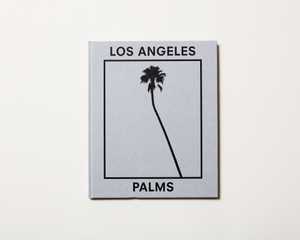 15.
Los Angeles Palms 
Marie-José Jongerius
Tinseltown's swaying palms were first etched on the global imagination as symbols of LA's promise through advertising and the silver screen. Today's trees – some healthy, others blighted – have been charmingly captured by Amsterdam-based Marie-José Jongerius. The pictures also touch on issues including homelessness, privacy, the environment and traffic.
ideabooks.nl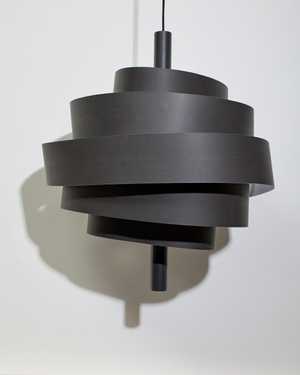 Designed by German-born and Spanish-raised Christophe Mathieu, this new addition to Marset is made from five metres of a spiralling laminated band that revolves around a singular point of light. "A lamp should look good even before you turn it on," says Mathieu, who knows what he's talking about. Made in Barcelona, the Piola model is available in white, graphite, light-green and pale pink.
marset.com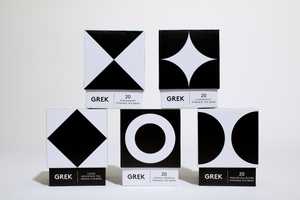 Greek food is among the world's most loved cuisines but Grek shows the Hellenic capacity to make a mean cup of tea too. "People outside Greece don't know much about Greek herbs beyond food," says founder Marina Tzima, who studied organic farming. The tea is blended and packed in the UK – which is where Tzima is now based – but herbs for its five flavours (to date) come exclusively from Greek farmers. Try the mountain tea with greenish flavours that give way to softer honeyed notes. The packaging is inspired by the xysta tiles of the isle of Chios, where Tzima spent her childhood summers.
grektea.com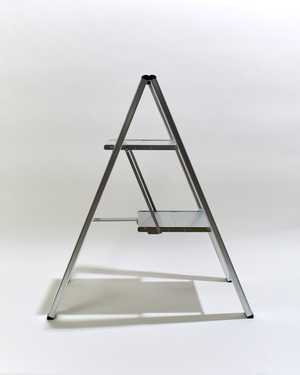 As living spaces shrink, staples you can fold, tuck and hide away are always a plus. Whether open or closed, the Hasegawa stepladder is a sleek specimen with sturdy lines. What you can't see here is how it niftily flattens to just under 5cm high for easy storage. Variations include a three-step model that is available in both silver and matte black.
Niwaki.com; scp.com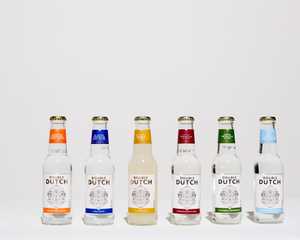 19.
Sodas
Double Dutch Drinks
A decent mixer should elevate a drink rather than just dilute the spirit within it. And it's in this, well, spirit that twins Joyce and Raissa De Haas decided to make their own. The ranges are flavoured: pomegranate and basil; cucumber and watermelon; and a zingy cranberry number. The results show that the Dutch-born London-based sisters can mix it with the best of them.
doubledutchdrinks.com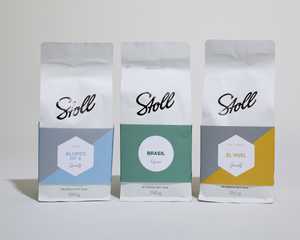 Stoll Kaffee started roasting coffee in Zürich in 1936. In recent years the team around Florian Amann expanded the product range and introduced nifty packaging and a fine font. Besides the selection of Arabica blends, Stoll added a number of single-origin specialities. "We always cherry-pick the best coffee beans," says Amann.
stoll-kaffee.ch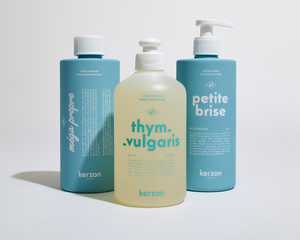 The brothers behind the Kerzon brand, Pierre-Alexis and Etienne Delaplace, wanted to give a second life to the lavender-scented sachets that their grandmother made. Each product has a subtle scent concocted in the perfume capital of Grasse in France. Be it a detergent or bodywash, Kerzon uses only eco-friendly ingredients; it has recently opened the doors to a first shop in Le Marais.
kerzon.paris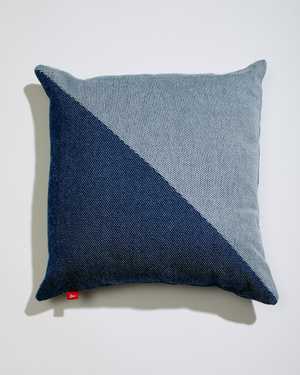 22.
Cushion
Lane x London Cloth
Made by 70-year-old tailor Ray in a small mill in Nottingham, the new creations of British homewear firm Lane continues to live up to its fine reputation for British craftsmanship. Putting environmental issues upfront, the material used for the collection is biodegradable, with the striped indigo and white design lending a look of 1950s Americana.
lanebypost.com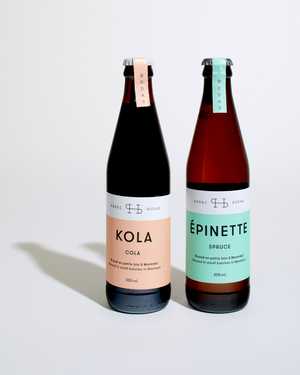 Having spent some time experimenting in his kitchen in Montréal, Henri Sodas founder Étienne Côté sought to offer craft takes on staple soft drinks: cola, root beer and the Québécois speciality, spruce beer. Côté, who launched his sodas in 2015, uses only natural ingredients and has replaced the glucose and fructose syrups with organic sugar cane. The striking pastel-coloured labels are by designers Ugo Varin and Shayne Tupper.
henrisodas.com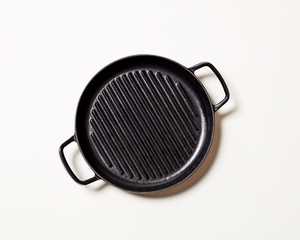 24.
Griddle pan
Crane cookware
As any chef worth their salt knows, a cook is only as good as their kit. British cookware firm Crane's expanding roster of well-made goodies includes this sturdy griddle pan, finished with matte-black enamel that provides a flawless cooking surface that's hard to scratch and holds heat with admirable longevity. The pieces are environmentally friendly as well: each pan is made up of at least 30 per cent recycled materials.
cranecookware.com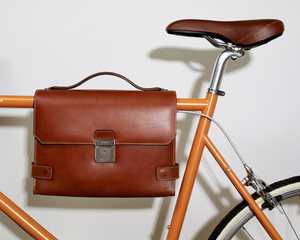 25.
Bike bag
Serapian x Tokyobike
In collaboration with Tokyobike, Italian leather specialist Serapian has designed a briefcase in veggie-tanned Tuscan leather. Available in a natural finish (pictured) or tan leather with black canvas, the bags feature triple-stitched loops. All materials are sourced in Italy and the bags are made at the label's headquarters in Milan.
serapian.com
Mimosas
Director: Oliver Laxe
This strange meditation on life and nature won its Morocco-based director the International Critics Week grand prize in Cannes last year. Leaving aside plot and dialogue, the film positions our humanity as the driving force behind a loose story of a dying sheik's final journey across the High Atlas Mountains. Best enjoyed on a large screen.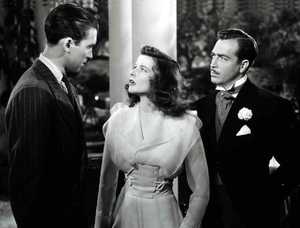 The Philadelphia Story
Director: George Cukor
Katharine Hepburn secured the rights to the successful play and offered them to mgm for a bargain price on the condition that she maintain complete control over cast and crew; naturally she gave herself the leading role. This stunning 4K digital restoration of the 1940 film on dvd and Blu-ray is a welcome addition to The Criterion Collection.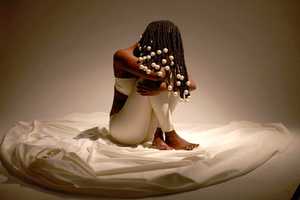 Rightfully empowered hands-on hippery with 14 killer tracks. One of the unmissable albums of the year.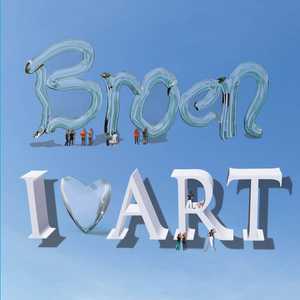 These Norwegian newbies have mined Oslo's deep jazz seams and Talking Heads for an album of skew-whiff wonder.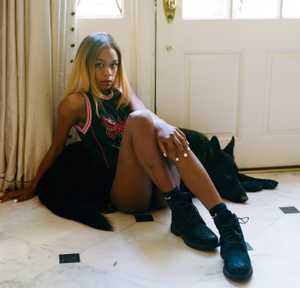 A reissue of the 2015 breakthrough: a spare, sexy, mesmerising, post-club masterpiece on vinyl.
Oh, Tori! You're 15 albums down and still supplying stories, surprises and earthquakes. A return to greatness.