Architecture / Global
Big ideas
We profile the small architecture and design studios that we'd hire to create great spaces for us: with Tokyo's Puddle nailing the hospitality sector, Laisné Roussel in Paris for residential buildings and If Architecture for retail.
A short stroll from monocle's Tokyo office there used to be a decrepit pink house that many people in the neighbourhood coveted. The old building looked unloved but had obvious potential and its location at the top of a sloping side street gave it expansive views. Then one day, the builders moved in. Demolition seemed inevitable but, instead, the house was slowly gutted, lovingly restored and painted a smart grey. Broad sliding windows were installed on the ground floor. It turned out that our new neighbours were Masaki Kato and his wife Naka, who run their interior-design studio Puddle downstairs and live upstairs with their two-year-old.
"I'm always looking for interesting spaces," says Kato. "I have so many stars on Google Maps and I check in from time to time." The little house on the edge of Shibuya was one such star and when it became available, Kato didn't waste any time. "The owners' original plan was to demolish it and open a parking lot. We met them and talked about our proposal and they started to change their mind."
Kato enjoyed a rigorous training, working first for Kengo Kuma – back then the stellar architect worked in a small building with only 20 staff – and then for Teruo Kurosaki, the influential founder of furniture and design company Idée. "From Kuma I learnt about design from the outside: the connection between buildings and their environment. From Kurosaki I learnt about the inside and the importance of lifestyle design, starting from basics – like a good table." Kurosaki was among the first in Tokyo to turn his back on Japan's notorious scrap-and-build culture and promote the idea of renovation over demolition. "Before then," says Kato, "I wasn't really designing for the long term."
Kato started his own company with a cohort from Idée – they worked out of a renovated carpark – and then in 2012 he started Puddle. When an old friend approached him with the idea of establishing a Japanese coffee brand, Kato took on the role of designing the café's interior. That brand, Arabica, started as a coffee bean shop in Discovery Bay in Hong Kong in 2013 and now has shops around Asia and worldwide. It has become Kato's portfolio and a showcase for his design philosophy.
His fundamental rule is to find a good space first: "I like a ground floor – somewhere we can create a relationship with the street and the neighbourhood." For San Francisco chocolate brand Dandelion, he dissuaded the company from acting on its first instinct to open in glossy Omotesando, instead finding a series of buildings with character: a factory in the earthy Tokyo district of Kuramae, an old kimono shop in Kamakura and a former post office in Ise. For Kyoto bar Before 9 he renovated a scruffy machiya townhouse, carefully keeping the character of the old building and leaving the street front much as it was.
Kato's other key rule is to design from the point of view of the person who will spend the most time in a building. In a coffee shop, that means the barista. At the Arabica coffee shop in Arashiyama in Kyoto, he renovated a small freestanding udon shop overlooking the Katsura River. "The textbook design would have placed seating outside but I wanted the barista to have a clear view over the river too." Instead there is a single concrete bench looking onto the water but placed below the window, which means that everyone – barista included – gets to enjoy the view uninterrupted.
The architect is forensic when it comes to a renovation, dismantling sections piece by piece and photographing the raw shell to get a sense of the building's bare bones. He also sticks to a basic palette that includes white, hinoki cypress and copper. "I believe in the power of natural materials and patina."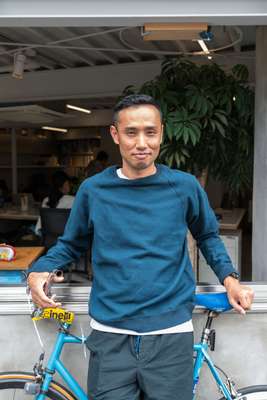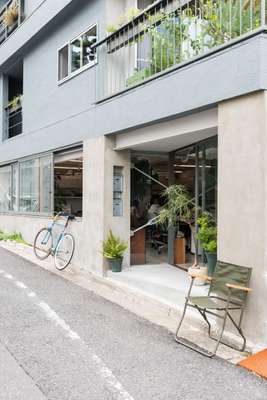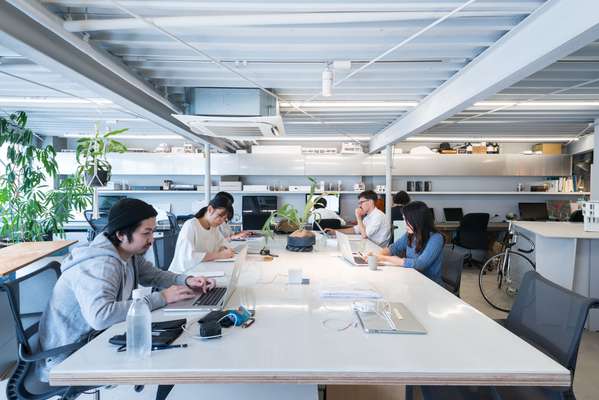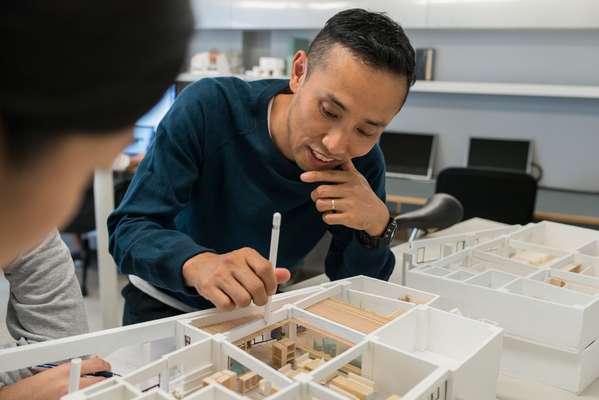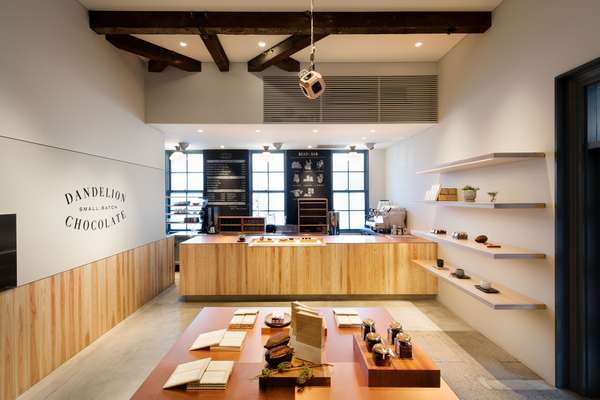 Kato has a team of seven designers, as well as a business manager; Naka oversees the Puddle brand direction. They're now working on a house renovation in Kyushu, an office in Tokyo and a photo studio. Their own house shows that their approach works for residences as well as retail.
Key projects:
Arabica Arashiyama
Kyoto
A tiny udon noodle shop was transformed into a striking coffee joint next to the Katsura River in Kyoto; the raised entrance ensures good views.
Before 9
Kyoto
A machiya townhouse provided the setting for this beer and saké bar in Kyoto; Kato opened up the wooden roof and left patches of the old wattle and daub.
Dandelion Chocolate Ise Geku
Ise
In a 90-year-old post office in Ise – originally designed by renowned architect Tetsuro Yoshida – Kato left some exposed brickwork and added a counter made from cedar.
"Humans are like plants," says Dimitri Roussel. "We thrive on light." Together with business partner Nicolas Laisné, Roussel is at the vanguard of a fresh wave of young architects emerging from Paris. After a slew of high-profile competition victories the pair – who founded the company together in 2003 – are increasingly making their mark on built environments across France and further afield.
Two of the most prominent of Laisné Roussel's current projects underscore this fascination with light and nature. L'Arbre Blanc (The White Tree) is a striking white residential tower, designed in collaboration with two other architectural firms to be a new focal point for the sunny city of Montpellier, southern France. Cantilevered balconies provide generous external spaces; blurring inside and outside is a recurring motif for the duo.
Meanwhile, in Nanterre on the outskirts of Paris, the pair have conceived Arboretum: at 125,000 sq m, it is the largest office complex ever to be built from wood. Timber is employed as a structural material, not simply for façades. Laisné Roussel is working hard to encourage the growth of the French forestry industry. An elegant circular pavilion that the firm designed for wood construction congress Woodrise was erected in September in Bordeaux.
For Laisné Roussel, architecture involves a productive tension between vision and practicality. "Every building is a prototype," says Roussel. But context is just as important and that includes geography, climate, the existing built landscape and the needs of both client and end-user. Roussel relishes the push and pull that comes from working with a range of clients. The firm's attention to detail on high-end projects is evident in the Italian stone floors for rooftop spaces on a recently completed Lyon housing project. "We convinced [the developer] that the housing business is not just about the price; great architecture can make the difference," says Roussel. All 155 units sold in two months.
This combination of vision and practicality is proving effective. Five years ago the team consisted of just four people; today there are about 30 staff in the firm's high-ceilinged office, a former workshop in the Paris suburb of Montreuil. Upstairs is a buzzing co-working space; next door is the studio of photographer Cyrille Weiner, with whom Laisné Roussel has collaborated on an exhibition. Outside, staff have meetings in the sunshine and take breaks on a wooden terrace lined with bikes and pampas grass. The vibe here may be relaxed but the output of this young and ambitious firm is marked by practicality and a pioneering spirit.
Key projects:
Le Pavillon des Fleurs
Lyon
For the Lyon Architecture Biennale, the duo created a temporary tower. Stairs took visitors up to admire the view; flower-filled slides completed the picture.
Play Bondy
Paris
Commissioned by Nike, Laisné Roussel reinvigorated a football pitch in Paris suburb Bondy, with a camouflage pattern inspired by nearby forests.
Nice offices
Nice
In the French city of Nice, this upcoming office block sets a high standard for sustainability. It's also a treat for the eyes (and tenants) with its green-laden, welcoming design.
When Melbourne architect Iva Foschia was approached to design a Sydney showroom for the Australian furniture brand Jardan, one of the first things she did was go on a research trip. She flew up to pay a visit to the proposed site, a former bookshop in the bustling suburb of Paddington, and spent two days with the company's owners. "We went to a couple of art galleries and ate dinner together," says Foschia. "We talked about what Sydney means to them and what they wanted to achieve with the space."
The fit-out that ultimately stemmed from these conversations goes a long way to explaining why Foschia has gained a reputation as a formidable talent in Australian design circles. Unveiled in August, the space embodies modern antipodean style at its best: bright, casual and refreshingly optimistic.
Evidence of Foschia's deft touch begins at the shop's entrance: a custom-made door handle by Australian designer Suzie Stanford that's embellished with brass animals – including kangaroos, lizards and koalas – sets a playful tone. It opens onto a selling floor filled with unexpected textures and hues: framed photography hangs on a sea-foam coloured wall; mirror-coated columns reflect streams of light; and, at the centre, there's a winding pastel-pink staircase.
"Our inspiration came from learning about Sydney's most iconic creative families, particularly people who had an intense relationship with colour," says Foschia. "We wanted to see what would happen if we actually used colour as a constructive material, so we worked with Porters Paints in Sydney to develop a palette of custom paints."
Foschia's fastidious approach to research and client communication are, in part, a product of her extensive work experience. After graduating from rmit University's architecture programme in 2003, she spent years with some of Melbourne's most accomplished design practices, including Elenberg Fraser, Nexus Designs and Projects of Imagination. In 2009, though, she realised that she wanted more flexibility in the projects she took on and started her own firm, If Architecture. Since then Foschia's practice has built up an impressive portfolio, spanning everything from large-scale corporate offices to family homes.
Her expertise is particularly coveted in Melbourne's hospitality sector. Many of the city's highest-profile restaurant owners have employed Foschia to design their dining rooms, including Andrew McConnell of Cutler & Co and Etta's Hayden McMillan. She recently led the renovation of Attica, a fine-dining restaurant that many international food critics regard as Australia's best. The project features a slew of regional materials: there are tables of Castlemaine granite from a quarry north of Melbourne, while a piece of native cypress forms the reception desk and polished bluestone lines the bar. "In Australia people often assume that foreign materials are automatically nicer," says Foschia. "I've never understood that."
If Architecture's willingness to challenge the meaning of luxury in an Australian context doesn't stop with the materials. The company is also pushing against the assertion that larger spaces inherently trump smaller ones. For Foschia, years of working on inner-city properties have shown her that compact layouts can often be the most efficient and inviting; what really matters is how they are used. "Design has the power to influence the way someone feels and interacts in a space: that's why everything we do has a thought behind it. It's not just for the sake of looking good."
Key projects:
Etta
Melbourne
Sleek Italian lighting and a series of purpose-built stools have helped transform a space that was once a fish-and-chip shop.
Cutler & Co
Melbourne
Walls lined with emerald-coloured marble from Western Australia give Andrew McConnell's flagship restaurant an air of casual sophistication.
Marion Wine Bar
Melbourne
For this popular Melbourne drinking destination the rough texture of the original building is contrasted with sharp and elegant modern trimmings in leather, dark wood and copper.