Business / Global
Business
Briefing
The new generation of helpful travel agencies, an urban distiller gives his team a getaway and cycle helmets that are both sturdy and sleek.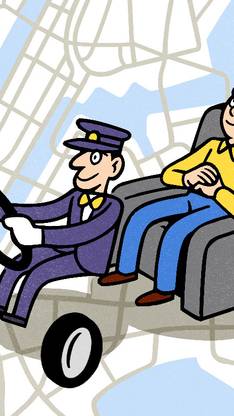 Tailored travel
Global —
tourism
The traditional high-street travel agent is becoming something of a relic as a new crop of travel companies quickly fills the void. After running a successful shuttle company in the popular tourist town of Cesky Krumlov, Czech entrepreneur Tomas Turek decided to do something a bit special. In 2015 he founded Daytrip, which offers private door-to-door transfers between European cities, with English-speaking drivers who can point out sights and provide a bit of insider knowledge. Headquartered in Prague, it now has a presence in 16 countries and 480 drivers.
"The idea is to turn a boring and exhausting transfer into a trip," says Turek. "It's about comfort and ease: you don't have to worry about carrying heavy luggage or language barriers. And you get to meet a local." A journey from Prague to Vienna costs about €200 for two people and might include a stop at the popular Czech wine town Mikulov (for an additional €23), while your guide can recommend somewhere to have lunch.
But Daytrip is not alone. Around the world a new generation of ventures is springing up to sell unique and tailor-made trips to discerning travellers. Based in West Hollywood, Celestielle is a high-end agency offering fully customised travel itineraries. Meanwhile the Experience Company, a Hong Kong-based start-up, offers customers exclusive access to unique experiences, including private distillery visits and tours of designers' studios. Although their offerings vary, what these companies share is a focus on the individual.
ondaytrip.com; celestielletravel.com; theexco.com
---
At the helm
Cornwall —
cycling
Dashel Cycle Helmets has created a range of slick and light carbon-fibre models. "I saw a gap in the market for an urban helmet," says founder Catherine Bedford. "The foam liner doesn't degrade over time so you don't have to replace it every few years." They are hand-moulded in a factory in Cornwall, UK, which also makes helmets for the military and the marine industry.
dashel.cc
---
Agents of change
Vancouver —
branding
Having worked in a branding agency in Sydney, husband and wife Aren Fieldwalker and Phoebe Glasfurd decided to set up on their own. They returned to Fieldwalker's native Vancouver, where Glasfurd & Walker was launched in 2007. Their design for restaurateur Tannis Ling's celebrated Baobai Chinese Brasserie has put the agency on the map.
glasfurdandwalker.com
Paying up?
Minimum wage as percentage of median wage (2014).
Turkey: 67.7
France: 61.1
New Zealand: 59.6
UK: 48.0
US: 36.7
Gin o'clock?
London —
spirits
Alex Wolpert started out as a bartender. Spurred on by the desire to create good and affordable gin, he founded the East London Liquor Company in 2014. "It's one thing to serve drinks; it's another to make something," he says. The distillery, shop and bar specialises in gin, vodka, rum and, come 2018, London Rye Whiskey. "Gin is so entrenched in British culture but I'm first and foremost a whiskey lover," says Wolpert.
The Liquor Company, which has annual revenue of about €3m and sales of 12,000 bottles per month, currently exports its spirits to 15 countries and will expand to the US by the end of this year. Wolpert's underlying philosophy? "If making gin isn't expensive then buying it shouldn't be either."
Q.What would you spend €5,000 on?
Answer: "I would take the staff out to a surprise party and have a day and night away. Everyone works above and beyond and is both physically and emotionally invested in the company."
eastlondonliquorcompany.com