Art / Jeddah
Hidden talents
On Saudi Arabia's fledgling cultural scene, artists tread a precarious path to put the kingdom on the international art map. While inspiration and invention flourish behind closed doors, the spectres of censorship and bureaucracy still cast long shadows on creative expression.
Having fun is political in Saudi Arabia. In a country where 60 per cent of the population is under 30, unmarried men and women at tgi Fridays must dine in separate areas divided by a concrete wall. The cinema is banned. Crews of bearded muttawah – religious police – comb the streets and malls for misdemeanours, such as women driving.
Yet there's a small but significant shift taking place in the kingdom. Earlier this year, Comic Con came to Saudi Arabia and locals were let loose to take selfies with Lycra-clad superheroes. It sounds innocuous to outsiders but for Saudis the state-sponsored sanctioning of such secular pursuits – for fun and fun alone – would have been unthinkable just a few years ago. And from June women will finally be able to get behind the wheel.
In the country's nascent art scene, these shifts are being watched carefully. Over the past decade a dedicated group of artists, gallerists and patrons have worked to put Jeddah, Saudi's reputedly less-reserved Red Sea city, on the international art map. For the first time a Saudi artist – Maha Malluh – was selected to participate in the main exhibition at the Venice Biennale this year. The past 12 months have also seen major solo shows for Saudi artists at the Los Angeles County Museum of Art (Lacma) and the Smithsonian in Washington. Not bad for a scene that started only nine years ago with a small exhibition called Edge of Arabia at SOAS, University of London.
We are in Jeddah a year after the religious police had their powers clipped by royal decree. On the anniversary, editorials in the newspapers noted that chaos and debauchery hadn't been unleashed on the streets of Saudi. Yet in a small but perceptible way, the place feels changed.
At Athr Gallery, men and women mingle in a stark white space while the artist makes her pitch to collectors from behind a black niqab. Look beyond the fact that we're five floors up in a megamall or that it's cartons of juice being served with the canapés, and this could be an exhibition opening anywhere else – almost. "It's always fascinating to see who actually lives here," says a German architect, dressed in the abaya robe that's mandatory for women in Saudi.
Mohammed Hafiz co-founded Athr, which represents the key artists who have put Saudi on the art world map. Hafiz was a sponsor of the first Edge of Arabia show in London in 2008, and he and his business partner Hamza Sherafi have since had the difficult task of bringing the art world to their gallery given there's no such thing as a tourist visa.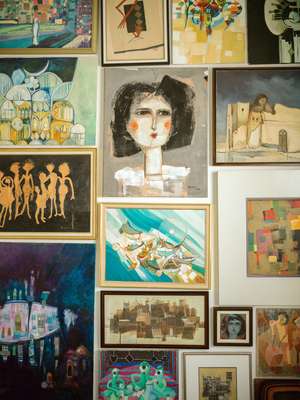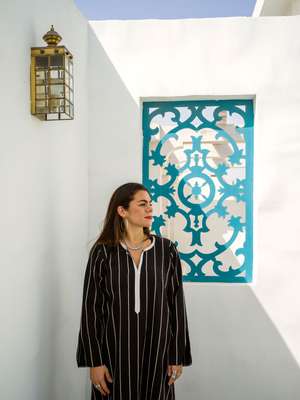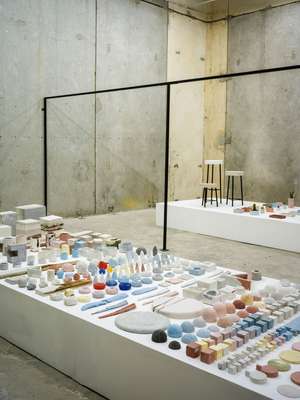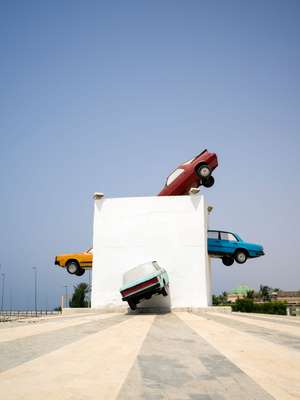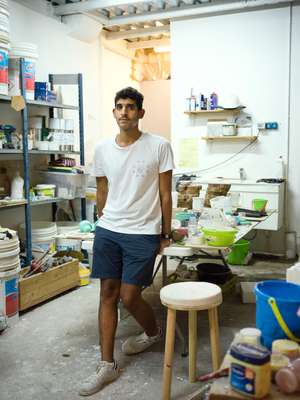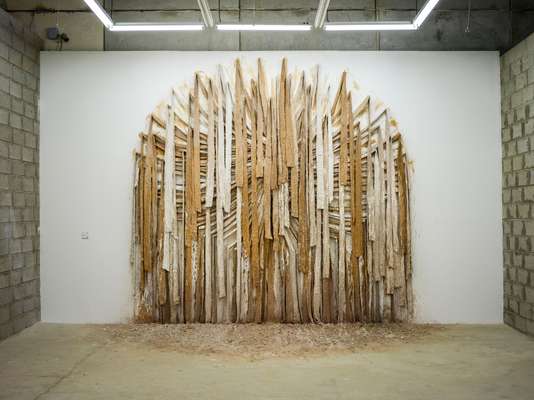 The gallery's wrangling has largely worked: during the city's de facto art week, 21, 39, held every February since 2014, a cadre of museum-acquisition teams stroll around Jeddah for a few days, returning home with tales of an art scene in isolation. "It plays like a double-edged sword," says Hafiz. "If it was super accessible it wouldn't be something to explore, a discovery."
Hafiz takes us to a shopping centre on the west side of Jeddah where, in a rough and unpainted back area, a temporary exhibition reflects the foreboding tone of the better art coming out of the kingdom. Safar was assembled by two New York curators at the invitation of the Saudi Art Council, a non-governmental body founded by collectors and patrons. The curators worked closely with six promising young artists from around the country to create entirely new works – a video depicts hennaed hands drumming on cooking pots; an installation by Majid Angawi comprises a pitch-black room, an eerie voice intoning each vowel like a ritual. Some ideas do feel a bit nascent but the inwardness and pointed obscurantism that these works share are outspoken about life in a closed-off country.
Hafiz is emboldened by the pace of change in Saudi. "I mean, I just took my son to see a stand-up comedian called Fluffy," he says as an example of another once-unthinkable act of fun. "The system will relax but the people will have to relax first. Here, like anywhere in the world, you have people with different ideologies. But the relaxing – or not relaxing – is endorsed by the state."
It's also happening out of necessity. The price of oil has declined sharply since 2014 and Saudi's foreign reserves have fallen by an average of $6.5bn a month in the past year. The ambitious Crown Prince Mohammed bin Salman bin Abdulaziz al-Saud (known as mbs for short) is on a mission to get young Saudis out of their homes, spending money and working in the private sector in a knowledge-based economy.
The arts fits into the so-called Vision 2030 plan neatly. Yet there are innumerable contradictions: at the same time the artist and poet Ashraf Fayadh is serving an eight-year sentence in a Saudi prison for his work, charged with apostasy, having had his death sentence overturned after international outcry. "There is a lot of negotiation between activists and artists," says Ahmed Mater, seen as the country's leading artist, who exhibited at the Smithsonian last year, pointing to Fayadh's case. "There are mistakes that happened in the past that we still struggle with."
Mater, who trained as a doctor, was a founding member of the Edge of Arabia collective. His most celebrated body of photographs documents the commercialisation of the Hajj pilgrimage, capturing with a stark eye the building spree that's laid waste to sites of historical significance in Islam's holiest city. His images show the cranes and grandiose hotel that now loom over the central mosque. Naturally this critical work has been exhibited sparingly in Saudi and a book was released last year. Mater is optimistic, however: he says the destruction in Mecca is slowing. "All the critique of the past five years worked in some way. It was too late but nothing is too late."
Mecca was once famous for its moulded glass ateliers and Mater has collected about 50 windows from demolished buildings and nailed them to the wall of his studio. He and his wife, artist Arwa al Naemi, regularly open this space for talks and screenings, letting young artists use the darkroom for free. He's also advising on an educational foundation, Misk, set up by mbs, and says there's talk of a fine-art academy coming to Riyadh.
In the absence of museums and cinemas, Saudi artists run their studios like mini art centres. Artist and designer Ahmad Angawi, for instance, transformed his studio in an old swimming pool into an atelier teaching traditional Saudi woodwork and craft; Abdulnasser Gharem, who showed at Lacma this year, mentors artists from his studio in Riyadh. Ayman Yossri Daydban, a Palestinian raised in Saudi and part of the Saudi old guard, has created a museum-like installation of his own work in his stuffy apartment block in Jeddah. "I need to find the art biennials here, the colleges of fine art," says Daydban. "Those are fundamentals that need to exist. All the initiatives here are privately funded."
Among the handful of patrons who drive the scene, Princess Jawaher bint Majid bin Abdulaziz al-Saud is a key figure on the Saudi Art Council and her presence gives the organisation something of a royal mandate. In her palace in Jeddah, cakes are served in a choreographed flourish while she discusses the political significance of mbs's vision for the art scene. "I think creativity is the only way to fight fundamentalism," she says. But when asked how a scene can survive when there are so many restrictions on what artists can and cannot say, she bristles. "I don't know where the boundaries would lie," she says.
One can't help but think of Ashraf Fayadh. Saudi may be making moves to accommodate the need for society to enjoy itself more but freedom of speech remains tightly controlled. Throughout its history Saudi has oscillated between liberalising reform and retreating into its own shell, depending on who's in charge. The country is watching mbs's latest drive for the future closely, particularly the sharply observed voices among the young generation of artists being nurtured by Athr.
There is one statement of intent that can't be overlooked: The King Abdulaziz Centre for World Culture is nearing completion in the Eastern Province city of Dhahran. Funded by Saudi Aramco, the world's second-largest oil producer, the complex is built on the site of the first commercial oil well that made Saudi rich in the 1930s.
The museum, designed by Snøhetta, has rammed earth walls and a louvre-like façade. We're there just as the final touches are being made to the interior, and are told that a collection of modern and contemporary art from all over the world has been shaping up over the past few years. Yet it comes with caveats: a curator tells us there are certain guidelines on what can be acquired, following entrenched sensitivities around figurative representation. The centre also has a vast screening area but it isn't a cinema, say staff. It's a "multimedia theatre" – a linguistic loophole to avoid a lexical taboo.
The loophole is an apt metaphor for Saudi itself. Enterprising Jeddans have found a way to get around the obstacles of censorship and bureaucracy, and behind closed doors have created all the auspices of an art scene. But it's time to let the air in: the arts are still watched with a stern eye, whether that's censors who must approve the line-up of every exhibition, or the possibility that authorities could break up a film screening. It builds to a cautious atmosphere and, despite the protestations of well-meaning people in the scene, the fear of reprisal when it comes to free expression hasn't gone away.