Residence / Bristol
Modern love
Ken Stradling's home is a tribute to the pared-back modernist aesthetic he championed in postwar homes.
"I was 16 when I bought my first pot," recalls nonagenarian Ken Stradling as he sits on a cream bouclé wool sofa in his living room overlooking Bristol's Avon River. "It was a piece of Elton Ware from Clevedon [in Somerset, UK]. They were pulling down a Georgian house and the contents were being sold off at auction."
His own elegant four-storey townhouse narrowly missed the same fate. Bought for £100 in 1958, it was derelict and destined for the wrecking ball before he and his wife, painter Betty Haggar, managed to buy it – "in between dessert and coffee" – one lunchtime while entertaining friends who told them of the sale.
Before they renovated it the council told them the house was in such disrepair that it wouldn't last 15 years. "The whole area was down for demolition," says Stradling, dressed in a sharp black shirt, braces and cream suit, as he strokes a purring ginger cat.
Today every mantelpiece, windowsill, shelf and sideboard in the south-facing terrace is covered with pieces from his collection of glass, pots and plates. These were mainly amassed on his buying trips to Denmark, Sweden, Finland and Italy while he was at the helm of the Bristol Guild of Applied Art department store.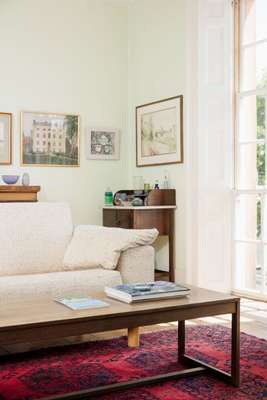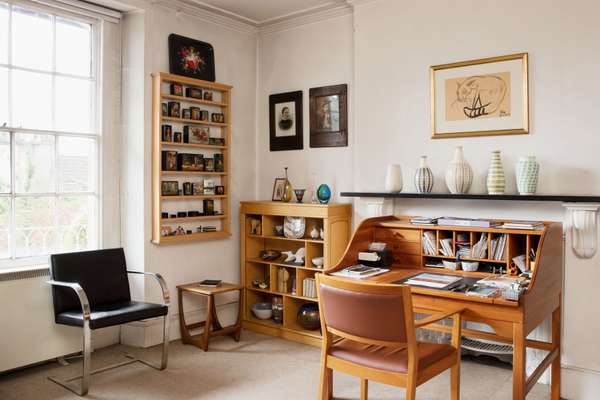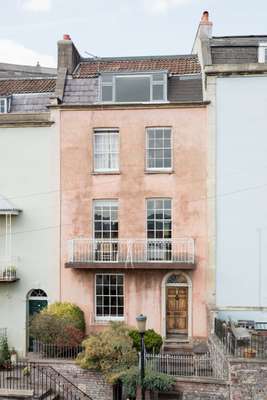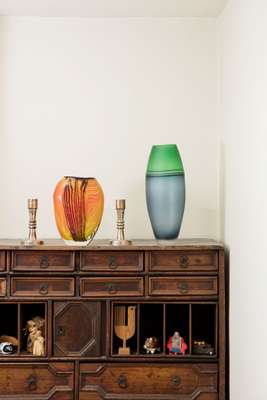 "You'll find a piece worth £4,000 next to something worth 50p," he says, showing us a recently acquired tea service designed by Walter Gropius for German company Rosenthal. "I'm not interested in finding a set, or even the technique – I just follow my eye."
Stradling loves nothing more than thumbing through an auction catalogue, occasionally attending to raise a paddle for new acquisitions. But the majority of his collection dates from the mid-century and was bought at source, from a host of contemporaries who were also clients.
After the Second World War, Stradling took up his post as assistant manager of the Guild. The department store was founded in the spirit of Arts and Crafts pioneer William Morris in 1908. For decades Stradling travelled Europe, bringing back furniture, design and craft to sell to a UK audience that was increasingly keen to be part of the trend for functional, pared-back modernism. Alongside Danish designers and furniture makers such as Hans J Wegner and Fritz Hansen, he bought home Finnish brands such as Rosenlew and Artek, as well as studio glass from Iittala and Nuutajärvi. He admits that during these foreign forays he nearly always acquired something for himself. "I was a lousy retailer in a way," he says. "I wasn't interested in retail."
In fact, under Stradling's charge the Guild grew into one of the country's most prestigious shops – a regional pioneer of new ideas, concepts and forms. "The first trip I did abroad was to Denmark to see the [Holmegaard] glassworks; I think we were the first retailers to go there after the war," he says, skimming his eye over a nearby shelf, unfalteringly reciting the provenance of each piece. "That's Czechoslovakian, the next one is Venetian, the final three are Swedish: Orrefors – a very famous glasshouse – Pukeberg and Kosta Boda. Glass is my first love; I like the transparency, the fluidity."
From having coffee and cake with ceramicist and Austrian émigré Lucie Rie in her London mews and studio to visiting Hathersage to see the sports-car-driving industrial designer David Mellor and his wife, Stradling's collection reflects a life well lived. Each piece is rich with memories of its makers too. "I am very fond of that chest," he says of a sleek sideboard by master woodworker Alan Peters, another great friend. "You can see he was influenced by his travels to South Korea and China. Of course, we sold his work in the Guild."
While Stradling's double-fronted rooms showcase a tour de force of mid-century design, this is no museum. From the thick Afghan carpets that cover the floorboards to the 1970s-era BeoGram 1500 record player that still plays out Maria Callas and the well-stocked bookshelves, the space is intimate, warm, friendly and well used. He is passionate that design should be touched, handled – despite the risk of priceless breakages – and better understood.
To this end he has founded a trust in Bristol, with premises not far from the still-thriving Guild, to make sure his possessions can inspire and instruct future generations. "I have had so much fun looking at these things," he says. "I want to encourage other people to do the same."
Regional modernism
Bristol doesn't carry much weight in UK modernism. Yet before the Blitz, its notable furniture industry was led by PE Gane & Co, an outfit that had instructed Bauhaus designer Marcel Breuer during his exile. Breuer's Gane Pavilion for the 1936 Royal Agricultural Show was a slick flat-roofed showcase in Cotswold stone for the company's modernist joinery. The Luftwaffe destroyed the Gane factory but many of Breuer's prototypes survived. "Crofton Gane commissioned Breuer to redesign and furnish his Bristol home – it included a showpiece corrugated asbestos wall," says Chris Yeo, curator of the Ken Stradling Collection. "Ken knew the Ganes and bought some of the furniture in the 1970s when Crofton died. We secured missing pieces, including a desk, gramophone record cabinet and bookcase, at auction."