Retail / Japan
Moving targets
The man who grew United Arrows into a Japanese fashion powerhouse has set his sights on reviving the country's artisanal clothing culture. Osamu Shigematsu talks career choices, challenges to bricks and mortar, and recrafting the kimono.
Osamu Shigematsu is supposed to have retired. It's been three years since he relinquished the top post at Japanese fashion conglomerate United Arrows and became honorary chairman. Yet the man who co-founded the Tokyo company in 1989 and is regarded as one of the pioneers of the select-store concept in Japan can't seem to stay away from the office.
It's not that United Arrows needs looking after. The company, as Shigematsu conceived it, has grown to an empire of miniature department stores: 360 shops (including three in Taiwan) and 18 sub-brands with annual revenue of ¥145bn (€1.1bn), accounting for a third of Japan's select-shop sector. Many of its offerings are from its in-house line, though it sells more than 100 labels from Europe, the US and Japan. Even in the e-commerce era, United Arrows remains a big draw for the country's most fashion-aware consumers and a well-respected arbiter of taste. If all goes to plan the company will be pulling in even more money – 50 per cent more – in the next few years.
Despite Shigematsu's refusal to speak publicly about United Arrows' current state of business affairs, the 67-year-old's influence inside the company remains strong. The Japan Fashion and Lifestyle Foundation, which he started on an upper floor of the company's eight-storey headquarters in Tokyo, has a vast library and an archive of clothing and fabrics that are open to the public. His art collection of Kohei Nawa sculptures, Faris McReynolds paintings and 1960s William Klein photographs adorns the walls and hallways of the office. And his own personal project, Junrian – a shop he launched last year with his own money, turning the finest Japanese kimono silks into made-to-order and off-the-rail suits and jackets – has its own corner inside United Arrows' recently expanded and renovated Roppongi Hills flagship shop in Tokyo. monocle sat down with him for a wide-ranging discussion about his evolving role and the industry in general.
MONOCLE: In 2004 you stepped down from the president's post at United Arrows for the first time. You were in your fifties. Why so early?
Osamu Shigematsu: I didn't retire. I handed over operational decisions to a chief operating officer and I became chairman. It was based on the fact that the customers we cater to are relatively young. UA employees in their forties have the insight and the life experience to develop and select products for consumers of a generation younger – in their thirties – and our employees in their thirties do the same for consumers in their twenties. I felt that being in my fifties I'd reached the end of a stage in my career. It was time to hand things over.
M: What do you do as UA's honorary chairman?
OS: I have a limited administrative role. It's my job to support measures that spread the company philosophy to the younger employees. Three years ago I began to think of a way to give back to the fashion industry. I wanted to support young people. One of my longtime business contacts – the owner of a textile company – owned a huge fabric archive, mainly for women's clothing. The archive included silk, cotton and wool from North America, Asia, Africa and Europe. He'd asked a government organisation about preserving the archive, which was costing him money, but the discussions went nowhere. He told me about it and I decided to use UA funds to purchase the collection from him and set up the Japan Fashion and Lifestyle Foundation, which would look after the fabrics and make them available to the public. The foundation is now independent and its collection is a valuable archive for UA employees but anyone can access the collection.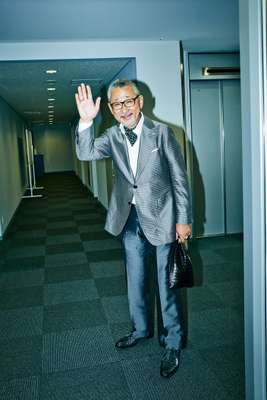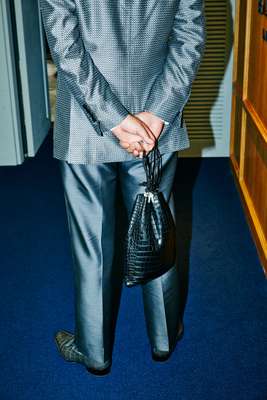 M: Why do you think the select-shop model has been such a success in Japan?
OS: Thirty years ago Japan had "import shops". These were retailers importing more than half the clothes they were selling; they also sold some products made in Japan. The business model came from the US. Barneys New York was one inspiration and there were examples in Italy and the UK. But none of those ever reached the size of Japan's fashion select-shop industry. The reason is that they had few products that they were designing in-house and making domestically. Without a line of in-house products it's difficult to have stable revenue. Selling imported products from the US and Europe is a form of test marketing: you figure out what consumers prefer and keep stocking what sells well. But there are products that won't sell because they're too pricey or the sizing is not right for Japanese consumers. For those products we work with factories to recreate the imports but with adjustments to the pattern so they're in the right proportions for consumers here.
The first retailer to make the transition to a select shop was Miura & Sons, which started in 1975 and is now called Ships. This wasn't so much a business as a few people who loved western fashion and wanted to sell it in Japan. Ships was the first to produce its own fashion line. The select shop is thanks to Ships and many others learnt from them.
M: Can the model be exported to other countries?
OS: We would be reverse-exporting the idea to the US and Europe. The biggest problem is the language barrier. Even now, expanding our business to an English-speaking audience remains a hurdle for us. Another difficulty would be translating the Japanese idea of hospitality, what we call omotenashi. It's part of the national psyche. The service is a big part of what we do and why these shops have done well in Japan. It's not impossible but it would take a long time. The other challenge to taking select shops overseas is property prices and property-development costs.
M: How is Japan's select-shop industry changing?
OS: One big development for this industry was the arrival of Gap and other fast-fashion brands in the 1990s. Before they entered the market, imported fashion was seen as being expensive. Fast fashion destroyed that notion and was a turning point for this industry. UA opened the main shop in Harajuku in 1992. The next year a marketing executive from Gap asked to meet me and wanted to know about the market conditions. Within two years they had opened their first shop in Japan. We knew that they were coming because here you have to lock down a commercial space two years beforehand.
M: What has been the media's role in the growth of Japan's select shops?
OS: Magazine House – the publisher of Brutus, Popeye and Anan – has had a big influence on the industry. These are lifestyle magazines targeting young consumers; they're not fashion magazines. They cover an array of topics: fashion, food, music. From the mid-1970s, for 20 to 30 years, these magazines were vital to the industry's growth; their influence has shrunk but they still have an impact. It's probably a uniquely Japanese phenomenon because in other countries fashion magazines have a bigger following.
M: You grew up near a US military base. Did that influence your choice of career?
OS: I grew up in the beach town of Zushi, near the US navy base in Yokosuka [west of Tokyo]. I had a friend who could get on the base and buy jeans for me there; I grasped that there were differences between US and Japanese fashion. I bought my first pair of jeans in 1962 when I was 13. We were influenced by US pop music and rock'n'roll, and Japanese rockabilly musicians who wore jeans. The realisation that there was a gap between the two markets – and the genesis of my career in fashion – stems from that era.
M: Has UA changed the way Japan's consumers shop?
OS: I started UA because I wanted to do more than sell casual clothing: I wanted it to be a place where you could find culture and food and other aspects of better living. And I was interested in getting consumers to dress up. That's still true today. Our Japanese customers are mature and have learnt as we've evolved. In the 1980s customers started wearing blue blazers – we called them kon-bure – and better-fitting suits, co-ordinating them with dress shoes. That's where we've been influential in this industry.
M: Is there anything you'd change about your career?
OS: I was against United Arrows venturing overseas. We spent a decade working on overseas marketing and I gave up on the idea of trying to expand to the US or Europe. Maybe we should have been more aggressive about it. The fact that the curriculum in our schools doesn't emphasise English has been a big problem for Japanese businesses.
M: Do you think fashion retail in Japan will change?
OS: People say that Japan's market is a decade behind the trends in the US and Europe. I don't think the bricks-and-mortar side of Japan's fashion retailers will disappear. I believe e-commerce will never make the physical store obsolete. But there will be a lot of shrinkage for department stores, speciality stores and mass-market retailers. There will always be a place for retailers that focus on personal customer service, on building trust with customers. I probably shouldn't be saying this but my prediction is that there will be just two department-store operators [from five currently] and five "select shop" fashion retailers in Japan. Everyone else will shift to e-commerce.
M: Your recent personal projects are centred on preserving Japanese traditions. Why?
OS: For the past 41 years I've focused on bringing US and European products and culture to Japan and modifying them. Yet I haven't done much to promote Japanese culture. So my mission is to dive into Japanese culture and introduce aspects that are still valid. One idea I had was to ensure the survival of traditional handweaving techniques for kimono silk. I set up an atelier on Amami Oshima where artisans have been weaving and dyeing the highest- quality kimono fabrics for 1,300 years. In the atelier the techniques will be handed down to future generations. Most artisans in the field are about my age, retirement age. The market for kimono is limited but with men's kimono fabric you can make jackets for suits. To sell these jackets, I opened a shop called Junrian in Tokyo. It's partly about preserving Japan's traditions but also promoting Japanese aesthetics and sensibility.
The CV:
1949 Born in Zushi, Kanagawa
1976 Joins team to open the first shop for Japanese fashion retailer Beams
1989 Starts United Arrows with former Beams colleagues; becomes the new company's president
2004 Becomes United Arrows' chairman and removes himself from day-to-day executive decisions
2009 Returns to president's post and enacts top-to-bottom reforms
2014 Named United Arrows' honorary chairman