Cosy corner / Italy
Past lives
The Missoni designer looks to the past for inspiration as she drives her family brand forward.
Angela Missoni settles onto her green corduroy couch in the living room of her kitsch-filled modernist house, which sits on a countryside hilltop. "This corner of the house is my favourite because it's close to the kitchen," she says of the colourful space. A fan of food and cooking, she proudly points out her vegetable patch, encircled by raspberry brambles on a sloping yard overrun with mint. The 58-year-old scion, who this year celebrates her 20th anniversary as the creative director of her parents' namesake company, prefers her quiet, woodsy home, a short distance away from Missoni's headquarters in the small Italian town of Sumirago, to the fashion bustle of Milan. "This is where I tune everything out and regain my sense of harmony."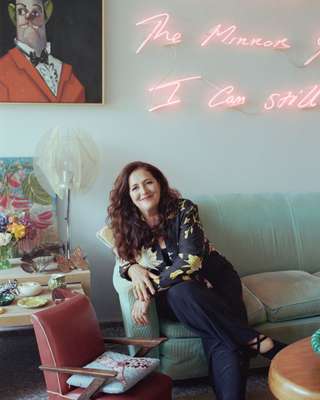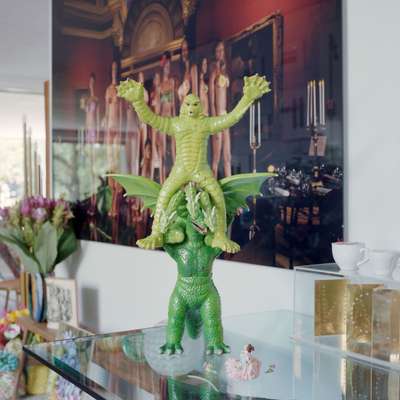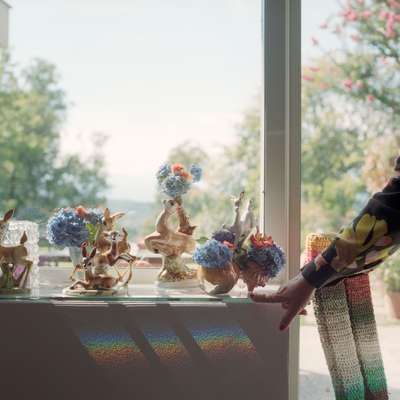 It may come as a surprise to some that Missoni, who reinvigorated her parents' storied brand with a modern cosmopolitanism, has always drawn inspiration from this pastoral outpost. "I've never lived in Milan or any other city for more than a week," she says. Her mother Rosita, now 85 but still hard at work in the company, lives nearby in a house similarly ensconced by greenery. (Angela's father, Ottavio, passed away in 2013.)
The designer professes passion for all things contemporary but her home is a monument to the past, full of flea-market finds and collections. She indicates a pair of armchairs in an oversized Missoni floral print now on their third, reupholstered, life. "Everything around me gets recycled," she says. "All of my collections can be traced back to things I glimpsed in my childhood in the 1960s, even though I'm not aware of it when I first find the pieces at flea markets and fall in love with them." Case in point: a group of woven plastic chairs in primary colours around the living room – reminiscent of the summertime bars of her youth – and the collection of vintage Bambi vases filling a clean-lined, modernist Giò Ponti cabinet. "Imagine what Giò Ponti would say if he knew his beautiful cabinet was filled with ceramic fawns," she says with a touch of pride.
Despite her affection for the past, after 20 years at the helm of the company Missoni has only just begun to peek into the extensive archives her parents established, filled with the knit zigzags, kaleidoscopic stripes and densely colourful geometries that make up the brand's DNA. "I've been swimming in Missoni all my life," she says. "I don't need archives – it's all in my head."
The CV:
1958 Born in Milan
1993 Launches a fashion label after spending several years raising her three children
1997 Becomes creative director of her parents' namesake brand as her mother Rosita steps down
2014 Receives an honorary doctorate of humane letters from the School of Fashion at the Academy of Art University in San Francisco
2017 Celebrates two decades at Missoni with a show in Milan