Sea change / Tasmania
Residence
John Wardle's award-winning Bruny Island farm has a new showpiece: a mariner's cottage, tranformed.
Every month, Melbourne-based architect John Wardle completes a complicated ritual. It starts with him packing a bag and going to the airport. From there he flies to Hobart, the capital of Tasmania, and travels 30km south, where he boards a ferry. Half an hour later he disembarks on Bruny Island, a small outcrop of land populated by just 600 people. It's here that he owns a large waterfront farm, complete with 1,800 head of sheep.
For many people the idea of journeying such a long distance to escape the pace of city life might seem like overkill. But it doesn't take more than a few moments at Wardle's sprawling property to understand the man's capacity for patience. Perched on a cliff overlooking a pristine bay, the place glows with a quiet unkempt beauty: three beaches give unrestricted access to the waves; rolling paddocks change colour with the seasons; and, throughout, a smattering of eucalypts sway silently in the sea air. "The landscape is extraordinary," says Wardle. "In many ways it feels quite extreme."
Wardle and his wife Susan bought the farm in 2002 after a recommendation from an estate agent. On their first tour the pair made a beeline for the coast and marvelled at the view. Only after they'd turned around did they appreciate the small white house near the cliff edge. It was a mid-19th-century cottage, built by the farm's first owner, a legendary whaling skipper named Captain James Kelly.
For several years after buying the farm Wardle dreamed about one day restoring the cottage, which was in poor condition and had suffered at the hands of unsympathetic renovations. He knew, however, that the task would be time consuming. So in the meantime he decided to build a new structure on the property where friends, family and visiting shearers could sleep comfortably.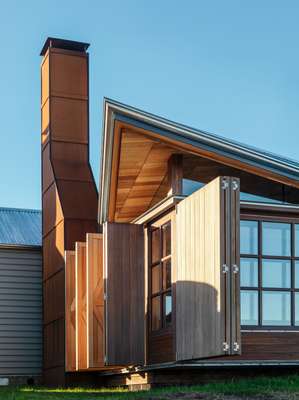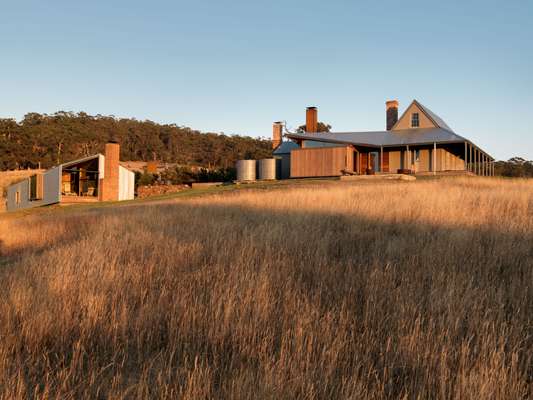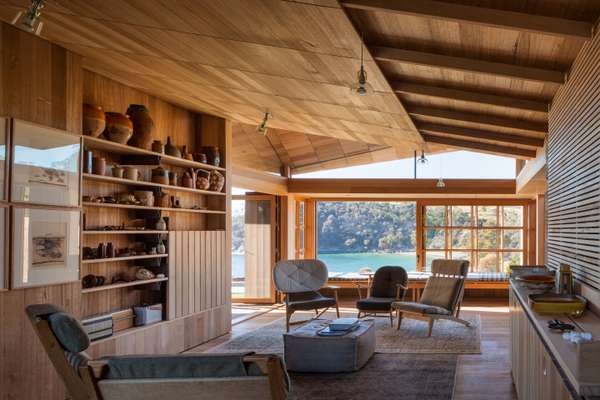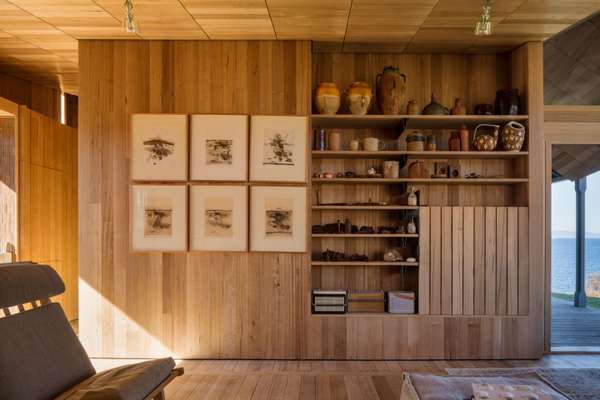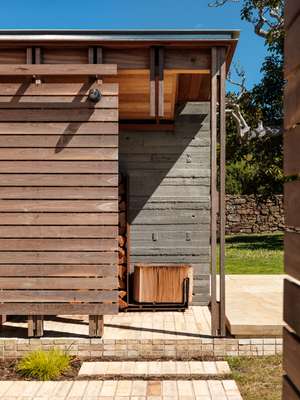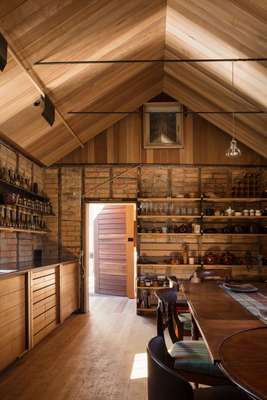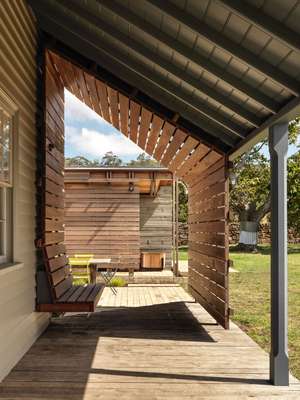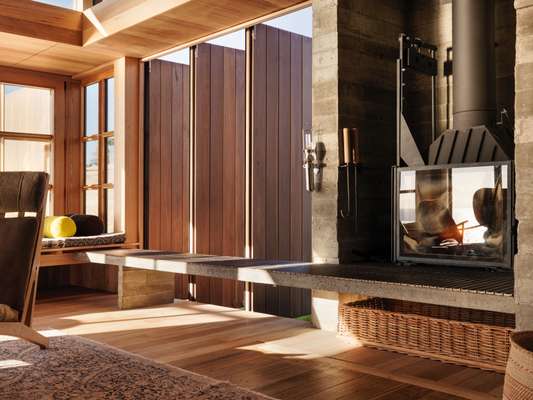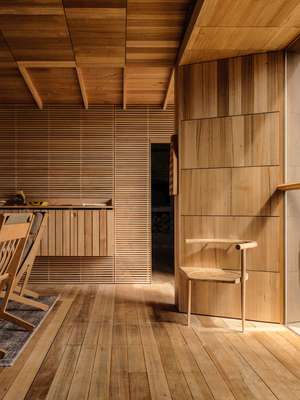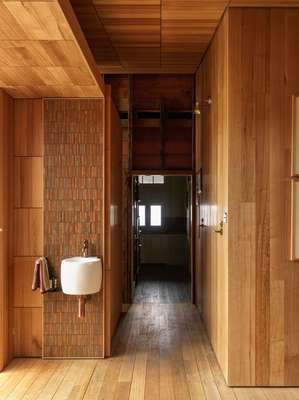 The building, which became known as The Shearing Quarters, was a study in how to use space efficiently and won the Robin Boyd award, Australia's highest accolade for residential architecture. The prize buoyed the already impressive reputation of Wardle's 72-person practice, whose portfolio includes the Melbourne School of Design, Queensland Institute of Medical Research and a slew of large-scale residential projects. However, amid all the fanfare, he never lost sight of his ambitions for Captain Kelly's Cottage. "Part of it was a sense of responsibility: I had a curious desire to make more of it."
It wasn't until February 2017 that the project was completed, after 18 months of construction. The result is testament to Wardle's perseverance; Captain Kelly's Cottage today stands as a comfortable family retreat that expertly walks the line between experimentation and respect for heritage. "I started off with a fairly modest idea of restoration but as we got into it the ambition and scale of the project grew," says Wardle. "I didn't want to turn the cottage into a brand-new building. I wanted to express its age, revealing layers and stories all the way through."
One of the first steps Wardle took in transforming the house was removing multiple misjudged alterations by previous owners. A series of clumsy addition linking the house's two oldest sections were torn down and replaced with a well-proportioned enclosed living area. Lined with Tasmanian oak and multi-paned windows, the space is furnished with a large daybed and comfy Patricia Urquiola-designed chairs. Retractable shutters along the outer walls provide a shield against inclement weather; alternatively they can be opened on warm days. "I like the idea of the house being almost like a suitcase," says Wardle. "When you arrive you have to open it all up. The blinds go up, the shutters open; you unpack it."
In the kitchen the building's history becomes the focus. Original brick walls remain exposed throughout, save for a few custom-built shelves holding part of Wardle's extensive ceramics collection. In the corner, Japanese tiles frame a black Aga oven and a rectangular alcove holds pieces of firewood. Modern appliances are hidden inside a handsome wooden counter, also made of oak.
Wardle's reverence for the house's original craftsmen is also evident in the sleeping wing. Large sections of the walls are stripped to reveal old shades of paint. Over some of the doors, the words "Mind your head" gleam in gold letters, a light-hearted warning directed at Wardle's tall son. It's one of many playful design elements found throughout the property; at the rear of the cottage Wardle has erected an antique bell in tribute to Captain Kelly's nautical career. Nearby he's swapped conventional doorknobs for axe handles on one of the main entrances. "There's something about the building's story that is best said with a degree of humour," he says. "So I didn't want the house to feel constrained with the seriousness of heritage restoration."
Since completing the cottage, Wardle and his family's relationship with Bruny Island has deepened. They transported their art to fill the walls. Dinner parties are common. The property's veranda is regularly filled with friends, including Man Booker prize-winner Richard Flanagan, who lives nearby. "You can either go down there and allow yourself to be distracted by the experience of the place or use it to close yourself away and work on creative problems," says Wardle. "It operates on a series of levels."
The promise of peace isn't the building's only work-related benefit though: it has helped Wardle grow the company retreats he regularly runs on the farm. For years he has invited employees at his firm to spend a few days building small-scale projects at the property, such as a bird observation deck or sundial. Captain Kelly's Cottage has not only increased the amount of available accommodation for these trips but also provided new opportunities for inspiration. Already a group of recent attendees have made an inviting fire pit near the house, using salvaged wood and a 120-year-old cauldron.
For Wardle, seeing his staff and family tinker around the cottage and discover the full extent of its charm comes with a deep sense of satisfaction. "It's really rewarding to have finished. There were times when I speculated whether it would be a success. Now it feels like it was worth taking the risk all those years ago."