How I manage / New York
Rock the house
Having restored the sheen to Sotheby's rusty balance sheet, new CEO Tad Smith is reimagining the historic institution's future by embracing digital.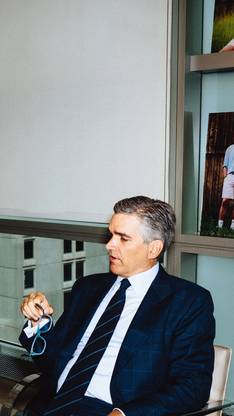 "When you think about Sotheby's," says Tad Smith, the spirited CEO of the historic auction house, "you typically think, 'Oh, if only I had $20m or $30m, I would go to Sotheby's and buy a Picasso!'" The truth is, he notes, half of what sold at Sotheby's worldwide in 2016 were objects valued at $10,000 or less. Changing perceptions without compromising the brand – founded in 1744 – has been something of a priority for Smith since he took up his post in 2015.
Back then Sotheby's had, even according to some of its leading investors, stagnated and fallen behind the times. The financier Daniel Loeb memorably likened the firm to "an Old Master painting in desperate need of restoration". Smith – who unusually for a Sotheby's CEO has no formal background in the art world – was tasked with leading that rejuvenation.
Part of that has been a concerted push into the middle market across all of Sotheby's businesses – from art to jewellery and from fine wine to classic cars – with a shift away from the confines of Sotheby's storied auction rooms and towards digital channels for bidding and selling.
These measures saw Sotheby's consolidated sales rise by 4 per cent in the first half of this year compared to the previous six-month period to $2.8bn (€2.4bn). The company's share price during the second quarter also rose to its highest level since the company went public in 1988. Not bad for the oldest publicly traded firm on the New York Stock Exchange.
It's not the first time that Smith has had an immediate impact on a company under his command. During the last six months of his brief tenure as president of the Madison Square Garden Company, which owns several world-famous entertainment and sport venues across the US, the company's profits doubled. He was poached by Sotheby's just a year into that role. Before that he had served as president of local media at Cablevision.
Media, entertainment and now fine art: for Smith there's a common thread that connects the entries on his rather eclectic résumé. "All of those businesses were very creative businesses," he says, gold gavel-shaped cufflinks glinting from under his blue suit sleeves. "All of those businesses have a soul. I've always chosen areas that are profoundly interesting to me, stimulating intellectually."
One of the first challenges he tackled in his current role was reimagining a 300-year-old company operating in an increasingly digital world. "So many of our processes are manual," says Smith. "Look at what actually happens in an auction room: our staff are on the phones, there's paper with the auctioneer – there's an enormous amount of stuff flowing around."
In such an environment, a key piece of information might easily go missing. "If you were outbid on something there's a chance we wouldn't know. When you go online there's an electronic record of your activity so if you were outbid, you might get an email that night saying: 'We know you missed this particular Yves Klein but we have another here for you that's available for private sale.' Imagine what that does to your customer service."
This kind of expansion online might concern purists, for whom the bricks-and-mortar auction room is central to the experience of buying at Sotheby's. But, as Smith points out, online sales are no replacement, at least for now, for walking across the threshold of a Sotheby's auction house and experiencing a sculpture, a watch or a bottle of wine in person. "A substantial portion of people who buy here want to at least see the original products. And selling to more people online doesn't mean losing the lustre of the brand because we continue to serve everyone in a first-class way."
Smith's grand plan for safeguarding Sotheby's future relies on the company acknowledging its history while adapting to a fast-changing world. "What we need," he says, "is a Sotheby's with the elegance of the past three centuries but perhaps just a bit more welcoming and a little bit easier to work with." Also key is making sure that the company's 1,600 global employees and new hires adopt a more dynamic and creative approach: "If you hire really innovative people, they start doing things far beyond what you can imagine."
And Smith also takes solace from the fact that adaptation has been a hallmark of Sotheby's success. "The reason Sotheby's has endured is because it's so flexible. I'm excited about the future."
What time do you like to be at your desk?
My smartphone is my desk so I never leave it.

Where is best to prepare for leadership: MBA school or on the job?
Everything that one needs to know about being a good leader starts in kindergarten.

Are tough decisions best taken by one person or by a group?
One person with a group's candid advice.

Do you want to be liked or respected?
Respected.

Do you read management books?
I always read non-fiction and occasionally a management book.

What would your key management advice be?
Listen actively.

Where do you go for advice and guidance?
My wife, my team, my clients, my board, my investors.

Is it OK for employees to disagree with you?
My colleagues disagree with me frequently and I often return the favour.

Have you ever made a mistake you wish you could take back?
Sure. I don't dwell though.

If you could fix one thing about your company today, what would it be?
I just want everything faster.