Destination / Olhão
The undiscovered
We head to a quiet fishing village whose traditions are attracting tourists looking for respite from the Algarve's mass-appeal destinations.
When British couple Tara Donovan and Jonathan Tod launched Casa Fuzetta – a smart 12-bedroom, rentable holiday home in the fishing town of Olhão – this summer, a few people questioned the wisdom of straying from the Algarve's busier shores. For years this settlement of 50,000 souls on the Iberian nation's southern tip has had a faded, run-down feel to it and been pretty much forgotten about. But dig a little deeper and the reasons for the couple's decision become a little clearer.
The sea is one draw, although there's no beach in Olhão – you need to take a water taxi to the islands that dot the inlet in front of the town to reach the sand. Fortunately the city's picturesque old town with its winding cobbled streets and striking 19th-century homes has also dodged the bullish development that has blighted nearby towns. Olhão, by contrast, retains a tight-knit but welcoming community and its traditional businesses haven't been diluted by waves of tourists. "We love the town because it's not a holiday resort," says Donovan. "It's very down to earth. There are no nightclubs or fancy bars or chain stores and it's as busy in November as it is in summer."
The couple found two neighbouring homes in the old town and spent three years painstakingly restoring them with the help of craftsmen and artisans from the area. Spread over three floors, the space now comes with a shimmering rooftop pool and several terraces, including one which doubles as an outdoor dining space that comfortably seats 24. Belying Olhão's maritime roots, the decor is contemporary and refined with neutral tones, natural fabrics, terracotta floors, antique furniture, vintage chandeliers, and Portuguese ceramics and rugs.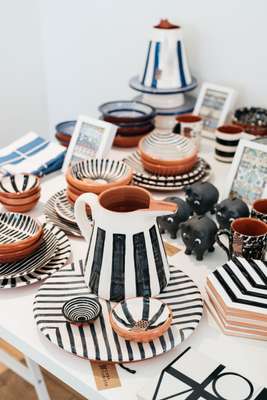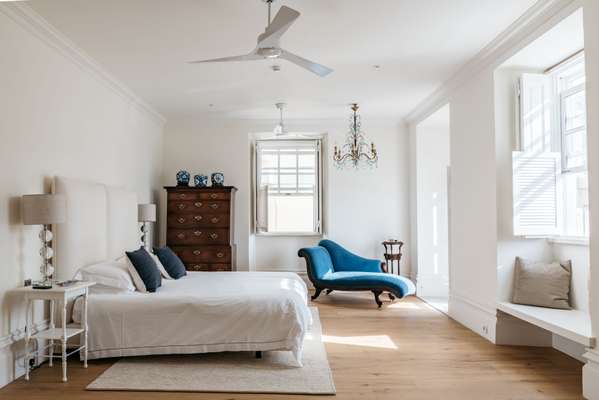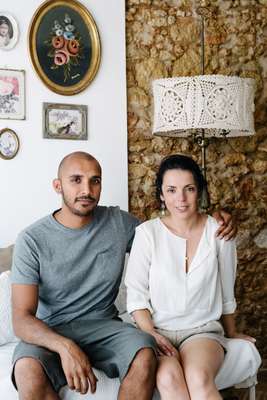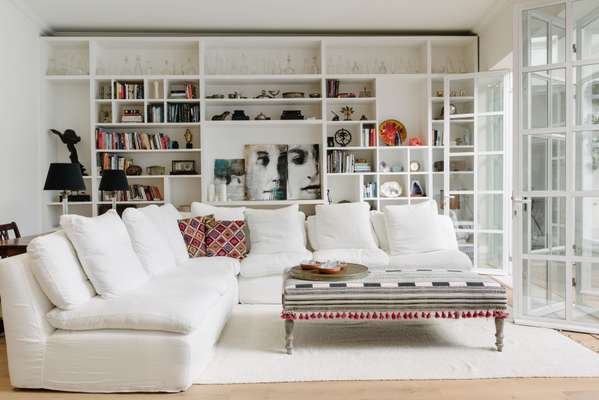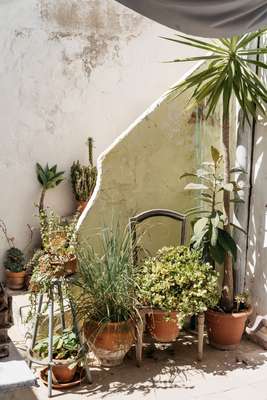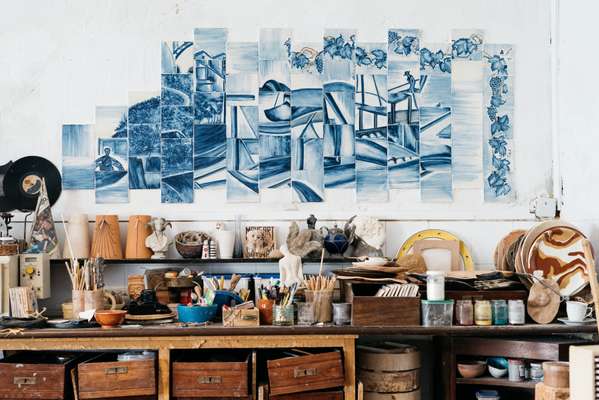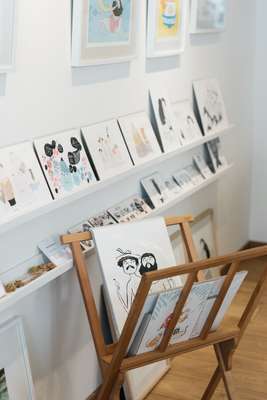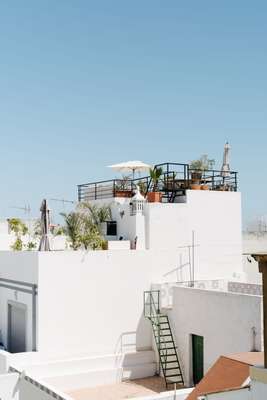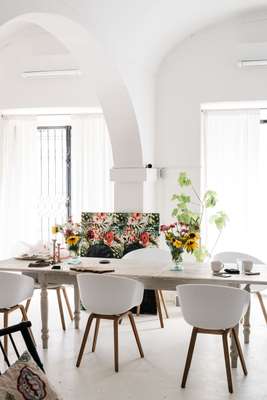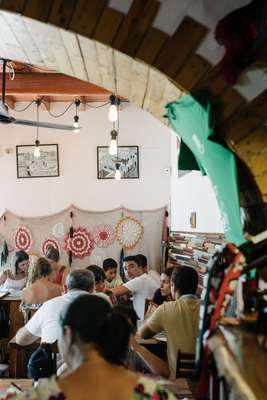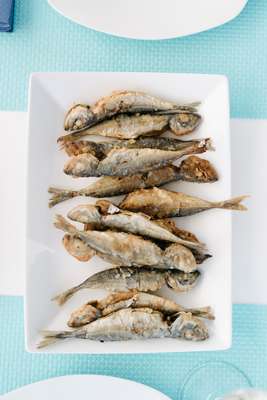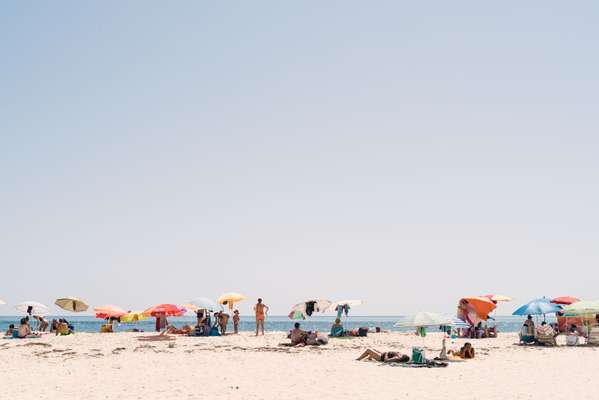 Casa Fuzetta isn't the only careful restoration at hand though, nor are the couple the only ones to see the unassuming town's promise. Couple Richard Walraven and Matthias Kleingeld (Dutch and South African respectively) recently opened Casa Opala, another accommodation option in a converted home. And Portuguese architect Tatiana Bento and her husband Dave Mattu have refurbished several buildings, including Marmalade House, a tiny two-room fishing cottage that's now a bijou apartment available to rent.
Bento says that the cooking in Olhão is a particular draw for visitors. "Most of our guests come here for the food, especially the seafood," she says. "We have a great market and an annual festival."
Joana Cabrita Martins is the founder of Eating Algarve Tours, a company that runs trips to the town's market, fish canneries and restaurants old and new (A Polvaria is a great example of the latter). "The market was founded by fishermen and has a lot of variety, along with great fruit and vegetables; I think it's the best in the Algarve," she says.
Young professionals too are drawn to the city. Design duo Arren Williams and David Pimentel spent two years living in Olhão and co-founded their homeware brand Casa Cubista here. "The old town is beautiful and has a very specific architecture that really appealed to us," says Williams.
Painter Meinke Flesseman grew up in Portugal and has lived in Olhão for the past seven years. "There's a rawness and genuine feel to Olhão that appeals to artists," she says. "It's not stylised [like the rest of the Algarve] yet. Life here should revolve around the sea, football and food."
Weekend Guide: Olhão
Olhão has fine food traditions to explore, including restaurants that make the most of the seafood, a lively market and shops where you can find decent souvenirs that are actually worth keeping.
A Polvaria
Octopus made interesting – the adventurous beer-battered and curry versions are especially good.
2J Avenida 5 de Outubro
1351 28 970 4241
Groupo Naval Olhão
A traditional spot with superb fresh fish and seafood, situated on the waterside in the marina.
2A Avenida 5 de Outubro
1351 28 970 3519
Algarve Food Tours
A window into Olhão's past, the tours swerve the for-the-masses fare that swamps many Algarve resorts.
eatingalgarvetours.com
Saturday farmers' market
Not to be missed if you are in town of a weekend, this large and lively market sells a variety of seasonal goods direct from local producers.
Avenida 5 de Outubro
4Elementos Cerâmica
This pretty gallery features work by local artists and craftsmen.
27 Rua Capitao Joao Carlos de Mendonca
+351 918 797 904
Pinta Roxa
This shop sells prints, homeware and jewellery by designers from the area, including Casa Cubista.
28 Avenida 5 de Outubro