Religion / Melbourne
Up in the heavens
When the Coptic pope headed to Melbourne, it was about more than tending the flock: he had a skyscraper deal to celebrate.
Wisps of incense smoke hover in the air as Pope Tawadros II, the patriarch of the Coptic Orthodox Church, enters the room flanked by a group of bearded priests. His arrival sparks a palpable jolt of excitement among the congregation. Old men stand between the pews, crossing themselves. Girls in white dresses crane their necks. Camera phones flash.
Amid the adoration, the Coptic pope remains stoic. He adjusts his frameless glasses and moves towards a large marble table at the front of the crowd. A small bottle of oil is given to him and he squirts it onto the white stone surface. "We consecrate this altar," he sings, "in the church of Saint Verena and Saint Bishoy in Melbourne, Australia."
As other clergymen put their hands on the glistening table, a small team of church-sanctioned cameramen work quietly to record the moment. The ceremony represents a high point for the Coptic pope's inaugural visit to Australia. It also marks the completion of one the most ambitious modern infrastructure projects that's ever been undertaken by the Church of the Coptic Orthodox faith, a strand of Christianity that reaches back some two millennia.
The Church of Saint Verena and Saint Bishoy is unlike any other place of worship in Australia. There are no grand domes extruding from its exterior, nor soaring steeples. Rather it sits on the ground floor of a newly constructed skyscraper, a au$90m (€60m) development called Eporo Tower, which the Coptic Church's Melbourne dioceses developed in close partnership with Ho Bee, a Singaporean investment company. Situated not far from a busy intersection in the central business district, the building contains 307 residential apartments, several storeys of carparks and a commercial space, currently occupied by a Chinese hotpot restaurant. On the bottom four levels, there are also lecture halls, a handful of theological classrooms and a library stocked with religious texts.
Throughout the lower levels of the building, striking artwork by acclaimed iconographer Ashraf Gerges sets the tone. Many of the pieces depict key moments in the history of Coptic Christianity, such as St Mark founding the religion in Egypt in ad46. Most notable, perhaps, are the many portraits of martyrs. Throughout its existence, Coptic Christianity has endured relentless persecution and discrimination in its Muslim-dominated homeland. Even today, Egypt's nine million orthodox Christians remain grossly underrepresented in the country's government assemblies. Despite the fact that Copts make up just over 10 per cent of the population, only 6 per cent of Egypt's MPs identify as being part of the religion. Increasingly, orthodox Christians are also becoming popular targets for Isis terrorist attacks. As recently as May, a group of masked men gunned down 28 Christians who were on their way to a monastery south of Cairo.
The threat of violence, along with Egypt's sluggish economy, has prompted a growing number of followers to emigrate abroad, taking their faith with them. As a result the religion's international reach is broadening. "The Coptic Orthodox Church has expanded to over 60 countries," Pope Tawadros II tells monocle during a visit to Eporo Tower. Earlier this year he travelled to Kyoto, where he opened the Church's first place of worship in Japan; he also visited the US, where there are approximately 350,000 Copts.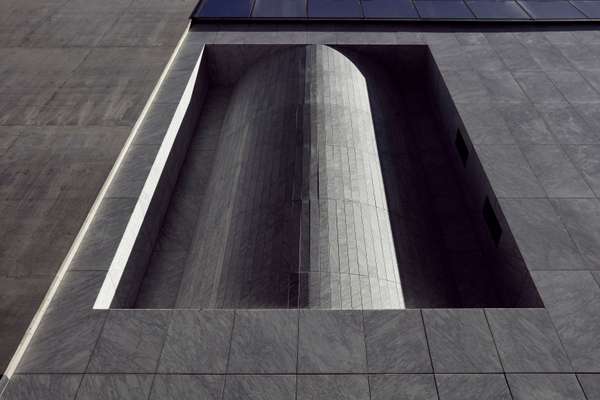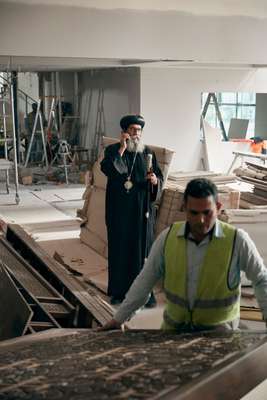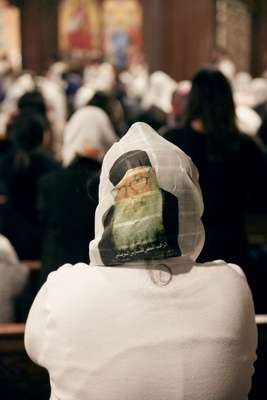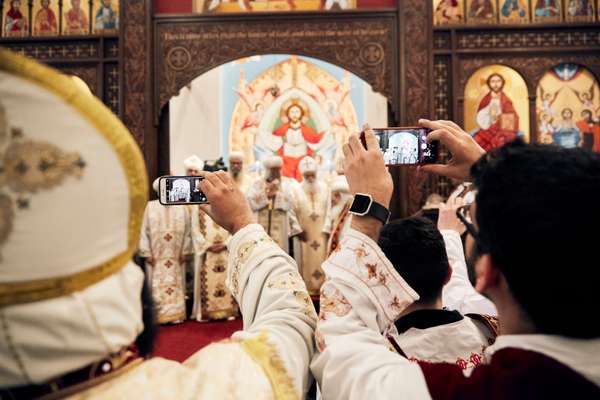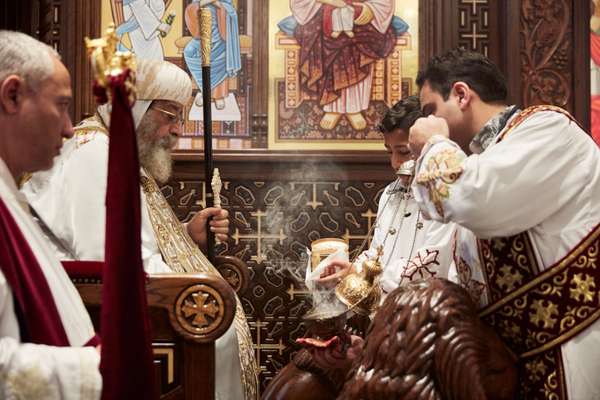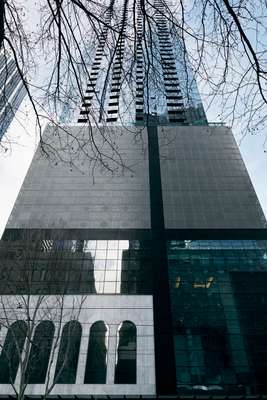 Australia is home to some 80,000 Copts by most estimates, and the Eporo Tower represents the Church's growing presence in Melbourne. The building's existence is largely down to the efforts of Anba Suriel, the charismatic and influential archbishop of the city's Coptic Orthodox diocese. Well liked and highly educated, Bishop Suriel was part of the first wave of Egyptian Christians to arrive in Australia in the 1960s, many of whom were fleeing from a resurgence of terrorist threats or the fallout from the Six Day War. Since becoming Australia's highest ranking Coptic in 1999, Bishop Suriel has been leading the charge to establish a permanent place for Copts to worship in central Melbourne. His vision was to create a space for city dwellers who felt cut off from the smaller Coptic churches that are scattered around the suburbs. He also wanted to create an environment where ordinary Melbournians could interact with the Church and learn more about its history, art and music.
The idea of constructing a skyscraper and selling the apartments within to offset the cost of a cbd parish first occurred to Bishop Suriel in the late 2000s. He and a fellow clergyman, Father Mark Atalla, scoured the city for a suitable location before ultimately acquiring three neighbouring buildings and amalgamating them. Three loans were needed to enable the purchase: the Church backed one of them in its own name and had a pair of successful Coptic businessmen guarantee the others. Ho Bee was eventually brought into the scheme through the Coptic Church's project management company, Sinclair Brook.
Shortly after ground was broken in May 2015, Bishop Suriel led a ceremony whereby four steel boxes containing gospels were buried on each corner of the tower's foundations. The rite's symbolism hinted at the project's combination of modernity and ancient Coptic traditions. Nowhere is this dance more pronounced than in the architecture of the tower, which was primarily handled by The Buchan Group. The Melbourne firm created a design that juxtaposes tinted glass with colourfully stained windows. As the tower climbs higher, powder-coated metal is perforated to form distinctive Coptic crosses.
The leaders of other Christian denominations around Melbourne are impressed. For them, Eporo Tower represents a new case study in how religious organisations can create effective mixed-use spaces and positively shape the neighbourhoods around them. "What the Coptics have achieved is jaw-dropping," says Reverend Ian Smith, executive officer of the Victorian Council of Churches, an organisation that represents the interests of various Christian orders in and around Melbourne. "There are definitely real lessons to be learnt."
Sitting in his office on the fourth floor of Eporo Tower – a hardhat emblazoned with the words "His Grace" resting on his ornate desk – Bishop Suriel is pleased that he pursued the project for so long. The building embodies everything he set out to achieve and, remarkably, has not overstretched the Church financially. The Church holds no financial stake in anything above the fourth floor and was not involved in approving occupants (residents of the apartments and the Coptic worshippers have different entrances). "Anyone who wanted to purchase an apartment was welcome to do so," says Bishop Suriel. "If it wasn't for the residential side, we wouldn't have been able to build in the city. We're not investment moguls. To us, this project is about pastoral care."
Although the Coptic portion of the tower officially opened in September, the success of the project is already evident. "It's a stamp," says Reverend Ian Smith. "It shows they are no longer on the periphery." Pope Tawadros II is also impressed. "This tower is a landmark," he says. "It will enrich Australian society."
Although the Coptic pope's visit to Melbourne has been purposely scheduled to coincide with the opening of Eporo Tower, he is also using the trip to further another objective: engaging with as many members of Australia's Coptic community as possible. The day after the consecration ceremony, the pope meets with a gathering of young Copts at a convention centre and takes questions.

Enthusiastic applause ripples through the crowd when he finishes speaking. Beside him, a smartly dressed moderator named Angelos Mikhail leans forward in his chair. "We would like your Holiness to know that even though we might be far away physically, we are still one body in Christ," he says. "We share in the pains and suffering of the mother Church."
Mikhail's message of solidarity is a commonly held one in Australia's Coptic community; most members of the church still have deep cultural ties to Egypt. At the same time, Copts have proved themselves to be active participants in Australian society and have integrated seamlessly. In Melbourne, for example, orthodox Christians are not cloistered in any particular suburb but have rather spread throughout the city.
Over the past decade a growing number of Copts have also reached positions of power. Peter Khalil, a one-time security adviser for former PM Kevin Rudd, recently became the first Copt elected to parliament. In May he and Bishop Suriel lobbied Malcolm Turnbull's government to have the failed asylum requests of 20 Coptic families reviewed. The plea went all the way to immigration minister Peter Dutton and most of the group was eventually granted residency. "I'm very grateful to the government for reconsidering these cases," says Bishop Suriel. "I really hope they can continue to help such families live in a secure and safe place such as Australia."
Yet the bishop knows that there are still challenges ahead. In spite of the excitement that has been built up around the Eporo Tower's opening and the pope's visit, Bishop Suriel is staying focused on making sure that the church stays relevant, in particular to young members of his congregation. In his eyes, it's a task that is inherently tied to the future viability of Coptic Christianity. "I think our faith is at a turning point," he says. "We have many churches throughout Australia, although it is never enough."
As for the pope, does he hope to see more churches like the one in Eporo Tower built in Australia and abroad? "God willing," he says.
Facts and figures:
Copts in Egypt: 11 million
Copts outside Egypt: 1 million
Minimum age of a Coptic pope: 40
Coptic Christmas: 7 January
Coptic popes so far: 118
---
Know your religious leaders:
Patriarch Kirill of Moscow and All Russia
Russian Orthodox Church
The popular head of Russia's oldest Christian church has hosted TV shows on theology; he still holds stadium rallies. He is an ally of Vladimir Putin, calling his leadership a "miracle from God".
Pope Francis
Roman Catholic Church
The first South American pope is well liked, thanks to his focus on the poor and aversion to luxury. But he still struggles to find a lasting solution to the Church's ongoing sex scandals.
Justin Welby, Archbishop of Canterbury
Church of England
Welby's feats include increasing the role of women clergy. He works well with the Queen, who technically holds the highest rank in the Church.