Furniture / Germany
Utility room
The Bauhaus's designs still resonate today because of their functionality: Tecta can see the beauty in that.
A modernist office sitting among verdant fields just beyond Germany's Weser River may seem an unlikely epicentre for the Bauhaus spirit, yet it's here in the tiny town of Lauenförde that furniture-maker Tecta tends to the design school's flame. Founded by Hans Könecke in 1956, Tecta has always championed handmade furniture but Bauhaus creations weren't introduced until Axel Bruchhäuser and his father acquired the business in 1972.
"I grew up behind the Iron Curtain and was accused of elitism for my fascination with the Bauhaus school," says Bruchhäuser, admitting that he used to fantasise about fleeing the east by being sewn into the upholstery of a sofa. "I just wanted to get out; I just wanted freedom."
He finally made his escape (in a car, not a couch) in 1972 and found liberty in Lauenförde, where he met Könecke. The latter took him in and later sold him his company, which Bruchhäuser now runs with his nephew Christian Drescher as its ceo. Together the two are taking the 20th-century Bauhaus movement into the next era.
Walter Gropius's influential German school may have closed its doors in 1933 but at Tecta the creations of its leading talents – including Gropius, Marcel Breuer and Ludwig Mies van der Rohe – are still being manufactured.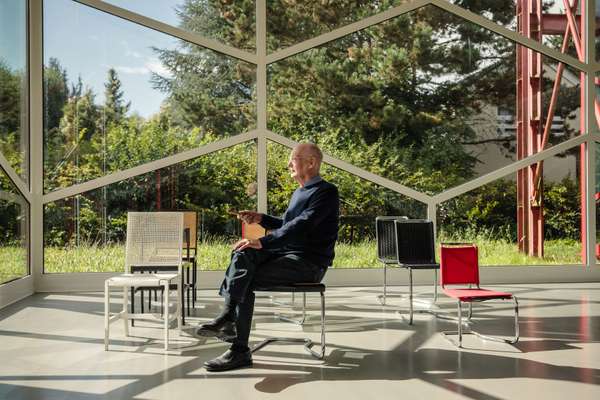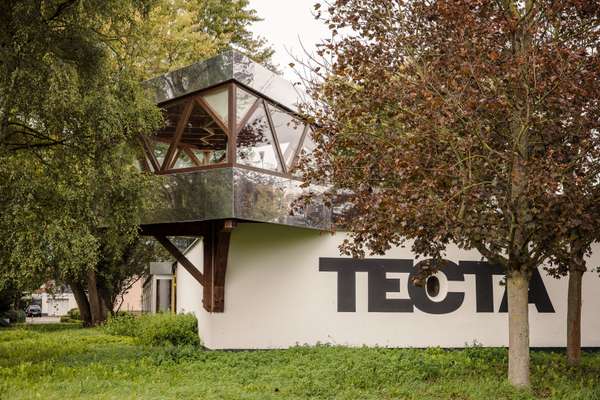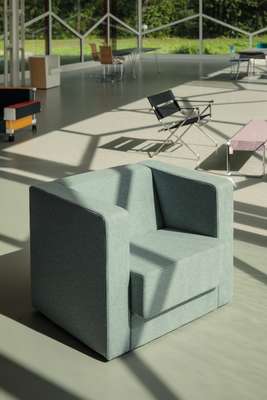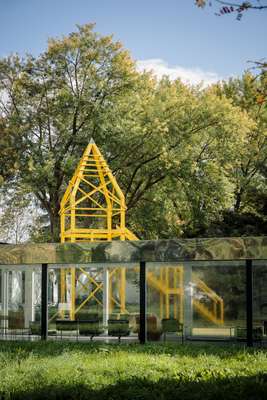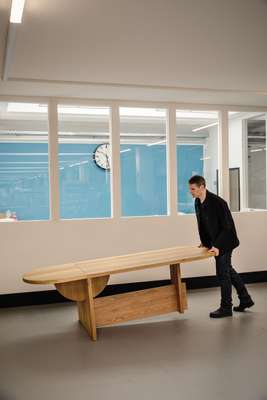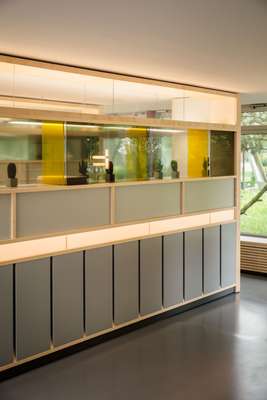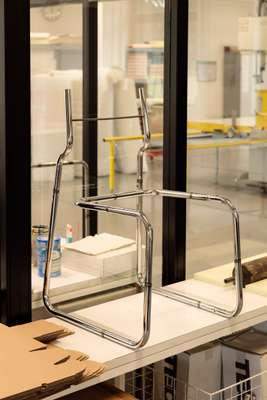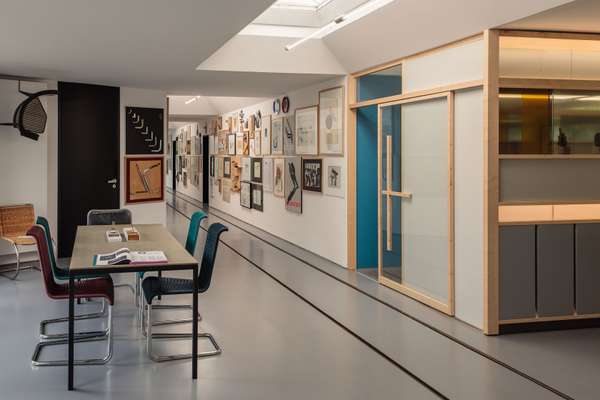 As soon as Bruchhäuser started at Tecta he formed relationships with the main players of the Bauhaus, eager to produce their designs. He collaborated with Marcel Breuer, who pioneered the use of tubular steel in furniture, traded sketches with Mies van der Rohe's office and worked with the Gropius family to realise re-editions of the founder's f51 chair, among other pieces. These working relationships made Tecta an authority in Bauhaus furniture and today the company produces about 30 certified Bauhaus originals, more than any other furniture-maker in the world.
Just like at the school's former workshops in Weimar and Dessau, Tecta set up ateliers specialising in weaving, sewing, woodcutting and metalwork. Here, around the clock, skilled craftsmen can be seen weaving chairs by hand and slicing swathes of customised fabric and leather to size. Every chair, shelving unit and table is handmade. And while the factory bustles outside, the serene pastures that surround the modernist steel, wood and glass bungalow give it a sense of calm, making it a fine place to work.
Over the years the Bauhaus classics have been joined by contemporary creations, such as German designer Daniel Lorch's Split chair and innovations including Bruchhäuser's patented tube aplati. This clever concept was born out of the desire to design a new-generation cantilever chair. A visit to Jean Prouvé's studio in Paris in 1983 gave Bruchhäuser the inspiration to bend the chair's steel tubes at the corners to give its right-angled legs the stability they needed. And that's how the tube aplati – a signature feature of Tecta's iconic b25 cantilever chair – came to be.
Tecta manufactures hundreds of products, which are sold in Europe, Japan, the US and beyond. The majority are handmade to order and customised to the client's specifications. Drescher isn't only keen to preserve and celebrate the Bauhaus ideals ingrained in its collections; he's also committed to promoting new talent.
"We're interested in advancing the Bauhaus thought through the work of young designers," says Drescher, as he introduces us to Wolfgang Hartauer, one such designer to join Tecta's ranks. After launching a number of successful products for the company, including the K8 side table, he has been commissioned to design a chair that can compete with the classics – his biggest challenge yet.
"For me, furniture is architecture on a smaller level but it has to have the same functionality," says Hartauer, who lives in the vicinity and spends most of his days at Tecta. If he's not in the workshop he can usually be found strolling through its in-house Cantilever Chair Museum. "It's my favourite place of all," says Hartauer, before getting back to work on his own creation.
Retreating into Bruchhäuser's office, which is packed with memorabilia from Tecta's company history, it's clear his views on the design industry are more in line with another era. "I think the reason why the modernist movement holds such significance for many people today is because they are searching for something of value," says Bruchhäuser. "Beyond the sea of redundant designs rolled out every season to address commercial trends, there is little out there without an expiry date." The lasting power of design lies in its functionality and the Bauhaus school understood that, as does Tecta.
"When I look at a chair by Walter Gropius I see more than just a piece of furniture: I see a timeless object that has character and integrity," says Drescher. "That is what we're looking for. Bauhaus is not a style, nor is it a fashion. It's a way of thinking. And this way of thinking has no end."
Office space:
Tecta's office was designed by its founder Hans Könecke and then revamped by the late UK architects Alison and Peter Smithson. Followers of the brutalist style of architecture (exemplified in their Robin Hood Gardens residential project in London), the duo started reshaping the grounds and adding post-modern touches (such as geometric lattice windows referencing the region's pine forests) to Tecta's modernist bungalow in the late 1980s. Peter's last major project was his design for Tecta's Cantilever Chair Museum, which is adjacent to the factory and stores Axel Bruchhäuser's collection of chairs. It was inaugurated in 2003 and displays about 1,000 objects.