Fashion / Global
Worlds collide
Two new museums showcase two sides of Yves Saint Laurent's life's work: from classical to florid; simple black to vibrant colour; Paris to Marrakech.
On a white podium in an hôtel particulier on Paris's Avenue Marceau, two assistants in black satin gloves are struggling to fix a one-metre-tall African-inspired hat to the head of a mannequin. The gold plastic body in question wears Yves Saint Laurent's Bambara frock from 1967: a black Rhodoïd and wooden-beaded haute-couture item with two cones on its bodice. Aurélie Samuel, head of collections, looks on. As an expert in national dress she is amazed at Saint Laurent's understanding of traditional techniques. "He had such a high level of knowledge but he didn't visit a lot of countries; his inspiration came from literature," she says as she shows us a Russian Cossack in gold boots, a Spanish bullfighter with a black silk jabot and a Moroccan Bedouin in boiled-wool cape and fez.
These are some of the highlights of the new Musée Yves Saint Laurent, which opened in early October on the site of the designer's famous couture house after a €5m renovation. Its exhibitions will draw from the designer's archive of 5,000 haute-couture pieces as well as sketches, photographs and objects documenting 40 years of Saint Laurent's working history. From the first Le Smoking tuxedo to medieval-inspired gowns, the majority of pieces on display are the original prototype made for the catwalk.
"Yves Saint Laurent kept everything," says Olivier Flaviano, the museum's young, bespectacled director, as he shows us the designer's first pea coat decorated with sumptuous gold buttons. "He was one of the first fashion designers to be aware of his heritage. In those days prototypes were either given to the models as gifts or sold on to clients after the collection."
Sumptuous really does sum it up. The museum is designed to make visitors feel like couture customers: they mount a sweeping staircase and enter the grand salon with its faded-green marble-esque fitted carpet, gold statues and silk banquettes. There are no glass cabinets and few physical barriers so the experience has tactility and life. There's even a chance to look around Yves' private office, where a pinboard features missives to friends and photographs of his French bulldogs (he had four, all named Moujik) and favourite people (Catherine Deneuve). Each surface is cluttered with button boxes and samples from the Parisian ateliers he worked with: swatches of incredible beading by Pierre Mesrine and François Lesage, as well as brooches and buttons by Roger Jean Pierre, show the workmanship that went into every item of clothing.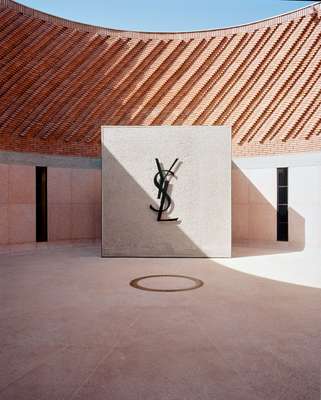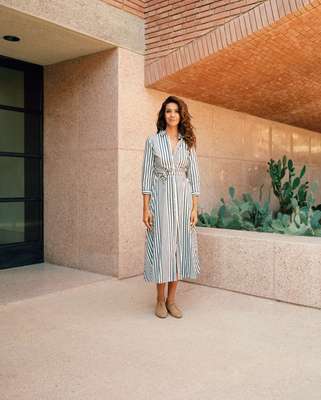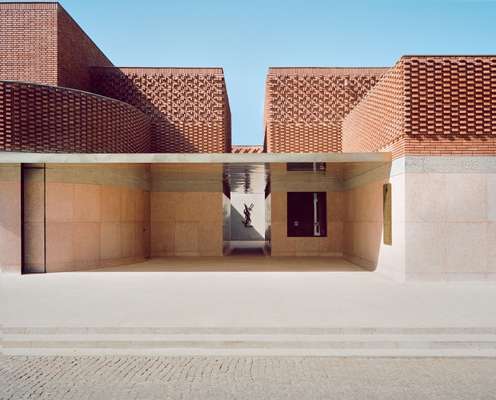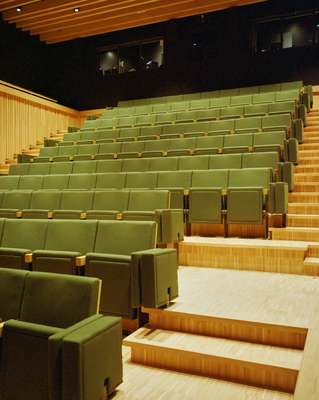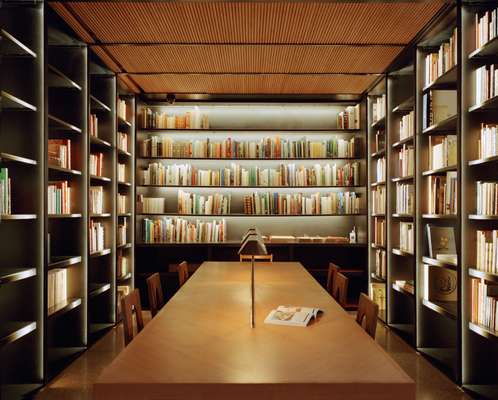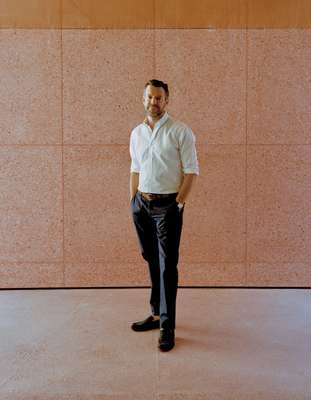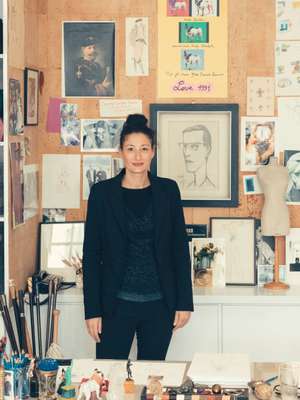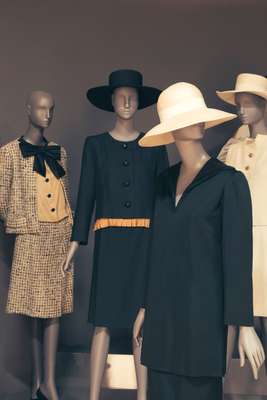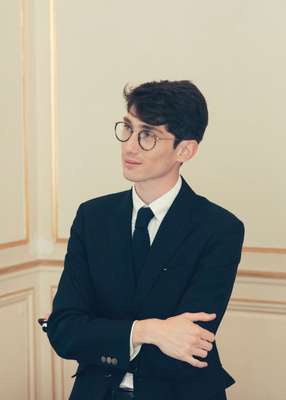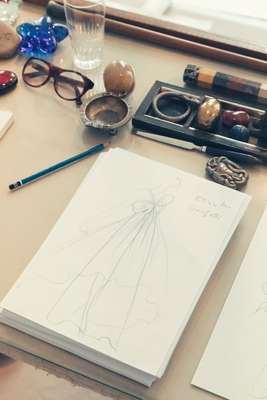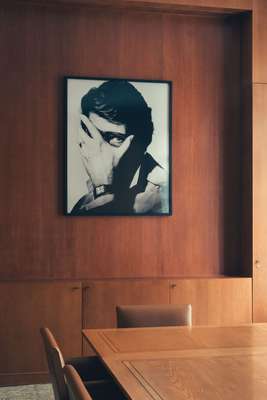 The room has real emotional closeness; the glass paperweights and sharpened pencils give the impression that the man himself has just stepped out. "This was where the models would enter," says Flaviano, pointing to a bouncy stretch of off-white carpet. (Saint Laurent made pre-prototypes in calico for every piece, and inspected each creation on models to watch the fabric move.) "We're not just a fashion museum, this is the house where these garments were created. It's like [London's] Sir John Soane's Museum – you feel it has been inhabited."
This project has an unlikely twin. Though Yves Saint Laurent was steeped in the exquisite world of Parisian haute couture, he spent much of his time in Morocco. He and his business partner and great love of 50 years, Pierre Bergé, first visited Marrakech in 1966 and later bought a house there. "He would spend two weeks in Marrakech creating the collections and he would then go back to Paris and dispatch the drawings to the ateliers," says Samuel as she shows us an appliqué cape that mimics the luscious pink flowers of bougainvillea. "Marrakech's Majorelle Garden [which borders the museum] was inspired by Persian antiquity and he felt very well there. It was a kind of paradise."
It's fitting then that Bergé chose Marrakech for a new museum dedicated to Saint Laurent. It's on the hot, dusty Rue Yves Saint Laurent where spluttering taxis jostle for tourists' fares and the occasional horse and trap canters past. "While Paris is about creation, this is about emotion and inspiration," says Casablanca-born director Björn Dahlström, as he stands in the dry heat of the afternoon outside the new €15m building by Paris-based architecture firm Studio KO. "It was here he discovered colour: the pinks, reds and oranges he was known for."
In contrast to the French capital with its muted palette of zinc and stone, Marrakech explodes with colour. Today bougainvillea tumbles over the wall of the Majorelle Garden next door, a lush oasis that Saint Laurent and Bergé saved from development in 1980. Jungles of palms flank the museum's café and a prickly forest of mature cacti surrounds the exit. The collections will reflect this riot of colour: the photography gallery will show a series of images shot in Marrakech in 1992. "It's Catherine Deneuve wearing ysl big hits," says Dahlström. "This is the medina, Saint Laurent's house, the carpet souk. This is her in the famous Van Gogh Iris jacket, which will also be on display. He was a colourist."
From the outside the building resembles a modernist ziggurat with earthy red brick and rose granite. Visitors walk down a cool corridor to a round courtyard where oblongs of coloured glass in blue, green, orange and pink surround the unmistakable ysl logo. This space is almost temple-like, with a dramatic circle of blue sky above. Inside is a study in oak panelling and elegant brass finishings. There is a fountain of green Zellige tiles and the bookshop is fitted in a deep orange-lacquer wood. Conversely, the exhibition space is black, almost in reference to the lining of Saint Laurent's Le Smoking. The interiors were designed to reflect the texture and shades of Saint Laurent's creations.
Inside this vast black space, Maria Callas arias reverberate as exhibition designer (or "sonographer") Christophe Martin assembles a wall of documents and photographs from Saint Laurent's life, including an all-important letter from Michel De Brunhoff, the editor of French Vogue, that led to his first job at Dior. "We call this wall 'All about Yves'," says Martin as the soundtrack switches to the Rolling Stones, in reference to his friendship with the Jaggers. On the walls projections of catwalk models, marching like newly shod ponies in ysl creations, show how good Saint Laurent's work really looked. (After all, it was he who uttered the words: "What is important in a dress is the woman wearing it.") "Yves was an artist and a revolutionary," adds Martin, who worked with Saint Laurent before he died in 2002. "If women can wear trousers without ridicule today, it is down to him."
Paris has a bounty of museums. Yet to plant this jewel-like homage to fashion in a hot, beautiful, chaotic city like Marrakech feels like something of an adventure. The clothes feel very Parisian but their creative provenance in Morocco is clear: the city's richly decorated riads and the labyrinthine souks are evident in the designer's vivid use of colour and penchant for abundance. In many ways this is a merging of two worlds. "There's always a dialectic and a duality with Saint Laurent," says Dahlström. "There is classicism and baroque. There is black and there is colour. And there is Marrakech and Paris."
This project stands to be a boon to Marrakech's tourist offering. Yet the museum will also serve the city's residents with a library, a bookshop and an oak-clad auditorium. It's even equipped with hi-tech clothing-storage facilities so that it can be on hand to receive other priceless textiles. "We have a contract in place with Paris's opera to live-stream performances," says Dahlström, as he shows us the 150-seat concert hall. "This space was designed so live musicians can perform with the best possible acoustics. It follows Bergé's demanding specifications."
Bergé created these two museums to tell the story of fashion, art and women on two continents. It is a bold venture and his exacting taste is evident in every detail. Yet he died just weeks before the two buildings opened their doors to the public. It's a poignant twist to the story of a museum with such emotional potency.
"Someday I will join you under the palm trees of Morocco," said Bergé in his eulogy to Saint Laurent at Paris's Saint-Roch Church. With this museum he has ensured their legend lives on – next door to the garden they loved so much.