At the front / Global
Editor's letter
Time for a new bureau, we thought. But with so many great places to choose from, where would prove to be the perfect fit? It's been a tough decision process but now our editor in chief can reveal the city that's won us over...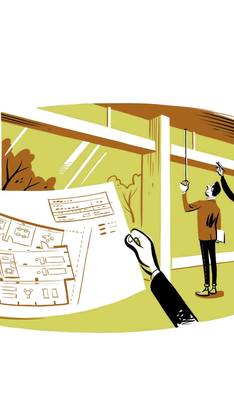 You might recall that a couple of issues back I floated the idea of expanding our reach by establishing a new editorial/ commercial base. While this certainly isn't on the scale of Amazon's search for its HQ2 (we're hoping Toronto secures the deal), it nevertheless prompted a flood of emails from suitors and supporters of cities around the world.
Starting at the more secure and surprising end of the spectrum, we had a persuasive note on behalf of Strasbourg. The arguments in its favour were its importance as an EU administrative centre, a snappy tgv link, fine food and an enviable quality of life. Around the corner in lovely Luxembourg, a trio of readers made a heartfelt pitch for the Grand Duchy, citing its location at the heart of Europe, easy-to-use airport and excellent cuisine as reasons for establishing a base among the glittering banks and tax-efficient HQs.
Heading east there was a vocal pitch for Athens with its affordable office space, outstanding quality of life and quick access to sunny islands. As much as I like Athens and all it might offer, I disqualified this suggestion as I had a suspicion it had in fact been pitched by our head of retail, Martin Vigren, under a Greek-sounding pseudonym. Outside of Europe we had a few people cheering for Seattle (clearly worried that Amazon's hq2 was going to take some shine off the city), Montréal was suggested as a better value-for-money alternative to Toronto and there were a couple of calls for Chicago, Boston and Atlanta.
While all of these are sound suggestions (for diplomatic reasons I've refrained from sharing some of the more absurd and downright whacky pitches) the criteria came down to a central location, excellent communications (air, rail, road and broadband speed), local talent, existing and future business opportunities, and overall sense of comfort and familiarity. As of mid-September the shortlist was Berlin, Munich and Zürich – but it was a leisurely jog on a Sunday afternoon that sealed the decision.
After a round of coffees in Küsnacht with friends Louise and Johan, I set off for a jog back to Zürich with Mats in tow (in fact, it was more me dragging along behind). With no set route we zig-zagged along the lake, taking in the views, peering over garden walls and generally enjoying a lovely autumn day. As we crossed into Zollikon and then back towards Zürich's centre we ran alongside the lake and took in a few more leafy streets. As the architecture shifted from single villas to more mixed-use buildings with shops and services below and residential above, I kept an eye on spaces that were vacant or might soon be on the market. After a sharp left and then a right and then another left we passed a few inviting-looking restaurants and were suddenly stopped in our tracks by a striking 1960s building that had a sprawling, vacant space at street level. Could this gem really be empty? What had been here before? Was it on the market? And if so, what could we make of it?
The following morning I sent a note to Monocle's Zürich-based production co-ordinator Carlo to see if he could do a bit of digging; before long he came back with an answer. The building was indeed vacant and available. Better still, the price wasn't outrageous. Shortly after that we met the agent and did a proper inspection. The representative of the landlord said that the building was architecturally significant but wasn't listed and had recently been a furniture and design showroom. We explained our line of business and what we might do with the space, and the agent said he would speak to the owner and see if there might be a fit. When we received a positive nod a few days later we summoned our favourite Swiss architect, our most clued-up F&B contact and a collection of other collaborators to measure up the space and work on a rough set of drawings. In the background we also managed to agree terms and sign the lease.
As Zürich has long been our official HQ, it felt easier to trade up within a city we know very well while also re-thinking how we want to run our business. From 1 March 2018, 90 Dufourstrasse will be home to Monocle's new global HQ (complete with shop and bar-cum-kiosk), an expanded base for our sister agency Winkreative, the first continental branch of menswear shop Trunk Clothiers and also a few desks devoted to a new venture I'll tell you more about in the new year. We'll be just down the street from the nzz and some of Switzerland's other leading media outlets; you'll be hearing more hours of programming anchored from the heart of Europe, and we're also hoping to fill a much-needed gap in the caffeine and newsprint business in the city's eighth district.
As this expansion also calls for more staff we're on the hunt for a good barman, a couple of good baristas, a radio engineer, a sharp advertising sales manager and a senior correspondent. If you have Swiss residency and one of these posts sounds like it's up your Strasse, please get in touch. In the meantime we're already working on the 2018 edition of the forecast and prepping for our upcoming Christmas markets – Zürich included. Wishing you a Merry Christmas and all the best for 2018; thank you for another year of generous support.