Canada Goose / Toronto
Good for the goose
Historic outerwear brand Canada Goose is riding a tailwind of shifting consumer habits all the way to Europe and beyond. As the coat-maker migrates from North America and launches a new line of knitwear, could it be about to lay another golden egg?
Dani Reiss, the ebullient CEO of Canada Goose, is in high spirits. "The mood here is great," he says at the company's Toronto headquarters. "It's exciting. People who work here are passionate about being here. To me that shows that we're doing something right."
This year has been a pivotal one for the storied down-coat maker: its debut on the New York and Toronto stock exchanges in March raised $256m. It was the first high-end fashion brand to go public since Jimmy Choo in 2014 – and it soared. The value of the shares climbed 40 per cent above the initial public offering, giving it the highest price-to-earning ratio (the value of each share before trading versus what it actually made) of any luxury brand to have ever gone public.
The company has grown from about 40 employees 20 years ago to some 2,000 today and has gone from selling 20 models of coats to more than 200. Having consolidated its place in North America, this November saw a major foray into Europe, with the brand's first bricks-and-mortar shop opening on London's Regent Street. It marks the first key step in a global expansion strategy built around own-brand retail: it is the first of between 15 and 20 physical shops set to open in Europe and Asia by 2020.
Its growth may seem swift but the brand's reputation has been decades in the making. It was established in 1957 by Reiss's grandfather Sam Tick and its early products catered specifically to those who worked in Canada's sub-zero temperatures, such as the Canada Rangers division of the national army reserve. Its big break came in 1982 when explorer Laurie Skreslet became the first Canadian to scale Mount Everest – and did so wearing the all-black Big Mountain model. The fanfare that followed cemented Canada Goose not only as the go-to outerwear label for the extreme cold but also as a national brand.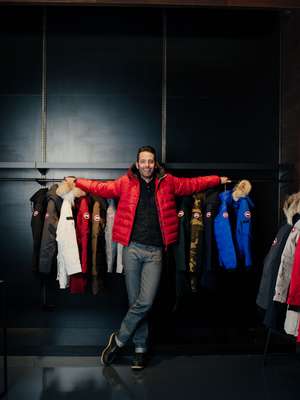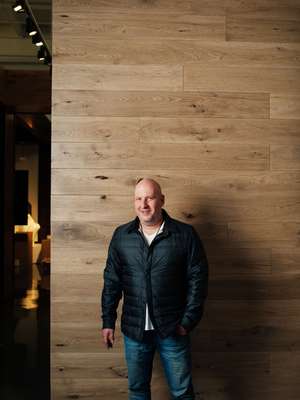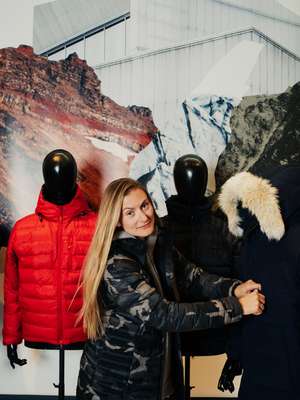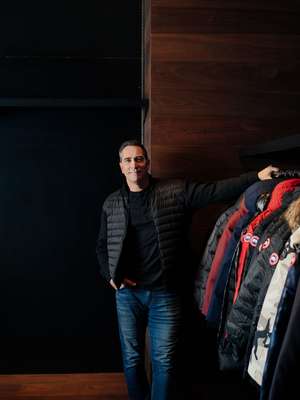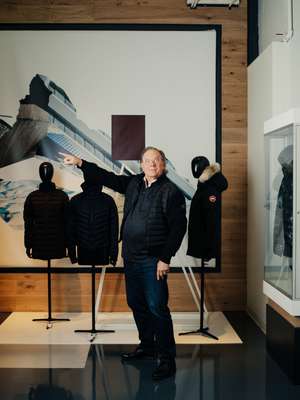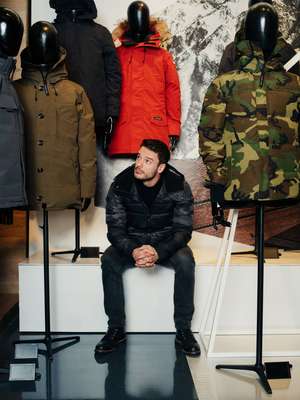 Yet it is Reiss, who began working for the company in 1997 before taking over from his father as president and CEO in 2001, who has overseen the brand's shift from trusted outerwear label to coveted fashion brand. One of his key moves over the past decade has been to promote Canada Goose coats as aspirational items that can be worn as a fashion statement as well as for their functionality. Reiss has used high-profile appearances as a platform to bolster awareness too, a tactic that has proven especially effective in the US market, where Canada Goose now holds about 16 per cent brand awareness. What began in 2012 as partnerships with film festivals such as Sundance has yielded cameo appearances by Canada Goose in wintry flicks such as Manchester by the Sea and James Bond caper Spectre.
The brand's recent success is also indebted to a shift in the shopping habits of young urbanites. Crucially it has gained traction with an affluent city-based audience. Such shoppers are increasingly interested in highly technical clothing and in provenance – two factors that play to Canada Goose's strengths. As well as being lightweight, waterproof and warm, its coats are made in Canada, many by staff trained at one of its four in-house sewing schools. "Our customers want authenticity," says Reiss. "I don't think there are a lot of brands like us left."
The increasing interest in technical clothing has meant that high-end extreme-weather brands have thrived over the past few years. These companies appear to be immune from the general slump that has plagued the luxury industry. Last year Italian outerwear manufacturer Moncler posted a record €1bn in revenue, thanks in part to a strategy that has seen it blur the lines between utility and high fashion. Patagonia, the California-based sustainable outdoor brand, has amassed about $210m (€180m) in revenue thus far in 2017 despite almost no advertising.
"Technical outerwear seems to be trending as a lifestyle product in all our larger and progressive city markets," says Adam Ketcheson, senior director at Vancouver outdoor company Arct'eryx. "Large coats sell well in cold cities such as Toronto and New York but seem to be less relevant in more traditional fashion markets such as Paris." Moreover, data shows "a trend away from bulkier coats as people get frustrated with heavy parkas", says Ketcheson. "Lighter, breathable insulation is trending as an alternative – especially in Europe, which has experienced a couple of really warm winters."
Until now Canada Goose has resisted launching lines outside its traditional down-coat stronghold but the move into Europe has motivated the company to – rather sensibly – change tack. Its outerwear will be joined by a new line of knitwear (no-fuss jumpers and cardigans in blues and greys) that debuted in August and which, Reiss hopes, will do particularly well in markets outside North America.
As with everything Canada Goose does, it has not made the decision to expand lightly. "We're a bigger company now but we're not going to play things quarter by quarter," says Reiss. "We continue to make long-term decisions." The changes that the brand has undergone this year are the result of drawn-out processes (the knitwear range, for instance, was in development for three years). "We have to stay relevant but I'm trying to build a brand that will endure. I believe that the appetite for authenticity is not going to change."
---
Chunky coats may be jumping off the racks right now but how long is their shelf life? Fedoras were ubiquitous in the 1940s but then the car came along and people no longer needed to shield their barnets from the elements. In years to come, as climate change creates ever-warmer winters, could bulky puffers become similarly redundant? In recent years US retailers such as Macy's and Nordstrom have attributed unsold inventory to unseasonably warm winters, while trans-seasonal fashion has become a major catwalk trend. "Layered dressing is definitely the way the world is going," says Anne Lise Kjaer, a London-based futurist. "I don't think cold-weather brands will disappear but they will need to continually reinvent themselves."
---
Have a gander
By Jamie Waters
We examine Canada Goose's most enduring model: the Snow Mantra parka.
Canada Goose's signature model is made up of 247 parts and passes through 98 hands during production.
Hood: made from coyote-fur ruff sourced from North America
Zip: heavy-duty YKK locking zip from Japan
Fabric: a polyester-cotton blend with a water-repellent finish
Logo: an inverted map of the Arctic (the white is the ocean, the blue the land)
Down: filled with white-goose down from North America