Architecture / Aarhus
Living with a legend
Aarhus city hall was built as a statement of faith in the future during Denmark's darkest days. Today its stunningly preserved design is still inspiring civic pride.
Aarhus may be small but this coastal Danish city is evolving at a rate of knots. Some 5,000 new citizens each year feed into the nation's second city as its urban fabric matures. Developments from Danish firms CF Møller and Bjarke Ingels Group reflect a place starting to gleam with modernity; there is even a plan for an Aarhus high line. Yet the city government driving this evolution sits in a building that's very much of the past.
"I have been working in this building for 12 years and I like it more every day," says Aarhus city alderman Kristian Würtz. Overlooking an autumnal scene in a neighbouring park from his office filled with Danish modern furniture, there is much for him to admire. "The people of Aarhus have an emotional connection with this building that goes right back to its construction in the 1940s. It was the war and money was scarce. People here donated copper pots and pans to the municipal government to melt down for the bells; it was our first crowdfunding project and quite a statement from an occupied city."
The building was also one of the first masterpieces to emerge from the Danish modern movement, which still informs much good design today. The two-pronged architectural approach by Arne Jacobsen, a creative visionary, and the hands-on and practically minded Erik Møller, created something far ahead of its time. Clad in cool-grey Norwegian marble, the building gave an architectural schooling in the functionalism for which Jacobsen later became famous; even the clocktower – a late addition due to public pressure and political interests – was devoid of decoration.
"It's a true idiom of that period of time and one of the first examples of the idea of Gesamtkunstwerk – total design – that emerged from the Bauhaus," says Aarhus city architect Stephen Willacy.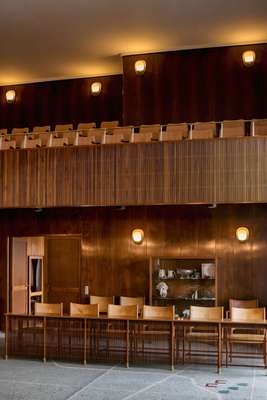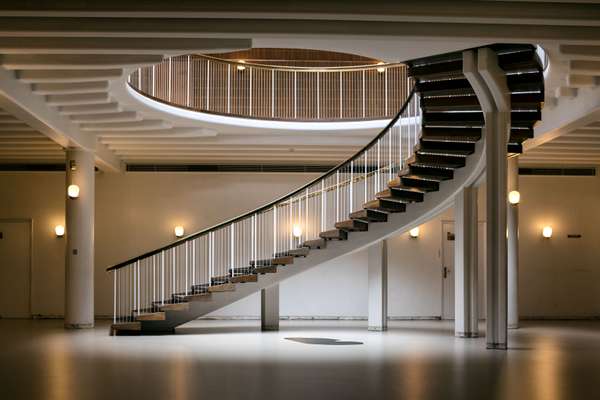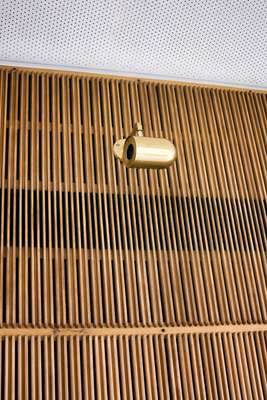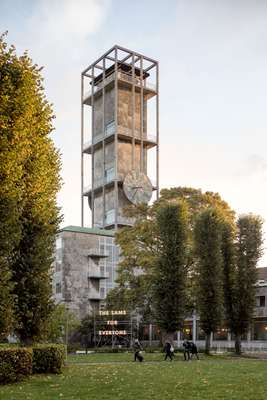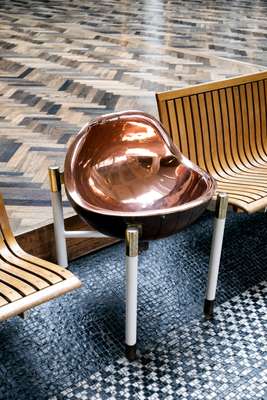 Sitting in another office filled with modernist designs, he is laughing about the now-unfeasible construction budget. A vast 40 per cent of it went to a little-known (now-celebrated) furniture designer, Hans J Wegner, who was commissioned to furnish the interior. "There are so many different layers here, so many ideas – not just in the building's composition but also in the way it was made and the lighting conditions. Everything, from hat stands to guardrails and wardrobes, was designed; the architects had complete autonomy."
It was an autonomy that formed a building of legendary design. The sweeping central spiral staircase that Willacy refers to as something of an instrument – "It feels like you could play music on the balustrades," he says – is nothing short of breathtaking. But what has kept this building's design alive is its true function. From its opening in 1941 until today, the city hall has remained a well-trodden civic space and a comfortable home for its city government in times of war and peace.
"Despite the fear of terrorism and security threats, we keep the house open; you can walk straight in and meet the mayor if you like," says alderman Würtz. "The feeling of openness is everywhere here. Not having to pass through all sorts of security features also gives the building a democratic face that still works."
As a politician Würtz can get around the strict health-and-safety standards that have left some offices here (for the 500 or so staff) kitted out with ugly, ergonomically smart furniture. While he's opted for a comfortable desk chair rather than a 75-year-old relic, the rest of his office is a shrine to Wegner's genius. "There are so many design details that are simply fascinating," says Würtz, opening a typist's desk to reveal a cleverly concealed fold-out filing cabinet. "You just don't see this kind of craftsmanship anymore."
It's a craftsmanship that has been maintained largely through the efforts of the smart Danes who have occupied the building over the years. As the city wraps up its year as Europe's capital of culture, bells of celebration are ringing. After 12 years out of action, the crowdfunded bells of the clocktower are clanging thanks to an expensive refurbishment. "Originally we had 43 bells but we have extended that to 48, which is the perfect number for a carillonist," says the city hall's in-house architect Henrik Bauer, referring to the bell ringer who plays monthly concerts here for citizens. "We had to search far and wide for a company that could still make bells like this; there are not many left."
From the top of the tower to the depths of basements filled with Wegner furniture, original pencil-drawn plans and now-priceless Jacobsen lights, Bauer's knowledge of this building and its contents is encyclopaedic. His passion for the place is unbridled and his work over the past 15 years here has meant that Jacobsen and Møller's vision remains remarkably intact. Besides helps to balance a tough maintenance budget (toilets missed an overdue upgrade this year in favour of the bells), he's also responsible for adding modern elements to the building.
"Did you notice these?" asks Bauer, pointing up to a polished-brass fixture hanging in one of many attractive timber-lined hallways. The answer – indeed, the response Bauer is looking for – is "No". "It's the security camera I designed," he says. "It's set in brass and custom-built for us by the same brazier who works on the light and lamp fittings." City architect and close Bauer collaborator Willacy is on hand too. "The world's most expensive security camera," he adds.
The respect that the pair have for the building meant that all-important additions – including wheelchair ramps, fire detectors and even the rubbish bins – chime with the building's aesthetics and appear seamless. Bauer describes his work in a suitably stoic Danish manner. His job here as an architect is to "do nothing with the original design of the building", he says. "How could I compete with this?" he adds, pointing to the wonderfully textured bog-oak parquet floor in the main hall.
From the erosion wrought on the building's steel innards by the salty air to the limitations of the materials' natural lifespan and preventing original fixtures from finding their way out of the building (and onto eBay), Bauer is undoubtedly one of the city's hardest-working architects. And while there's no doubt that it's the growing city around it that occupies most of the work done in Aarhus city hall, it's also clear that good design remains a constant part of the conversation in this city thanks to the profile enjoyed by this building.
"This place is synonymous with Aarhus," says Willacy. "The people are very proud of it and as a city architect it is fantastic how modern this building still feels – and how strong its relationship with citizens has remained."
Comment
Keep it tidy
By Nolan Giles
Maintaining a work of art takes effort, especially when your masterpiece is a whole building.
The hall's parquet floor is made from oak drawn from bogs. Bauer was lucky enough to discover a batch of bog oak that precisely matches the tone, meaning worn-out parts can be replaced seamlessly.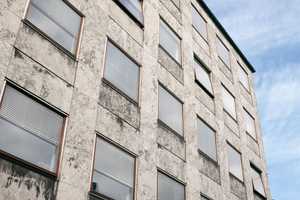 The marble slabs quarried from Norway that grace the exterior occasionally need to be replaced. Thankfully, extra slabs were bought when construction began and these remain in the city hall's basement.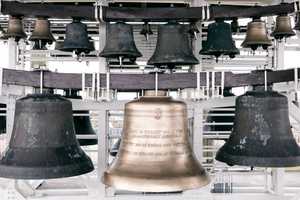 Tuned to 440Hz, these bells might be Denmark's finest. A carollinist visits regularly to provide tunes for people in the neighbouring park and to make sure the bells continue to ring at perfect pitch.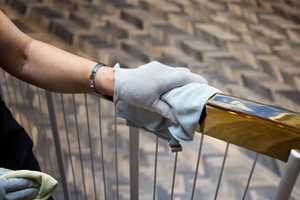 Bauer works with a local brazier to replace brass fittings, which are polished regularly. Willacy would prefer the darkened patina that brass takes as it ages but most people here prefer things shinier.