Music / Sweden
Pure and simple
We talk to Sumie about her subtle second album, a quiet triumph of wistful restraint.
There's such a thing as autumn music: the stuff that swirls slowly from your speakers into this season of mists and mellow fruitfulness. Sandra Sumie Nagano's second LP, Lost in Light, is just such music, well prepared for the air cooling, the leaves falling and the diffused light of a pleasurable melancholy.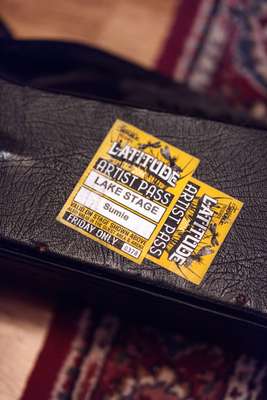 "My music is like a sketch on a sheet of white paper, it's so minimalistic," says Sumie (as she's best known). "If you have someone else making their mark on the page things can get messy; it's tough to let someone else into it." Tough as it may have seemed at the time the album's subtle, shimmering production comes courtesy of recording in Sumie's happy (and happily photogenic) studio in Gothenburg. The result is a beautiful album of simple songs brought alive by a subtle electricity.
Inspiration for this new collection came from within and without depending upon whether a song comes from a riff, is played on a piano or a story that wants to be told. "I went to the public library in Gothenburg and read a lot of old letters," she says. "I read love letters, letters when people didn't know if they were going to come home from war, letters containing simple hopes." So yes, there is yearning here too. And after that? "Well, it got easy," she says.
Easy for her to say now that it's done, dusted and in all good record shops (and available through the usual channels). Guitar, piano, just enough echo and a voice to coax the snow. The time is right and the season is ripe for the dappled shade of Lost in Light.
'Lost in Light' is out now on Bella Union