Observation 1 / Helsinki
Read on
With Finland's love of libraries well established, we head to a Helsinki haunt that typifies the country's bookish ways.
It's 14.00 and the public library in the northern Helsinki suburb of Maunula is buzzing with hushed activity. A group of kids from the nearby international school are doing their homework and teasing one another in English on the sofas. A couple of older gentlemen are leisurely reading newspapers, while an elegant elderly woman in a green woollen coat is deep in conversation about Russian literature with one of the librarians. "We get all kinds here, from elementary school kids to pensioners, students to immigrants," says librarian Lauri Seutu. "It's a sort of living room for the local residents."
Opened in 2016, the Maunula library is indicative of the importance that Finnish towns and cities place on public libraries. They are often found in very central locations and are usually among the best-designed buildings in the area. The one in Maunula was designed by renowned Finnish architecture firm k2s and its modern glass-and-wood façade almost looks out of place in this sleepy 1970s suburb characterised by grey flat-roof apartment blocks. It's a marked contrast to other countries where funding for libraries has been scaled back.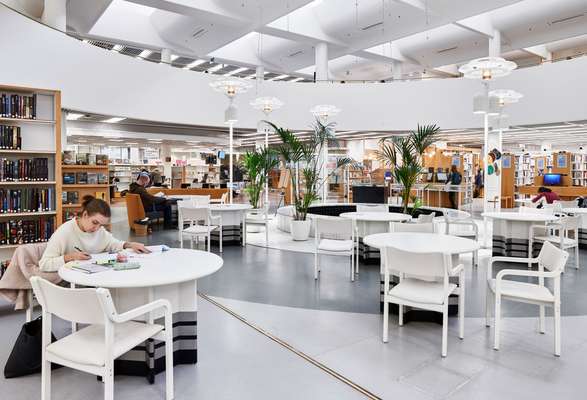 Sitting in one of several Swedese Happy chairs scattered around the main hall is pensioner Heikki Blon. He is reading Finland's most popular daily, Helsingin Sanomat – something he does at least three times a week. "I have another library close by but I prefer coming here," he says. "The building is pleasant to look at and the chairs are comfortable."
"Finns use libraries more than any other nation in the world," says library historian Ilkka Mäkinen of the University of  Tampere. "They have played a major role in boosting the country's literacy rate." Finland has more than 800 libraries that stock more than 30 million books; each citizen borrows an average of 12 books every year. And Helsinki alone is home to 37 libraries, with the majority evenly scattered in the suburbs to ensure access in all parts of the city. There are also two library buses that travel to remote regions.
Maintaining such an extensive library network comes at a cost: as much as €333m a year. But it seems to be a cost that the Finns are more than willing to fund. When president Sauli Niinistö was a stringent finance minister earlier in his career he suggested that the nation's libraries should be rethought as pay-as-you-go services; it caused a nationwide backlash. Even 20 years later, with an 80 per cent approval rating, he is still occasionally needled by the public and press for those comments.
The Finnish love of the library is rooted in history; according to Mäkinen it has played a key role in the country's social policy. Before independence libraries were used to educate the masses in the nascent Finnish language and did their bit in terms of boosting Finnish national sentiment during Russian rule in the 19th century. "The educational role of the public library remained when Finland gained independence," says Mäkinen. "Libraries became part of the civilizing mission of the new state."
Heikki Blon agrees. Looking up from his newspaper at Maunula library he asks, "How could a civilised country not have free public libraries?"