My last meal / Bali
Ronald Akili
The serial entrepreneur behind Asian lifestyle hospitality brand Potato Head remembers returning empty handed from hunting wild boar in the jungle, his grandmother cooking huge family dinners of spicy Manado food and the benefits of a bowl of bat soup.
"I would spend my last meal with my wife, my boys and the whole family. Last weekend we were at the beach here and bought fish from a lady who was selling it from her bicycle. We had nice mahi mahi, plus snapper, and we set up a tent on the beach and grilled it there. I bought the fish on the way to surfing in Canggu. I got it at around 10.00, got there at midday and we stayed till sunset: surfing, with the kids running around the beach. That's the ideal weekend and could be my last meal; or maybe suckling pig from Ibu Oka in Ubud [a town further north].
I am one of four brothers and I have three sons of my own – and 21 first cousins. So when we go to a restaurant there are 20 or 30 of us in the immediate family. Family meals are very important. Every night when I was young everyone had to sit and my grandmother would cook for everyone. My family comes from North Sulawesi and so grandma cooked a lot of Manado food. We used to hate everything being so spicy but my dad would make us eat it all. But behind his back my mum would prepare something else for us: simple soup. Our favourite dish was sate babi [pork satay].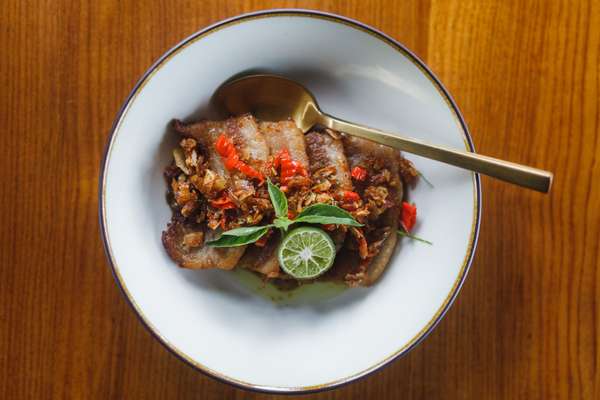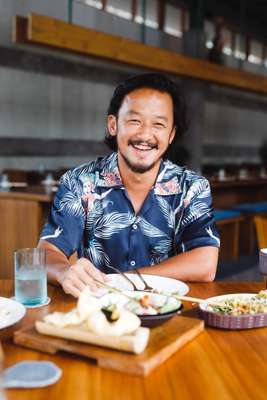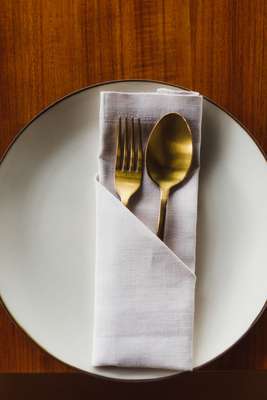 Manado food is so complex; you have fish that's cured for 10 days. My grandma used to cure the gohu fish for much longer so it had this funky smell. Bat soup was on the dining table at least once a week.

Imagine being exposed to that when you're young; now I've grown up it tastes good. Bats only eat fruit so the meat tastes clean and nice, like chicken.
My father's side of the family is from Gorontalo, around Manado, and they're known as the party people: always happy; throwing parties, having large meals, singing and dancing. That's the Manado people. They're sort of like Italians in that they really know how to enjoy life.

The house where my grandmother used to live – and that my dad grew up in – had horses, chickens and pigs running around it. There was always cured meat hanging and drying. I would spend the summer there and, since I was about eight years old, I would go for a night or two of hunting in the jungle. They'd come back with a deer or a wild boar but I never caught anything; I was just the guy carrying the bags.
Although Bali has been transformed by tourism, the people here are very protective of their culture and preserve it, which is amazing. Where I live now I'm 10 minutes away from the office and I can get to work by bicycle. I still hear gamelans [groups playing traditional percussive instruments] on the street. People are learning how to do Balinese dancing by the temples and there are still cows running around."
Profile
Ronald Akili opened his first restaurant in 2009, under the Potato Head brand, with company co-founder Jason Gunawan. With restaurants in Singapore, Jakarta and Hong Kong, as well as planned openings in Australia and the US, he is a moderniser within Indonesian hospitality. His first hotel, Katamama, opened in 2016 in Bali; it is a tropical take on the mid-century Californian style and was built by local makers. His next, hotly anticipated Bali hotel will be designed by Rem Koolhaas.
---
Venue
Kaum (Akili's own restaurant) is a breezy seaside restaurant in the heart of Bali's busy Seminyak. It's the second outpost; the original is in Hong Kong. The Bali version is the result of a two-year research project into Indonesia's long-forgotten agricultural and culinary past. There are tiles in the Toraja ethnic group's traditional designs, sea salt made using coconut trunks and rice grown using an 11th-century agricultural irrigation system known as subak. Homely dishes are served to share over long teak tables and are adorned only with spices that are found in Indonesia.
kaum.com
---
Menu
Starter:
Gohu ikan tuna served with kenari (walnut) and ginseng leaves
Lawar bebek: duck salad in galangal-and-chilli dressing, served with duck crackling
Main course:
Babi genyol: fried braised pork cheek in Balinese spices
Bobor daun kelor: moringa leaves and snake gourd cooked with fresh coconut milk
Mangut ikan asap: smoked trevally fish fillet braised in a curry with lemon leaves
Sambal selection
Nasi kuning: turmeric and coconut-milk-flavoured rice
To drink:
Pedas Margarita cocktail