Observation 2 / Hong Kong
'Tis the season
Once a twinkle in Hong Kong's eye, its festive obsession has grown into an all-out spectacle.
On a warm afternoon in October a young man pushes a trolley piled high with Christmas lights through the streets of Kowloon. Hong Kong's Yuletide skyscraper decorations, which are among the flashiest in the world, don't usually go up until mid-November – but Christmas has come early for this particular worker as he starts on a festive display.
He's watched by his boss, Terence Wong, who points up at the Tsim Sha Tsui Centre, the headquarters of property firm Sino Group and ground zero for one of Hong Kong's most iconic annual traditions where Christmas spirit is channelled via an explosion of watts. It was here in 1982 that Wong was first asked to hang Christmas decorations on a Sino buildings as a way of drawing attention to a new district known as Tsim Sha Tsui East.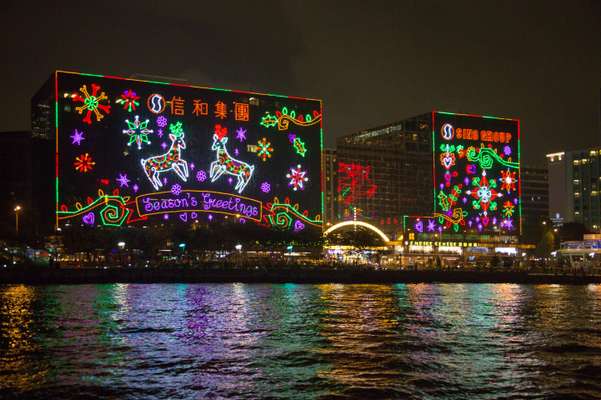 What started off in Kowloon soon took off, as skyscrapers began competing to have the best display with boughs of holly, prancing reindeer and jolly snowmen. Forty years later families still flock here to see the latest creations. "Turning this former no-man's land into a destination and seeing people taking pictures of the lights is tremendously satisfying," says Wong, who now runs the city's leading decorative lighting firm, Shun Sze Lighting. "I have worked in Japan, Taiwan and the Philippines but the way Hong Kong does lighting is really unique."
Though he's nearly as responsible for HK's holiday spirit as St Nick himself, Wong, dressed in a patterned shirt and chinos, looks more casual than Christmas workshop. But don't be fooled. Most of his work revolves around Christmas lighting but the preparation begins in May. By the time installation rolls around some 200 employees can be spotted on construction gondolas all over town.
But Wong's business is evolving: this year Sino is installing an LED wall that will cover the entire surface of the HQ with lights. It can be programmed with visual effects, unlimited in scope, at the touch of a button. "Shifting from handling every single lightbulb to computer programming brings new challenges and possibilities," says Wong. At 59 (although he looks a decade younger, all lean and sunkissed) he has experienced many lighting phases, including colouring thousands of translucent lights by hand.
"Now we are in the age of the LED," he says, looking out across Victoria Harbour and eyeing the city's skyscrapers. Several property developers are in talks with Wong about following Sino's lead; others with older buildings will continue with tried-and-tested methods. In any event the Christmas lights will continue to shine. "It's not a commercial decision anymore," says Wong. "It's about continuing a tradition that lights up the whole city."