Travel briefing / Global
Smooth landing
Briefing
Plans for a Terminal 5 at Heathrow were unveiled in 1993. Fifteen years and €5.6bn later, the largest single-span structure in the UK is ready. In Singapore, meanwhile, the new T3 at Changi has also opened its departure gates. Monocle bench tests both.
Airpot 01
Heathrow Terminal 5
Ever since Concorde suspended services, speed has been an elusive concept around Heathrow airport. Over the past three years labour disputes, fog, security threats, more labour issues and general poor upkeep have made the airport a must-avoid for savvy travellers and a misery for users both regular and infrequent. On 27 March, the airport's operator BAA is hoping to shift things out of reverse and crank the whole operation up a few gears when it unveils Terminal 5.
Situated at the western end of the airport, T5 is more than just a shiny new facility for sole airline tenant British Airways (most, but not all, of BA's flights will move over to the terminal in March) and a retail revenue generator for BAA, it's the first serious transport venture for the UK since the Channel Tunnel was opened and the country gained a fixed rail link to the Continent. It's also the British government's big chance to demonstrate that it's getting its transport department in order and is serious about infrastructure.
When architect Richard Rogers and Partners started to design the new terminal they perhaps couldn't have imagined how dismal things were going to get ­between drawing board and breaking ground. Or perhaps they did. Pulling up landside the structure makes a striking first impression for residents and hopefully a lasting one for visitors. Crossing one of a series of bridges that links curb to terminal and keeps would-be car bombers well away from areas of high passenger concentration, there's a vague reminder of Hong Kong airport (even if it was designed by Foster & Partners) and this is no bad thing.
Inside, the impression shifts slightly. Where Hong Kong is wide and deep, T5 is wide, shallow and easy to comprehend. Down the length of the departure hall large towers (zonal beacons) punctuate the space and offer clear, unmissable navigation markers that even the most gormless traveller will be able to comprehend. All of this is helped by the sheer volume of a hall that offers travellers an airiness not seen since the first great rail terminals opened in London. Perhaps mirroring the UK itself, the more affluent part of the terminal is clustered to the south where BA has its premium check-in facilities. The north is reserved for economy.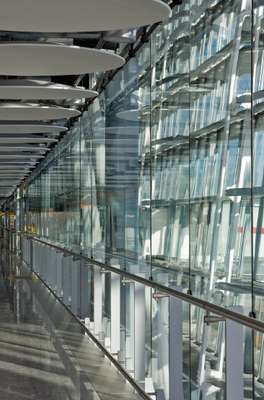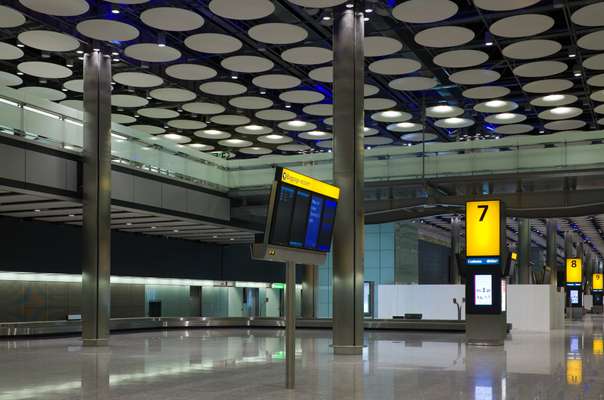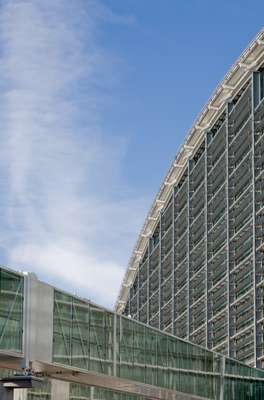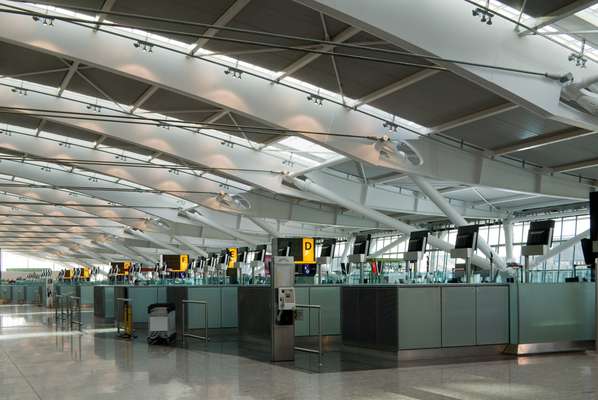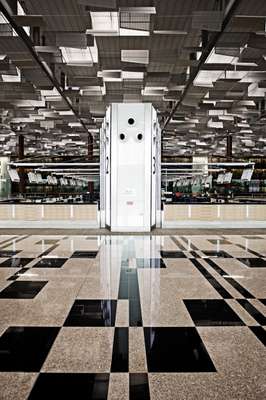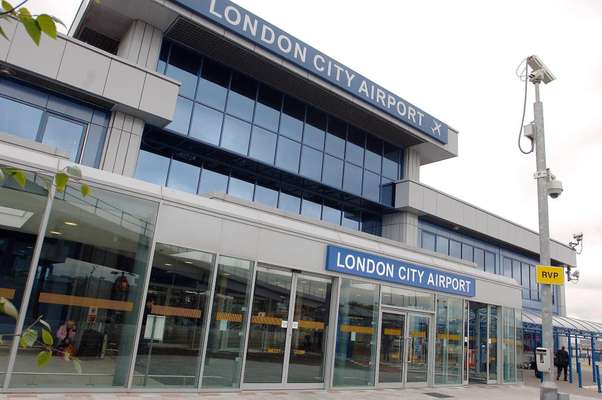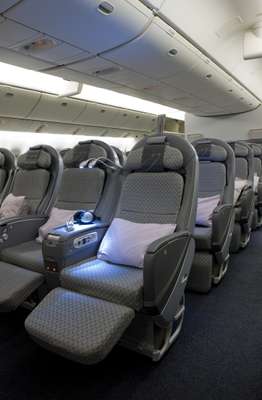 It's hard to estimate how much faster the journey will be from rail platform to boarding gate but the materials used will definitely cut friction underfoot and wheel. Where hideous carpets and curling lino seem standard in Terminals 1 to 4, T5 is all stone and black walnut from Boen of Norway. On displacement ventilation units intricate steel panels are a symbol of a new attention to detail within BAA's design DNA. Indeed, design director David Bartlett has worked hard at every turn to raise the bar, so things feel more on par with Munich or Narita. Vitra's Foster seating covers hundreds of square metres, sleek, black desk units have been built using a Corian-like material from Staron in Korea and the toilets feature custom basins and fittings designed by Bartlett's team.
When we toured the site it was evident that BAA's retail team have worked hard to make sure that stores stand out because they're well designed and not because they're standing in the way of passengers getting to their gates. At launch Heathrow will have gates in the main terminal and a rail-linked satellite pier. A second satellite will open in 2010 and allow the rest of BA's flights to operate from T5. As plans are well underway to redevelop the rest of the terminals, ­including demolishing the much-loathed T2, BAA's new focus on quality materials and a more integrated approach to retail suggests that London may well be on final approach to getting the airport it so desperately deserves. Now it just needs that third runway.
First impressions: even the most fussy travellers will be impressed by the scale and clarity of T5. The subtle restraint on advertising, the use of daylight, the views to the airfield and the low evening lighting all leave a good impression.

Materials: massive white girders and rivets, gleaming floors, sustainable wood, stainless steel, and painted glass walls. The PVC-coated roof is the most complicated design ever undertaken by Lindstrand Technologies. The bar has now been raised to Swiss/German/Danish levels.

Durability: judging by the materials used it should wear well, but let's check again nine months after it has been assaulted by executive heels and wheely cases.

Lighting: this is Heathrow's first terminal that reminds you you're at an airport and not in a convention centre or shopping mall. For the jet-lagged and disoriented it offers a strong sense of place. For arriving passengers, the corridors felt a little bit dim but this may be no bad thing for those HK flights that land at 04.30.

Loos: the design of the toilets offer decent privacy, well positioned sinks and an environment that should be easy to keep clean.

Security set up: passengers are funnelled through two security channels that offer a new range of equipment. Security checks are only as good as the staff maintaining them and the number of channels open. To date, this has been one of BAA's weakest points.

Retail mix: the leasing team have worked hard to bring in the established and expected but also a range of surprise. Mr Ramsay has a restaurant that will actually take reservations. Paul Smith has delivered a store design that owes more to what he's done in Notting Hill or Mayfair.

USPs: the biggest selling point for T5 is that it will focus on just one main client – British Airways. Given the overall quality of execution, it will likely bring more passengers back to BA.

Navigation and signage: let's just say that it feels more Schiphol than Gatwick South.

Air-side impressions: as you taxi in on your Qantas 747-400, you'll be wishing that T5 was open to other Oneworld carriers.
Airport 02
Changi Terminal 3
There are good reasons why Singapore's Changi airport stays at the top of travellers' favourite lists. Everything from the lush green approach to the smooth immigration process oozes a level of efficiency that puts the Swiss to shame. With the opening on 9 January of the glossy new Terminal 3, Changi increases its total annual capacity by 45 per cent to a staggering 70 million passengers, and cements its place as the airport to beat.
First impressions: built for S$1.75bn (€826m), the new seven-storey terminal has imposing scale with a facade of soaring glass and metal-louvred skylights. The grand atrium stretches almost 300m across an entrance hall complete with five-storey hanging garden and waterfalls. T3 clocks in at 380,000 sq m (63 football fields).

Materials: garish soft carpeting is framed by black and grey checked marble, and acres of steel and glass.

Durability: T3 is projected to be fully utilised till 2020, though a new Terminal 4 will likely be in the works before then.

Lighting: using light-harvesting technology specially designed for T3, around 900 louvred skylights adjust automatically throughout the day to let in plenty of filtered natural light.

Loos: standard issue, well-lit and kept meticulously clean by an army of round-the-clock cleaners.

Security set-up: like all the terminals, the main security and luggage checks are at each departure gate.

Retail mix: astonishingly varied and comprehensive. With more than 100 shops and 20 service outlets (including a Hard Rock Café, Bottega Veneta, Fifa, Vertu, La Perla and Ferrari), this is easily the best airport retail mix in the world.

USPs: first-class Singapore Airlines passengers arrive via a private driveway and entrance, through to a dedicated immigration lane. The new Airbus A380 jumbos park at one of eight dedicated aerobridges. Two floors are devoted to shops and 40 food and drink outlets. There's also the world's first airport butterfly garden and free internet points.

Navigation/signage: T3 can handle 22 million passengers a year, which means smooth traffic flow is essential. The passages and layout create a clear flow from drop-off to check-in and take-off – so much so that dependence on the clear signage is kept to a minimum.

Air-side impressions: getting around is a breeze, with no bottleneck points. The Skytrain take less than three minutes between the other terminals.
Lufthansa's Private jet programme, which allows passengers to book business jets to connect through its main hubs and beyond, is about to get a little more private as the carrier takes the service in-house. Formerly a collaboration with NetJet, Lufthansa decided to take the service under its own wing in the autumn and will be sourcing its dedicated fleet and unveiling its own interiors concept.
BA has pulled off something of a coup by quietly acquiring Airbus A318s and announcing the launch of a long haul, all business-class service from London's tiny City Airport to JFK. The 32-seat aircraft will cross the Atlantic twice a day in each direction, offer 15 minute check-in and be the best news for City boys since Concorde. The only thing that could improve on this news would be swapping JFK for the cosiness of Teterboro's private jet hub.
Premium economy, middle class or baby-business – whatever you call that mini cabin that many carriers offer between economy and business, the experience usually isn't up to much. Until now Air New Zealand has developed the best concept but JAL has raised the stakes with a new seat, service concept, check-in facilities and lounge programme. Engineered with the salaryman who flies long-haul for a living in mind, we're keen to see how ANA responds.
Asia's two most important financial centres will move closer together as Tokyo's Haneda will start offering flights to Hong Kong. As Asia's busiest airport opens up to more mid-haul Asian routes (the focus will be on Korea and China) and expands with a fourth runway Haneda could move from domestic obscurity into a household name across the region.