Observation 1 / Japan
Catch the pigeon
The niche magazine that's something of a coo for the Japanese publishing industry.
The pages of Japan's Aikyu no tomo are filled with the kind of drama you would expect from a competitive sport: rivalries, foul play, homages to the greats and profiles of decorated winners. But this isn't your usual sporting magazine: it's for racing-pigeon enthusiasts. These birds might look like the ones that peck the pavement for crumbs but they can fly at 70km/h for up to 1,200km without resting, finding their way home over mountain ranges and through storms while evading hungry falcons. "It's a cruel survival game – nearly all the pigeons in one race last year didn't make it back," says Eri Myojin, editor in chief and president of Aikyu no tomo (Friends of Loved Pigeons).
Founded in 1956, the 200-page quarterly advertises itself as "Japan's leading pigeon magazine", which is true because it's Japan's only pigeon magazine. On a recent morning at its three-storey headquarters in Saitama, north of Tokyo, Myojin and the two other women on staff were planning the winter issue. Besides race reports, breeding tips and excerpts from European magazines, one third of the issue will feature almost identical images of standing pigeons photographed in profile.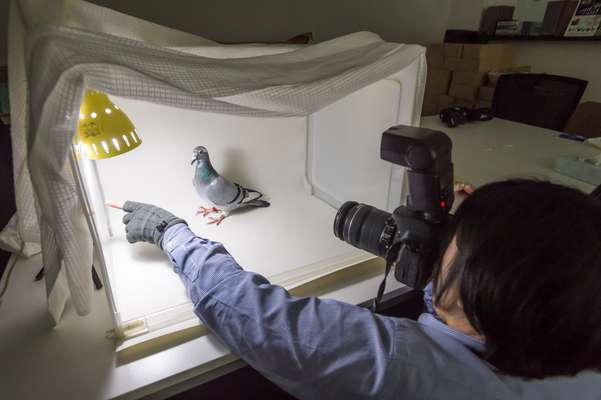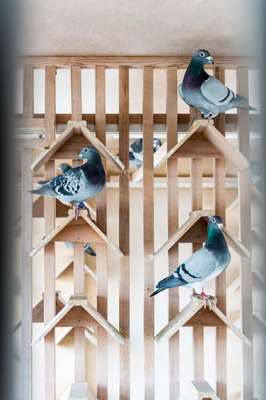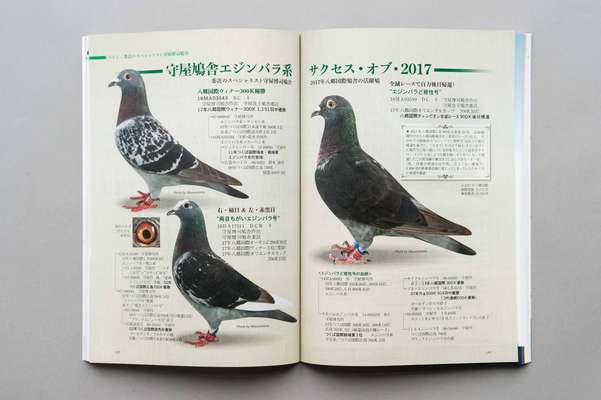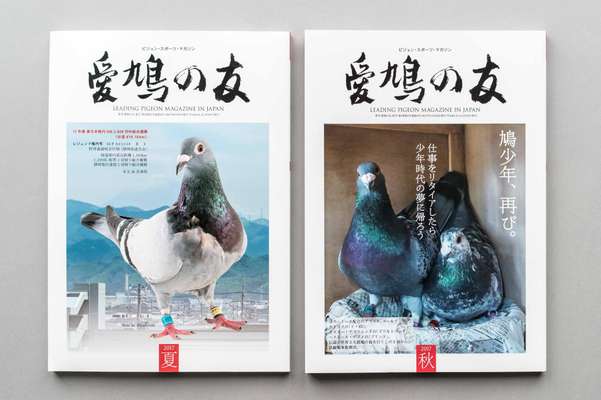 This is the height of the trading season, when pigeons from Japan and Europe sell for ¥200,000 to ¥1m (€1,500 to €7,500) and Aikyu no tomo serves as both catalogue and broker. Buyers can tell the difference between the slender marathoners and the muscular sprinters. As with thoroughbreds, both bloodlines and race results matter. For some breeders, eye colour is crucial too – hence the startling images of enlarged eyeballs next to birds for sale.
Raising and racing pigeons was a popular pastime in Japan just after the Second World War, when it's estimated that one in two boys took part. There are now 12,000 racing-pigeon owners and Aikyu no tomo sells most of its print run of 3,000 copies to men in their sixties and seventies. "In China, Taiwan, Romania and Portugal, pigeon racing is thriving; here it's a dying hobby," says the 59-year-old Myojin. "The food, medicine and race fees are expensive. Plus, you can't just go on vacation and leave the birds." It's also illegal to race birds for prize money so breeders are in it for the thrills and spills alone.
Myojin had no experience with pigeons before taking over the magazine five years ago. She assumed the role vacated by her late husband, who was editor for more than two decades. As an outsider Myojin, a former copywriter, is eager to try new things that could broaden the hobby's appeal. "What about having pigeon races during school events, or remotely keeping tabs on a race from a hot-spring resort?"
Recently Myojin started tending to her own flock on the office's rooftop, documenting her experiment in the magazine; she's even sold a couple of chicks. But she doesn't share the passion of her readers. "My birds are cute but for me it's part of the job. The men who do this are in awe of the birds. I still don't get it."