HQ audit / London
Data base
As the last members of staff move in, we step inside global business analyst Bloomberg's new European headquarters.
Few companies are lucky enough to have over €1bn to spend on building themselves new headquarters. But then few companies have the resources of Bloomberg, the global business and financial information company set up by Michael Bloomberg. Last October he and a team of architects from Foster + Partners unveiled a new European HQ, which was a decade in the making and now occupies a 1.3-hectare site in the City of London.
It's the first building Bloomberg has built for itself and it shows. Michael Bloomberg set the ambition for the scheme, telling project architect Michael Jones: "I'd rather you begged for forgiveness than asked for permission." As the price tag suggests, no holds were barred, from the materials to its sustainability. We took a tour to find out what kind of HQ €1bn buys you.
Architecture and design
Dignified outside, dynamic within
The 10-storey building is far less imposing than it could have been. In fact, many architecture critics were decidedly unimpressed at the opening ceremony; one likened the edifice to that of a regional department store. Subtlety, though, was in the brief. A far taller building would likely have received planning permission but Michael Bloomberg wanted to be a respectful neighbour, so a headquarters jutting up above the surrounding buildings was ruled out.
This sensitivity to the site's context also informed the choice of materials used on the façade. Most of the older buildings in the City are in Portland sandstone but Bloomberg wanted the headquarters to act as a visual bridge between those and No 1 Poultry, a 1980s edifice designed by James Stirling, built in pink and yellow Australian sandstone. So the architects decided on a Derbyshire sandstone with a pinkish hue.
If the façade has been designed to have a certain solidity to it, then the interior is the exact opposite. The central idea was to create "a dignified exterior with a very dynamic interior", says Jones. The "guts" – the lift shafts, staircases and structural elements – have been pushed to the outer edges of the building and the number of supporting columns reduced. "This required a Herculean effort in terms of engineering," says Bloomberg's global head of facilities, Heather Walker, who worked closely with Foster + Partners on the interior layout.
What these measures have achieved is an openness and dynamism rare in an office. Inside, the main feature is a vast sweeping ramp that runs through the core of the structure, designed to "encourage people to walk around the building instead of disappearing in and out of elevators", says Jones, who was instructed by Bloomberg above all to stimulate as much creativity, spontaneity and collaboration as possible. (The ramp is wide enough for two people to stop and talk, while still leaving room for others to pass them.) "It's good for people because they're mobile," says Jones, "but it's also good for Bloomberg."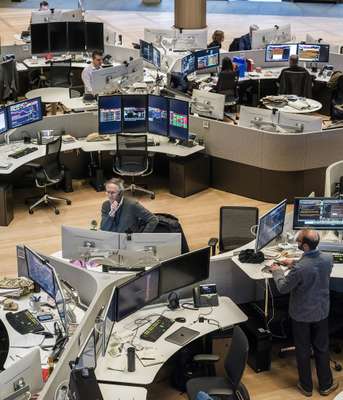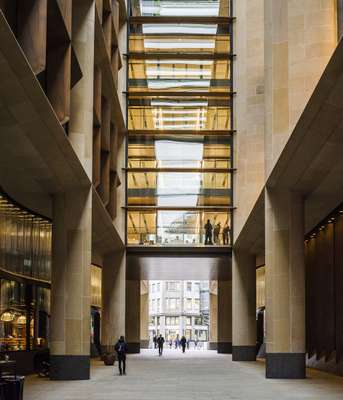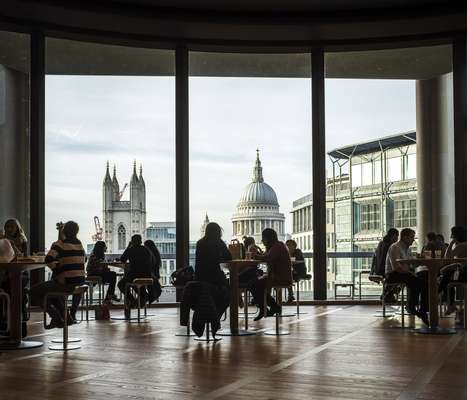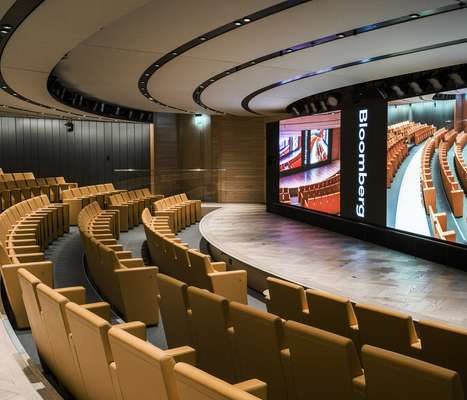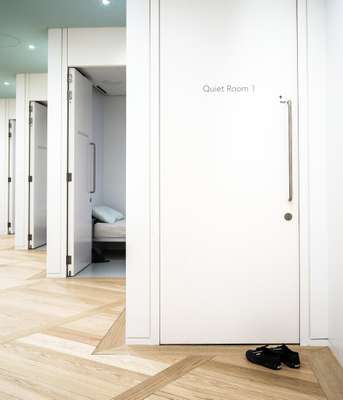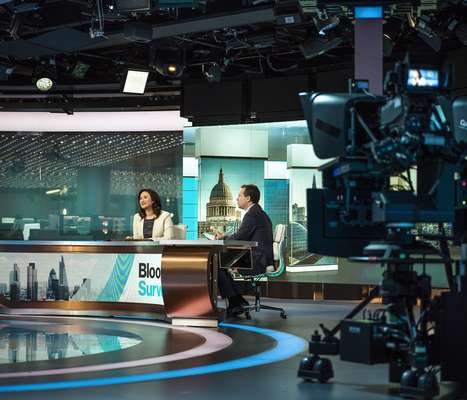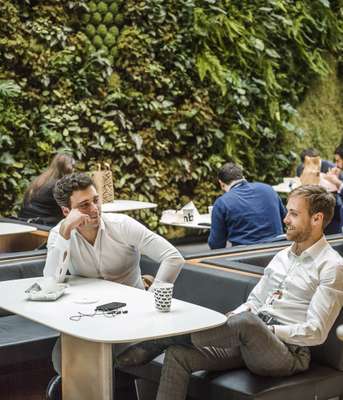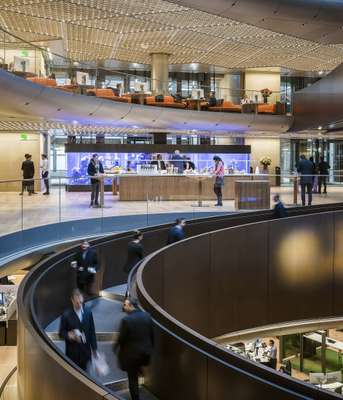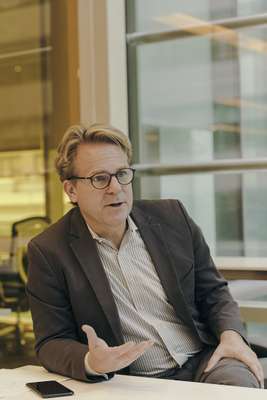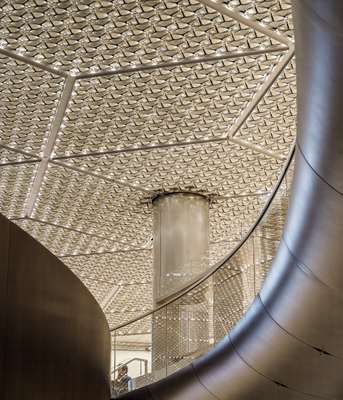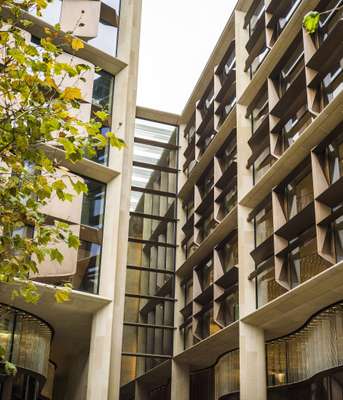 Bloomberg in numbers:
Founded: 1981
Employees worldwide: 19,000
Locations worldwide: 176
Global revenue: $9.4bn (€8bn) in 2016
Size of new London HQ: 102,200 sq m; space for 4,000 staff
Sustainability
From all angles
The structure received the highest BREEAM rating, a sustainability certification, of any office building ever. Partly this is down to the materials used throughout – ranging from the red oak and cherry wood on the inside to the stone and hand-patinated Japanese bronze on the façade – which will all "age gracefully", says Jones, and won't "require too much replacement or renewal". It's also because the building uses very few resources: the workspaces are lit by 500,000 LED lights housed in 2.5 million beautiful petal-shaped polished-aluminium shades; the toilets are water-neutral; and the ventilation system draws natural heat and cool air from outside whenever possible.
Sustainability was considered very much "in the round", though, according to Jones, meaning that it incorporated not only environmental concerns but also "people's individual wellbeing and how they feel within the building". The lights subtly change from neutral to a warmer tone over the course of the day and the natural ventilation ensures the atmosphere fluctuates almost imperceptibly, so the building doesn't feel "sealed, inert and constant" and "people feel fresher, better and more productive".
---
Working environments
Too much of a good thing?
Like the interior as a whole, with its swirling central ramp, the workspaces themselves on a micro level have been designed with dynamism in mind. Bloomberg has decided against rows of straight desks and instead opted for radial ones, made bespoke for the building by Ergonom, with a 120-degree angle in the middle. These are then configured in honeycomb-like clusters, allowing for easy collaboration. "The desks have made a big difference," says Heather Walker. "The desks and the configuration lend themselves to teamwork. Instead of booking a room somewhere and wasting time moving to a meeting room, people are having meetings where they sit."
In its pursuit of productivity and collaboration, Bloomberg has removed barriers and created vast open workspaces. Even the studios of Bloomberg TV, which you would normally expect to be sealed off somewhere, are dotted around in among the desks. Although this creates the (desired) impression of constant movement and activity, it is also quite loud and there are few spaces given over to silent solitary work. Sometimes a bit of peace and quiet is needed.
---
Artwork
The fun and the functional
Bloomberg commissioned seven original artworks for the new headquarters from top artists worldwide. Icelandic-Danish artist Olafur Eliasson has created a large aluminium work resembling the surface of water, which hangs above the entrance hall (nicknamed the Vortex).
Many of the other artworks in the building play an additional subtle functional role. For instance, the Arturo Herrera tapestry that covers the back wall of a cavernous meeting room aids the highly advanced Meyer Sound acoustics system. Similarly, Cristina Iglesias's concrete-surrounded water features outside the front of the building subtly double up as security barriers.
The verdict
Considering the site covers a full 1.3-hectare city block, the restraint shown on the exterior is impressive, meaning that the office is respectful of its historic surroundings. The quality of the materials and details throughout is exceptional and shows that the money has been well spent; the architecture and interior layout certainly encourage collaboration, creativity and conversation. But working in such an open-plan, noisy and teeming space is not for everyone and little provision is made for people who might need a bit of peace and quiet.
Q&A
Justin B Smith
CEO, bloomberg media group
New York
MONOCLE: You've talked about a "next-generation" media model. What does that mean?
Justin B Smith: Since the arrival of the internet some 20 years ago we've been on this rollercoaster of disruption and transformation. And 2017 has represented a more existential version of what we've been going through for so many years. What we're seeing now is a lot of people scratching their heads going, "How are we possibly going to get through this?" While it feels bleak, I think there are some significant opportunities, especially for really high-quality brand and content owners to begin reinventing themselves and creating next-generation media products that take the fight back to the technology platforms – the duopoly of Facebook and Google – because up until now the media industry has been relatively passive.
M: How does that apply to Bloomberg?
JBS: We're really excited about our new global 24/7 breaking-news network on Twitter that launched in the middle of December. It's an example of a content-based media company with very strong journalistic aspects partnering with one of the largest technology platforms to create a product in journalistic service that the technology platforms couldn't produce by themselves. Twitter is the fastest, most immediate form of news and commentary available. But there are big issues – the biggest being that no one is really sure whether things on it are true or not.
M: So how do you guard against the "fake news"?
JBS: Bloomberg is uniquely positioned to solve those problems, creating a new product where our journalists get that information from Twitter first and then verify it using old-fashioned reporting elbow grease, making sure that the sources are correct.
M: We've been focusing on digital – the core of Bloomberg Media's business. Is print still important?
JBS: I think that at the heart of the Bloomberg media strategy is this idea of multiplatform media. It really is what makes us unique and distinctive. We operate across five different platforms: television, digital, print, radio and live events. These different platforms play different roles in consumers' lives, so while they may listen to radio in the car in the morning on the way to work, they're not listening to radio at their desk: they're probably on their desktop looking at our website or on their smartphone. And at the end, when they've finished their day and are kicking back and relaxing, that's a window for print.
M: Digital has been suffering from a dip in ad sales – largely due to Google and Facebook – but Bloomberg Media recently announced an uptick in revenues. How did you achieve this?
JBS: I would say that we are one of the outliers and I think the reason we are bucking that trend is because we are innovating and inventing at a really rapid clip across a lot of what we do: whether it's our advertising products; our digital products across the board; or our global reach. It's back to that broader point I was making about the future of media for those who are brave enough to really innovate and to constantly seek new models, new content, new formats and new ways to connect to consumers on a global scale. There, I think the opportunities abound.
M: How important is it being bound up with Bloomberg LP and its in-house product development?
JBS: Bloomberg Media's primary mission as a media company is to serve as a source of value to our parent company, Bloomberg LP. So by providing branding and influence, we are the window to the world for this remarkable company. Our core business, the terminal business, and our financial-products businesses, are actually much larger than our media side and have been incredibly successful for many decades.