Fashion / Global
Fashion
Briefing
The importance of style to building a newsreader's personal brand, plus fashion labels to look out for in the year ahead and a new shop to visit in Paris.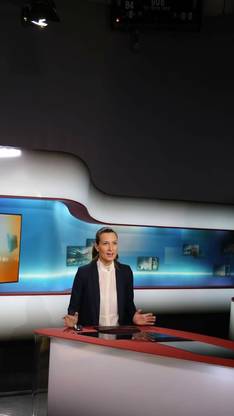 Fit for broadcast
Sweden
by Elna Nykänen Andersson
"Mum, are you wearing Daddy's clothes?" The first time my young daughter saw me read the news at svt, Sweden's public service broadcaster, she couldn't get her head around the fact that I was wearing a shirt and a blazer, with my hair tied back in a gala-worthy bun. Back then, in 2009, svt had a strict dress code for its anchors and, while it has loosened somewhat, the basic principles are still the same. No bare arms, no see-through blouses, no black or white and no jewellery with symbols. Rapport, svt's flagship news show, which airs at 19:30 every night and draws about a million viewers, requires its anchors to wear a blazer. With its handy collar, it's definitely the best piece of clothing on which to attach a microphone. But the real reason behind the rule is to create a unified, credible look and to make sure the clothes are always tidy and never overshadow what is being said – the news.
With such strict rules, is there any room for creating a personal, recognisable style? The answer is yes but it takes a bit of work and a good stylist. Most news anchors plan their outfits with a dedicated stylist who's an expert in knowing what works in a studio setting: certain colours clash with the backdrop, white makes your skin look grey, while black makes it look pale. (Navy blue, which is flattering yet strong, must be the all-time favourite of all news readers.)
Men have it easier; the wardrobe choices for anchormen are pretty much limited to the traditional suit, shirt and tie, mostly in conservative combinations. It is incredibly important, then, that the suit fits. Facial hair is trickier: when Swedish tv4 anchor Anders Kraft premiered his moustache a few years ago, viewers called in to tell the channel it either "ruined their evening" or was "unbelievably stylish".
Given all the rules and regulations, newsreaders can mostly play with the smaller details in their outfit. Some let their stylist do all the work, surrendering their style to the professionals. I prefer to be a part of the process. It's a game of pushing the boundaries in order to introduce some personal elements in your style and perhaps having a subtle signifier – defined shoulders, silky blouses, a dark red lip, a certain hairdo or perhaps a few colour combinations that you always wear.
Mostly though, as professionals, presenters have a gut feeling for what works. In my experience, the most reliable choice – sure to not upset anyone – is a navy blazer and a white blouse. That's what I chose for the evening news the day terrorists drove a truck into a crowd of people in Nice in the summer of 2016.
While clothes are an important element of a news programme, getting dressed takes up a very small part of an anchor's day. Changing for the air doesn't take much more than 10 minutes – which is about all the time that busy journalists have to spare. If you and your stylist have done a good job, no more is needed. Ultimately, two golden rules apply: invest in quality and, most importantly, make sure you feel comfortable in your skin – if you wear something that you don't feel is you, it will show. Especially if you're wearing it in front of a camera.
Japanese-born, New York-based designer Chiharu Hayashi dreams up understated totes, bucket bags and passport holders in leather and nylon. Many of the pieces are manufactured in Manhattan's Garment District. We're particularly taken with the hardy nylon products, which come in khaki, black and hits of cherry red and forest green.
bagsinprogress.com
Denim jackets and jeans are the star products from this Japanese womenswear label, which achieves a vintage aesthetic through the use of traditional materials such as cotton, linen, rayon, and its historical manufacturing methods. "All our jeans are made with old sewing machines," says Ayumi Ando, who founded the brand in 2015 with husband Wataru Shuhama.
lenoandco.com
The Bishu region is famous for its premium wool and new textiles brand Loomer is fusing modern design with the area's heritage manufacturing techniques. The work of Tokyo creative director Takayuki Minami and T'acca, from Ichinomiya in Bishu, Loomer's blankets and scarves are made from alpaca wool, silk or linen.
This excellent men's and women's multibrand store in the 10th arrondissement has hopped across the Seine to open a new branch in Saint Germain des Prés. The boutique is by the team behind Veja, the eco-trainer label, and its selection of products favours brands that follow similarly strict sustainability principles. "We select brands with edgy aesthetics and transparent sourcing," says co-founder Sébastien Kopp, citing as examples such as Patagonia, Paraboot and Church's, plus young labels such as Proemes de Paris and Avnier. The new space boasts high ceilings and concrete floors, and neon chandeliers by Parisian designer Kleber Matheus. There are also mosaic wall tiles made from recycled shards of computer and television screens.
centrecommercial.cc
Mackintosh X Maison Margiela 
One of Britain's top raincoat makers has teamed with one of France's finest design houses to produce two men's trenchcoats. An all-white design is a nod to the famous lab coats worn by the designers at Maison Margiela, while a dusty grey number with contrasting collar is based on a piece from Mackintosh's archives.
mackintosh.com; maisonmargiela.com
Reproduction of found
Japan
This new footwear label is based in Japan but works with factories in different countries that have a history of producing military footwear. These olive waterproof trainers are based on a US Navy model from the 1940s.
eye-found.com
After stints at Jack Spade, Tommy Hilfiger and Ralph Lauren, designer Todd Magill has branched out on his own. Launched in 2016, Magill Los Angeles sticks quite closely to the preppy aesthetic, with a line of men's vintage-style rugby jerseys and crewneck sweaters. Attention to detail and vibrant colours are hallmarks of the collection, which is made in Los Angeles using US-made fabrics. Rugby jumpers come fitted with a subtle "M" embroidered on the placket, rubber buttons and reinforced elbows that can take a beating if you do decide to take to the field.
magill-la.com
Ana Lamata amassed an impressive collection of historical hats before deciding to experiment with designing wire frames herself, creating a host of made-to-measure unisex hats in felt, straw and fabrics such as cotton and silk. "I work mainly through trial and error when crocheting with wire but my aesthetic is always classic and elegant," says Lamata.
analamata.com
Functionality is key to this minimalist leather goods label. "Our bestseller in France is a wallet that can fit the French ID, something foreign brands hadn't considered," says Robin Nozay, who founded the brand with Robin Hureau in 2016. "We don't over-dye our leather or coat it with protective film. Each one changes over time, taking its own pattern," he adds.
laperruque.co