How I manage / Germany
Pressing ahead
From classroom to newsroom, Giovanni di Lorenzo has learned how to adapt, and now Die Zeit's editor in chief is successfully adjusting to the many challenges facing the print industry.
For someone who has made a career out of writing, Giovanni di Lorenzo has a complicated relationship with language. The son of a German mother and Italian father, he was brought up in Italy until he was 10 when his parents separated and he was uprooted to Hannover. "It was a difficult time," he says. "Back then Germany was a different country. My brother and I were the only foreigners in the school – and were made to feel like it."
Language was a palpable signifier of the young boy's outsider status. He spoke German but wasn't fluent. "I realised I was handicapped and I hated that feeling. I felt powerless," he says. "Even today I prefer to speak only German or Italian because I want to avoid this feeling."
It is perhaps no surprise, then, that Di Lorenzo has dedicated his life to words and has, as the longstanding editor in chief of weekly newspaper Die Zeit, become one of the most authoritative voices in German journalism. Yet despite his success there was, he says, never a "plan laid out for my professional life"; indeed, he stumbled into writing. A few months before graduating from secondary school he was tasked with finding an internship. "I didn't prepare for it so there was only one place left – at a tabloid newspaper in Hannover," says the 58-year-old. On the second day of the placement, the editors let him write an article. "As I drove back home in my banged-up Fiat that evening, I knew: this will be my profession. In German we have a word for it: Berufung [a calling]."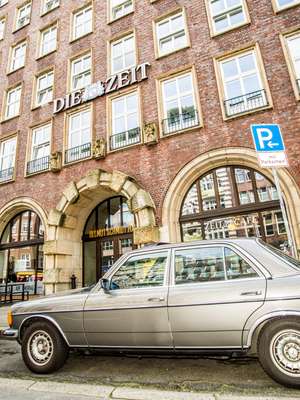 Di Lorenzo is sitting in his office in the Helmut-Schmidt-Haus in Hamburg, named after the former chancellor of Germany and publisher of Die Zeit for 32 years from 1983 until his death aged 96 in 2015. The office walls and ceiling are festooned with A5 printouts of every cover of the paper since Di Lorenzo became editor. Some 600 attention-grabbing front pages, including one from the height of the Arab Spring depicting an Ancient Egyptian bust of Nefertiti with a shocked hand raised to her mouth; and another from 2015 showing a boat on the Mediterranean crowded with refugees, which asks: "What do we want to do?"
In his 13 years at the helm of Die Zeit, Di Lorenzo has seen his industry shaken up, existentially threatened and then make a defiant comeback. "We have to fight, year after year," he says. This is largely down, of course, to the dawn of digital – a mixed blessing for newspapers such as his. "The greatest contradiction is that online can do everything but there's one thing it can't do: earn enough money to keep an organisation like us afloat." Unlike online players, Die Zeit can't be run on a shoestring because it depends on "highly qualified people investigating, travelling and uncovering things independently of any third parties".
Then, of course, there are the technology firms that continue to siphon advertising money away from traditional media companies. Discussing Facebook and Google, the normally softly spoken Di Lorenzo becomes fiery. "We have to view them as we do every other company," he says. "They want my money, they want to be successful and grow. Instead there is a trend to see these companies as charities."
In spite of the challenges, his organisation is in a better state than most. A strong coffee and a copy of Die Zeit is still a staple of many a German weekend and at last count the paper's circulation was still about 500,000. Its physical heft and satisfyingly expansive format mean it's widely read in print. Few newspapers are as unapologetically immense.
Filling 80-odd pages a week, plus supplements, requires a vast, efficient machine and dexterity on Di Lorenzo's part. He goes to Berlin most weeks to meet the paper's political and online teams as well as the editors who put together Zeit Magazin. Each seven-day cycle builds to a crescendo on Tuesday, when the newspaper goes to press ("Tuesday is sacred"); Wednesday is mainly spent reading that week's issue; and on Thursday, when the paper hits newsstands, he chairs an editorial conference to review the issue and plan the next one.
He has had to learn on the job how to manage his team. "What's peculiar about our work is that you have a lot of management tasks but nobody prepares you for it," he says. "There's no training like this for journalists." To meet him, Di Lorenzo is intense and often sombre, yet warm and disarmingly open; the antithesis of the stereotypical hot-headed newspaper editor. "I remember those guys, the typewriter-throwers," he says. "I rely on the good ideas of my editors. There is a thin line between ridiculous and brilliant. When people are afraid, they won't risk looking ridiculous; they take the safe option. And then I get average results and not brilliance."
Before our time is up, Di Lorenzo shows me Helmut Schmidt's old office. The room has been left untouched, precisely as it was on the day Schmidt passed away: faded cartoons from Die Zeit on the walls; awards, plaques and knick-knacks on a shelf above the door; even the faint smell of stale tobacco smoke in the air. A solemnity falls over Di Lorenzo. The pair worked together for over a decade and would sit here regularly to talk. Among the mementos is a framed note with a message: "Home is the place you can fill with your own stories." Beneath the writing, a scrawled signature: Giovanni di Lorenzo.
Founded:
1946 in Hamburg 
Format:
Nordisch 
Cover price:
€5.10 
Ownership:
Since 2009, 50 per cent of the Zeit publishing house has been owned by publishing group Georg von Holtzbrinck; the other half is owned by Deiter von Holtzbrinck Medien 
Bureaux:
13, covering Beruit, Berlin, Brussels, Frankfurt, Leipzig, Moscow, New Dehli, New York, Paris, Rio de Janeiro, Washington, Vienna and Zürich (with a correspondent in London) 
Copies sold per week:
500,000 
Readers who are subscribers:
68 per cent 
---
1.
What time do you like to be at your desk?
At 08.00 I read the newspapers and media. I get to my desk at 10.00.
2.
Where is the best place to train for leadership – at MBA school or on the job?
On the job, without any doubt. When I receive applications I never look at what somebody studied.
3.
Describe your style of management.
Others will be better at describing my style. I try to be encouraging. I don't think I've yelled once since I started here.
4.
What does your support team look like?
We work very closely because we have an enormous amount of work to do. I have only one secretary and two colleagues who share the assistant job.
5.
Do you run in the morning?
Absolutely not. But I take the stairs in the morning.
6.
Do you drink wine with lunch?
No, but I remember times when journalists had one bottle of wine for lunch, a Cohiba and two double espressos. I would be ready for the hospital after that.
7.
When you need advice and guidance yourself, who do you go to?
When it's about business-related topics, I sometimes go to other editors in chief. But, of course there is also a lot that you have to deal with yourself.
8.
What is the most difficult part of your job?
All of the routine appointments. And what I really hate is when my schedule is packed with appointments in three different cities in one day.
9.
Is it OK for employees to disagree with you?
Absolutely. I think in our profession it is a must and a prerequisite for leadership.
10.
If you could fix one thing about the company today what would it be?
We are talking about magic, right? I really wish Helmut Schmidt was still here.