Award-winning noodles in Bangkok, flagging down a bookshop on wheels in Los Angeles and private moments in the workplace: our fresh news picks from around the world.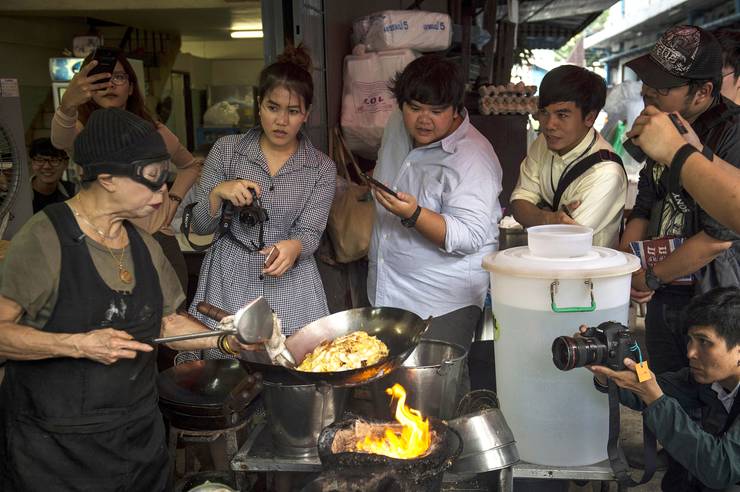 Take a wok on the wild side
In the past Michelin's restaurant guides have copped their share of flak for venerating experimental and expensive restaurants rather than accessible ones. That said, the newly published Thailand edition does more to show off the subtlety of this nation's native cuisine. Twenty-eight street-food stalls warranted inclusion while one, an unassuming wok noodle joint named Jay Fai, scooped a star.
The other worthy winners, including eco-friendly Bo Lan and Indian joint Gaggan, are just plain better choices than those turned out by Michelin in the past. Usually it's a round of back patting for the same clutch of starry Western chefs or Asian rehashes of time-tested European fodder. The Thai guide feels like a fairer portrayal of what makes the food scene here so tantalising. Hopefully this celebration of the honest, local and lively will stem the debate about shutting down Thailand's street-food stalls – just let them be.
An open-plan office is great for discussing ideas but it's hardly the best place to make a call that requires a spot of privacy. In a rush to create social spaces, have we forgotten the importance of a quiet nook? During a recent visit to Mortimer House, a new private members' club and co-working space in London, we were pleased to discover that a little corner of each office floor was reserved for handsome, private phone booths: an important reminder that no matter how keen we are to share our desks, sometimes conversations don't deserve an audience.
That Brexit has already been detrimental for Brand Britain is by now quite obvious. But during a pre-boarding shopping jaunt at Vienna's airport, we were startled to spot bottles of liquor labelled "Brexit Whiskey" in the terminal's Austrian deli. Given the tipple is distilled in Styria with the region's corn, rye, barley, wheat and spelt, why opt for the Brexit tag line? For producers Alois Gölles and his son David, it's about saying "yes" to the separation from traditional British single malt. The sardonic joke at the UK's – and its exporters' – expense is sure to leave a burning taste in many a Brit's mouth.
For 2018 there are a few things we'd like to see in TV studios, on front pages, on screen and in retail that would improve the state of media:
1.
It's time for Austria to re-establish itself as Europe's most innovative hub for editorial design. It last made its mark in the 1990s with some of the best editors and art directors in the industry.
2.
Remember The Sunday Correspondent? Newsstands need a fresh weekend paper to reflect a more nuanced conversation in the UK and beyond.
3.
Airport operators need to have more places selling books and magazines and offer up fewer leases to shops that only want to sell neck pillows.
4.
Britons should be saved from some of the worst morning TV among G7 nations. The BBC needs to produce smarter programming for a licence-paying audience.
5.
Handelsblatt might want to reinstate its English-language magazine – it's much missed.
6.
One snapshot of a digital future has us only listening to Alexa. This is a problem.
7.
CBC could reconsider the format of its news programme The National: it's clunky, complicated to watch and not working.
In car-happy Los Angeles most sectors are catered to by four wheels: you can get your lunch from a food truck, your groceries brought to your door and your dry-cleaning delivered to you in a van. Monocle noticed a new service on wheels when we visited the city to report on game shows: books are now also on LA's motorised menu, thanks to Twenty Stories, a small, new retailer that bills itself as the first mobile book shop in the city. Founded in October by writers Alexa Trembly and Emory Harkins, their colourful van pulls up in a different neighbourhood each day with a handpicked selection of some 20 titles from indie and legacy publishers, a collection that is refreshed each month. Other goodies for sale include hand-printed totes and T-shirts and a selection of delightful notebooks and greetings cards by LA's Iron Curtain Press.
During after-dinner coffee in the conservatory of a fine Stockholm hotel.
Overheard
'There are two conversations going on in Sweden. There's one politically correct discussion that lives in newspapers and on the radio and there's a much more lively, proper debate that happens in more hushed corners that deals with real issues. The popular media has become too terrified to have a real discussion in Sweden and is consumed with telling stories that create a false national agenda.'
Epithets such as Rome of the East seem to be batted about far too freely these days while every city with so much as a stream claims to be the new Venice. While in Tromsø, Norway, monocle was tickled to discover that it's been known as the Paris of the North since the 19th century. Back then this outpost in the Arctic Circle was the last place for hunters on their way to Svalbard to buy food and weapons. And it was also the final place they'd see a woman or anyone in a pretty dress (the men travelling north would have been chilly in such attire). So they lovingly named this final frontier the Paris of the North and it stuck.