Destination / Hakone
Woodland retreat
Less than two hours from Tokyo and set amid hot springs, the Nest Inn Hakone is a tranquil haven.
Despite being perched a mere 90 minutes along the Tomei expressway from central Tokyo, Hakone could hardly feel much further away from the urban crush. With Mount Fuji as its elegant backdrop, Hakone is a small town of just 11,000 souls that's famous for its onsen hot springs, ryokan inns and coolish climes.
Drive through the winding, mountainous roads and you'll spot hikers in vividly coloured waterproofs and locals waiting patiently for the infrequent buses that ply these routes. Along the way you'll also see signs for obscure museums and hot steam rising from the volcanic slopes.
Sitting among the area's more historic and established hotels, the Nest Inn Hakone has been open since October 2016 but, for reasons unknown to us, remains a somewhat undiscovered treasure. The 48-key renovation is set in a generous swathe of unspoiled nature and attracts a steady (but hardly torrential) stream of city dwellers intent on switching off and recharging. There are freshly renovated rooms in the main hotel, 11 newly built wooden villas, a large hot-spring bath and an outdoor wooden tub made from hinoki (a fragrant cypress tree) and fed by hot springs from Owakudani.
There are surprises aplenty, such as a former ryokan called Hyosekikaku, built in 1917 and which the Emperor visited three times. This gem by master carpenter Tokichi Shimada was transferred complete from Tokyo and is now home to a comfy lounge and traditional Japanese restaurant. Architecture aficionados flock here to admire the masterful carpentry and original features including kimono-silk embroidery on the sliding doors and hand-carved woodworks. In the kame (literally "turtle") room, the silhouette of the trees from the garden casts a shadow onto the shoji paper screens to resemble a delicate Japanese painting that changes pleasingly every morning.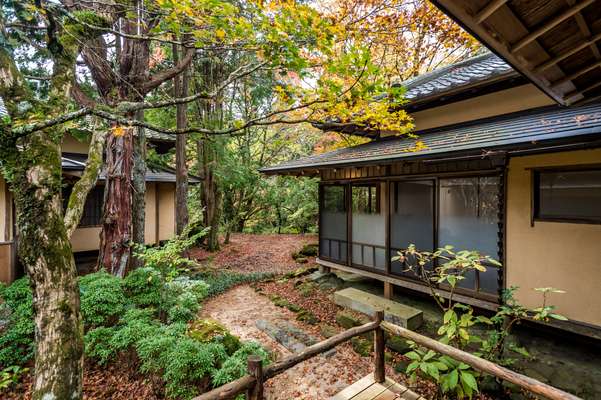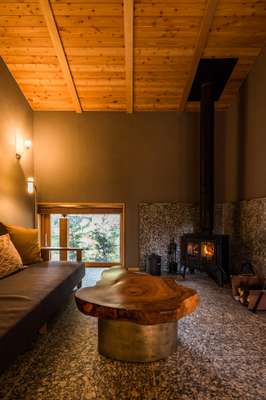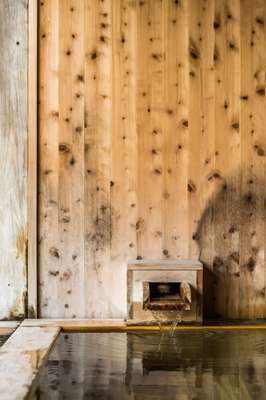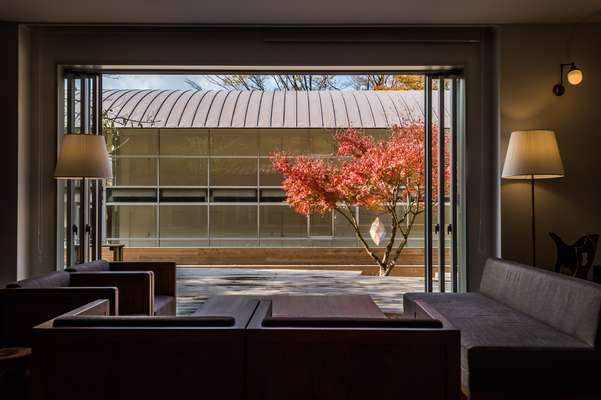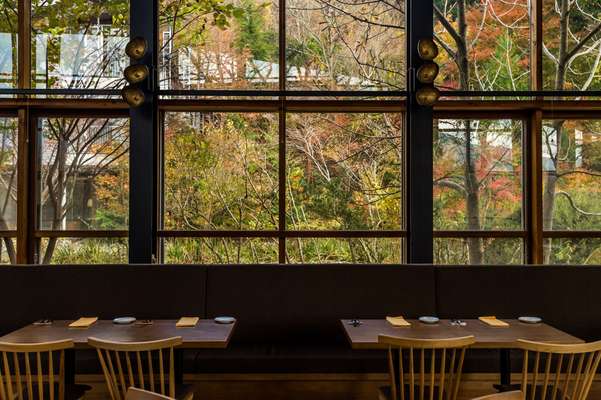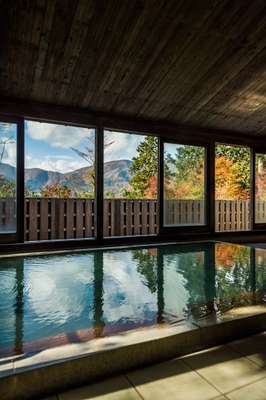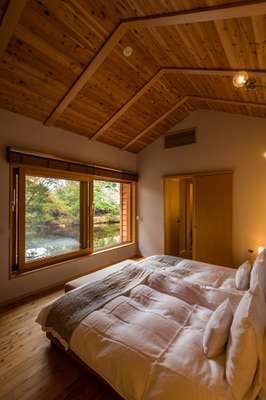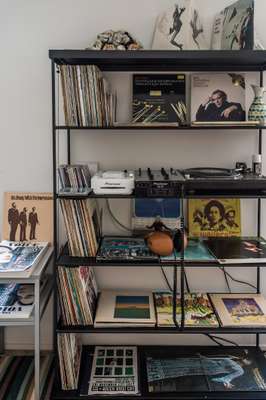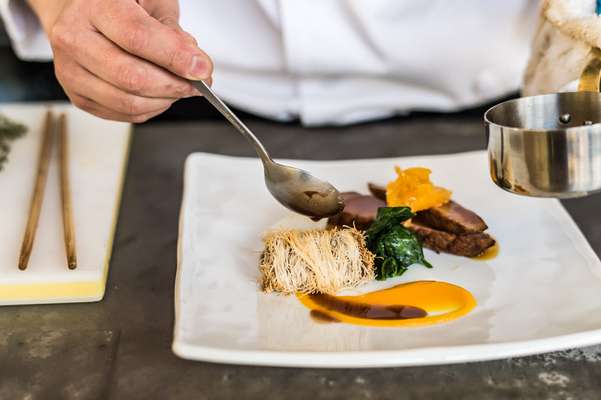 What's more, all of the rooms come with stunning views. "Our hotel sits inside a national park so we're not allowed to cut these trees or plant new ones," says Akiko Matsuoka, the okami (manager) at Hyosekikaku. The hotel is serenely sheltered from the road by mountain cherry-blossom trees alongside Japanese maple, sugi (cedar) and blooming clumps of hydrangea.
Nearby a natural spring gurgles and Nijimasu rainbow trout swim while pheasants roam freely. The lighting is kept cosily low inside and out, allowing an uncannily clear view of the moonlit sky come nightfall. Nature, not the structure of the Nest Inn Hakone, is the intended star of the stay. At night, guests hear the calls of owls while morning means bird-song rather than an iPhone alarm or a wake-up call. "You might hate rain if you're in the city but here it is beautiful," says Matsuoka. "Every window is like a picture-frame." The suite enjoys a stunning view of the Hakone mountain range.
At the other end of the premises Shusaku Maki looks after the music and books at the Free Bird lounge. "Our service style is smart casual," says Maki who is sporting a navy beret. "Some of these records were donated by guests," he adds, picking up The Köln Concert by Keith Jarrett. Maki is proud of their high-end Serendipity speakers made by Japanese audio maestro Taguchi and a library of art books and classic literature lines the shelves behind him.
Each of the villas comes with a hot-spring bath – indoor or open-air – and on cold winter weekends, guests gather to join Maki as he makes a fire on the terrace. Rooms in the main hotel are refreshingly minimal: no TVs but plenty of natural light, warm wooden furniture and artwork selected by Los Angeles-based art director Tamotsu Yagi. Rooms range from ample to vast and some are pet-friendly (don't be surprised if you spy a smart Shiba Inu waltzing out of one).
Unlike in a worrying number of so-called luxury hotels (where service is often disappointingly conflated with bothering guests to say they're enjoying their stay) those staying here are left alone to ramble around the premises. Some lounge with a cup of coffee at Free Bird Café (it's free for guests) or pick up beans to brew their own in-room. Others park themselves at Hyosekikaku's terrace café with green tea and Japanese sweets. Electric bikes and BMWs (i3 and i8) are ready for hire to cycle to the nearest soba restaurants or drive down to Ashinoko Skyline scenic road for a breathtaking view of Mount Fuji.
Helped by the relaxing surroundings, Nest Inn staff are an easy-going bunch too. At Woodside Restaurant, manager Noriyuki Shima is happy to cater to the guests' needs with vegetarian, vegan or gluten-free meals. "We use organic ingredients from nearby areas including Odawara, Mishima and Gotenba," says Shima, standing by the wood-fired grill in the open kitchen. "We make our own dressings, jams and smoked meat too." Locally caught seafood makes a short trip from Sagami and Suruga. Shima wants the finest drinks too and has forged links with producers further afield: including Australian ginger ale by Capi, hard-to-find limited edition Cabernet Sauvignon by Brookman Cellars from Napa Valley, premium beer by Yorkshire brewery Samuel Smith and a strong saké selection. Now he is hunting for more Japanese wine.
Located inside the restaurant, Babylon Bird Bakery is a collaboration with Paradise Alley Bread & Co. from Kamakura. "Locals and guests staying at nearby hotels come here to buy our bread," says Maki. Each morning, staff dash out hot-from-the-oven, additive-free bread by the basket-load and when we visit the smell of fresh focaccia and buttery brioche linger heavy in the air. It's little wonder that raccoons have been spotted scenting the air outside.
Nest Inn Hakone is a hub for locals as well as itinerant guests. It hosts matsuri festivals in summer and autumn, with stands on the terrace serving food and drinks. There are farmers who supply the restaurant hawking vegetables and fruit juice alongside games and a baking workshop by Babylon Bird Bakery.
When is the best time to visit? "It's hard to pick a season," says Matsuoka. "Every room has a different view; the expression of the garden changes throughout the day and the year. Guests will understand when they see the place."
nestinn-h.co.jp
Nest Inn Hakone offers plenty of comfort for its guests but don't miss the opportunity to explore your surroundings. Our pick of the neighbourhood includes open-air art, a gentle hike and cosying up with country cooking.
EAT
Takeyabu
At this soba (but never sober) joint we'd suggest the thick, inaka soba (inaka means "countryside"). Master noodle-maker Takao Abe has been making his buckwheat speciality for more than 40 years. Open from 11.00 to 18.00.
takeyabu.co.jp
TO SEE
Hakone Open-Air Museum
Around 120 sculptural works by the likes of Henry Moore and Taro Okamoto are exhibited in this vast garden. There is also an indoor Picasso house with the impressive collection of 300 works.
hakone-oam.or.jp
TO VISIT
Hakone Ropeway
Enjoy the amazing views of Owakudani hot springs, Mount Fuji and Lake Ashinoko from the ropeway. This 4km cable-car ride runs between Sounzan and Togendai.
hakoneropeway.co.jp
TO EXPLORE
The great outdoors
Hakone is a perfect place for a ramble, in the mountains or by the water. There are 24 trails to suit everyone from delicately-shod beginners to serious hikers. The best season is from April to December, otherwise we'd advise a little layering and a decent outdoor jacket from Descente.
hakone.or.jp