Business / Global
Business
Briefing
The latest concept in corporate gifting, a new identity for Canada's Red Cross and a breath of fresh air in the workplace.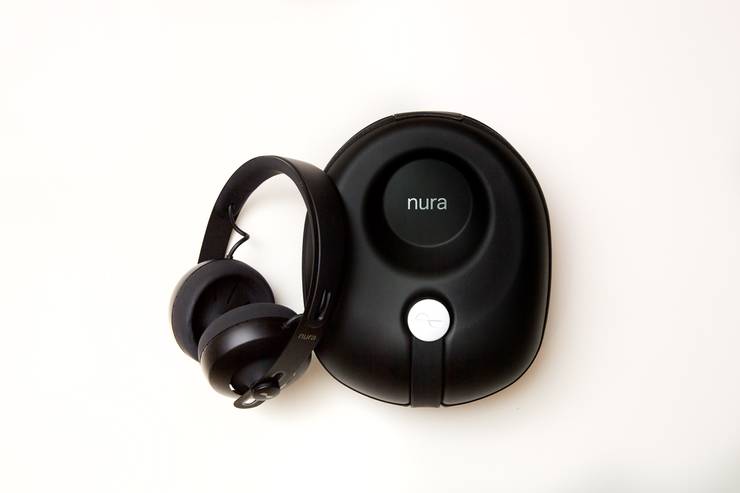 Music to your ears
Melbourne —
Technology
Australian business Nura went home from the Consumer Electronics Show (CES) in Las Vegas with the Innovation award for its pioneering Nuraphone headphones, designed to personalise sound. "Everybody's hearing is very different, even more so than our voices," says co-founder and CEO Dragan Petrovic.
That's why Nura's patented headphones have been engineered to measure their user's hearing via an app by monitoring the "otoacoustic emissions" (sounds generated within the inner ear) and adapting the sound accordingly. "It is funny to us that companies talk about putting all this effort into engineering signature sound systems without taking into account who's listening," says Petrovic, who teamed up with former ear surgeon Luke Campbell and creative engineer Kyle Slater to launch Nura in 2016.
The founders turned to Kickstarter and crowdsourced AU$1.8m (€1.2m) for their product. One year on, the business received a further $5m (€3.3m) in seed capital to fund Nuraphone headphones, which are available worldwide via its website.
Sound may be the driver of the brand but that doesn't mean that design has taken a back seat: the sleek in-ear and over-ear headphones look almost as good as they sound. "People have told us that they feel like they're hearing new things in their favourite songs," says creative director Joel Priestland. "They're really reconnecting with the music."
nuraphone.com
---
Seeing red
Toronto —
Branding
When Toronto-based branding agency Concrete was tasked with redesigning the Canadian Red Cross's identity, it did so with great respect for the iconic symbol. The project – spanning all customer touch-points, from signage to digital branding – became an exercise in restraint and subtlety. "Because you're not changing the symbol, you're dealing with typography, space and layout," says Concrete's president John Pylypczak.
Of central importance was the development of a scaling system that allows for the messaging to either recede or rise to the fore depending on its use. By modernising the typography, it feels "more pragmatic and less like we're trying to market to you", says Pylypczak. It's a simple but attractive lesson in visual hierarchies that efficiently conveys the organisation's priorities.
concrete.ca
---
The art of giving
Dublin —
Gifts
"Businesses such as Airbnb, Lyft and Instagram exist in a digital sphere but they have passionate communities behind them," says Jonathan Legge, director of &Open. "From a consumer-service perspective they find it difficult to make real connections with these people."
Hence &Open, a digital platform that selects corporate gifts that are more thoughtful than a mug with a logo slapped on. The project emerged when Legge's other business, high-end online craft shop Makers & Brothers, received a third of its turnover from corporate giving. Legge's new venture has big commissions for clients such as Airbnb.
Q. What would you spend €5,000 on?
Answer: "Put in a nice dining space for the team so everyone could eat together every day. That is lacking in our studio at the moment and I would love us to have a big dining-room table. It's all there but it would be nice to have that central hub where everyone is moving in and out during the day."
andopen.co
Although it might not seem it, working hours are actually falling.
Norway
2000: 1,455
2016: 1,424
Japan
2000: 1,821
2016: 1,713
US
2000: 1,834
2016: 1,783
Mexico
2000: 2,311
2016: 2,255
Breathe easy
Finland —
Environment
Fresh air is hard to come by in busy cities but Finnish company Naava is helping to bring it into workplaces at least. "We asked, 'How do plants clean air in the forest and how can we recreate this process indoors?'" says Aki Soudunsaari, Naava's co-founder and CEO.
He grew up among the pristine forests of Lapland but became increasingly aware of the health risks associated with recycled air in offices. To boost brain power and wellbeing, Naava has created a modular living wall that has a tidy Nordic design and smart technology. It lets users regulate humidity while its sturdy plants filter out harmful chemicals from the air.
naava.io