HQ audit / Illinois
Cream of the crop
Content to plough its own furrow, John Deere's historic headquarters celebrates the brand's Midwestern roots while showcasing its modern-day values.
Some brands seem to work their way into the collective psyche and John Deere is one of them. There's something immediately recognisable about the company's yellow-and-green colour scheme and the leaping deer emblazoned on its products. It was founded in Illinois in 1837 and its tractors and manifold agricultural machinery have long been a mainstay of rural US life – as have its weathered baseball caps.
And yet, despite being a Fortune 500 company with global annual net revenue of $29.7bn (€24.2bn), the company hasn't gravitated towards a larger hub for its headquarters. One might expect it to be based in Chicago (the metropolis would still chime with its Midwestern roots), not a pancake-flat region surrounded by corn fields on the Iowa-Illinois border. And yet, for a brand that puts a high value on heritage, the Moline setting makes sense: it's not far from the original HQ that served the company for the previous 117 years.
Built in 1964 and designed by Finnish-American architect Eero Saarinen (who was also behind the twa Flight Center at jfk and the former US embassy in London), the new HQ seemed to capture the lofty ambitions of the age. It was an epoch in which large companies invested in world-class architecture because CEOs realised that it contributed to workers' quality of life and would lure global talent. The big question is whether, more than half a century later, the building has stood the test of time.
In fact, from the outside the complex looks remarkably modern thanks to the black corten steel that gains a rich patina but then stops weathering. The West Office Building was added to the Display Floor Building and East Office Building in the mid-1970s. They are linked by a walkway that follows the late Saarinen's original designs but was completed by Kevin Roche, who had worked with him and was also behind the Museum of Jewish Heritage and the Ford Foundation building in New York.
Marc Howze, a senior vice-president and chief administrative officer who has been with the firm since 2001, says the complex embodies a brand that has a special place in the American consciousness, stemming from the fact that John Deere didn't repossess Americans' tractors during the Great Depression. "We don't sell sugar water," he says, with a smile. He adds that people "come here on vacation or to get their wedding pictures taken", a reference to the vast Display Floor Building, which is open to the public and exhibits some of the classic tractor models (the brand is celebrating 100 years in tractors this year). But as crucial as it is to have a symbolically important HQ, it also needs to have a functional worth for employees.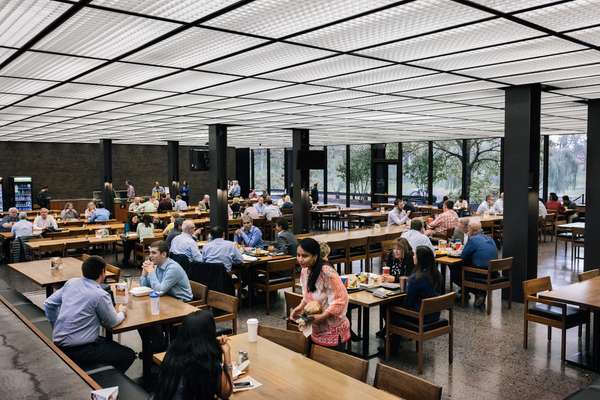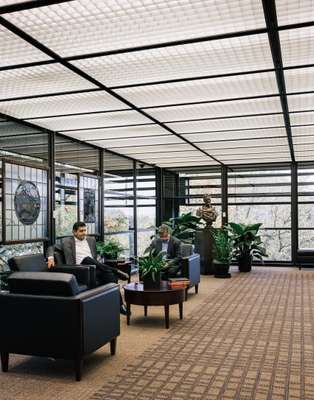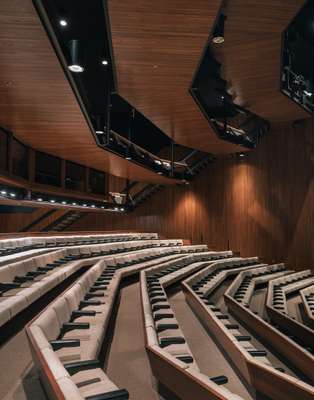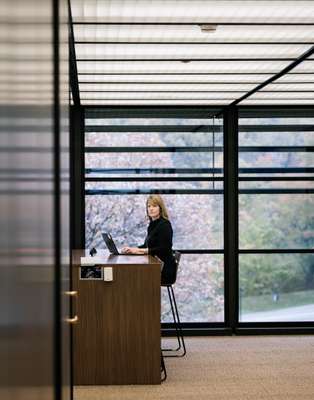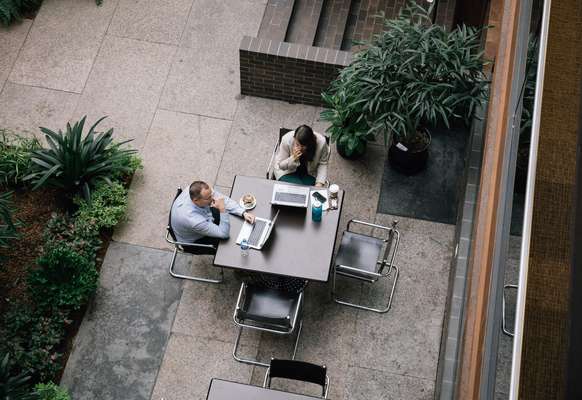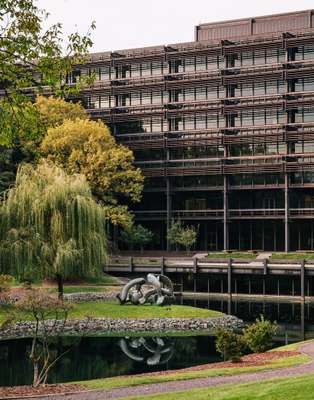 In numbers:
Employees at East and West Office buildings: 1,300
Total at global HQ: 1,800
Worldwide: 68,000
Global offices: 115
Tractor factories: 12
Outdoors indoors
Exploiting a rural setting
Howze calls the global campus "aesthetically beautiful". If you're going to make a decision not to be based in a large city then you need to take advantage of the space and scenery that a rural setting affords; the steel-and-glass structure means that there is plenty of natural light. Whether it's from the canteen, offices or the Display Floor Building, there's always a connection with the outdoors, from the low-lying hills in the distance to the woodland.
The John Deere campus is set in 567 hectares, of which 72 are landscaped. The company keeps a Japanese-style garden around the buildings featuring two lakes, one filled with koi carp, and there are paths around the complex for employees who need to mull over an idea or get some exercise during lunchtime.
"Deer in the parkland, did you plant those?" Amy Baum, a manager who has been with the company for 19 years, asks us, laughing at her first encounter with the local wildlife. She says she brings her family here to see the fish and take in the latest exhibit on the display floor. There are also plenty of areas set up for outdoor meetings in the warmer months, when it's not unusual for a barbecue to appear.
---
Global power
No room for knuckleheads
It would be easy to assume that rural Illinois isn't the most diverse spot in the US – but that's not the case at John Deere. Given the global scope of the company – with offices in Germany and Brazil via India, China and beyond – there are constantly visitors from overseas passing through the doors, as well as staff relocating from regional hubs. Robin Singh, who had worked in Pune, India, says the diversity is "the fun part" of the job. "I grew up in Delhi and then you come to a place like Moline – there's hardly anyone," he says. "It grows on you though. It's easy to commute and people are very friendly."
And Howze says that the company wouldn't work if it wasn't for the shared values – innovation, integrity and quality being a few – that unite everyone. "If this was a beautiful place but with a bunch of knuckleheads, it wouldn't be a good place to work." One of the more tangible programmes for achieving cohesiveness is the creation of employee resource groups, often aimed at those who have recently moved to Moline. There are 12 employee-driven interest groups that meet regularly to discuss issues and socialise.
---
Work spaces
Home from home
The West Office Building – with offices that face into a central space, glass ceiling and an atrium filled with 4,500 plants – is undoubtedly one of the best spaces to have a meeting. Tables in the atrium are shrouded in so much shrubbery that they're private enough for one-to-ones.
The workspaces on the office floors leave some room for improvement but John Deere is keen to innovate, starting to do away with cubicles and partitions in favour of what it calls "work experience", or WE, areas. Designed to be informal zones with tables and sofas, they're configured to make work feel less formal. For Baum, a manager of organisation effectiveness, planning and structuring work across the company, they provide "the freedom to choose a workplace that aligns with your needs". Baum says that the WE spaces have been adapted for certain groups, from human resources to engineering, and there are plans to turn the entire third floor of the West Office Building into a WE area by October.
---
Artistic merit
Be inspired
John Deere has a truly enviable corporate art collection that's on display for the public and employees, and is constantly rotated. "It keeps the spaces fresh," says Neil Dahlstrom, who looks after corporate history and archives. "If you keep it the same, you ignore your surroundings. With the artwork and the equipment [on the display floor] it's about what's next."
One of the truly great pieces is what could be described as a 3D historical collage by Alexander Girard called "Reflections of an Era". The piece is meant to show the pre-mechanised history of John Deere and US agriculture, including Deere's pioneering plough. Wander around the campus corridors and you'll see 2,000 museum-quality pieces, including studies from the 1930s by American Gothic artist Grant Wood (the company's most famous piece is his "Fall Plowing"), pieces by Toulouse-Lautrec and Marc Chagall, as well as the Henry Moore sculpture "Hill Arches" outside.
The verdict
The John Deere complex is one of Eero Saarinen's finest achievements. The buildings have aged well and provide important brand clout. The company has also made efforts to maintain original features, or at least stay true to them (the credenzas in some offices have been replaced but are identical to the originals). The café has some healthy options but we'd like to see fewer disposable soda cups. As for the interior, there's some worn leather that could do with a mend and the occasional John Deere banner clashes with the clean aesthetics of the buildings. But this is an impressive place to work with plenty of perks, from doctors who visit to an in-house bank branch courtesy of the Deere Employees Credit Union. And the constant connection with the outside makes it a tranquil place to get work done. It will be even better with fewer cubicles.