Residence / Denmark
Digs for victory
Student dormitories in the Danish capital's 4th May College nurture the great thinkers of tomorrow while saluting the resistance fighters of the Second World War.
War heroes tend to be commemorated with a statue, yet Copenhagen's 4th May College is a monument to Denmark's resistance movement that has taken a more personal approach. Perhaps the world's most beautiful student dormitory, it was built in 1951 after five years of Nazi occupation. Today its purpose, paving the way to a brighter future for the nation and honouring the resistance fighters, remains as relevant as ever thanks to a recent revamp.
Set between public parks and busy streets in central Copenhagen, it's now home to 63 descendants – primarily grandchildren – of the Danish resistance movement. While student housing tends to be synonymous with messy, cramped spaces, these dorms are anything but. With bold colours, materials and shapes inside and out, the building – by Danish architect Hans Hansen – stands as a noteworthy example of functionalist architecture. Last year a two-year renovation was completed and today the U-shaped structure sparkles: there are freshly painted walls and pillars, restored mahogany panelling, skylight windows and chequerboard cork floors.
"When we arrived the building was rather worn out," says Jens Bertelsen, ceo of Copenhagen's Bertelsen & Scheving Arkitekter, who led the renovation with support from private and public funds. Key to the brief was the restoration of the building's original colour. Typically, Danish functionalism was projected largely in stark white but Hansen took pride in a more jolly scheme. Archaeologists from the National Museum of Denmark were called in to peel back the newer layers of paint and find the first palette for the dormitory. After years in white, blue and red, the banquet hall is now back in a sunny yellow, the walls of the eastern stairwell are mint green once more and the slender pergola in front of the living room is its original apple green and red.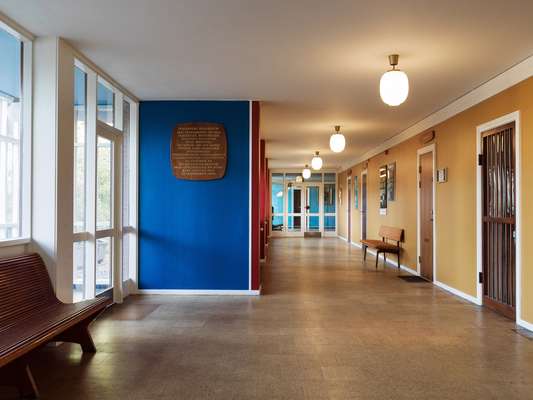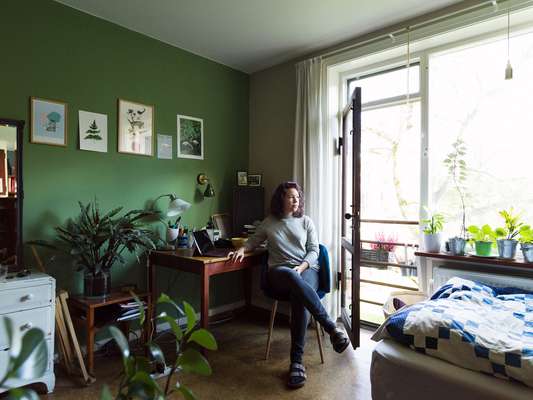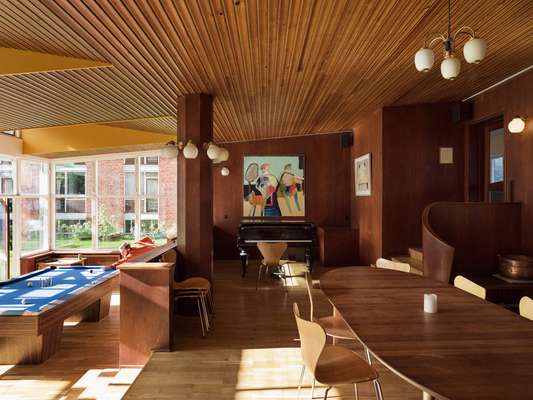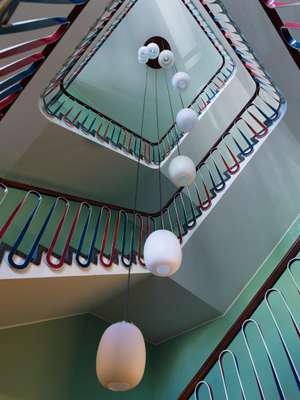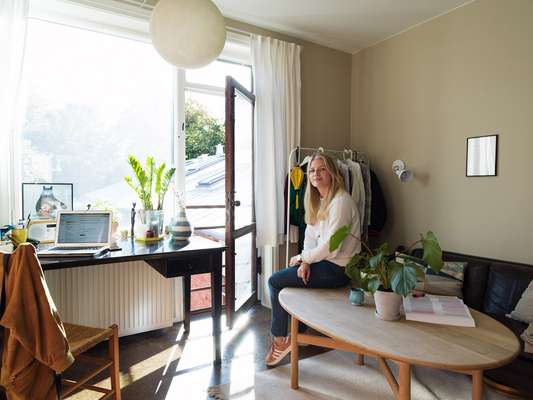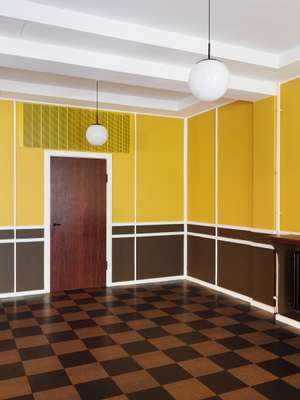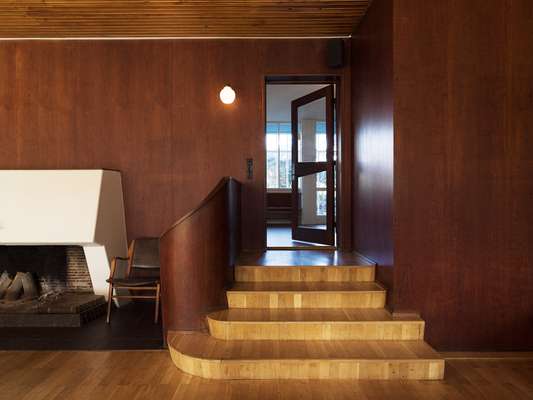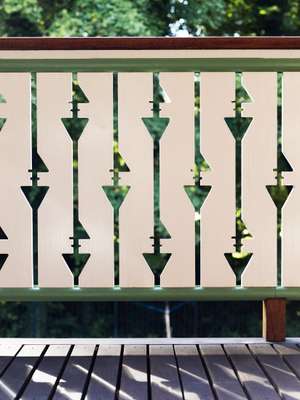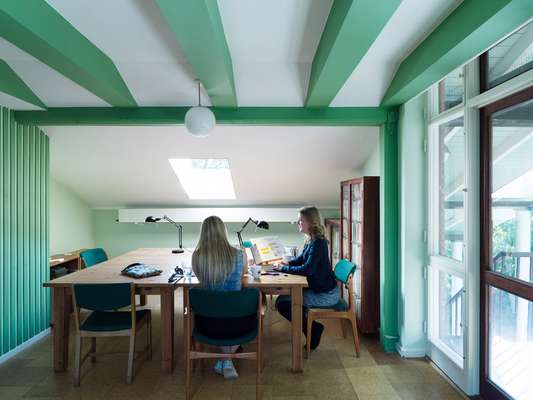 "Working with colours like these makes you smile; personally I would love to live surrounded by such a lively palette," says Anja Liss Petersen, a conservator from The National Museum of Denmark who took part in the colour archaeology.
Outdoors, Hansen drew inspiration from Chinese colour theory creating a pergola of red and green. The stairways inside are all painted in the allies' colours of the Second World War: red, white and blue."Hansen basically thought that strong colours would encourage a traumatised postwar society in a sensible, human way," says Petersen.
With rent here about a quarter of Copenhagen's average – and surroundings significantly more dazzling than most dorms in the city – the students are a happy bunch. Most rooms feature original built-in beds, desks and cabinets in solid oak, and a tiny French balcony for airing duvets and chatting to neighbours. "Living among 60 young people will always be a mess," says 21-year-old Clea Bigum, a tenant who's studying business economics and psychology. "But I think the architecture causes people to tighten up a little in a very nice way."
Funding for Hansen's design – and its upkeep – has come from community collaboration in the truest sense. To get the project off the ground, money, skills, furniture and even materials were donated by supporters of the resistance movement. A key element is teak wood from Thailand, which was gifted from expatriated Danes and transformed into doors, window panels and memorial plaques. In the shared kitchens, lighting and furniture was designed and delivered (under Hansen's supervision) by esteemed national craftsmen.
While students here are all thankful for their digs, their ancestors' courageous past is not a subject that pops up every day. Anna Falkenberg, a biochemistry student, says it feels more like an invisible ribbon that ties the residents together. "Everyone is very grateful for the battle they fought. To be able to live here because of that just feels like a great privilege," she says, noting her grandfather was a part of the resistance movement.
The "invisible ribbon" also binds students to a lifestyle that is more in line with their postwar predecessors. When it came to forming the renovation brief, students were asked whether they wanted separate toilets instead of shared ones. Or, perhaps, new and private bathing halls, and plugs for televisions? To the architect's surprise, the same answer came back again and again: "No thanks."
"Sharing is part of the charm of living in a dorm," says 28-year-old Louise Balsløv, who's soon to complete her MA in Spanish. "We are here for a relatively short period of our lives. We want to have the real experience."
Hans Hansen (1899-1958)
Hansen was hired as an illustrator by Danish architect Poul Henningsen in 1930 before establishing his own company. During the Second World War, Hansen was part of the Danish resistance movement. He was a functionalist and an advocate for the use of strong colours in architecture. His Copenhagen buildings included a sports arena and The Resistance Museum but both have recently burned down.
Resistance movement
Helping Jews flee and sabotaging the Nazi occupation were among the achievements of the Danish resistance movement during the Second World War. The movement's civil and military co-ordinated responses were inspired by the objectives of the British army. After the war a private fund dedicated to "living memorials" was set up to assist and celebrate the resistance fighters and their descendants. Today, 4th of May College in Copenhagen is one of nine in Denmark funded by the resistance.