Food & drink / Global
Food
&

drink
Briefing
Upscale dim sum in a converted church and a recipe for sizzling rib-eye steak.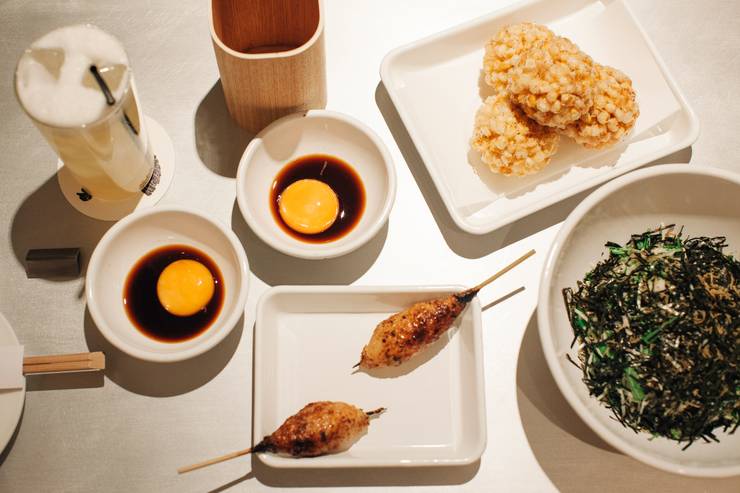 Hong Kong is used to gobbling up foreign cuisine but the tables are turning. Upscale dim-sum diner Duddell's has opened a more casual sister venue inside a converted church near London Bridge, poaching head chef Daren Liew from the Cantonese competition, Hakkasan. "Our plan has been to grow the Duddell's brand with openings in key international destinations. An interesting site presented itself in London so it was a natural fit," says Yenn Wong, founder of the restaurant group Jia.
Local rival Black Sheep Restaurants plans to expand in Asia and Europe this year too. Yardbird, a yakitori specialist founded in 2011 by Canadian chef Matt Abergel, will have a pop-up in March at Burnt Ends in Singapore before shifting attention to expansion in downtown Los Angeles. Having the chops to succeed in Hong Kong's notoriously high-turnover market bodes well. Yet overseas expansion still requires some secret sauce.
Yardbird alumni May Chow opened Little Bao in Hong Kong in 2013. The contemporary diner, selling must-try Chinese-style burgers, lasted little more than a year at 72 Courtyard in Bangkok's buzzy Thonglor district.
duddells.co; yardbirdrestaurant.com; blacksheeprestaurants.com; little-bao.com
This arresting bistro may be managed by a group that began as a skateboard start-up but there are no tricks at play here, just diverse food served in a vibrant setting. Found'd Group operates six restaurants in Lebanon, and Kaléo is the most eye-catching. Pale pinks meet baby blues and zigs hug zags throughout the restaurant's dreamy interior, while sawtooth patterns recall those in the old churches of Byblos.
The menu is no stranger to colour and texture either, with mains such as asparagus with clementines and smoked eel sitting comfortably alongside sole fillet, lemongrass chicken and roasted lamb chops.
founddgroup.com
José Avillez Group
Gourmet Experience at El Corte Inglés
Portugal
Chef José Avillez expands his Lisbon stable with three spaces: Tasca Chic is a contemporary take on traditional Portuguese food; Jacaré mixes vegetarian and grilled-meat dishes; and Barra Cascabel is a collaboration with Mexican chef Roberto Ruiz.
Americans can't get enough of wood-fire cooking – and if you thought it was a coastal phenomenon then look again. The oft-underrated Midwestern hub of Minneapolis has a hot (literally) new restaurant: Martina, an Italian-Argentine spot from Daniel del Prado. There's a beauty in the food's simplicity, which features everything from Italian peasant classic cacio e pepe – although, interestingly with panzotti (pasta parcels) – to a less-than-traditional take on empanadas with gorgonzola and leek. But you came for the grill where wild Mexican swordfish and flat iron steak with potato pavé are the order of the day.
martinarestaurant.com
A discreet doorbell gains you entry to the bar of this palatial new restaurant, which has extravagant cocktails and opulent snacks that befit a joint-venture between two of Barcelona's biggest bar trailblazers (the owners of Paradiso and Bananas, respectively). The restaurant proper is an imperial delight of velvet by designer Yolanda Vilalta, while pheasant cannelloni and calamari carbonara display Rafa Peña and Jaime Tejedor's Catalan cooking perfectly. But Rilke isn't without secrets: tap the right mahogany panel and you'll find yourself in one of three private rooms, where guests can puff on cigars with a whisky in hand.
rilkebcn.com
Jamie O'Neill founded Upside Coffee – his online shop and wholesaler of African, Central and South American beans – in 2016 and the updated packaging is a stroke of colourful genius by illustrator Alex Mellon. The pair bonded while working in London's Climpson & Sons and the collaboration was sealed over a cup of Joe when Mellon visited O'Neill's roastery in Dublin. Try the Ethiopian number with hints of orange, honey and jasmine.
upsidecoffee.com
This top-floor restaurant, kitted out by Swedish design grandee Gert Wingårdh, is an homage to Nordic-Japanese nosh, with a menu from young chef Frida Ronge. No pomp, just excellent ingredients: blackened scallops with kale and soy sauce, or duck-breast donburi (a rice dish) in a yuzu vinaigrette. There are 25 sakés on offer and a rooftop terrace for cocktails at the Råbaren.
tak.se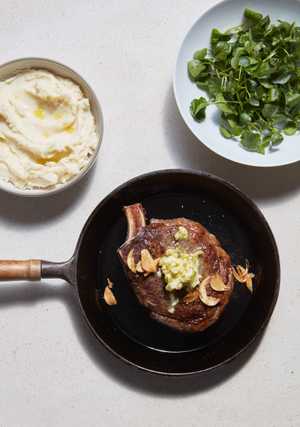 Recipe –
Midori House
Rib-eye steak with potato, cauliflower & parmesan mash
Serves 4
Ingredients
2 x 750g rib-eye steak on the bone (côte de boeuf)
Sea salt and freshly ground pepper
Lime & chilli butter
5g lime zest, grated
6g long green chilli, finely chopped with seeds
2tsps fresh lime juice
100g salted butter
Mash
400g large, starchy potatoes, peeled 200g cauliflower, divided into small florets
200ml whole milk
30g unsalted butter
50g parmesan cheese, grated
Watercress leaves and crispy garlic, to serve
1.
Remove the steaks from fridge 30 minutes before preparing to bring to room temperature.
2.
Combine all the ingredients for lime and chilli butter and store in the fridge.
3.
Cut the potato into 5cm pieces. Boil a pot of salty water over a medium heat and add the potatoes. After 10 minutes, add cauliflower. Cook for another 10 minutes. When the potatoes and cauliflower are soft, drain and return to the pot over a low heat. Mash with a potato masher. Add milk, unsalted butter, parmesan cheese and mix well. Season, then remove from heat. Keep warm and set aside.
4.
Preheat oven to 190c (170c fan). Season both sides of the steaks with salt and pepper. Place an iron skillet over a medium heat. When very hot, place the steaks in the pan and cook for 3 minutes on each side.
5.
Place steaks on a baking tray and cook in the oven for 10 minutes (medium rare). Remove from the oven, cover lightly with foil and leave to rest for 10 minutes.
6.
Top steaks with the lime and chilli butter and crispy garlic. Serve with mash and watercress.