Delicatessen / France
Good taste
Paris institution La Grande Épicerie combines beauty with a feast – and its new sister deli is also sure to delight.
Since it opened its doors in 1978, the Grande Épicerie has been a point of pilgrimage for Parisians. Shelves piled high with surprising produce pique memories and senses, drawing people to the Rue de Sèvres in the 7th arrondissement in search of fine jams or Wagyu beef.
Now, after decades crossing the Seine, lvmh (which has owned the shop's parent company Le Bon Marché Group since 1988) has opened a sister épicerie, as grand and glamorous as the first, on the site of the former department store Franck & Fils in the wealthy district of Passy.
"We've always been a source of inspiration in the city but we're also a neighbourhood shop with some very loyal regulars," says Agnès Renard, project director for Le Bon Marché Group. She's sitting on a green-wool banquette on the top floor of the art deco structure, which was transformed into a foodhall over the course of 15 months. For Renard, opening the new site is symptomatic of changes in the way Parisians shop. "The dominance of the supermarket is disappearing," she says. "More and more, people are valuing the authentic producers. They are shopping regularly and locally."
With its bosky-green façade planted with thyme, mint, rosemary and ferns, the revamped 1930s building makes a fresh-feeling statement on the Rue de Passy. Inside, stone floors and a wood-panelled checkout are a modern homage to the old-fashioned pantry. The shelves are densely packed with tins, packets and jars; French gastronomic heritage brands alongside choice international imports. Everywhere you wheel a trolley it's this rich patchwork of packaging that dominates. From the dozens of ornate biscuit tins to the array of canned fish that leaps with colour and the heady, earthy tea aisle where modern newcomers sit beside Mariage Frères (1897): the produce and its provenance is enthralling. Even lentils in their sack-cloth bags and paper packets somehow tell their own story of hearty French casseroles or spiced dal. A vertigo-inducing "chipsothèque" features 100 types of crisps in a formation that surely needs a ladder to reach and a wall of mineral water offers bottles from Arcachon to Iceland.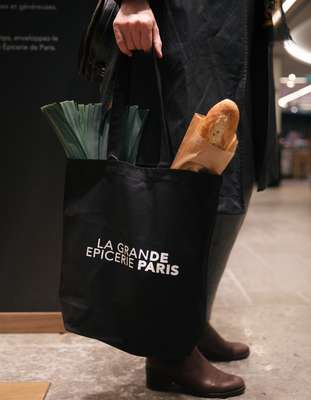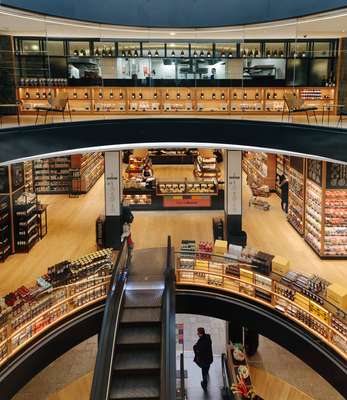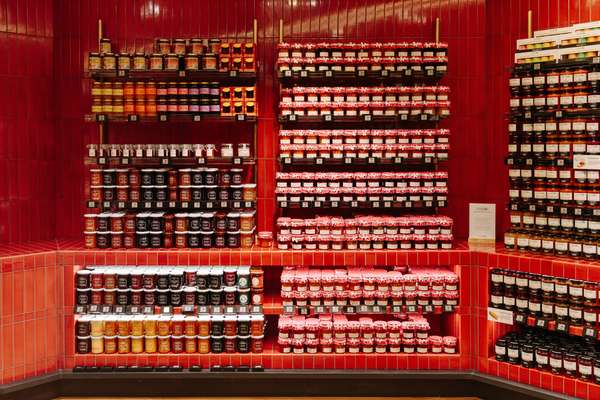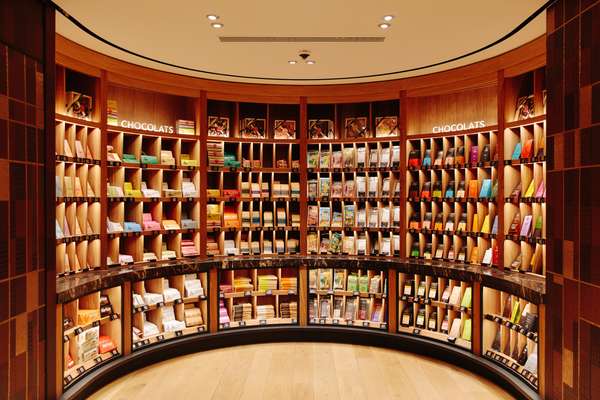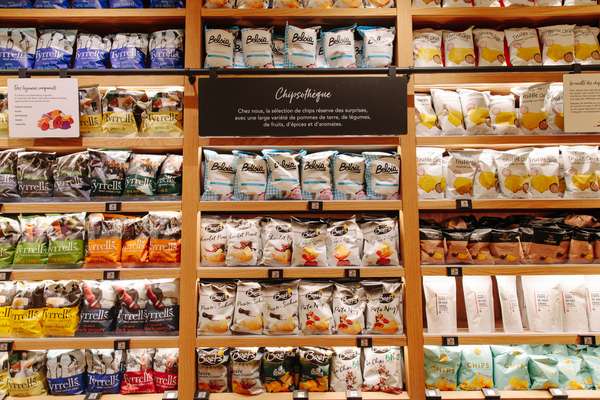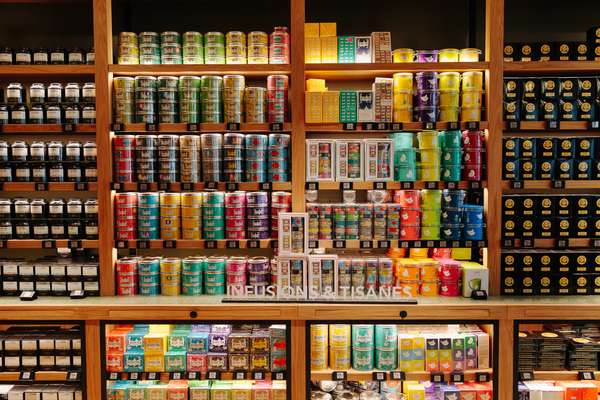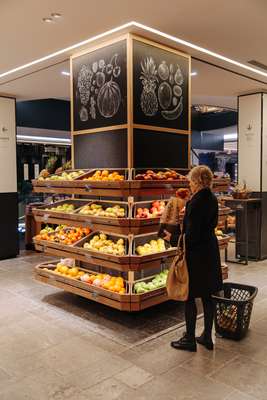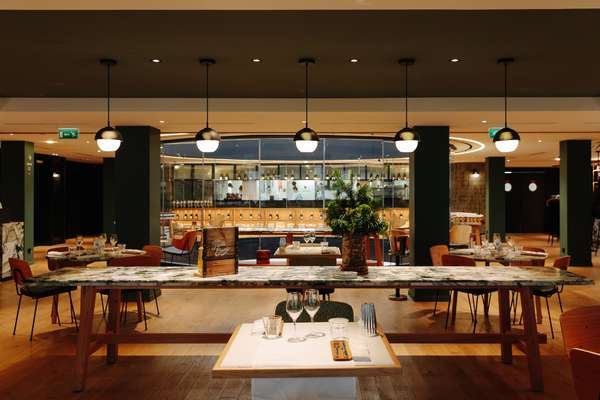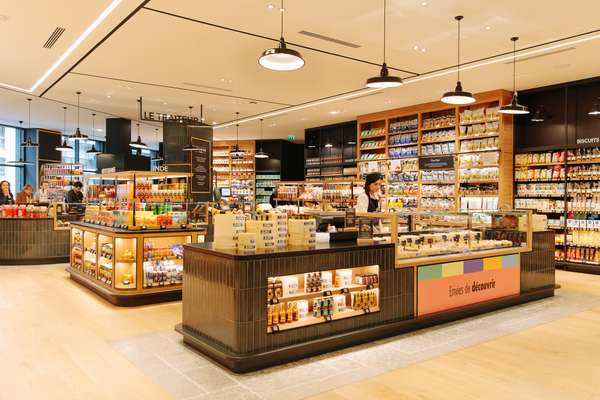 Shop around
After years dominating the French capital's food-retail landscape, La Grande Épicerie has some keen competitors. This January, another food hall, Le Printemps du Goût, opened in Le Printemps de l'Homme. The second branch of Maison Plisson, a food-concept shop pioneered by Delphine Plisson, is expected in May. Also on the horizon from the Lafayette-bhv group is Eataly, which will open in the Marais district sometime this year.
A few years ago the épicerie tried to scale back its daily staples but the customers requested their return and so you'll also find detergent and toilet paper alongside the eccentric and expensive items. Where else could you find Maison Dutriez red-currant jam where the fruits have been seeded with a feather quill (the company's been running since 1344) and a Provençal olive oil that's cold pressed in the palatial Château d'Estoublon? "Our customers want emotion," says buyer Angela Intonti, who insists exotic doesn't have to mean far-flung (she's most excited about a new cider from Normandy). "Each product must have a story. It's so exciting to be able to present these small brands in Paris."
While the details are absorbing, the sheer scale of the building is both a delight and something of a challenge. Changing an art-deco emporium built to showcase haberdashery and ready-to-wear fashion to one of food isn't without its drawbacks. At times it feels odd buying yoghurt and eggs on one floor, bread and meat on another and cheese on yet another (even if there are 40 varieties of goat's cheese.)
However, exploration is encouraged (and expected) here and, unlike supermarkets which so often funnel shoppers around without natural light or distracting views, large glass windows (both front and back) illuminate the space. Light streams in from an original glass cupola on the roof. Below it, circular balconies slice through the structure, crisscrossed with escalators. In the basement a formidable charcuterie counter offers customers a perch and another first-floor café-style counter specialises in caviar, truffles and smoked salmon.
On the top floor, the restaurant is led by chef Beatriz Gonzalez who hails from the island of Cozumel on the Yucatán Peninsula but trained at the Paul Bocuse cooking school in Lyon. Her classic French dishes (veal is a speciality) are known for their kick of citrus and twists of pepper. She admits to being inspired by the food hall below. "The Grande Épicerie has the best of everything so we really make a virtue of that," she says, sitting at a green marble table made by Dutch designer Piet Hein Eek. "People sometimes bring me ingredients from downstairs and ask me how to cook them. I am always very happy to help. Another customer asked me for my béarnaise recipe. I gave it to him and he was very pleased with the result."
While this is clearly a rarefied outfit, the épicerie is making a concerted effort not to be stuffy. The ground floor has the feel of a marketplace with a glistening fish counter, butchers, bakers and pâtisserie selling the outfit's much-lauded St Honoré dessert (a cream cake named after the French patron saint of pastry chefs). Abstract glass mosaics by artist Mathilde Jonquière flank each one. Prices on some goods are steep but the shop insists they are competitive with nearby supermarkets. And while there are Txogitxu Galician steaks on offer there are also more affordable cuts. In the wine cave there's a bottle of Côtes du Rhône for €7 and Chateau Margaux for €4,500.
The opening of the Passy space has ushered in a new era for the Grande Épicerie marque. While the kitchens underneath its left-bank HQ still house three chefs and 68 cooks who make all the bread, cakes and potted ready-meals, there is now a new food hub outside Paris where twice-daily gas-truck deliveries could be co-ordinated for both shops.
For decades Grande Épicerie on the Rue de Sèvres has dominated the Paris food scene with an idiosyncratic flair – and it can't have been easy duplicating a left-bank institution. "When you have two premises things have to change," says Renard. "We have had to set up a new buying team as previously we had some sales staff who did both."
Ultimately, the Grande Épicerie's success rests with this team who scour France, and the world, in search of new ingredients for the shelves. Their edit aims to reflect a growing respect for the farmer and the values of French cuisine. "We're entering a new era in the food world where producers are as respected and valued as chefs," says Angela Intonti. She advises customers to explore the shop with the spirit of a flâneur (stroller). "Enjoy the moment in the shop, take time and look at every product," she says. "Let go – it's a beautiful place. Most of all, be seduced by the smell, the taste and the beauty of the products."
Kalios olive oil
Produced by two siblings of Franco-Greek heritage, this fine olive oil uses kalamata olives from the family orchard in the Peloponnese mountains.
Happy Crulture crisps
Kale crisps produced in France by cheerful chef Camila Prioli.
Chapon Pâte à Tartiner
Chapon hails from Chelles (Seine-et-Marne department in the Île-de-France region) and produces chocolate bars with wrapping that features illustrations of flamingos and butterflies.
Aval cider
Brewed from hand-picked apples grown on a family-owned Breton farm, this tipple is the work of four young friends from the region.
Mariage Frères, French breakfast tea
This historic label has been producing infusions in a solid-metal caddy since 1897.