Restaurant / London
Hidden gem
The siblings behind The Palomar and The Barbary in London have transformed a derelict 18th-century pub into a moody watering hole, restaurant and cocktail bar.
"We want to make The Blue Posts more than a normal pub but without disrespecting the things that make it one," says Layo Paskin with a genial grin. "I don't think there's anything wrong with the pub concept, but like all things in life, if it's unloved and nobody puts any thought into it then it becomes outmoded. They've been around for however many hundreds of years and there's not any reason why that tradition should have to end."
As Paskin leads monocle past a new pewter bar, he gestures at the colourful taps emblazoned with the names and insignias of craft beers. He motions to the shelves behind it that are filled with a selection of pretty – but for the most part unfamiliar – bottles of seemingly exotic spirits and liqueurs. It's like being in a London pub, but nicer. We're standing on the ground floor of The Blue Posts, a freehouse in Chinatown dating from 1739 that's been lovingly repurposed by Paskin and his sister and business partner, Zoë.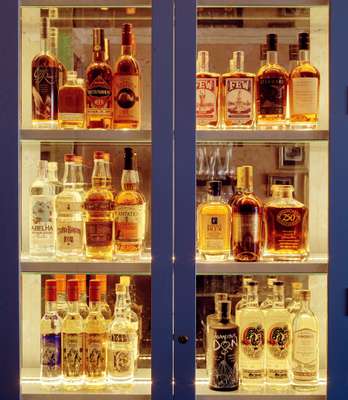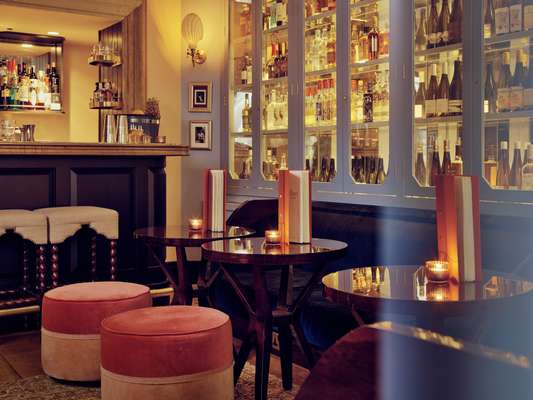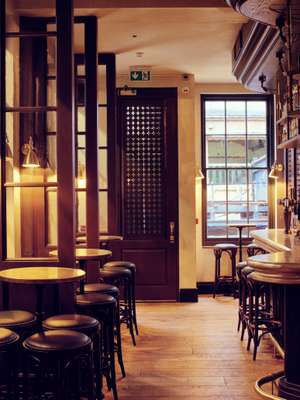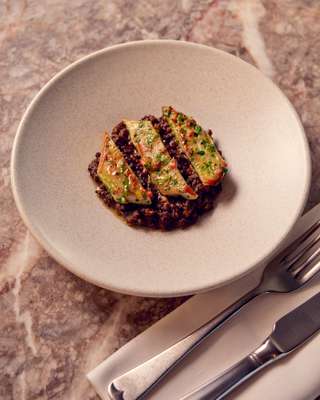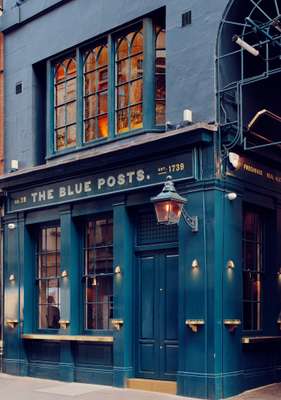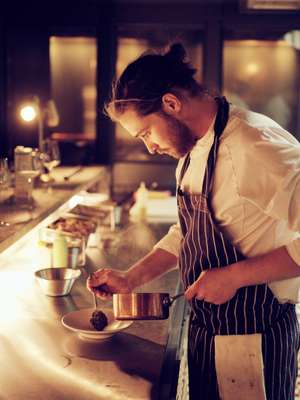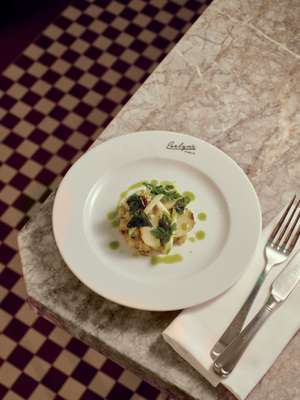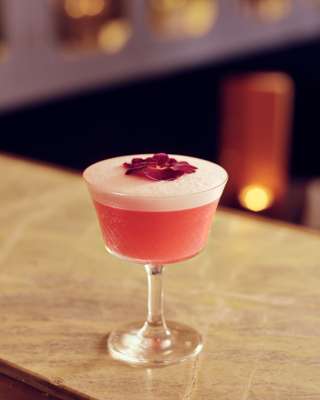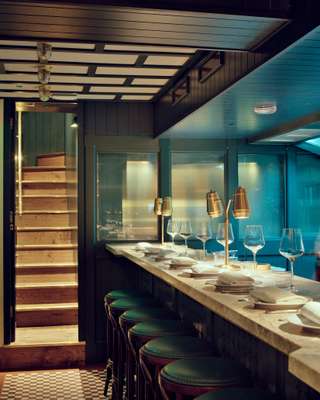 When the pair took over the building it was rundown – only the floorboards were salvageable – but since then the bijou room has been decked out with bigger windows, wooden room dividers, a booth and antique glass that casts an alluring flicker over the teal leather-topped barstools. The look is a group effort on the part of Archer Humphryes architects (of Hakkasan and Chiltern Firehouse) as well as Layo and Zoë's architect father. There's also a kitchen station set to turn out twists on British pub grub such as homemade pork scratchings, fried-fish butties, toasties and a sausage roll served with a pleasing dollop of mustard.
Revamping the ground-floor pub was what tempted Layo and Zoë to take on the building, but it wasn't all they did with the space. The siblings (who founded Palomar a few doors down plus The Barbary in Covent Garden) riffed on their location in Chinatown by taking inspiration from the 1974 Roman Polanski film of the same name. That film's protagonist, Evelyn Mulwray, lent her first name to a slim restaurant in the pub's former beer cellar: Evelyn's Table, an 11-seat bar and kitchen lit by brassy desklamps and skirted by two small satellite tables for couples. The menu is chock-full of European staples and sumptuous small plates made with British produce by chef Nacho Pinilla.
Upstairs is The Mulwray, a dainty blue-banquette encircled affair on the first floor with one wall dedicated to a vast-and-varied liquor collection. The elegant space, overseen by barman Giuseppe Serra, is divided in two by textured-glass panels and illuminated by moody scallop-shell sconces that add a film-noir duskiness to proceedings.
"If we're honest it would probably be a little more than we wanted to do in a short space of time," says Zoë, who with Layo also recently opened a charming concrete-floored coffee shop in Neal's Yard. "It was a bit of an accident – we just fell in love with the idea of doing the pub."
With 110 staff and two newly opened projects underway, it would be tempting to feel that Layo and Zoë are moving quickly. But the pair are used to living fast. Layo previously founded and ran the fêted London nightclub The End well before entertaining the idea of anything as sedate as a restaurant or pub. "We ran the nightclub for 14 years and after it was sold in 2009 there was a strange feeling of not having to go to work on Monday morning," says Layo, an elbow cocked on the downstairs bar in Evelyn's Table. "I think it was this feeling that spurred us on." Luckily for Layo and Zoë, and for London's drinking and dining scene come to think of it, The End was only the beginning for the pair.
theblueposts.co.uk