Menswear / New York
Home made
Luxury label Deveaux has carved a 'Made in America' niche with its impeccable finishes and sumptuous choice of fabrics. And now the brand is pushing into womenswear and fresh markets.
The trio behind Deveaux, the elegant New York men's label, are trying to shrug off their jet lag. It's late January and they have just returned from men's fashion week in Paris – and from shooting their new autumn/winter 2018 lookbook – but there is no time for relaxing. Co-founder Andrea Tsao and assistant designer Kyle Edson have nearly finished their first pot of black coffee and it's still only early. Matthew Breen, the other founder, arrives soon after wearing Deveaux's signature grey herringbone robe coat, pours himself what remains and settles in.
This is a busy time for the young independent brand that is gunning to be one of America's leading (and only) "Made in America" luxury labels. New York Fashion Week is around the corner, and while they may not be showing this season they are busy setting up appointments with buyers and preparing for the launch of their first womenswear collection.
Deveaux's sixth floor HQ in upmarket Tribeca seems like a remnant of a former era, when poured concrete floors and an elevator entrance were common in this formerly industrial and arty neighbourhood. But instead of a 1980s artist's studio, the space is filled with vegetable tanned leather furniture and sleek racks showcasing Deveaux's upcoming line, including the latest foray into womenswear.
"If you look at past seasons we played it safe with colours but this season we have introduced some bright, bold colours," says Breen, sipping his coffee and preparing the racks for menswear buyers from Nordstrom department store who are expected later this morning. Indeed, the sea of muted greys and blacks – shades the brand is known for – is flecked with a series of luxuriously soft wide-wale corduroys and brushed wool in burnt orange, royal blue and mossy green.
The pair of Nordstrom buyers arrive and dive into the racks, trying on glen plaid A-frame overcoats and carrot-cut (wide at the top and tapered) trousers with bright nylon waistbands. They place their picks on a small rack, which Tsao will go through later, and logistical details and price breakdowns are discussed. Landing a spot in Nordstrom – arguably the only department store in the US that is on the up – is quite a get for this resourceful young brand, whose other stockists include United Arrows and American Rag in Japan, and Unionmade in San Francisco.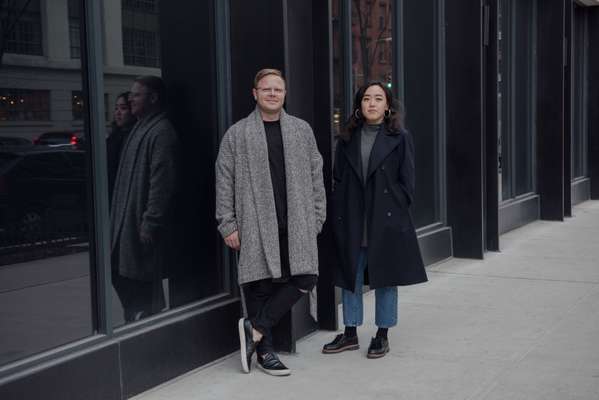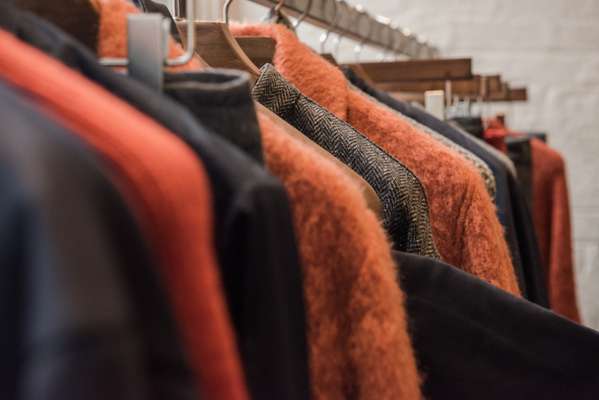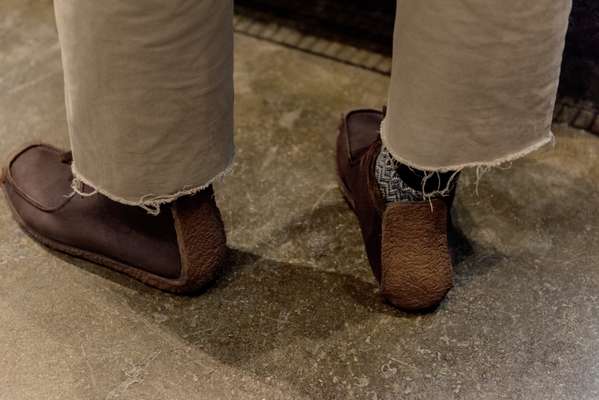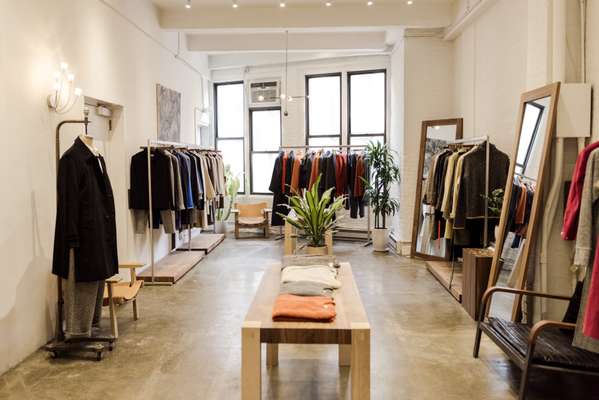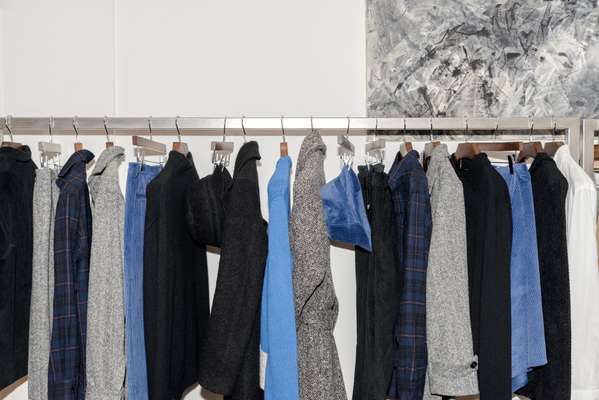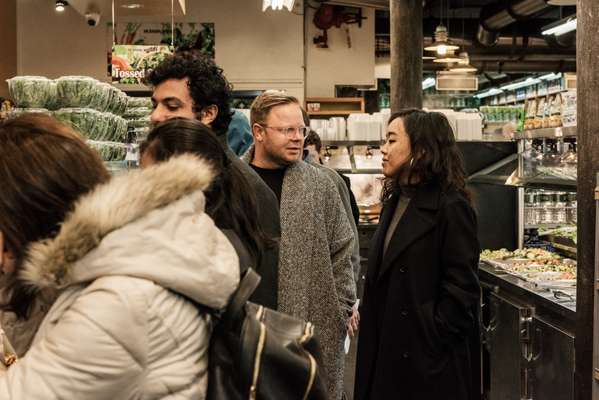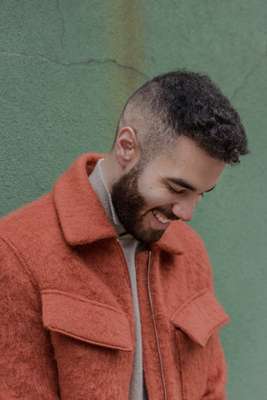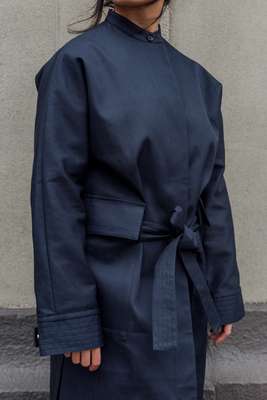 One of Deveaux's biggest selling points is that it seeks to be a new type of American label: it is committed to producing in the US yet, unlike most other brands that manufacture here, "it is certainly not what you would consider 'Made in America nostalgia'," says Breen. "It is intended to be a modern take on classic menswear, with emphasis on the modern." The brand manufactures everything in New York and LA and sources fabrics from the US, Italy and the UK. Working with US mills and factories is challenging because the nation's industry lacks the infrastructure to support such a high level of detail in the designs, requiring quite a bit of handholding by the brand's founders. "Having our factories a train ride away in the Garment District certainly helps," says Tsao. "Made in Italy" luxury is common, of course, but this high-end level of manufacturing in the US is another story. But Deveaux is sticking with it and, five seasons in, they are making inroads to being a luxury brand from and made in America. With eight more buyers appointments this week, it seems to be paying off.
The brand's founders have an ideal combination of design skills and commercial smarts. Tsao has a fairly traditional fashion background, growing up in Silicon Valley before coming to New York to study design at Parsons and landing a job as Michael Bastian's assistant designer. Breen, on the other hand, always knew he wanted to start his own brand, but the "lawyer turned fashionista" (as his mother calls him) worked his way into the fashion world via retail. After working as a corporate lawyer for years in Philadelphia he quit his job to open up Carson Street Clothiers in Soho in 2013.
In the midst of the classic menswear renaissance, Carson Street offered fine tailored wares and bench-made monk straps in a polished environment. Breen and Tsao (and two other founders who have since left) started Deveaux in late 2015 in the basement of Carson Street. The shop folded in 2016 as the US menswear aesthetic shifted from fine tailoring to hyped streetwear – a look that neither Breen nor Tsao have any interest in pursuing.
With their retail and design experience, they "had both sides of the business understood" says Breen. "But does that mean we didn't make mistakes? Of course not." Despite the departure of two of the founders and the shuttering of Carson Street, Deveaux has continued to grow every year and its owners are excited for their forthcoming women's line. It will comprise nearly 40 androgynous pieces that are mostly based on garments they had noticed women were buying from their men's line (with some adjustments to fits and cuts, of course).
To begin with the womenswear will only constitute a small portion of their business but Tsao has high hopes. "We are primarily a men's brand but it may be that women's becomes bigger business after this season," she says after the Nordstrom buyers have left. Noon light is now flooding through the windows and the team are at their desks in the back of the studio. Tsao pulls a roll of luscious and thick black and white herringbone off a shelf to compare with a swatch, while Edson touches up a design on his Mac, and Breen reads a Business of Fashion article on the return of Juicy Couture and its New York Fashion Week debut.
Deveaux has shown at New York Fashion Week previously but this season the brand has decided to forgo the costly expense. "We have to try to be as lean as possible," says Tsao as we walk to Hudson Market, a favourite lunch stop around the corner from their studio. Showing again in some capacity (whether a presentation or a catwalk show) is certainly still on their agenda, especially since many of the brand's finest qualities – the quality of the fabrics and the impeccable finishes – are difficult to convey even in a beautifully shot lookbook. "Our clothes [are at their] best when people get the opportunity to touch them," says Breen. He's right: in order to fully understand Deveaux's designs you need to feel the sumptuous English corduroy, plush mohair and thick herringbone threads.
Hudson Market, a large bodega with prepared food, is about as New York as it gets, with black-and-white cookies (frosted on one half with vanilla and on the other with chocolate), copies of the New York Post and a seemingly endless stream of office workers in navy-blue slacks. Breen and Tsao grab a cookie for the road and we head to the retailer that is closest to Deveaux's heart: Totokaelo.
The New York outpost of this famous Seattle retailer is a favourite destination for style-conscious shoppers, known for its selection of European designers and located in a towering graffiti-covered bank building on Spring and Bowery, a well-heeled part of Soho. It was Deveaux's first ever US stockist back in 2016 and, tomorrow, its buyers will come to the brand's studio to preview the new collection.
As Breen eyes a pair of black Jil Sander trousers, the shop manager recognises the Deveaux founders and comes over to chat. The shop has nearly sold all of its Deveaux stock, she happily informs us. What remains hangs alongside designs from the likes of Issey Miyake and Dries Van Noten. This is where the brand belongs: the young upstart – with its fresh approach to American style that combines classic menswear fabrics with playful silhouettes – looks perfectly at home among some of the fashion world's most beloved designers, hanging on racks that are perused by those with a longstanding interest in clothes. It is accounts like this that enable Deveaux to steadily work its way onto consumers' radars. "For us the biggest hurdle coming in at our price point is brand awareness," says Breen. "We are basically starting an American luxury label from scratch."
Totokaelo
Both the Seattle store and New York Soho branch carry Deveaux alongside high-end designers such as Raf Simons and Céline.
totokaelo.com
Biotop
The Japanese lifestyle brand sells labels such as Visvim and Needles as well as operating an urban nursery.
biotop.jp
United Arrows
Landing a place in the Japanese retail giant – which owns 88 shops in Tokyo alone – was a huge boost for the young brand.
united-arrows.co.jp
Fred Segal
The Californian retailer has four shops in the US and Japan and its flagship on Sunset Boulevard is renowned for its well-heeled clientele.
fredsegal.com
Unionmade
A San Francisco menswear institution, Unionmade has a stellar selection of independent Japanese, European and US labels including Arpenteur, Eidos and Howlin'.
unionmadegoods.com