The Hayward Gallery's revamp has breathed a ray of sunlight into a Brutalist classic.
01.
The revamp
The Hayward Gallery
The Hayward Gallery, the gnarliest gem in the South Bank's concrete jewellery box, is 50 years old this year. The building has been a standard flown by opposing armies: those who love that hard arm of Brutalist architecture and deem the gallery to be the St Paul's of the genre and those who think it an eyesore fit for the wrecking ball. The latter view, for the moment, is out of favour.
Like any major player in the international art world, the Hayward has celebrated the landmark with a subtle facelift; meanwhile, a detox has seen to those troublesome guts, pipes and ducts. In order to round off the top and tail, the roof has also had a subtle rethink.
London architecture firm Feilden Clegg Bradley oversaw the renovation and can be proud to have achieved that selfless goal of good redesign: you can't for the life of you see what has been done. Well, that's sort of true. In fact the building's most vital ingredient, a bubbling source of previously stoppered natural light, has been liberated from the 66 glass pyramids up there on the Hayward's vast roof that Henry Moore originally prescribed in order to admit "God's good daylight" in.
Now the upper floors are bathed in light for the first time since 1968. And it's a theme that's continued throughout the gallery: the concrete walls have been cleaned to become many shades lighter and the brass handrails and details are buffed and bold. At the same time, ingenious ways have been found to invisibly future-proof a gallery whose art will require a lot more wiring, connectivity and temperature control in the decades to come.
The exhibition to mark the reopening is a retrospective of the German photographer Andreas Gurksy, whose large and detailed works are perfectly suited to these big concrete caverns. The pictures and the building in which they hang are absorbing; time whispers past.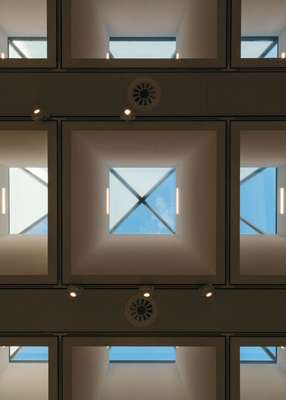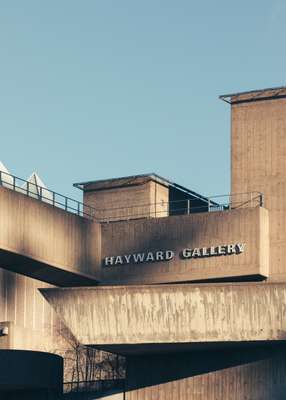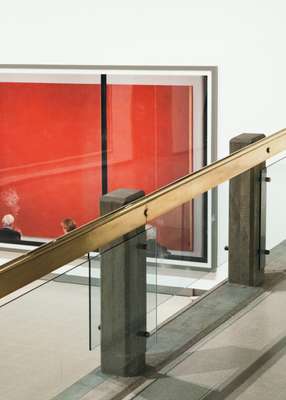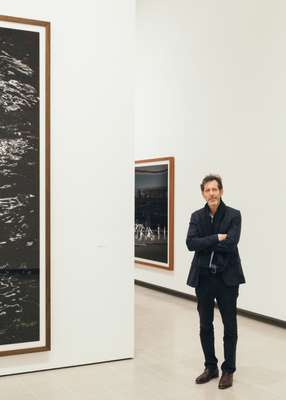 And as it happens one Ralph Rugoff, the American who has been the director of the Hayward Gallery since 2006, curated this Gursky show himself. Here he tells us all about the revamp and sweep-up.
"It feels like a new building almost, or as if we've time-travelled back to 1968. Except, because the roof lights never really worked, it's better than back then. It's looking more than ever like that utopian building. The concrete was cleaned beautifully; it's about three shades lighter than it was before. It's kind of scary to see the grime that human beings exude.
It's a two-way street: the art makes the building look good and the building makes the art look better. And I think it's great to work with artists who like the building because the original architects were radical enough to create an open structure. It's very hard to create a path through the gallery. We never know how visitors are going to end up navigating their way through the show. "Let's get lost" is sort of our theme song. I thought of doing a show with that name; we'll have to do it someday.
Is the gallery daunting for artists? Well, not everybody likes it. I've had a couple of famous painters who've turned down exhibitions because they thought the building was too… present for them. They were happier in a white cube kind of space. I think both of them made a mistake because one of them went on to do a show at the Tate that looked really dull. There have been some great painting shows here but I can understand that if you just want totally neutral spaces, the Hayward's not for you. But then we're lucky with the artists that do want to take on this challenge: people like Martin Creed, who did it brilliantly, or Carsten Höller, who was really excited by the architecture.
When Andreas Gursky came in he didn't even want us to build any temporary walls but then we'd only have had about 35 pictures in the show, which isn't quite enough. The next artist who's coming, Lee Bul, her work has dealt a lot with utopian modernist architecture so she's excited about doing things with the spaces here and is going to decorate the outside of the building. It's funny because Bridget Riley, who had the first painting show by a contemporary artist at the Hayward in 1971, loves the building and her paintings project out into the space. I think the building is very good for work that deals with space in one way or another.
The great thing is to see people coming back with a renewed interest to engage with this building and this kind of architecture. The building looks great. For this show we have lots of upstairs windows blocked up but in the summer we might well not do and suddenly this place can feel quite different – a sort of airy, Californian environment, which will look totally unlike any gallery in the world.
Natural light, aside from being the best light to look at colours, is great because it changes, and changing light makes the experience more lively. This iswhy a lot of things look better in people's homes than in galleries because you get to see them under different light, which will show you something different. That's why I think the big gallery upstairs is just an unbelievable space. There's nowhere like it in London; it's got the proportions and scale to look spectacular.
In the morning I come in from Waterloo station and my favourite view is that one walking up Belvedere Road; you get a view of a terrace and two sides of the building at once. It's the most Baroque side. Unfortunately it's also got two flat, slab sides that are the sorts of things that gave Brutalism a bad name.
It's interesting that there's a new wave of interest in Brutalist architecture and in concrete. I'm sure that's the case but I don't see many people making new Brutalist buildings, right? I'm sure there have been things learned along the way that you could do slightly differently and get a better building. I think they can now make better quality concrete, because concrete doesn't last forever, that's the thing. You think it should but it's not like stone. Concrete is an amazing material to work with, however, because you can cast it like a sculpture. So the interior staircases at the Hayward are like fabulous sculptures; they are a work of art. And it's good luck that we're reopening on our 50th birthday. Symbolically, it's good."
Bunker mentality: a Hayward history
The Hayward Gallery was built as an addition to London's burgeoning Southbank Centre (the Royal Festival Hall, Queen Elizabeth Hall etc) and was opened by the Queen in 1968. Back then things still had proper names and proper nouns: the Greater London Council engaged a group of young architects, among them Dennis Crompton, Warren Chalk and Ron Herron, to do the job, overseen by the Department of Architecture and Civic Design. The Hayward was part of the Brutalist architectural movement, which believed itself to be utopian and powerful by using something ordinary – concrete – in extraordinary ways. It's been seen as a work of art in itself by many artists; by others as a challenge to either be savoured or avoided.
First UK survey shows:
1969 Anthony Caro
1971 Bridget Riley
2007 Antony Gormley
2009 Ed Ruscha
2011 Tracey Emin
Big-deal group shows:
1972 The New Art
1989 The Other Story: Afro-Asian Artists in Post-War Britain
2008 Psycho Buildings: Artists take on Architecture
2013 Light Show