F&B / Australia
Maturing nicely
For this young producer, wine is a family affair. But not one to take the easy route, he has forged his own path and the full-bodied results are testament to his talent.
"I never saw winemaking as a career choice," says Nic Peterkin as he unplugs the cork of a wine barrel and inserts a pipette to extract a tube of pale, cloudy liquid. Peterkin's barrel room is a modest warehouse on a small slice of the Pierro vineyard (south of Perth and one of Margaret River's finest) and is crammed to the roof with barrels and bottle boxes.
Wine is a family affair for Peterkin. His father is the winemaker at Pierro and his mother hails from the Cullen family (Cullen Wines is one of the oldest makers in Margaret River). Dinnertime in the Peterkin household would routinely involve surmising what wine was on the table according to its smell and, as young Nic grew, taste too. "From 10 years old I started working in the vineyard to earn pocket money – weeding the vineyard and picking grapes," he says with a mischievous smile that reveals a dimple. "Most people have this romantic notion of what it's like growing up on a vineyard but the reality is that it's just farming."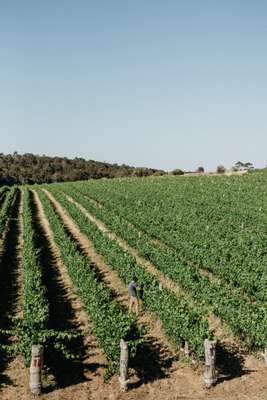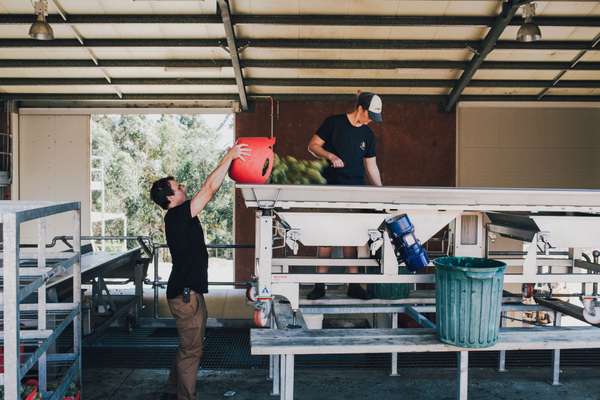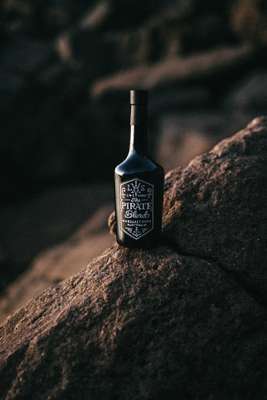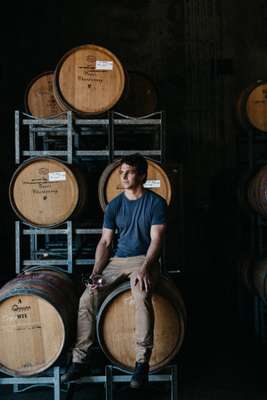 Yet farming wasn't what Peterkin wanted to do at first. After finishing high school, he applied to medical school before surrendering to his fate and studying for a master's in oenology. He honed his skills in Mexico and the US before returning to his birthplace of Margaret River.

"Coming home, I had this burning desire to create the kind of wines that I'd tried overseas but by using different methods," he says. And so, in 2013, Las Vino was born. During an unstable time for the wine community, when exports had dipped (the Australian dollar was briefly higher than the US dollar) and Australia had a surplus of grapes, Peterkin saw an opportunity. "These incredible vineyards, which had sold their fruit to the big guys for the past 20 years, were now looking for new buyers."
Traditionally producers grow their grapes onsite but at Las Vinos they find the best vineyards for each grape variety. The grapes are handpicked and sorted, then chilled before going into barrels, which are hand-stirred and then left to rest to allow the wines to ferment naturally. Peterkin's method doesn't fall under the natural-wine category but he works with the notion of minimal intervention in mind. "We are not dogmatic about it but we use certain methods because they lead to wines that have more flavour. And that's the number-one reason why people drink wine: for the taste," he says.
Nothing about Peterkin's approach is purely methodical; he works under the mantra of luck, art and science (las). "If you only know the science, the wines become industrial and boring. If you only practice the art, the wines often turn faulty. Luck comes into play with the harvest, weather and natural ferments," he says.
Sampling Peterkin's creamy albino pinot (a white pinot noir blended with chardonnay) or cbdb (chenin blanc dynamic blend), it's hard to believe that Peterkin could have been anything but a winemaker. And he's a pretty innovative one at that. In an industry that's defined by tradition, almost everything he does seems unconventional, be it buying grapes from other vineyards or producing different varietals, which are bottled in vessels that resemble champagne or port bottles.
But beyond his unconventional choices and easy-going Australian air, Peterkin is fastidious when it comes to his craft. "The main message I learnt from both sides of my family is that little things matter. There is not one big secret to making great wine: there are 1,000 things that you have to care about."
Facts & figures
Wines produced: Albino pno (white pinot noir with chardonnay), cbdb (chenin blanc dynamic blend), chardonnay, the pirate blend (touriga nacional, tinta cão, sousão)
Bottles produced: 1,000 cases, each holding a dozen bottles, produced per year.
Exported to: London, Tokyo, Singapore, Dubai and Shanghai
Staff members: "Just me, officially. But I work with a lot of amazing people, such as Andrew Wicklund in the US who does the design."