ISPO / Munich
On your marks
The worlds of fashion and performance wear aren't cut from the same cloth but you wouldn't know it from the stalls at Ispo, the world's biggest sportswear fair. The lines between Prada and Patagonia are increasingly blurred but there is still work to be done if sports brands are to capitalise on this sartorial opportunity. Are they ready?
If you squint as you enter Munich's Neue Messe Exhibition Centre, you could be forgiven for thinking that you're at a fashion event rather than at Ispo, the world's biggest sportswear fair. Sure, there's less swag in people's steps and the walkway is flanked by ads for outdoor-gym equipment rather than flashing camera bulbs but there are some similarities with the world of high-fashion here.
Just as in the front rows of Milan, feet are shod in the latest reflective trainers from Nike and Adidas and bodies are swaddled in shiny puffer jackets and jet-black fleeces from Arc'teryx and Descente Allterrain. There are towering billboards from ykk, the Japanese zip company that kits out every brand from Patagonia to Gucci, and from Gore, the textile giant that recently created waterproof totes in highlighter-yellow and sherbet-orange for the Paris runway show of Off-White, the streetwear brand by Virgil Abloh.
Now in its 48th year, Ispo has come to dominate the global sportswear market, spawning shows in Beijing and Shanghai in the past decade (Asia is a rapidly growing market due to the forthcoming Winter Olympics in Pyeongchang and Beijing) and drawing some 87,000 visitors from 120 countries to chilly Munich every January. Each year, a segment of the crowd becomes a little more fashionable: the designs on show get a little less mountain and a little more couture, and more buyers come from upmarket department stores or independent boutiques. It's a natural outcome of the fashion world's embrace of technical clothing in the past few years, whether of casual sportswear or hardcore outerwear. Urbanites now wear gym gear or mountain-ready parkas to cafés and pubs, a movement that has made the fortunes of Lululemon and Canada Goose. Fashion's interest in sportswear shows no signs of waning either: at January's Milan shows Prada relaunched its 1990s line Prada Sport and Ralph Lauren rejigged its athletic rlx collection. On runways, trainers and puffers are now more common than suits.
This means that sportswear is gaining relevance far beyond the world of running shops and ski-rental vendors. Yet there is work to be done. "I think that sportswear has missed this opportunity a little bit so far," says Markus Hefter, Ispo exhibition groupdirector. He is referring to the fact that sports companies have not been quick enough to capitalise on this interest from the fashion community: most items worn by fashionistas are takes on sportswear by luxury brands – a Prada trainer, a Balenciaga parka – rather than items by bona fide sportswear labels. "The fashion industry is ahead but sports brands have an opportunity here."
Hefter is keen to make amends. This year he introduced the "Urban" section, dedicated to more stylish brands, three years after launching "Ispo Masterclass," a programme that flies fashion students from Milan and Paris to Munich to meet with sportswear companies. "It's hard for sportwear companies to find good designers," he says. "With this programme we hope that some designers might go to The North Face, for example, rather than to Gucci." Ramping up the sportswear industry's design-credibility in this way is a sensible move: it will help capture fashion customers – and fashion customers have deep pockets. Here, in sportswear's main arena, then, style is on the up.

Despite these sartorial developments Ispo has not gone all "farshun" and ditched its sports DNA. A few hours in and it is quite clear that this is not Pitti Uomo or Paris Fashion Week. There is a Germanic efficiency to the halls, which are wide and clean. There are stands selling boxing gloves in camouflage, leopard print and gunmetal grey, stands laden with ski helmets and silly covers for ski helmets – lime-green hearts; pointy tentacles; a flamingo's head – and stands selling footballs, cricket bats and "Made in Italy" protein drinks. While queuing for my third coffee of the day (a triathlete's energy levels are required to dash across these pavilions) a 1.8m-tall snow leopard, a hapless mascot for a thermal-insulation company, waves at me and contorts its enormous claw into a peace sign. No, this is not Paris Fashion Week.
The fair is divided into neat sections. Hall B1 is the glossiest, home to fashionable, high-end labels, including Armani and Black Yak. Meanwhile, A1 is for the heritage outdoor giants, such as The North Face and Columbia. At B5 you'll find skiing equipment from Nordica and Tecnica.
C3, meanwhile, houses the companies that make the textiles for these sportswear brands (grouped into "Taiwan" and "Portugal" clusters, two nations with long histories in sportswear fabrics). Innovations can be found throughout: at Gore, there's a prototype jacket made from a water-resistant fabric whose pattern gives it the look of a flannel shirt; at Goldwin there's ski jacket made from a synthetic imitation of spiders' silk – the world's strongest substance.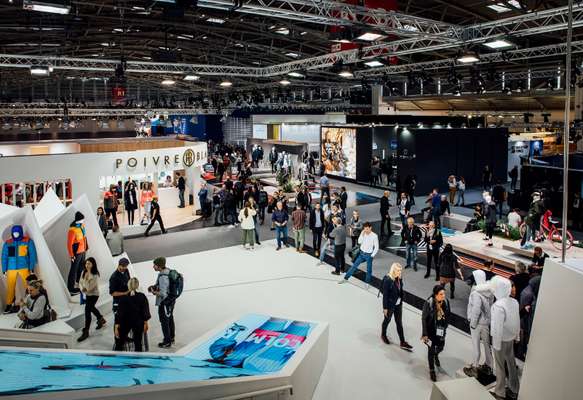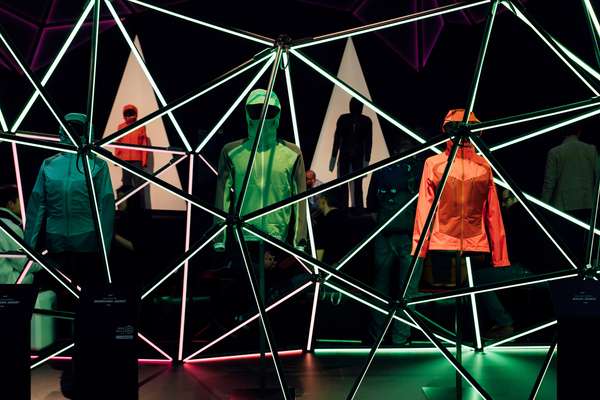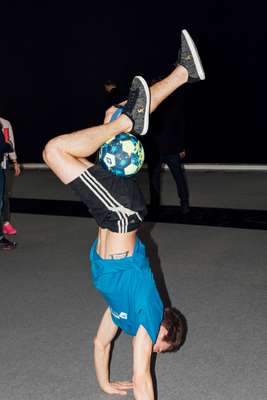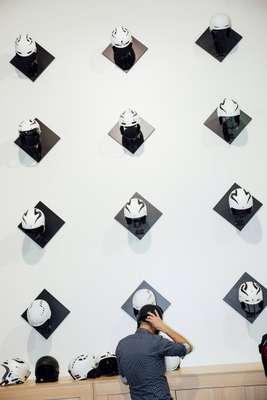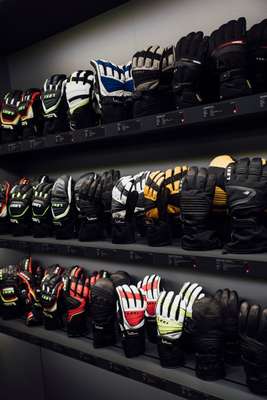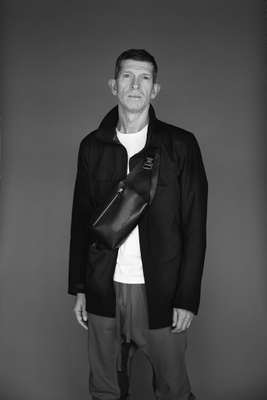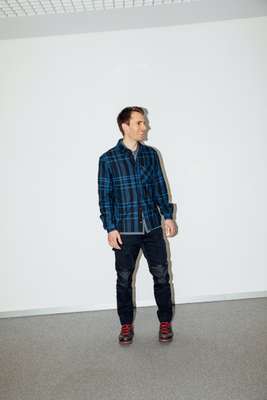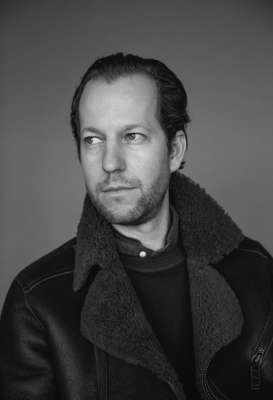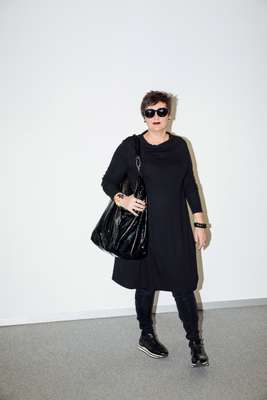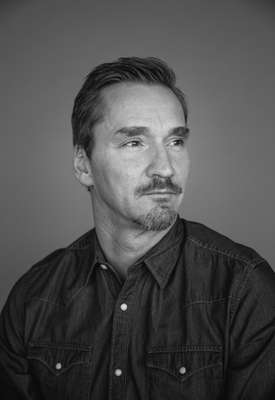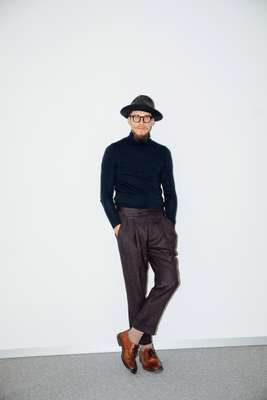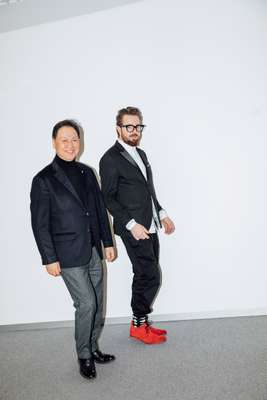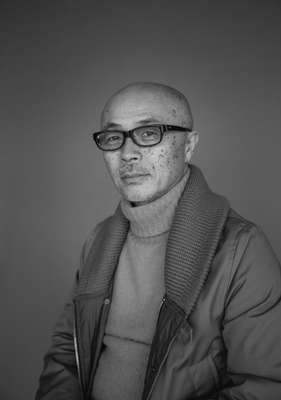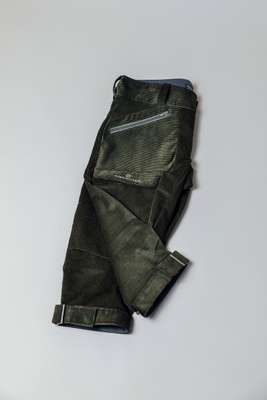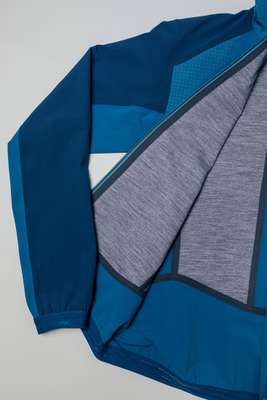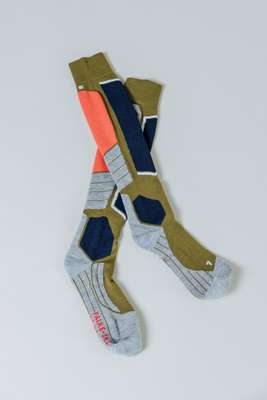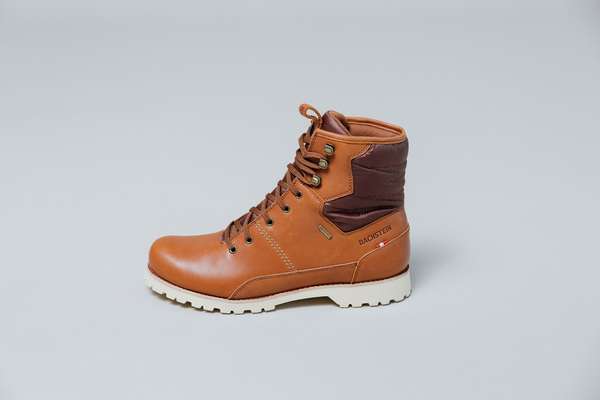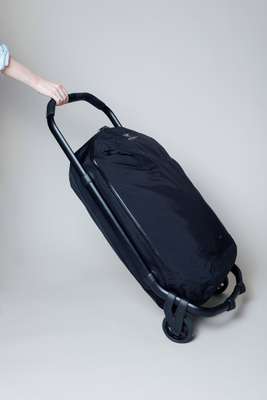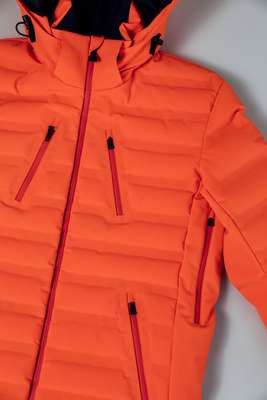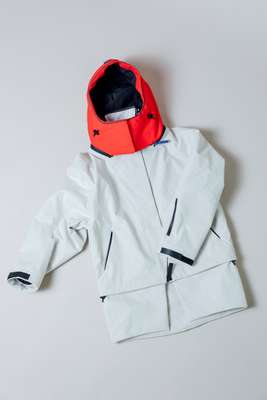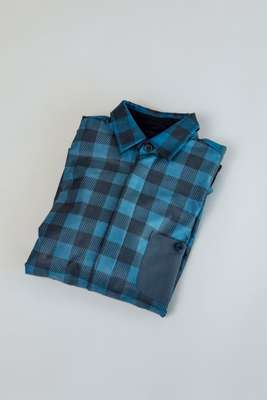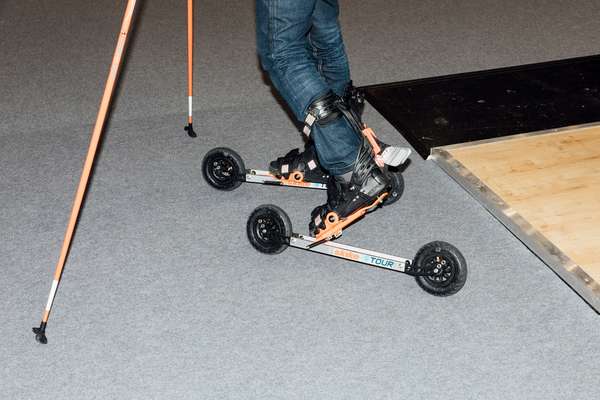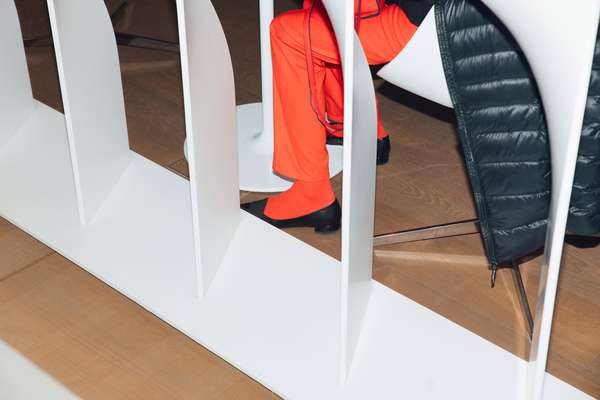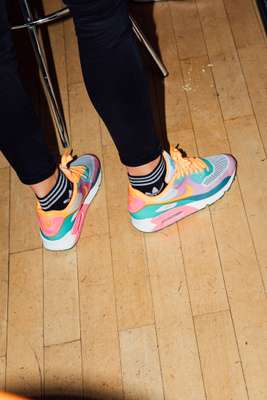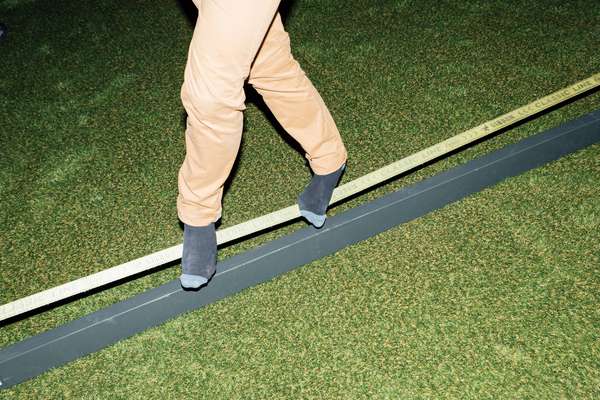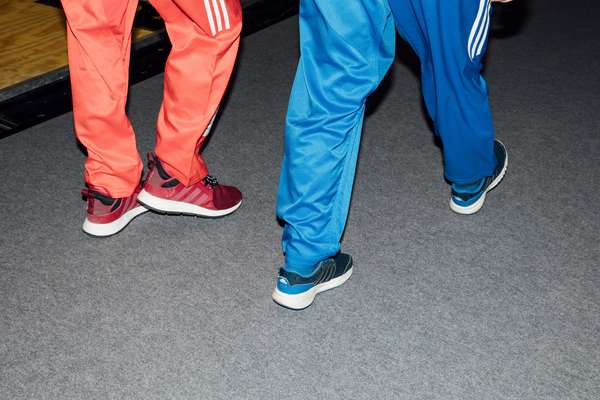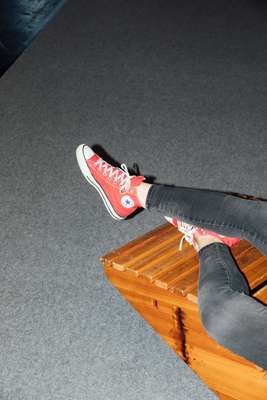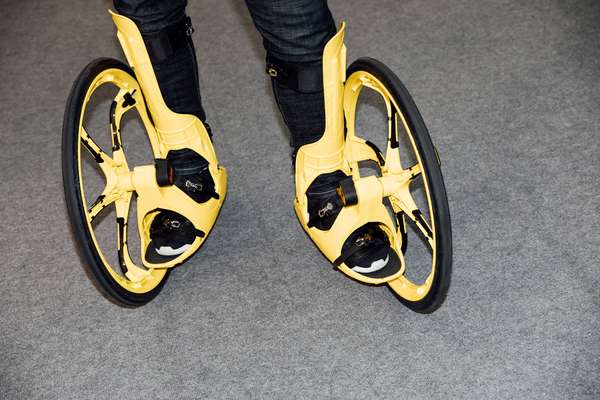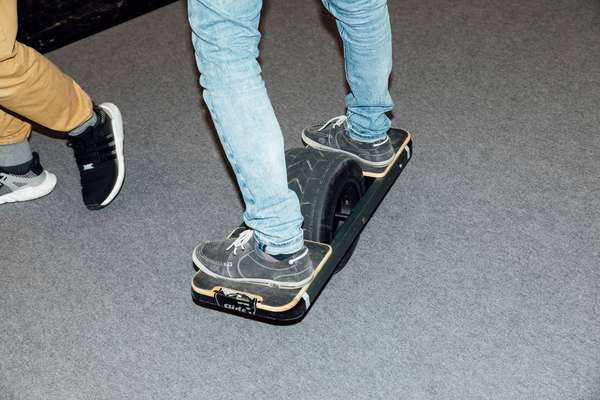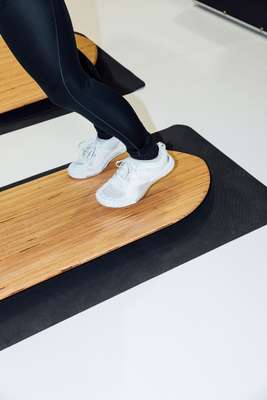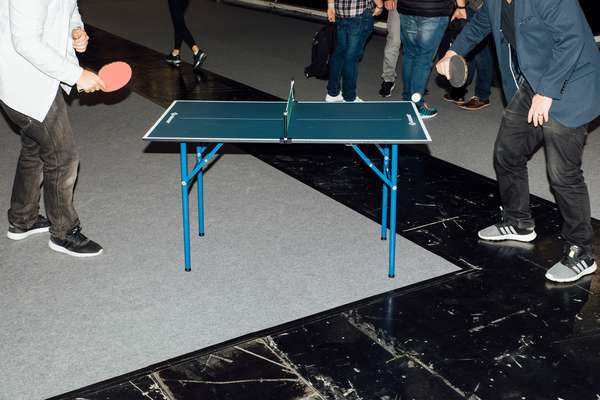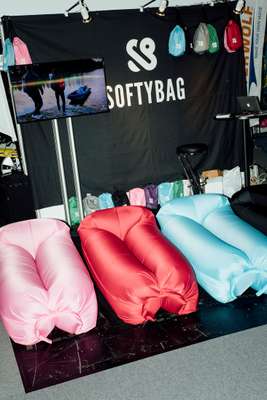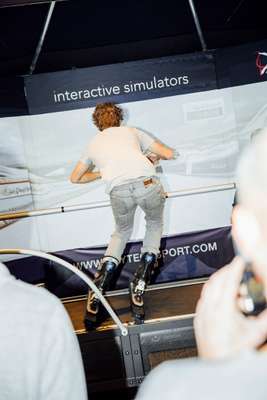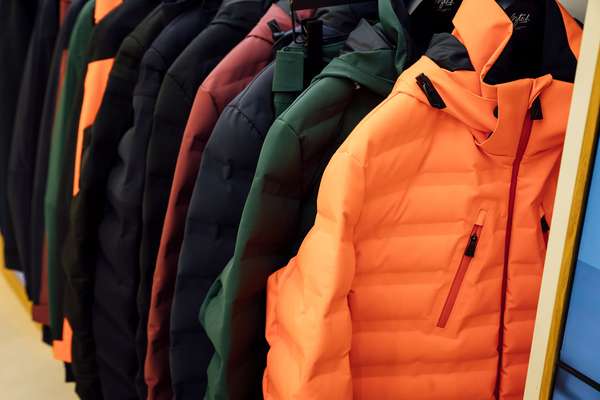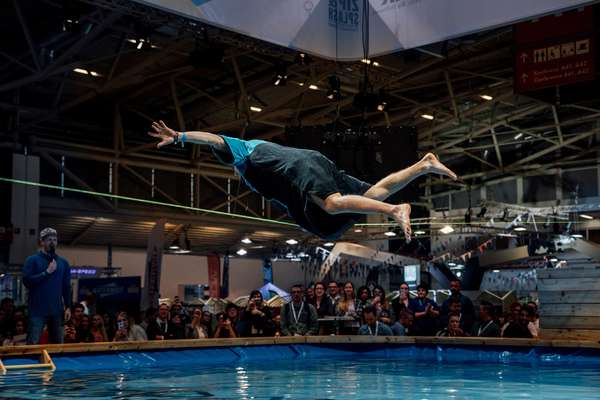 Most buyers at Ispo hail from hardcore sportswear shops, whether the European chains Intersport and Sport 2000 or family-run outfits on the slopes of Courcheval. Yet there are buyers from veritable fashion stores here too, including department stores Beams and Lodenfrey. Perhaps surprisingly, they are not necessarily interested in the "urban" or luxury brands. "Whenever I go to a stand and tell them that I'm from a fashion boutique they immediately take me to their 'urban' leisure collection – but that's not what I'm here to see. I want to see the hardcore technical items," says Dean Cook, the menswear buying manager at Browns, the London high-fashion emporium known for its boundary-pushing pieces from Raf Simons and Haider Ackermann.
Cook is smiley and perfectly embodies the zeitgeist fusion of sports and fashion. He is sporting an Arc'teryx jacket, Mizuno running shoes and Haider Ackermann tracksuit bottoms; a Balenciaga bag is slung over his shoulder. "Sportswear is a mood that is present in fashion at the moment and our question was how do we have an angle on this that is different from everyone else? So we started coming to Ispo last year to find out who was doing it best."
The first sporty items that Browns stocked up on were marathon-running shoes from Salomon's S-Lab – they sold out twice during the season. They also sell Hoka One One, whose running shoes have slightly awkward platform bases, and Swiss label Kjus, which has created the world's first knitted ski jacket. "People come to Browns because they are looking for something they have not seen before," says Cook. "Putting hi-tech sports items in a luxury fashion shop adds something different. This world is so removed from ours.
If we are going to get involved in it we want the most technical items, the best fabric innovation, 3D Gore layering, everything." But are any of its customers buying these pieces to actually wear on slopes or running tracks? Or are they purely fashion statements? "I have no doubt that some people wear them to play sport in – some of our customers come in before ski trips. But for most I think it is about the look and mood".
There is a glaring irony to all this, of course: the idea of fashion-forward people coveting pieces from companies that are very much focused on creating functional products, with little time for style. One can imagine these sports companies find the whole thing quite amusing. But it's hardly the first time that fashion has obsessed over "non-fashion" things (see the normcore movement that championed banal everyday items such as "dad-like" white New Balance sneakers) in its bid for newness and these sports brands would be smart to pounce.
There is another category of brands at Ispo that is mounting an assault on the world of fashion. But the brands in this group are not as unknowing as Hoka One One et al; they are more consciously chic. "There are very few of these brands that lie in the worlds of both fashion and sportswear and who can talk about a three-layer Gore-Tex and about a cashmere yarn," says Nico Pesko, the owner of Pesko, a 100-year-old family-run business in Lenzerheide, Switzerland that sells products that span Salvatore Piccolo shirts to ski boots. He leans in to make his point, as if letting me in on one of fashion's best-kept secrets. "Many brands think that they're technical but they're not, I'm sorry," he says. "On the other side, most of the technical guys don't get the fashion thing, which is all about fit."
Pesko is talking to monocle inside the wood-pannelled stall of Aztech Mountain, a five-year-old label from Aspen that is one of the few brands to have mastered this fashion-sportswear balancing act. Around us, tangerine puffer-jackets with slim cuts and neatly ribbed pillows of insulation hang beside tawny waterproof trousers with navy pockets. The brand, which is owned by five friends, has a bona fide fashion and ski pedigree. Its co-founder, Heifara Rutgers, grew up in Aspen before moving to New York and working in sales for Marc Jacobs. Its designer, Casey Cadwallader, previously worked for Acne Studios and is currently the creative director at Parisian house Mugler. One of the owners is the champion skiier Bode Miller, who tests the products.
"We saw a space here to do something different: we have ski and fashion backgrounds," says Michael Shea, another co-owner. The diverse list of accounts that the brand has accrued is testament to the benefits of targeting this space. "We have two totally different books," he says. "On one hand we have the fashion places, such as Barney's, Lane Crawford and Mr Porter; on the other we have amazing family-owned heritage sports businesses such as Pesko and Skiservice Corvatsch."
Others are in on this trick too. Arc'teryx, Descente Allterrain, Goldwin and Australian-Belgian upstart Templa can all be found in upmarket department stores as well as in skiwear outlets. "The ski market has plateaued – it's not like there are more people getting into skiing," says Pesko. "So it makes sense for brands to look to fashion too." Why stick to one market when you can double your options?
A trio of names continually crop up when these trailblazing brands talk us through their collections. Whether it's a waterproof A-line parka or slim-cut ski trousers, you can bet it's made of fabric from either Gore, Schoeller or Toray, the companies making the most advanced technical textiles. One of Ispo's greatest virtues is that these firms are here too – just a hall or two away from the brands that turn their threads into jackets. The fair is a proper ecosystem, gathering companies from every step of the supply chain.
In a sort of old-fashioned standoff the 150-year-old Swiss firm Schoeller and 92-year-old Tokyo company Toray have stalls facing one another. Both are known inside the industry yet do not have the public profile of Gore, which is renowned for its canny advertising. "We are very strong in R&D and manufacturing but we are not so good at marketing. We are working with clothing brands to help promote their products as being made with Toray fabrics," says the polite marketing manager manning the Toray stand. Previously, he says, their stall was "just a meeting-room booth" for prearranged get-togethers with clients but today it is open and customer-friendly. They are hustling for business.
In another overlap between Ispo and the fashion world, the primary focus of innovation for these technical textile companies is sustainability. Sustainability is a buzzword in fashion – every label is now "eco-friendly" or made with "organic" fabrics – but too often this talk is vague and resembles a marketing ploy. Not so for these textile masters, for whom it's all about the details. At Toray, the manager pulls out a chart that details the process of replacing petroleum with fuel derived from sugarcane; at Schoeller we are shown a spongy new fabric made from the waste of roasted coffee beans. There is an ethical imperative on clothing industries – both fashion and sportswear – to address waste. But for these particular manufacturers there is a commercial incentive too. "For us this push is a response to demands from our clients, the brands. They want to be more sustainable," says the Toray man.
The band of buyers that shuttle between Paris and Milan fashion weeks and Ispo – a small, but growing, group – are quick to point out the differences in atmosphere between the events. "Oh, it's more relaxed and a bit more down to earth here – no one is doing three outfit changes during the day," says Pesko, with a laugh. Yet the thrust of the trips remains the same. "One of the most important things, whether here or in Pitti, is the gathering: seeing the stuff, bumping into people, talking about which brands everyone likes and who they are watching," he adds. Many of these interactions occur after hours. Yet, unlike at Pitti, where crowds are ushered out of the grounds at 18.00 sharp each day and gather at watering holes across Florence, at Ispo people linger at stands. We were extended several offers to attend "beer o'clock" at various stalls, where lager flowed and music blared.
But don't let the relaxed demeanour of Ispo's attendees fool you. After all, these are sporty people who have probably spent a good chunk of their lives competing in some arena or another. Now, for many of them, the challenge is to further pique the interest of the fashion set – and you can bet they will succeed. The race is on.