Briefing / Global
Architecture
Briefing
A warm welcome to a new church and a farewell to a modernist marvel.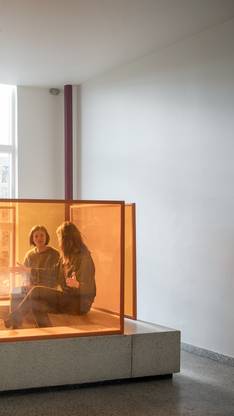 Studio profile
Studio David Thulstrup —
Copenhagen
David Thulstrup had designed plenty of commercial spaces but no restaurants until the commission of his career arrived: the new home of the much-lauded Noma. Its co-owner and chef René Redzepi enlisted Thulstrup on the strength of a house the architect created for a photographer in the brick shell of an old garage. Called Peter's House, it has an atrium inserted in its core. "It has this insane liveability, the atrium is like a shaft of light and it's clad in mirror so it reflects all the sun rays," says Thulstrup, the principal of the 20-strong studio.
Another client, Jette Egelund, owner of Danish home products company vipp, was similarly inspired by Peter's House after having a birds-eye-view of the building from her converted loft home nearby. vipp tasked Thulstrup with transforming a commercial attic into a one-room hotel called vipp Loft. "They wanted to put their products into a liveable context," says Thulstrup who combined classic furniture with cutting-edge pieces by artists such as Guillermo Santomà.
For the second iteration of Noma, the studio designed oak dining chairs and tables, light fittings and sourced timber beams blackened from being immersed in the Copenhagen harbour for almost 200 years. Against that restrained palette are dashes of colour such as a yellow-pigmented concrete plinth. "It's an honest mix of new and old that creates a sense of accumulated history but not from a nostalgic viewpoint," he says.
Before setting up the studio in 2009, Thulstrup worked for Jean Nouvel in Paris and Peter Marino in New York.
studiodavidthulstrup.com
Notable projects:
VIPP Loft
Under sandblasted pine rafters is a one-room apartment hotel that showcases vipp's products.
Fonts chairs
The studio designed its first furniture collection for Møbel Copenhagen. The Fonts chairs and stools have regular, bold or lightly curved backs and customised upholstery.
Noma 2.0
The interiors of acclaimed restaurant Noma's new home were designed from scratch. The look mixes new and old to create a sense of an accumulated history.
Part atelier, part factory, the prestigious Viúva Lamego has handcrafted ceramic tiles for more than 150 years. The brand's legacy is seen on city walls, palaces, monuments and in private residences throughout Portugal. The 30 employees work tile by tile from a formula that "is a secret everyone knows about," jokes owner Gonçalo Conceição. Each tile is a work of art, together they create masterpieces.
viuvalamego.com
Q&A
Wong San-mun
Graphic designer
Hong Kong
From 19 March, the annual International Film Festival occurs for two weeks in Hong Kong, the city renowned for its preeminent crime films and Wong Kar-wai's kinetic cinematography. Recent iterations of the event have gained public awareness from Wong San-mun's elegant posters. Wong discusses the value of visual communication in relation to film.
How did your poster design become a success?
From the mid-1990s my designs are all about the entertainment business, from CD album covers, to film posters and fashion brand campaigns. It's good to be an expert in a theme. From about three years ago, when I won the first film festival commission, I chose to simplify the process and depict one theme each year. This year is all about the Firebird trophy for the festival awards, which I designed as well.
How have you approached the design this year?
I have taken inspiration from Japanese origami and numerical symbolism from Suzhou – once omnipresent in the Chinese community but now vanishing – to resonate shared culture among the audience in the greater China region.
hkiff.org.hk
Portuguese architect Álvaro Siza may be nearing 85, but his firm is still breaking new ground internationally. The Porto-based practice's latest building is Brittany's first new church this century. It's a quiet design with the plain white concrete walls enlivened by the chunky geometric volumes comprising this building's unusual form. Inside marble and timber have been applied liberally, creating a contemplative space with a material richness appreciated by worshippers.
Architectural obituary
Tokyo
Given the increasing appreciation of modernist master Kenzo Tange and the Japanese Metabolism architecture movement generally, it is with a weary sigh that we report the impending destruction of Kuwait's fine embassy (pictured) in Tokyo's Minato district. Commissioned in 1966 and completed in 1970, this was one of a series of embassies that Tange built at home and abroad. The tiny, extremely wealthy Gulf state, however, was bestowed with by far the best exponent of Tange's diplomatic portfolio. The cantilevered, modular blocks that are suspended from two central cores recall the megastructure of his Kurashiki City Hall and the Yamanashi Broadcasting and Press Centre. But here, owing to the small plot and particular function, the embassy feels almost domestic by comparison.
If you are in the region, we recommend you try and get a glimpse of Tange's mini-monolith while you still can.
Asian ambitions
by Nolan Giles
By 2050 the tropics will be home to half of the world's population. And by that point in time 70 per cent of us will live in cities. Meanwhile the planet is also getting hotter. For problem-solving designers and urbanists, figuring out the sum of this equation should be straightforward enough. We need to develop big environmentally friendly buildings in our rapidly growing warm-climate cities. And fast.
So where to look for the solution? A hot place perhaps, where there's plenty of urban development, lots of cash and well-trained ambitious architects: namely, Australia. But short-termism is still the dominating force in development here and monotonous glass air-conditioned boxes remain on the rise, despite younger architects pioneering smarter, breezy brick forms.
There's a better set of solutions in a poorer nation: Vietnam. It's here that rich western developers should be making pilgrimages to the work of Vo Trong Nghia Architects, Tropical Space and A21 Studio. Their smartly ventilated, greenery-filled buildings appear to have no limits on eco-friendly urban ambitions and, most importantly, are getting financial backing with property development booming as the economy grows.
Urbanism in Vietnam is still marred by the problems that developing nations face. Yet recent projects from architects here include a translucent ten-storey tree-filled tower and a grass-roofed office coated entirely with native plants and that's also resilient to the scorching heat. In design, there's a school of thought that says West is best but while our rich architectural legacy tends to make us look to the past for answers, designers in the East have their eyes firmly on the future.