One in a million / Honolulu
Best in class: Honolulu
Enter this curiosity shop and discover a hoard of remarkable riches.
For owners Travis Flazer and Mark Pei, Hound and Quail began life as an extension of three shared preoccupations: a passion for collecting furniture, the joy of travel and a penchant for the weird and wonderful.
Having cut their teeth on Honolulu's interior-design scene with their previous venture Area, a mid-century modern furniture shop in Chinatown, the pair decided to forego clean and mass-produced items in favour of finding one-off pieces.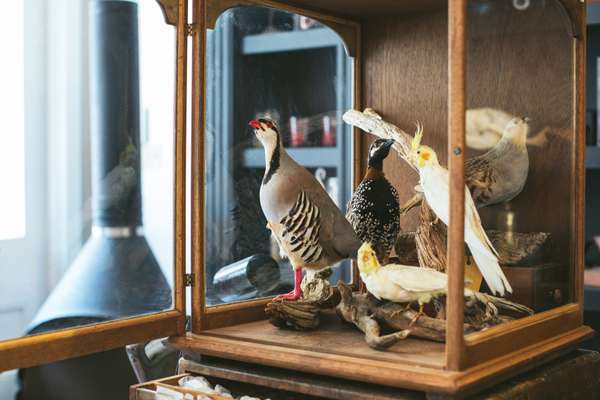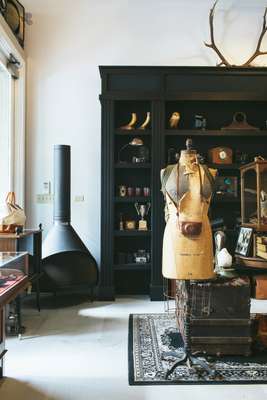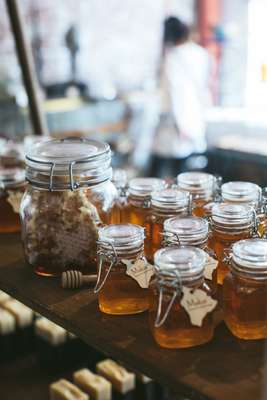 Flazer and Pei returned to retail in 2011 with Hound and Quail, a cabinet of curiosities that revels in vintage one-of-a-kind finds. Visitors may well still encounter an iconic piece by Eames or Bertoia but can expect it to be flanked by a taxidermy goat or perhaps a steel autopsy table. Now a cornerstone of Honolulu's bricks-and-mortar retail fightback, the shop's beginnings were rather simpler. "We started by finding things that are interesting and that we would want to own ourselves," says Flazer. "Then we filled the shop with that kind of stuff."
The pair's shop has since built a loyal following: the faithful include architecture and interior-design firms, as well as the regular pilgrimages by thousands of Japanese tourists who travel to the island of O'ahu every year. "People want a piece that no one else has and that starts a conversation," says Flazer.
While a passion project that becomes a successful full-time business is an oft-told tale, Hound and Quail remains a side gig to its co-founders. As a pilot for Hawaiian Airlines, frequent layovers provide Pei with ample opportunity to scour the backstreets of Tokyo or old European flea markets in search of desirable one-offs.

Flazer's career is more grounded in Honolulu and he admits Pei's is the aesthetic eye. Flazer – a technical director for the theatre department of Punahou School (Barack Obama's alma mater, no less) – is well versed in building sets and creating an atmosphere. "I feel like I can make the interior of anything be however we want it," he says. "Anyone who collects anything knows it could go south really quickly and, before you know it, it's a pile of junk. So a lot of our time is spent really editing down what we want."
Having moved to another space back in the heart of Chinatown in 2014, Hound and Quail's success is not a result of overwhelming choice but is instead testament to the importance of a tight selection, both in product and atmosphere. What they've achieved is an intimate expression of curiosity and personality – even if you don't fancy a full-sized autopsy table in your living room.
houndandquail.com
Vintage books
Expect a veritable trove of pretty books of various ages and provenances.
Canvas-and-leather tote bag
The vintage-inspired contrasting leather and ecru canvas totes are unique to Hound and Quail.
Jewellery
The off-beat pieces can dress up a look and lend a little extra character to any outfit.
Honey
It's sourced from the Big Island and Flazer swears by its health benefits, even going as far as wearing it on his face at night.
Taxidermy
For Flazer the macabre art form shows respect for life and he says it encourages him to consider his own mortality.
---
Report card
There's a fine line between junk and treasure and the styling of Hound and Quail does much to venerate the founders' beautiful finds, from globes to dressers and trunks to coffee tables. The fact that most pieces are original and one of a kind is also a draw.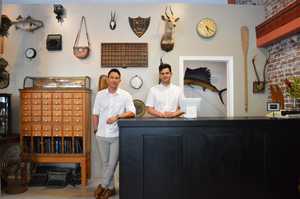 Pilot Mark Pei and theatre technician Travis Flazer co-founded Hound and Quail.
An old and artful collection of objet d'arts, one-offs and oddities, including furniture and fashion.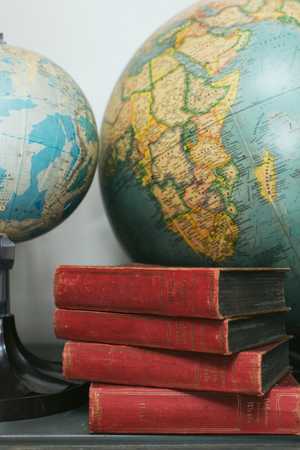 Having started out in a smaller space the pair moved to Nuuanu Avenue in 2014.