Menswear / Global
Buying time
While some buyers have a spreadsheet mentality, others see their jobs as a chance to be creative editor. We meet three menswear gurus who use collages, scrapbooks and snapshots to deliver the goods.
Taylor Caruso
Co-founder, County Ltd
Los Angeles
County Ltd was founded in LA's Silver Lake in 2017 by friends Taylor Caruso, Phillip Proyce, Kirill Bergart and Joe Lorens. The shop sells its two in-house lines – T-shirt label Lady White Co and furniture brand Counter Space – alongside other brands.
"I would never do any seasonal buying without my scrapbook. I started it when I opened the store last year. I literally cut the images from line sheets [lists of images and details of each piece in a brand's collection] that I get at the big trade shows, such as Liberty Fairs in New York, and stick them into my notebooks using coloured tape. I like to have the season presented as a collage on paper, more so than on a computer or any other medium. It helps me to keep a tight watch and not over-buy, and keeps me focused on the specific products that I want.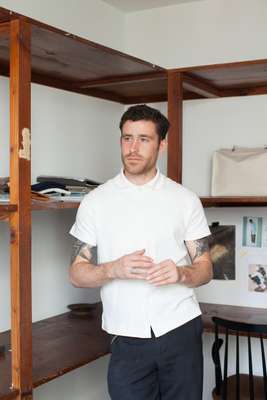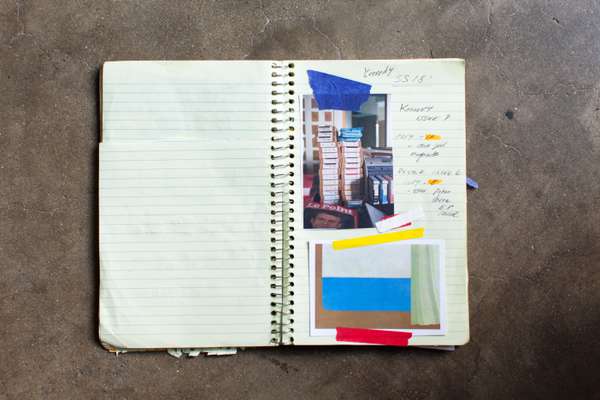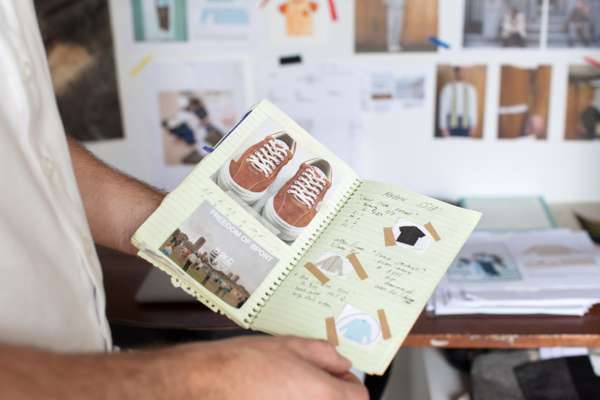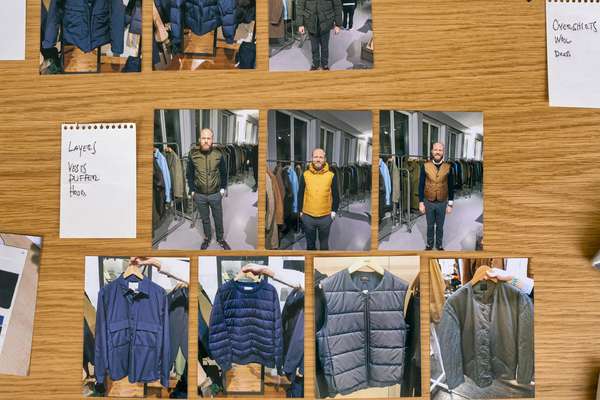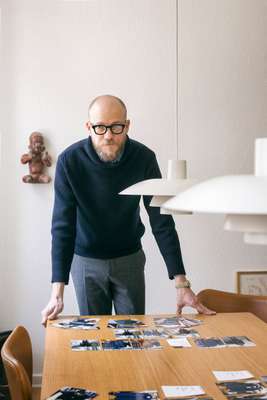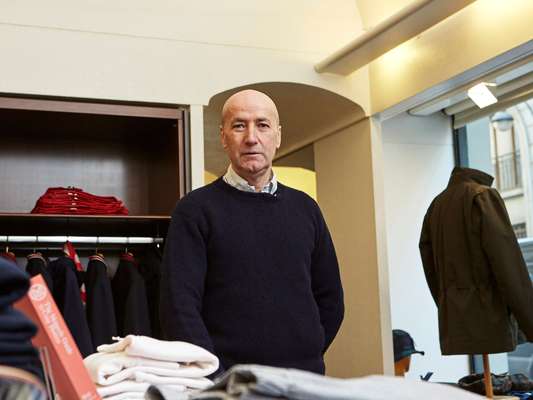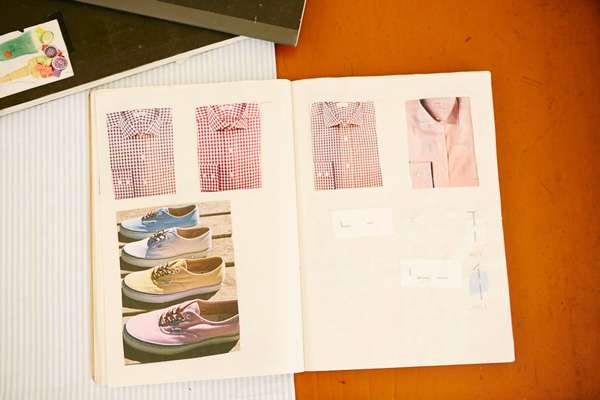 It's a creative tool for colour schemes too. I mix up it up with other images that I find appealing – artworks, flyers and things like that– as they shape the overall aesthetic. Buying can often be driven by numbers but this collage helps me to select visually and to see what the shop space will look like. Page by page, it dictates what looks nice together so I have a clear vision of what pieces will complement each other on the shop's rails or tables.
We have a very distinguished colour palette. It makes the store more unified. This season it's quite earthy, with rust-coloured corduroy jackets and cotton twill shirts in tan. They are all in my scrapbook and, as the product arrives and goes in store, I tick it off. It's quicker than searching through emails all the time.
My book comes everywhere with me – you never know when inspiration might strike. I used to live in Chinatown and some mornings I would see people wearing garment tones that I liked so I would take a picture. The book lives in my tote bag, alongside things like my glasses and treats for my dog Frankie. I keep the old books at home as it's good to have a reference point and see how the sort of products I buy is evolving.
I buy what I want to wear – things that I would have in my wardrobe. That's what makes County what it is: all the homeware and clothing are pieces that we believe in. Our menswear is minimal and functional. I think this attitude was shaped by my childhood in Chicago. Heavy winters and harsh summers – there were lots of seasonal clothing bins going in and out of the basement at our home. In Los Angeles it's more of a steady temperature. But those clothing bins were functional and the antithesis of fast fashion – at County, we adopt this slow-fashion approach. I feel there is more time for details this way. Also I have always had an appreciation for a really well-made T-shirt and in LA the T-Shirt is a year-round interest. So I buy a lot of those."
Taylor's spring/summer 2018 picks
Lady White Co lite jersey T-shirt
Stepney Workers Club sneakers
Evan Kinori crinkle-cotton field shirt
Kasper Hostrup
Founder, Goods
Copenhagen
Kasper Hostrup runs one of Scandinavia's best menswear shops from this homely space in the well-heeled Østerbro neighbourhood. He stocks Danish brands such as Anderson-Anderson, as well as European and Japanese designers.
"Fit is something you can't always see. You have to feel it. Whenever I go to a buying appointment I try things on. Most other buyers browse through the hangers or see garments on a model but I wear each item myself.
Trying-on is part of a process: I always make sure my assistant takes a photograph and when we get back to Copenhagen we print it. Then, back at home on my large Egon Eiermann dining table, I spread out the images and review our notes to get a sense of how the collections might look. I'll organise the pictures according to their colour, texture and category. It looks like a giant collage. Of course, it's not about how I look – I don't pose for the camera – it's about the balance. You can't get the same overview on a laptop.
At Goods, we talk a lot to our customers. Often they're busy and they just want someone they trust to make decisions for them. They want to come to our shop and know that they can find the best pea coat or duffle. Our aim is to provide a good selection, not the most choice. The essence of buying is to make it easier for customers.
Trying each piece on takes time. At busy fairs such as Pitti Uomo it can be a little awkward. But it's always worth it. I am never too exhausted and it always pays off. Buying is often underestimated. You have to understand how everything fits together. I'm serious about it. It's not that we don't have fun along the way but we want the best results for the store."
Kasper's spring/summer 2018 picks:
Jeanerica white jeans
Andersen-Andersen cotton polo shirt
Goods by Sanders derby shoes
Alberto Monti
Owner, A.Gi.Emme
Como
Alberto Monti's parents opened this Como institution 61 years ago. Today there are four outposts selling clothes for men, women and children, by Italian designers such as The Gigi and Aspesi.
"My mother and father founded A.Gi.Emme in 1957. I hated spending summers there as a kid but when I finished school I became enthusiastic about the shop. I started working with my sister, Maria Laura, who buys women's and children's clothes, and my brother Andrea.
Menswear begins with the fabric. Alberto Aspesi [the founder of Aspesi] is the one who truly made me excited about fashion. He taught me about fabric. You can see the variation in knits between Scotland and Italy. It's like bread from the mountains. Maybe it's the water, who knows? The Italian version is just better.
When I'm buying I picture the store windows and imagine what I want to see the mannequins wearing – what I want to be wearing. For next season I found a coat in a mustard-grey-and-rust check, which I want to combine with shades of blue for our store looks. That coat's fabric and colours are the basis for our entire season's picks. I keep a square of the fabric in the Muji notebook I carry around with me when I'm travelling, along with other fabric swatches that I clip from brands' colour cards. But these days I have to add a lot of photos cut from magazines and lookbooks. Most brands don't want to give you cuttings of their fabrics anymore and my notebooks have suffered for it."
Alberto's spring/summer 2018 picks:
Gitman Bros, blue button-down shirt
The Gigi twill workwear jacket in blue
Armor-Lux oversized heavy cotton T-shirt