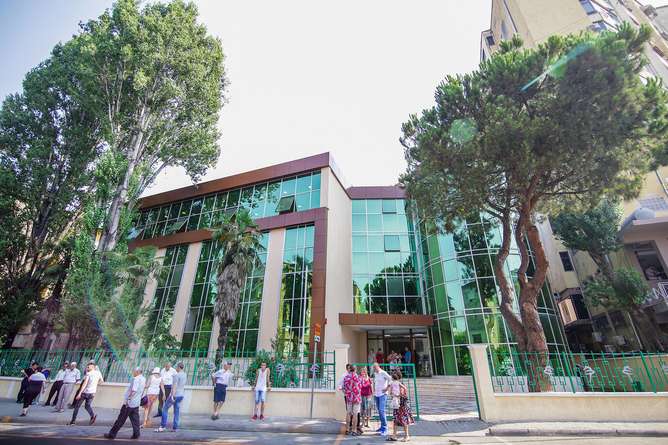 New school rules
Tirana —
Civic Space
Some pupils spend hours waiting for the final bell to ring but in Tirana, many schools will no longer be shutting their doors just because classes have ended. As part of an urbanism masterplan designed to rethink the city by 2030, 17 schools around the Albanian capital will extend their remit and become community centres that function 24 hours a day, seven days a week.

"In most European cities, neighbourhoods were formed around a cathedral or a major social institution – or, in pre-Ottoman times, many villages in Albania were built around an oak tree that served as a meeting point for elders," says the city's mayor Erion Veliaj. "But in 1967 [when the ruling communists embraced secularism], thousands of churches were destroyed. So the social centre of urban gravity disappeared."
After the fall of communism, Tirana started growing rapidly but these vital hubs of community life were not reinstated. What's more, the 1990s saw a mass sell-off of public institutions, including libraries and youth centres, into private hands. By the time Veliaj took office in 2015 and looked into which structures remained that could become spaces for the community to come together, he was left with little choice. "We went through a process of inventory of the space we had and realised we just didn't have it," he says. "In a city that is overcrowded we need to use space wisely."
And so, all of the selected schools will be rebuilt to include cafeterias as well as rooms for meetings and cultural events that will take place afterhours and on weekends. Leading these makeovers will be London's Grimshaw Architects and Milan's Stefano Boeri. "Public schools are the most diffused and powerful public infrastructure we have in our countries," says Boeri. "We need to start observing their role in a different way – they should become an open environment."
---
Mall to railway
Texas —
Infrastructure
In Texas, the group behind the state's bullet-train project connecting Houston to Dallas has devised a novel use for a newly empty shopping centre. The Texas Central Houston station will stand on the 45-acre site of the Northwest Mall, which will be redeveloped into a terminal connecting high-speed rail to local transit systems. There may be many more sad malls in need of a rethink very soon.
---
Back on track
Amsterdam —
Transport
Come July, Amsterdam's calamity-struck North-South metro line is finally due to start running – about a decade late and nearly €2bn over budget. Faced with enormous public opposition after buildings in the city's historic centre began to subside due to underground drilling, plus various other mishaps, the municipality had to overhaul its approach to get people back on board.
Here are three lessons learnt the hard way for other cities embarking on mega projects:
Personalise things 
Making the builders and engineers the face of the project in communication materials made things feel more human.
Be transparent
Open days at stations and a dedicated website where people could track developments (or setbacks) and engage in dialogue made the public feel like a stakeholder again.
Seek out criticism
Opposing opinions are vital to prevent tunnel vision. Invite professionals from other cities to interrogate the idea.
---
Q&A
Stuart Semple
Artist
United Kingdom
British artist Stuart Semple often works on installations aimed at bringing people together in public urban spaces. For his latest project, though, he's turned to campaigning in order to warn city councils against what he calls hostile design, from benches with bars to floor spikes.
What do you define as hostile design?
Any urban intervention through design that has the specific function to control, harm or exclude human beings.
Why do you think cities are tempted to adopt such designs?
It's a global issue and it's not just about homelessness – although that's a big part of it. As homelessness is rising, cities are under pressure to do something and they could be misguided into thinking this is a proactive approach.
What other path could they follow?
At the moment, we're seeing a Victorian approach to public space. But we need to be looking at place-making in a different way: one where you give people choice, you slow the experience down, you create a scenario where you get fear out of the lived environment.