Food & drink / Global
Food
&

drink
Briefing
Tasmania's toothsome produce, Toronto's new food hall and a recipe not to be missed.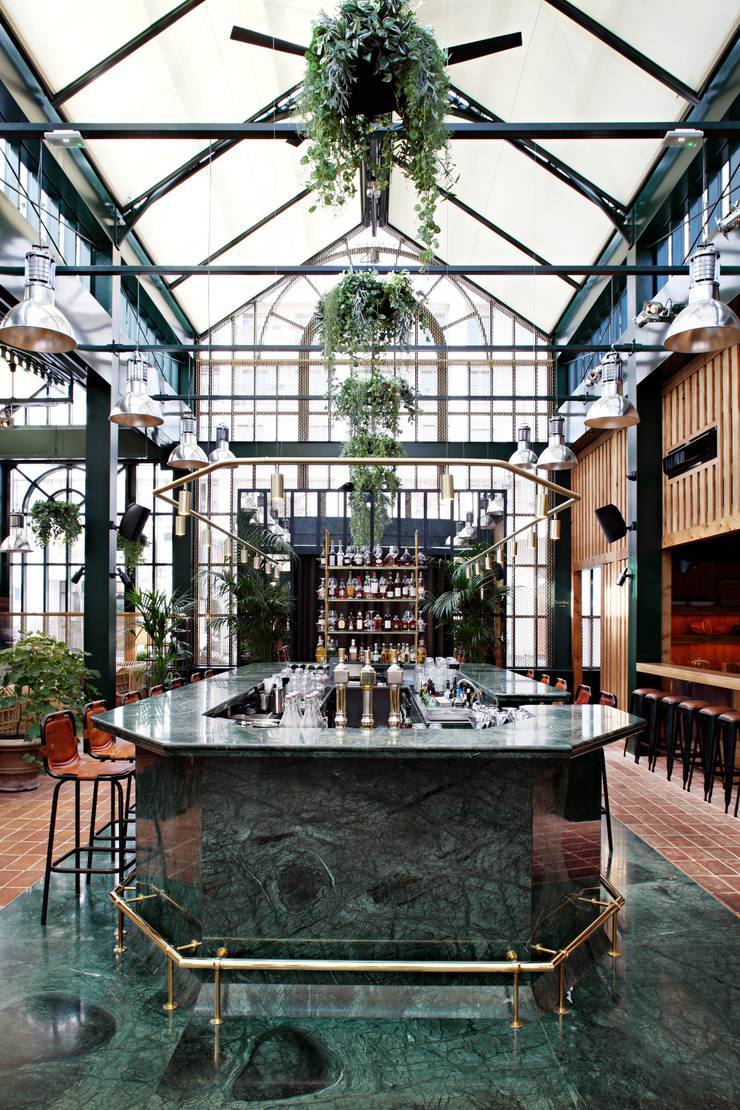 Opposite a bustling municipal market and flanked by a communal vegetable patch, Eugène Eugène was designed to feel like the glasshouse of a big country home: guests sit on wicker furniture surrounded by palms or on a terrace between pots of sage and mint. This cheery bolthole in chic Puteaux, near the Bois de Boulogne, was created by architecture firm Studio KO and the menu offers French dishes but with a nod to the diverse Parisian demographic: "We are French but the menu reflects what makes France what it is today," says owner Héléna Paraboschi. "We have Italian, Spanish and North African influences."
eugene-eugene.fr
On a cobbled lane just steps from Regent Street is this charming Spanish joint by Nieves Barragán (the Galician chef behind Barrafina) and José Etura. The latter is from Castile where the grill is god and this is the inspiration behind the rotating barbecue upstairs. Try the octopus empanada (crispier than you'd think) and prawn croquetas (better than you can imagine).
saborrestaurants.co.uk
Faro Tapas: [Tasmania] Art and eating are inseparable at Tasmania's Museum of Old and New Art's latest restaurant, Faro Tapas. Despite an abundance of natural light and being built out over the River Derwent, there's a Kubrick-esque otherworldliness to proceedings. The food and the good-humoured floor staff bring you back to Earth and the Spanish-inspired menu draws on Tasmania's toothsome produce.
mona.net.au
Hanan Hagaban
Herut, Israel
In the heart of a lush avocado grove, Hanan Sofer and his wife Hadar have been making cheeses since 2008. What started as a hobby soon grew into a serious business and Hanan went to train in Europe. "Each time I came home, I found that using these methods with our milk resulted in something truly unique," he says. The couple are now ramping up their commercial garden and selling the produce in their tasteful café and shop.
hagaban.co.il
The name is taken from one of George Orwell's memoirs, Down and Out in Paris and London, and an excerpt from it requesting funds from Sainte Éloise for food and wine is posted on the wall that dominates the 40-seat Ian Kanik-designed space. Wine is the focus with a list of more than 400 bottles stretching across new and old worlds with plenty by the glass.
The kitchen is open until 23.30 (that's late for Sydney) and the food – simple and local – matches the wine. Think smoked mussels on toast, a plate of fish crudo ("raw" in Italian) or, if you're hungry, one of the daily special late-night sandwiches, which may be filled with skirt steak, smoked scamorza (an Italian cheese) and fermented chilli or fried fish and tarragon mayonnaise with salsa verde and gem lettuce.
dearsainteeloise.com
Q&A
Nicolas and Sébastien Julhès
Founders, Distillerie de Paris
France
Paris is known more for its consumption than production of alcohol but brothers Nicolas and Sébastien Julhès felt there was room to do more. The pair established a distillery and, since 2015, it has been producing some of the capital's finest gins, rums and vodkas.
Why Paris?
It's virgin territory in terms of spirits, which gives us freedom to create our own Parisian terroir.
How do you distinguish yourselves from competitors?
We use superlative, often rare, materials that give our distillates their unique signature: galabé sugar cane from Réunion for the rum, for example.
Is experimentation important?
Yes: we've created nearly 80 recipes. We use a bespoke distilling vessel and are working with Seguin Moreau, a barrel-maker, to create a cask that's suited to our small batches.
distilleriedeparis.com
Assembly Chef's Hall
Toronto
Toronto-based restaurateur Andreas Antoniou has reimagined a food hall in this downtown berth. The venture has assembled 17 of the city's finest purveyors of food and drink, from Cherry Street Bar-B-Que to Bull Dog Coffee. The space is adorned with murals by artists including Katheryn Macnaughton.
assemblychefshall.com
Currywurst
Recipe —
Midori House
Ingredients
Chips
800g potatoes, such as Maris Piper, peeled and cut into 1.5cm-wide sticks
½ tsp salt
750ml sunflower oil
Curry sauce
1 medium-sized onion, finely chopped
½ tbsp mild curry powder
½ tbsp smoked hot paprika
200g tin of chopped tomatoes
50g light brown sugar
1 tbsp red wine vinegar
2 tbsps ketchup
1 tsp Marmite
A large pinch of salt
Crispy onions
1 small onion, very finely sliced
100ml sunflower oil
4 bratwurst (German pork sausage) sliced in 1cm discs
½ tbsp sunflower oil
Mild curry powder, for dusting
Mayonnaise, to serve
Method
1.
First, prepare the chips. Blanch the potatoes in a large pot of boiling salted water for 4 minutes, then drain. Leave to cool.
2.
Next, make the curry sauce. Fry the onion in a pan over a low heat until it becomes transparent (approximately 5 minutes). Add curry powder and paprika, cook for 1 minute and then add the rest of the curry sauce ingredients. Continue to cook for 5 minutes or until thick. Set aside to cool.
3.
Once the curry sauce is cool, tip the mixture into a food processor and blitz it until smooth, then set aside.
4.
To make the crispy onions, heat the oil in a small pan over a medium heat. Test the oil with a slice of onion: when you hear a sizzling sound, the oil is ready. Fry the onion in batches until golden brown and crisp, and then remove with a slotted spoon and drain excess oil on kitchen paper.
5.
To finish making the chips, heat a large pot with the 750ml of oil to 190c. When the oil is ready, fry the potatoes in small batches until crispy and golden brown. Remove from the pot with a slotted spoon and drain on kitchen paper. Sprinkle with sea salt. Repeat with the rest of the potatoes.
6.
For the currywurst, fry the sliced sausage in a small pan with oil over a medium heat, until golden brown (approximately 4 minutes on each side). Place the sausage on a plate, pour the curry sauce over, sprinkle with the curry powder and crispy onion, and serve with hot chips, mayonnaise.