Retail survey / Global
Going up
Facing tough times, the world of physical retail is fighting its corner in style. We review the bold formats, inspiring shopfits and savvy blends of heritage and technology keeping the sector's innovators ahead of the curve.
1.
Department stores and malls
Global
No sooner had the death knell for the high street faded than commentators were proclaiming the comeback of physical retail. Amazon is moving offline and other e-commerce players are frantically striving to give their customers non-virtual "experiences". While still challenged, the future for bricks and mortar is looking brighter.
Nonetheless large-format retailers such as department stores and shopping malls are still in trouble, with footfall and revenues sinking in many markets. Giving large-footprint retail a health check, here are three global examples that buck the trend and demonstrate what can be done with a bit of investment and fresh thinking.
With its bustling core of escalators, impressive central atrium and crowds of shoppers across nine floors, the Rinascente flagship on Via del Tritone in Rome appears to be the consummate department store. But far from being an established landmark in the retail landscape, this 14,000 sq m building is just a few months old. "The project started to come about some 15 years ago," says Rinascente CEO Pierluigi Cocchini, "based on the fact that Rome was the only major capital city in the world without a proper central department store."
Rinascente has certainly plugged that gap and if a decade and a half seems a lengthy gestation period, Cocchini points out that his team had to navigate not just Italian and municipal bureaucracy but also tricky archaeological and heritage concerns. These included the discovery of remains of the 2,000-year-old Aqueduct of Virgo (now an attractively uplit feature with a cocktail bar) and the partial preservation of the four buildings that previously occupied the site.
The total budget for the store was more than €250m, according to Cocchini, including the investment made by the 800-odd brands with a presence here. For Rinascente's parent company, Thailand's Central Group, this represents another bold move in the European market. Yuwadee Chirathivat, executive director of the Central Retail division, explains that it had to be more than simply "a world-class shopping destination" but rather "the must-visit place for every tourist and the 'in' place for our local communities."
Despite Rome's status as a premier tourist destination, the store has clearly made an impression on the locals. The store's 23.00 closing time, seven days a week, also helps to entice the famously late-night Rome shoppers. Our only reservation is the limited number of local brands on display (the offering tends towards global labels). But, as Cocchini notes, Rinascente's investment is a "gesture of confidence in the city even though it is living through a very difficult period and the reaction from Romans has actually been quite moving".
Australia's capital, Canberra, has long strived to cultivate an identity that expands beyond politics. For years, officials have attempted to bolster the city's nightlife and retail offerings but progress has been slow. Among the obstacles they've faced is the idiosyncratic layout designed by US architect Walter Burley Griffin in 1911. It carves the city into four self-contained regions, each with its own satellite suburbs. Lately, some areas have become so developed that residents no longer feel the need to visit Canberra's main shopping district, Civic. Combined with the popularity of online shopping, the challenges confronting inner-city retailers have become existential.
Some businesses are adapting better than others. One of the most innovative responses has come from qicgre, a property-investment firm. It recently revamped part of the Canberra Centre, a 1960s mall in the cbd. The project's ambitions go beyond providing an empty shell for large-scale retailers; the company has created a new civic space that serves an important function.
To oversee the Canberra Centre's overhaul, qicgre called on UK-based architecture firm Universal Design Studio, whose portfolio includes work for Ace Hotel in London and the Frieze Art Fair. The two companies conceived an aesthetic that is at once sympathetic to the city's heritage and distinctly modern.
Shopping, however, remains at the core of Canberra Centre's design. It is optimised to play on the greatest asset of bricks-and-mortar retail: providing a tactile experience for customers. "We had to rethink the way we work with brand partners," says Skye Fisher, qicgre's general manager for strategy. "We blurred the line between where communal space ends and retail stores begin."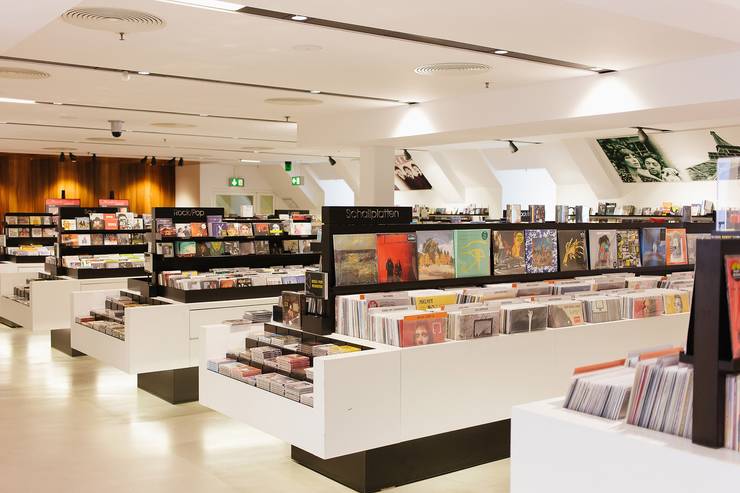 The story of Ludwig Beck is the story of an elite long-distance runner: a high-paced start followed by solid endurance. The eponymous craftsman opened a shop in 1861 selling buttons and trimmings. Fifteen years later he obtained a royal warrant of appointment as supplier to Bavaria's king. While some royal purveyors disappeared, however, Ludwig Beck eventually became a publicly traded company with 862 employees. Today its seven-floor headquarters on Munich's central square, Marienplatz, is the city's most famous department store.
Why exactly has the brand endured? Partly it's because it has stuck to its guns and its unique heritage. True to its origins, it has a selection of 2,000 buttons in its haberdashery section, a collection that remains Germany's largest. Similarly, it has retained an impressive music range, which includes 120,000 CDs and vinyl records; this gives Ludwig Beck an astonishing 1 per cent share of the world market for classical music.
Yet the department store has also adapted to suit the latest trends in retail. managing director Christian Greiner organises free promotional performances by famous musicians – Anna Netrebko, Lang Lang and Anne-Sophie Mutter have all played or sung on Ludwig Beck's stage on the fifth floor. The emphasis on creating surprising environments is also exceptional for a heritage retailer. "We try to link our decorations to life in the city," says Greiner, who employs more than a dozen designers to spruce up the shop windows. Last year, when Munich's Kunsthalle organised a Peter Lindbergh exhibition, Greiner asked the photographer to decorate his shop windows: "He was here for days arranging his photos and paraphernalia in our windows."
Finally, there's the service. Ludwig Beck's staff includes Chinese, Russian and Arabic speakers to help tourists, who account for more than a third of revenue. Its cosmetics department (consisting of 10,000 products) offers regular workshops and a make-up service. And four personal shopping assistants even visit customers' homes to feel out their taste and then assemble outfits to be tried in a private dressing chamber in the shop. Only now, this tried-and-tested model caters to Middle Eastern princesses rather than Bavarian kings.
In spite of the challenges facing the sector, it's a great time to be a retail designer – if you're a good one. Landlords and retailers alike are finally realising that design and architecture can add value to a space and lure shoppers off their sofas and into stores. Here we profile three of the best practitioners and hear from one of the world's largest shopfitters.
Kelvin Ho grew up helping his father to build boats, which they sailed together along the Sydney coastline. "I loved working with timber and fibreglass; there was something about the forms and shapes that I found intriguing," says Ho. The architect chose retail architecture to satisfy his twin passions for construction and creativity, and since founding his architecture and interior-design firm Akin Atelier in 2005, he has masterminded the interiors of more than 150 stores across Australia.
What unites Ho's stores is his fondness for unusual materials and using light to shape each space. In these days of shopping online, he believes retail architecture still plays a valuable role in inciting people to spend. "A great retail space can make you covet an object so much more," he says. "If you can create a more interesting narrative than just the garment, it generates a subconscious trigger that makes people want to consume."
akinatelier.com
Q&A
Roman Fussthaler
Managing director, premium retail division
Umdasch Shopfitting
Umdasch Shopfitting dates back to 1868. It started out as a small Austrian carpentry workshop; today the family-run company, headed by Hilde and Alfred Umdasch, has become one of the world's leading shopfitters. Umdash rakes in annual revenues of €250m across its lifestyle, premium, food and digital retail divisions, with a focus on Europe, the Middle East and Africa. Roman Fussthaler has been with the company for 17 years; he started out as a store designer and now manages the premium retail department, working with brands including Nike, Harrods and Stuart Weitzman.
Is there a trend towards smaller retail spaces?
Big global brands are focusing on core cities rather than lots of flagships. Because products are purchasable on different channels, shop sizes are shrinking too. At Nike Town you have your foot screened and analysed, you try on shoes but you probably won't be walking home with them; they get customised and sent to you. Shops might be smaller but the quality is higher.
How do you create the best in-store experience?
You have to represent the core values of the retailer in the location in every aspect. For example at Harrods we opened the new Roastery in its famous food halls. You can blend your own tea there and roast your own coffee. It's all about service and customisation. Nike Town in London on the other hand is all about innovation, performance and being active. You go there, get your kit and engage with the local running community.
Are bricks-and-mortar shops still important for a brand?
It's the most important tool for them. Actual sales might happen online but what's important is the product experience and that can only happen in-store. It's a time of growth for us. Perhaps we're fitting out fewer stores but those that we are fitting out are more customised so the actual project values go up.
umdasch-shopfitting.com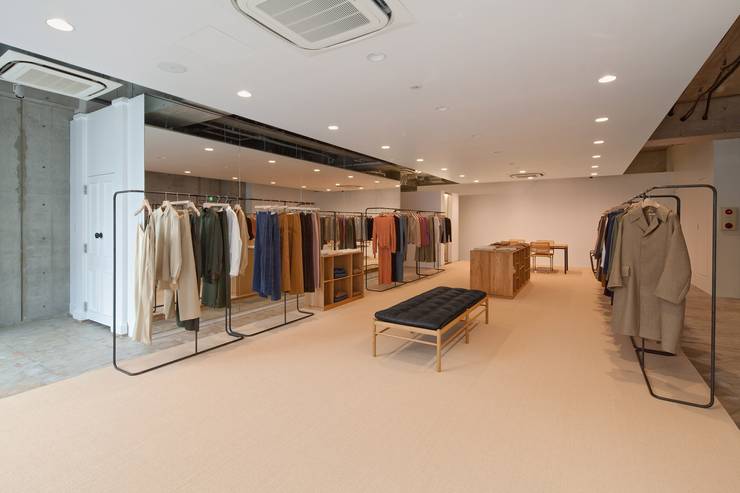 Retail design rarely stands the test of time, particularly in Tokyo's fast-paced fashion scene. So it's a testament to the quality of Japanese architect Nobuo Araki's work that the interior of Soph's Harajuku shop (which he designed back in 1998) has not been altered since launch, yet still feels modern. "At a time when it was the norm to renovate everything after five years, I surprised people by using solid wood," says Araki. "I picked a robust wood so it would last. It's the same architectural approach I take to designing a residence."
Last autumn, Araki created a boutique in the Aoyama neighbourhood for fashion brand Auralee. The space hovers between feeling like a cosy home and a private gallery for the clothes. As Auralee founder Ryota Iwai puts it: "We wanted a sense of relaxation as well as a suspenseful atmosphere." Araki placed a carpeted platform in the centre, slightly raised from the concrete floor, which showcases Auralee's collection on minimal iron racks. Araki brought human interaction to the fore – a wooden table and chairs occupy the back of the shop for customers to talk with the staff. "Everyone sits down and we have communication," says Iwai. "No matter how busy it is, it's comfortable."
actp.co.jp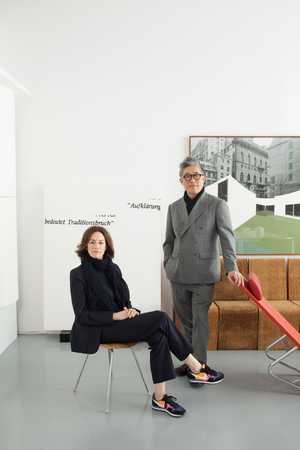 Johnston Marklee
Los Angeles
Working in a city known for the eclecticism of its buildings and the oversized egos of its architects, Sharon Johnston and Mark Lee have quietly risen as the arbiters of effortlessly cool retail design.
The architects – who founded Johnston Marklee in 1998 – offer brands an alternative to the theatrical set design common in much contemporary retail. Their aesthetic is deceptively simple, taking a backseat to the products on display. "We tend to have a relatively restrained material palette," says Johnston, who prefers to emphasise qualities such as light.
This minimalist elegance is visible in projects for skincare company Aesop, clothing retailer Velvet's flagship store and most recently in the showroom for furniture company Knoll. "We want to reflect history in a contemporary way," says Johnston. The goal is to let the design express "something unspoken about the brand".
johnstonmarklee.com
3.
How to be successful at e-commerce
Global
E-commerce is dominated by a few giant companies. But there is still space for smart competitors, particularly if they find a niche or champion a message that's more thoughtful than the behemoths. Discover how these e-commerce entrepreneurs all found room to thrive.
It's rare for young entrepreneurs starting online businesses to get out on the road to do their research; most stick to Google. Yet when London-based Swiss duo Massimiliano Gritti and Elliot Aeschlimann started a high-end menswear and accessories site, the first thing they did was get out of the office so they could really connect with the extraordinary makers and craftspeople they discovered.
"We travelled around Europe looking for small makers and companies making really high-quality products but who were not present online," says Gritti. "We asked ourselves why there was so much quality and craftsmanship out in the world but it was so hard to find online," he adds. "The feedback we got was all the same: these people were focused on their manufacturing but found online hard to cope with."
Having convinced 30 such brands to join the nascent platform, he and Aeschlimann launched Bombinate in May 2017; it now has just under 50. A key part of the website is a content area that tells the stories behind each company. "The future of multi-brand sites like ours is storytelling and community, and being mission-driven," says Gritti. "This is what Amazon will never have."
bombinate.com
Seattle-based entrepreneurs Sunil Gowda and Adele Tetangco found an e-commerce niche when they established Garmentory in 2014. The site provides small boutiques and emerging designers with an expanded reach by helping them overcome their geographic constraints.
The online marketplace gives independent retailers a way to shift inventory that doesn't sell in-store or – in the case of the small designers – that has no other route to market. It operates on a "make-an-offer" model, whereby customers around the world pitch a price for their garment of choice. The site doesn't hold stock but simply links up the two sides of the transaction.
Sales made through Garmentory tripled between 2016 and 2017. But it's not only customers who have voted with their clicks. More than 500 boutique stores and designers in the US have now signed up to the marketplace. This is largely because doing e-commerce well has become a bigger ask and many small businesses don't have the spare capacity. "It's hard for a lot of businesses to keep up," says Tetangco. "Opening an online store is like opening a second store. It takes the same amount of time and people."
garmentory.com
Many happy returns
by Clare Dowdy
Along with the benefits of e-commerce goes the retailer's nightmare: returns, or "reverse logistics". Shoppers increasingly over-order, only to send items back. According to the latest jDa/Centiro Customer Pulse Report, a third of UK adults who shop online return up to two items a year. Returns have to be schlepped back to the retailer's warehouse, where they must be checked and repackaged before being resold. Fashion entrepreneurs beware: you are at risk of being stuck with out-of-season stock. However much they love your stuff, fickle shoppers are unaware of the problems they're creating but they also hate it if you dilly-dally with their refund. Savvy e-tailers should absorb these tips if they want to improve the experience.
For keeps:

 Typically, shoppers who want to try things before deciding which to keep must fork out for all of them and return unwanted items to get a refund. Allow customers to order goods, try them on and – having taken their bank details – pay for what they keep.

Home help:

 Could the courier or delivery person double up as a "shop helper" who waits at the front door while a customer tries on a new outfit at home? Any rejected items can be taken away there and then.

Stretch the trunk:

 Use your car boot as a post box. dhl is piloting car-drop delivery in Berlin with 50 Volkswagen Polos. The shopper tells the retailer where the vehicle is parked and the

dhl

parcel courier accesses the car boot via a single-use, time-limited code; the package is left in the boot for the happy shopper.

Click happy:

 Team up with bricks-and-mortar shops, who will take delivery of online orders. Your customer can then try on an item in a fitting room, with the option of returning it immediately.

Bot to trot:

 Perhaps robots aren't the answer to all the world's problems but a delivery-bot could pick up unwanted online purchases from city-based shoppers. These ground drones have been trialled, under human supervision, by Hermes and Starship Technologies.
Italian wine brings to mind lush green hills and grand dinners, not the digitalised world of e-commerce. But where Italy and its winemakers broadly neglected the internet, entrepreneur Marco Magnocavallo found a ripe niche. Since launching in 2012, Tannico, his well-stocked wine-selling website, has become the largest retailer of its kind in the country.
"I wanted to create the dream catalogue of Italian wines," says the neatly dressed 45-year-old, with spiky salt-and-pepper hair and rimless glasses, as he sits in Tannico's Milan headquarters.
Last year, Tannico shipped one million bottles from more than 2,000 winemakers stocked in its warehouse, turning an €11m profit. It has grown now to serve 20 countries, including the US, UK and Japan, alongside EU territories. With mostly Italian labels on the roster, Tannico's success increases the reach of the country's wineries, in particular the small-scale kind sought out by its sommeliers. "I like offering small vintners the chance to sell across Italy and the globe."
Italy abounds with artisan wineries that struggle to reach markets even beyond their region. Online sales barely existed before Tannico but Magnocavallo won trust from wineries apprehensive about e-commerce. Helping to lure customers is Tannico Intelligence, the company's free digital tool that affords his collaborators detailed demographics on who buys their wine, as well as their competitors' wine. In March, Tannico launched a wholesale service selling wines to restaurants and hotels.
Magnocavallo capitalised quickly but his sector is now evolving apace – in 2017, luxury drinks group Moët Hennessy launched Clos19, an online platform for its brands. Still, the Milanese is confident he can overcome bigger foes: "Amazon has a breadth of products you can't compete with but there's no attention to how the inventory is chosen. To compete, you need a speciality and a well-researched offering. It has to be something that inspires passion."
tannico.it
Q&A
Florian Teuteberg
Co-founder of Digitec Galaxus
Zürich
Florian Teuteberg pioneered e-commerce in Switzerland, when he launched Digitec Galaxus with two friends, aiming to offer gadgets and IT products, from computers to cameras, at lower-than-market prices. After an expansion of the product range in 2012 and a 70 per cent stake bought by Swiss retailer Migros in 2015, the next step will be expansion to Germany.
How did Digitec Galaxus become a success?
We offer products at good prices, speedy delivery times and high availability. Adding to that we created a pleasant e-commerce platform with interesting articles, recommendations and active customers.
How have physical shops helped you to become successful?
When we launched our first shop in 2001, no one was talking about multi- or omni-channel strategies; we just felt that this was something customers wanted. For now, we don't have any physical stores planned in Germany but it's an option.
Why is now particularly the right time for the expansion to Germany?
We're the Swiss market leader and have reached a size where we're comfortable to tackle new markets. If we take our 2017 revenue of €750m, we'd be Germany's fourth-largest online retailer; in relation to the population, we have a comparable size in Switzerland to that of Amazon in Germany. So we see high potential and a niche there that has not been occupied yet. It's also for practical reasons; if we want to remain competitive it doesn't make sense to invest in a platform only for Switzerland. If Germany is a success, we'll expand to other countries.
galaxus.ch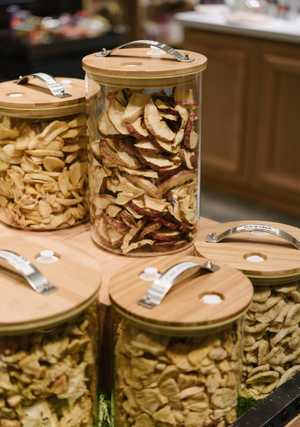 4.
Getting rid of plastic
Hong Kong
It's Monday morning and Edgar's first customer has brought along an empty glass container. She uses it to fill up from the food baskets fixed to the wall that hold a variety of unpackaged foods: coloured fusilli pasta from Italy, organic cereal from France and coconut slices from Sri Lanka. "The growth has been hard to digest," says Edgar's Swiss founder Raphaël De Ry with a wry smile.
Barely a year after establishing his first bulk-goods shop inside a Hong Kong shopping mall in Tsim Sha Tsui, De Ry is preparing to open his third outlet – and first standalone shop – in Wan Chai. Major landlords are clambering for his high-footfall concept but he is in no hurry. "To make sure we do it right we need to limit ourselves," says the Hong Kong resident.
Shops and businesses that promote plastic reduction are gaining popularity and bulk-goods shops are spreading as a viable solution. And unlike their forebears, these new iterations – from Original Unverpackt in Berlin to Good For in Auckland to London's Hetu – have sharp branding and smartly designed spaces.
Lugano native De Ry stumbled into retail by chance. Originally an importer of organic European foods, it was his French suppliers who brought the bulk-goods-stores trend to his attention. He now sees his future in retail and focuses on bulk and zero-waste products in distribution.
Covering high rents in a low-margin industry is a concern, so locally produced lifestyle products and workshops will be added to the offering of his Wan Chai store, due to open this month, to boost the value of the average shopping basket. Ironically, De Ry's biggest challenge is waste. His unpackaged products have a limited shelf life and he is still learning his customers' tastes. He has shifted away from staple foods to breakfast cereals and snacks, as small home kitchens in Hong Kong make cooking a challenge and dining out is commonplace. Yet the spread of bulk-goods stores shows there is a strong appetite for these concepts worldwide.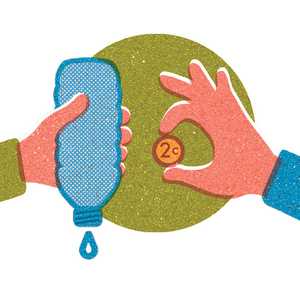 Three other ways to reduce waste
It's nudge theory in action and has made Norwegians return drinks containers in their billions for decades: make people pay a small deposit on plastic bottles and they're more likely to return it at easy-to-use machines in major retailers.
Swiss supermarket Migros has recently run with the sustainability agenda, giving out a series of bright-yellow paper bags for their shoppers to use. On the bags they printed real customer quotes that were lifted from the internet – a clever way of advertising outdoors.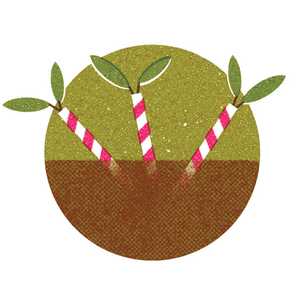 3.
Straw-man argument
Hong Kong
The Last Straw is on a mission to get rid of plastic drinking straws. Instead of "reinventing the wheel" the organisation has gone back to paper straws but made them more solid and 100 per cent biodegradable – all packaged in 100 per cent recycled-paper boxes.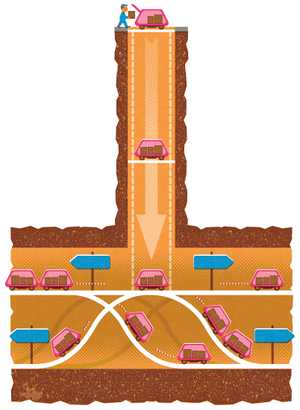 5.
Cargo sous terrain
Switzerland
Ask any major retailer in the world and they'll tell you their biggest headache is logistics. Getting goods across the country is an unpredictable business, often relying on hundreds of variables and third parties with less skin in the game. This is one reason Amazon is developing drones for airborne deliveries. But while one business heads for the skies, the Swiss are digging a really big tunnel.
A number of retailers in Switzerland have banded together to develop Cargo sous terrain (Cargo underground), an ambitious, purpose-built transportation system for goods, hoped to start operations by 2030. Involved in the project are Switzerland's two major supermarkets Coop and Migros, as well as the Swiss Post. According to their plans, the system will comprise a tunnel 50m underground, connecting key urban centres within Switzerland, and automated pods travelling at 30km/h filled with parcels and packages. Coop alone expects to put today's equivalent of 200 full truckloads of goods on the first track from Härkingen to Zürich each day once this part of the project is up and running.
"The need for better logistics solutions has been around for a long time," says Daniel Wiener, a member of Cargo sous terrain's executive board. "Congested highways have been a major issue, along with road and rail systems that operate at maximum capacity." The tunnel scheme won't just take strain off inter-city transport; it will also help within urban areas. "Imagine the efficiency gains if one truck delivers to three shops close to each other, even though they're competing."
All that stands in the way of the vision becoming a reality – aside from millions of tonnes of earth – is a special law, which should be passed by the Swiss parliament in the autumn and that will set its regulatory framework. As Wiener explains, "The project is fully privately financed; the government sets the rules. Cargo sous terrain is going to be profitable and will save money in the long run."
6.
Case studies
Best practise
To conclude, join us on an inspirational whistle-stop tour of some top global examples of best practice, from the duo selling homeware from a miniscule Madrid shopfront to the Taiwanese concept stores looking to branch out across the region. Plus we hear from a behind-the-scenes tech player in Tokyo, changing the way big brands find their next location.
Multi-brand retail
Art Hause
Taipei
In spite of the headwinds that retailers worldwide are facing, Taipei continues to develop into a haven for tasteful and unique shops. One of the city's real gems is Art Haus, a group of multi-brand concept store marrying art, design and fashion. "The key is to build a lifestyle we share with our customers," says Katherine Liu, who started the first outpost with her husband Elbert Wu three years ago. An art graduate with a keen eye for contemporary pieces, she adorns the walls of her stores with unusual artworks that have even caught the attention of the city's collectors.
Liu and Wu now run 17 shops across Taiwan under the separate banners Artifacts, Art Haus and A Sports. The business has seen double-digit growth in recent years and is eyeing neighbouring markets in Asia. Liu says there are still opportunities for bricks-and-mortar retailers in Taiwan, especially for shops with a curated offering: "Our customers love to experience our well-designed interior and feel the products in-store."
arthausstore.com
Ivy League tailor J Press has returned to Manhattan's Madison Avenue with a triumphant shop designed by New York-based architect Toshiko Mori. Japan-based Kaneka oled installed a lighting system new to retail environments that creates a natural glow effect more akin to sunlight. The company says its 1mm thin modules generate a warm and gentle light that eliminates hot spots and glare.
kanekaoled.jp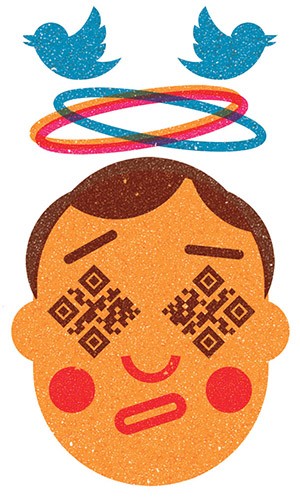 Essay
Leave tech at the door
by Matt Alagiah
For many, shiny tech seems to offer salvation. So it was at the National Retail Federation's Big Show in New York this January: whether augmented-reality mirrors or QR code scanners, gadgets and gizmos promised more enticing shopping spaces. Karl McKeever, founder and managing director of retail consultancy Visual Thinking, is not so taken with the tech. "Too often the starting point is not a requirement to solve a clearly defined shopper need but the selfish want of retailers to be seen as being on-trend and staying in step with competitors."
The main thing technology affords is convenience but e-commerce players already have that in spades. Offline players have to compete on different metrics: beautiful interiors (not blighted by AR mirrors), enjoyable live events and ever-changing product ranges and layouts.
By all means offer free home delivery once your customers have tried clothes on but don't let it define your space. As McKeever puts it, opt for "emotional intelligence rather than the headline-hogging artificial kind".
Q&A
Sébastien Béal
CEO and founder, Locarise
Tokyo
Frenchman Sébastien Béal started Locarise in Tokyo with two partners back in 2013. The company, which now has eight employees, helps retailers collect and analyse data about their customers' shopping habits. Béal now works with more than a dozen clients, including luxury-goods group LVMH.
What does your company do?
We give retailers with physical stores metrics that are similar to what e-commerce retailers use to analyse shopping habits. We started off by using wifi signals from smartphones. Every phone has a unique ID and when wifi is turned on these phones broadcast signals every 30 seconds. We don't have access to personal information and the countries where we operate have laws protecting privacy; we only track numbers to count visitors and see how people move around inside of a store. The data is then aggregated and the ID number is permanently erased. We use other technologies such as sensors as a complement to the wifi. When we're looking at several stores in an area we can combine the data and know whether a shopper visited more than one of those stores.
What has LVMH hired you to do?
When Ginza Six opened last year, LVMH wanted to know the impact of this big new retail complex on the Ginza shopping area. LVMH has more than 15 brands and around 30 stores in the area. The question was: would these stores be hurt by cannibalisation or would they benefit from new shoppers thanks to Ginza Six from a cluster effect? LVMH can use the information to decide whether they should have more stores in the Ginza area or also in the nearby Mitsukoshi department store and on the ground level along a side street.
Are your services becoming more popular?
We doubled revenues in the past three years. Our best customers have a presence in Japan but we also have clients in France.
locarise.com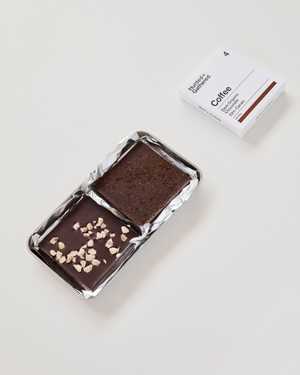 Specialist retailer
Hunted and Gathered
Melbourne
Melbourne-based chocolatier Hunted + Gathered wants Australians to appreciate high-quality cocoa beans in the same way as wine or coffee. To help achieve this, the company converted part of its factory into a café-cum-retail space. Scattered along the main counter are native flowers and freshly baked pastries. A display at the entrance holds a selection of chocolate bars, all of which are made with South American cocoa beans and contain no more than three ingredients. "A lot of store fit-outs are over-designed but we never thought that was necessary," says Harry Nissen, who started Hunted + Gathered with his brother Charlie (pictured) in 2014. "This is a space where we can showcase the chocolate and answer questions customers might have. It's all about allowing people to get a feel for what we do."
huntedandgathered.com.au
Homeware
Casa González & González
Madrid
As consumers go cold on the proliferation of plastic products, they've started warming up to spots like this traditional homeware shop in Madrid. Childhood friends María Rosa González and Javier Carrasco González moved into this former haberdashery a year ago, following 18 months scouring the globe for time-tested household items.
Joining the selection of Falcon enamelware, Noda Horo ceramics, Marius Fabre olive-oil soap and rare Portuguese merino-wool blankets are other hard-to-find treasures such as Japanese Yutanpo hot-water bottles and brass wall-mounted candle-holders from Sweden. "We always adhere to three qualities – seasonality, authenticity, functionality – and have a soft spot for natural materials," says Javier.
gonzalez-gonzalez.es