My last meal / Portugal
Maria de Lourdes Modesto
We break bread with Portugal's most famous food writer and broadcaster to talk through her defining role in elevating Portuguese food – and how she never even wanted to be on TV.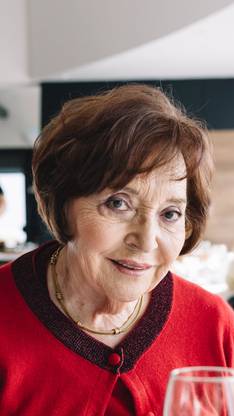 "I grew up in Alentejo and I'm almost certain that the first thing I ate was açorda with coriander. Açorda is a bread soup. My mother loved aromatic herbs and used them a lot. I was the youngest of three and as a child I remember we often ate peas with poached eggs and a lot of pork. We would kill a pig once a year and the meat had to last us 12 months. In spring we'd eat lamb but the rest of the year was pork. We ate it fried with garlic and olive oil and served with migas, a side dish of bread, garlic and coriander. It was a way of using up stale bread.
The Portuguese way of eating involves a lot of meals. We have breakfast, then a snack, then lunch, then an afternoon snack, then dinner. We claim the snacks are for medicinal purposes; we have to take them for our health.
After I finished school I went to Lisbon to study and work because I found provincial life suffocating. I studied home economics but wasn't really interested in food at the time; I preferred weaving and embroidery. I was teaching at the French school when I was invited to do a show on television. This was 1958 and television was very new. I had enormous doubts about it. My life was going really well and in those days the 'moral' point of view was that television was not a good choice of career for women.
When I decided to do it I wanted to demonstrate how to prepare an artichoke. The Portuguese didn't eat artichokes at that time but I was heavily influenced by French culture: the cinema, the food, everything was French then. So in my first programme I showed people how to eat an artichoke. I took a petal and put it in my mouth and said, 'Mmm, that's good.' It was revolutionary for television of the time.
My focus on Portuguese food was imposed by the viewers. I got a lot of letters saying, 'Why aren't you making our food – we have great cuisine.' So I made a dish of Alentejo soup, the way my mother had made it all her life. I assumed everyone made it the same way but [then] I received hundreds of letters telling me that I'd done it wrong. So I organised a competition to find the best version of each dish. I received thousands of entries and could see that there were many ways to make each one. As I discovered the depth and variety of our cuisine I began to like it more.
Eventually I collated some of the recipes in Cozinha Tradicional Portuguesa. It took me 20 years to produce because I had problems deciding which recipes to include. We had a big launch party at the Ritz in Lisbon. I invited all the people who'd contributed, as well as some important people. It was the first big social party after the revolution. It was seven years after 1974 but it was the first time that women had an excuse to put on their best clothes and finest jewellery.
Things need to evolve. We don't eat the way we ate in the 18th century so I think it's perfectly normal that dishes change. One of the best meals I ever ate was a plate of açorda de camarão from Restaurante O Barracão in Leça da Palmeira, in the north of Portugal. It was made with bottled water, not tap water, lots of eggs and was very smooth. It was very, very good. I could confidently offer this dish to the queen of England.
For my 'last meal' I'd invite two friends, journalist Duarte Calvão and the late food critic David Lopes Ramos. We always had interesting conversations. They didn't stand on ceremony with me and I didn't have to stand on ceremony with them."
Profile
Maria de Lourdes Modesto's 1950s and 1960s TV shows are credited with reviving national pride in Portuguese food. Her books have brought the country's traditional recipes to a modern audience – the best known, Cozinha Tradicional Portuguesa (The Traditional Portuguese Kitchen), hasn't been out of print since its publication in 1981. Today Portuguese chefs, including José Avillez, cite her as an influence and mentor. At 87 she's cresting the status of a national treasure.
Venue
Set on the beachfront at Guincho, Monte Mar has served sublime seafood for more than 40 years. The house speciality is filetes de pescada com arroz de berbigão (fried hake fillets with cockle rice) and it serves an excellent fish stew.
montemarrestaurante.com
To eat
Starter: Bread and olives
Main course: Filetes de pescada com arroz de berbigão
Dessert: Hazelnut mousse
To drink: Coffee