Politics / Indonesia
Not for turning
Indonesian president Joko Widodo tells us how he navigates hardline groups, political opponents and speed bumps.
It is hard to remember after entering the surroundings of Indonesia's Bogor presidential palace that the youthful looking, understated man tooling around the sprawling property in a golf buggy is head of the world's most populous Muslim-majority country and the third-largest democracy.
President Joko Widodo, or "Jokowi" as he is widely known, has the air of both a statesman and what some describe as a "boy from the kampong [village]". A well-documented fan of heavy metal music, he's also known for his frequent visits to communities around the country. Today on his buggy ride through the public gardens adjoining the palace he stops frequently to take selfies and chat with eager crowds who mob the open vehicle. "This is the only vehicle I'm allowed to drive," he says with a characteristic smile. "I try to [get out] most weekends."
It's this common touch that helped to propel Jokowi to office. Born in a slum in Solo, Central Java, he became a businessman running a provincial furniture factory before serving as the governor of Jakarta. Then in 2014 he ran for president, winning a bitterly contested national election – a historic victory for an outsider with no ties to the military or political establishment.
The fallout from that poll still reverberates in the combative political atmosphere of Indonesia today with daily headlines about the latest moves by opponents and long-running tensions between the president's office and the unruly parliament. Even with polls putting Jokowi's approval rating at 76 per cent, there was intense political jockeying before his party, the Indonesian Democratic Party of Struggle (PDI-P), formally endorsed him as its presidential candidate for the 2019 national election.
It is a measure of Indonesia's Byzantine politics that a popular leader would have no guarantee of being re-anointed by his party to contest a second term. On the contrary, even a year ago, there were rumours of military coups to unseat Jokowi after hundreds of thousands of people took to the streets to demonstrate against his former close ally, Jakarta governor Basuki "Ahok" Tjahaja Purnama. Slamming the governor's Chinese-Christian background, Islamist groups stirred up anger, accusing him of blasphemy for "insulting" the Koran – a charge for which Ahok was subsequently tried, convicted and is currently serving a jail sentence.
The upheaval brought Jokowi into confrontation with the country's increasingly hardline Islamist groups. He came out swinging. In July 2017, the government used special regulations to disband the Muslim group Hizbut Tahrir Indonesia (HTI), citing its support for a caliphate. Though about 87 per cent of Indonesia's population of 261 million is Muslim, the country is officially a secular state – a fact that Jokowi often emphasises. Following the ban of HTI, he tightened up regulations on mass movements to make it easier to outlaw groups that contravened the country's constitutionally enshrined principles.
Asked today about the challenge of balancing the country's more extremist elements, and whether Indonesia is still as consciously secular as it was, he chooses his words carefully. "Pluralism is in Indonesia's dna. Islam in Indonesia has always been peaceful and tolerant. Nothing will change this. No group will be allowed to threaten Indonesia's peace and harmony," he says. "We constantly work with religious leaders and community groups to fight extremism."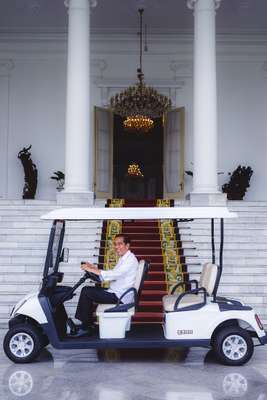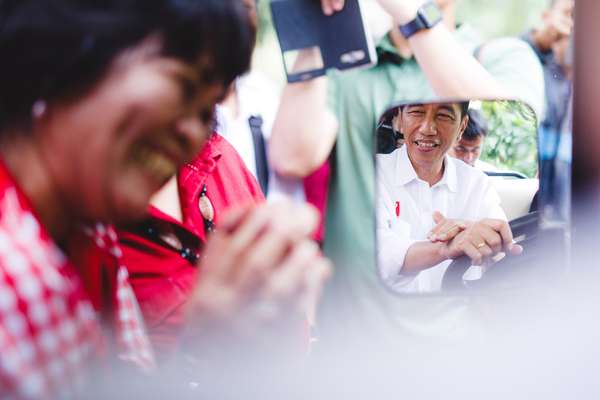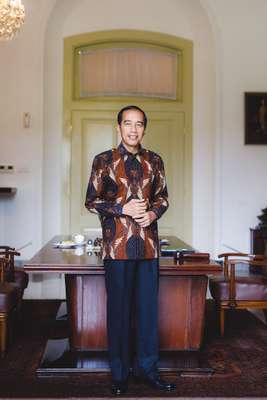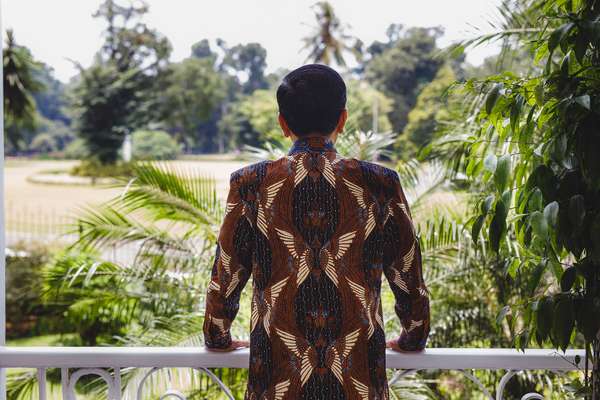 It is a statement that suggests there will be more struggles ahead, not least over the latest broadside from ultra-conservative Islamist lawmakers and lobbyists who have supported proposals before parliament to criminalise gay and premarital sex. The proposed laws have triggered international condemnation from rights groups and once again highlighted the growing influence of conservative Islamists in the country – and Jokowi's fragile position between competing interest groups.
Again, the president plays the diplomat. "Indonesia has cultural norms that must be respected," he says of the controversial proposals. "However, our constitution does not allow anyone to be the subject of violence or discrimination because of who or what they are – and that is the point."
Does Jokowi worry that such a stance could escalate tensions with Islamist groups? "I think I can handle this," he replies in a firm tone.
Whether or not he can, that calm confidence will be essential during what's shaping up to be an intense final year of his first term. Local elections, which take place in late June, with simultaneous polls for governors and mayors in 171 regions, are sure to be heated. Then there's the general election in April 2019. Jokowi won't comment on his prospects of winning next year, saying only, "Right now, my priority is delivering on the mandate I received from the people when I first got elected. Of course I hope my fellow citizens will allow me to see [this term] through to the end. And I will keep working even as the campaign kicks off."
Despite the political and religious tensions in the country, the president has a strong track record. "Compared to the global economy, our economy is doing well. In 2017, Indonesia grew by 5.1 per cent. Indonesia can realistically grow by at least 5.3 per cent to 5.4 per cent in 2018, although I have much higher aspirations," he says. "But what is more important than economic growth is the quality of growth. People need to feel their lives are getting better."
And do they? "Yes," he says emphatically. "In the past few years, we have cut the poverty rate to the lowest level in the last 16 years, to 10.1 per cent in September 2017. For me, having a low poverty and unemployment rate is more meaningful than having higher economic growth."
That said, Jokowi has made his $350bn to $400bn (€284bn to €324bn) infrastructure push a defining initiative of his presidency so far. He brushes aside concerns that funding the vast programme, despite heavy investment from Japan, China and other countries as well as private investors, has put pressure on Indonesia's budget.
"We are focusing on infrastructure: toll roads, seaports, airports and then power plants," he says. "But in terms of funding, we don't have a problem with this. We used to always rely on the national budget to build infrastructure. When we came into office in 2014, I told my ministers, 'You must find partners, you must give opportunities in infrastructure to the private sector.' So we have opened up more sectors to foreign investment."
In early February he told a gathering of his diplomats that he wanted Indonesia to become a net aid donor rather than a net aid recipient, and instructed them to seek out partnerships and step up "economic diplomacy". While the president might be somewhat reticent in discussing tensions at home, he is loquacious on the topic of opportunities from abroad.
"According to the World Bank's Ease of Doing Business Index, Indonesia has jumped from 120th in 2014 to 72nd in 2018," he says, evidently pleased with the ranking. "This is a boost in the trust and confidence of the investor community, making it easier for us to realise actual investments from foreign investors." He now wants to focus on spurring the creative economy, including the film, fashion, arts, food and design industries. "We realise the sector has a big impact on job creation and services and we believe it will just get bigger."
In his promotion of Indonesia's profile, perhaps Jokowi's greatest coup has been landing two major international events this year – the Asian Games in August and the imf-World Bank annual meeting in October, to be held for the first time in Indonesia. The events will draw tens of thousands of visitors not only putting Indonesia into the international spotlight but boosting the country's already strong tourism industry – an area where Jokowi sees room for growth.
"You know, we have some 17,500 islands," he says. "Over the next three years we will be focusing on developing what we call the '10 New Balis', meaning beautiful but lesser known destinations. Last year, the focus was on boosting the infrastructure of these locations. We hope these new Balis will attract investors to Belitung, Labuan Bajo and Borobudur."
Jokowi has also been intent on safeguarding against regional tensions. He has made deals with Russia, South Korea, Turkey and China for procurement on submarines, fighter jets, tanks and drones. The move is in line with his pledge to triple defence spending to 1.5 per cent of gdp over his term. "We must be prudent but effective with our defence spending, particularly in modernising our primary weaponry defence systems," explains Jokowi. "Turkey's advancement in this has been impressive, which makes it a naturally good choice [as a source of supply and technology transfer]. We do several projects together in developing tanks and fighter aircraft."
His affinity with Turkey highlights the evolution of Indonesia's foreign policy, as Jokowi moves from a hands-off approach and attempts to carve a more active role on the broader international stage and in the Islamic world in particular. A recent tour saw the president visit Afghanistan, Sri Lanka, India, Pakistan and Bangladesh, where he visited a Rohingya refugee camp. "As the country with the world's largest Muslim population, it is natural that we would seek to engage other Muslim countries," he says.
Some argue that Jokowi should get to grips with tensions at home before touching on conflicts elsewhere. But the president maintains that his challenges are unique. "In Afghanistan, they have seven ethnic groups," he says. "In Indonesia, we have 704." Whether or not Indonesians give Jokowi another term, it's clear that the "boy from the kampong" views urgent issues, internecine rivalries and political jousting with a calm resolve. Political and economic dissonance seems to give him the same "energy and inspiration" he gets from heavy metal. But will his energy inspire the country? Jokowi smiles. "I must leave it up to the people once again."