Dining / Tokyo
Second helping
Shortly after scooping the top spot in our 2016 Restaurant Awards, Beard closed. Now its founder has returned from his culinary journey with a new partner and a brand-new restaurant.
Our story starts in August 2016 when Beard, a small bistro in Tokyo, unexpectedly closed. Chef-patron Shin Harakawa was inspired by his time at California's Chez Panisse and became an evangelist for fresh produce and the simple meals rustled up in its small kitchen. News of Beard's shuttering caused a stir; fans and friends of humble Harakawa travelled from afar to have one final feast there before it closed. But the idea behind Beard or, more precisely, a new idea that stemmed from it, was growing."I closed to start preparing this place with [co-founder] Jérôme [Waag]," says Harakawa. The place in question is The Blind Donkey, a brand-new spot in Tokyo's Kanda district. "We wanted to explore Japan to see the farms," he says. The two travelled extensively to meet the agriculturalists, fishermen and hunters that provide the produce they pride themselves on – and to learn more about it.
The old-fashioned neighbourhood of Kanda isn't the most obvious place to open a de rigueur farm-to-table restaurant. The area is more a haunt for old-school spots touting soba noodles, tempura and sushi. "I fell in love when I first came to Tokyo. East Tokyo was authentically Japanese and a little less modern," says Waag. Harakawa, however, wasn't immediately sold – it was only after exploring Kanda that he fell for it. "There was some sort of shift in me," says Harakawa."I thought about the culture and where we were heading." Waag agrees: "People who wouldn't go to Aoyama to eat might come here and we are trying to reach a broader audience."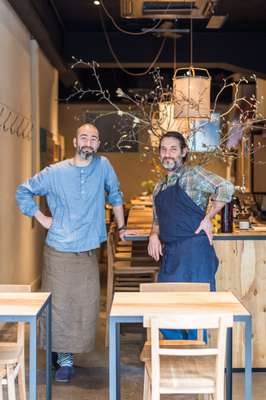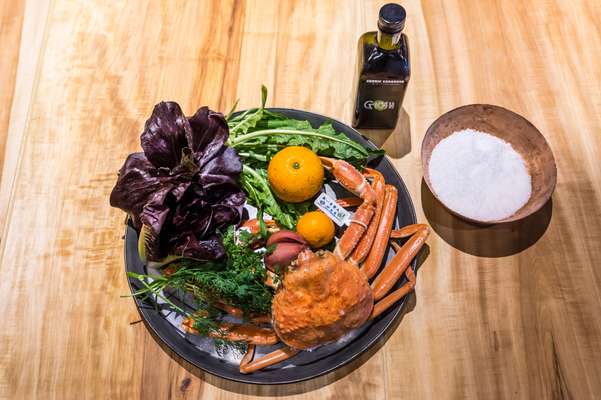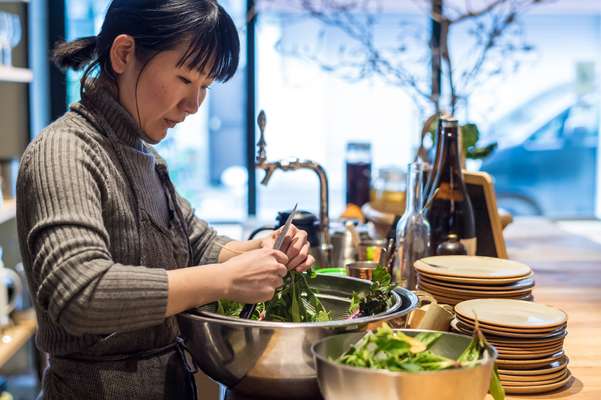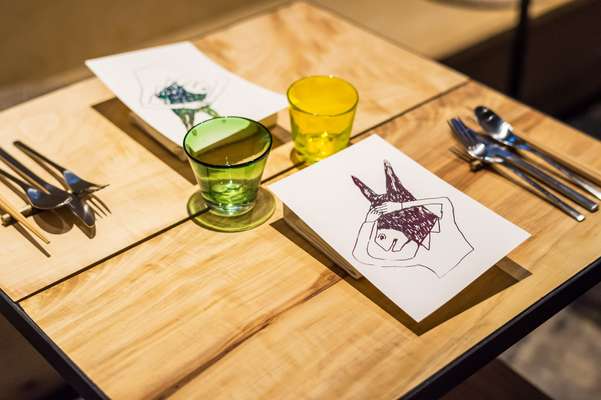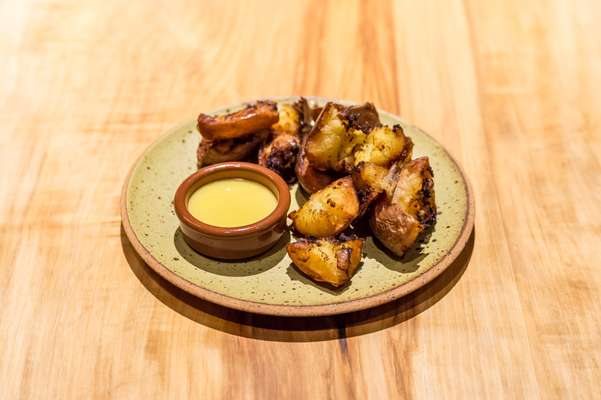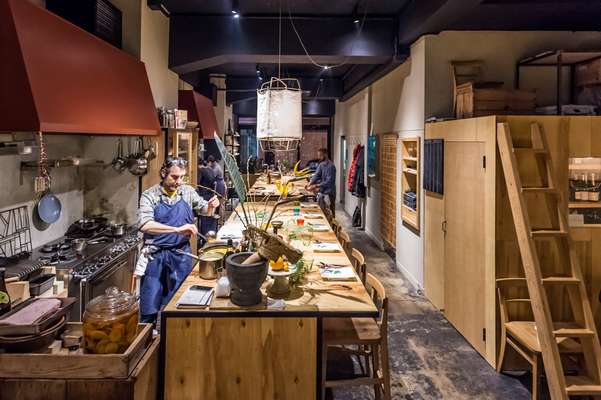 The Blind Donkey opened in December on the ground floor of an anonymous five-storey 1960s building and its 30 seats have been booked out ever since. What used to be a dusty old warehouse was renovated and turned into an intimate space by interior design firm Studio Doughnuts. Two wooden kitchen counters take centre stage, while bamboo-framed linen lanterns dangle from the high ceiling.
The Blind Donkey's culinary style remains the same as its forbear but the set-up is new and expanded. Waag is the head chef and leads two kitchen staff, while Harakawa is busy on the floor. "At Beard it was the two of us," says Harakawa. "It was fun but sometimes I didn't have time to talk." When monocle pays a midweek visit the restaurant is bustling; an Aomori apple farmer, a Hyogo chocolatier and a group from Kagoshima have included it in their Tokyo itinerary.
"We made it casual to make it more accessible," says Harakawa. There is a 12-seat bar so that people can walk in without booking and enjoy natural wine and saké. The dinner service, however, is limited to a five-course meal that, when we visit, includes pumpkin soup with parsnip cream and sesame, and pork loin with shell beans, grilled leek and walnuts. The menu changes every two to three weeks and most ingredients – from Hokkaido shallots to saddleback pork from Kagoshima – come from the producers the pair met on their travels. "We travelled to see the relationship between producers and nature," says Harakawa. "We want to showcase it here through the food we serve."
theblinddonkey.jp
---
Recipe: Fried potatoes with citrus mayonnaise
Ingredients
4 medium-sized potatoes
1 egg yolk
1 lemon or lime
100ml rapeseed oil
Sea salt, for seasoning
Method
1.
Roast the potatoes for 30 to 40 minutes at 160ºc.

2.
To make mayonnaise, add a few pinches of sea salt to an egg yolk and whisk. Add a dash of hot water (40ºc or so). Squeeze in the juice of the lemon or lime. Pour 50ml of the rapeseed oil slowly and keep whisking gently until the mixture emulsifies. Season. Finally, sprinkle on some grated lemon or lime zest. Set aside.

3.
Softly squash the roast potatoes against a chopping board to break them into a few pieces.

4.
Heat 50ml of oil to 160ºc. Once hot, pan-fry the potatoes until golden (about 3 minutes). Remove from pan and sprinkle with salt. Serve with the citrus mayo.
Bowled over
Harakawa and Waag commissioned potters Tsunehiko and Keiko Gunji, from the town of Mashiko, to create beautiful plates and bowls for the dinner service. For the casual bar food they use One Kiln Ceramics plates from Kagoshima.