Fashion / Bavaria
Under the radar
Far from the hurly burly of Milan or Paris, Odeeh has found the freedom to focus on what matters: quality and bold silhouettes.
Some designers thrive in fashion capitals, while others carve themselves a corner of quiet away from the industry's bustle. But there's staying away from the limelight and then there's setting up a company in Giebelstadt. Surrounded by the flat fields of northern Bavaria, in the rarely explored industrial heartland between Frankfurt, Stuttgart and Nuremberg, this town of just 5,000 souls is the kind of place where the retail offering stops at a pharmacy and a bakery. Yet it is here that the womenswear label Odeeh has its studio, rather appropriately, inside the most suburban of locations: a former supermarket.
"Being here is good for us because it fits our approach," says co-founder Jörg Ehrlich, his eyes flitting to the peroxide-blonde model Julia, who is wafting across the studio in a translucent skirt with gold and purple fringing and a billowy blouse. The clothes she is sporting will debut on the racks of a Paris showroom in two weeks' time. "We wouldn't be true to ourselves if we were elsewhere," says Ehrlich, taking a seat at a table from which he can survey the entirety of the atelier.
Working from this hidden corner of Germany suggests a restraint at odds with the fluorescent-yellow jumpers and acid-green tartan coats on the racks. But Odeeh's choice to settle here – a village that Ehrlich and co-founder (and partner) Otto Drögsler have called home for the past 20 years – reflects something deeper about the brand's ethos. It speaks of a shying away from fashion's big runways.
For designers who dream up ruffled dresses and 1970s-inspired patterned shirts, Ehrlich and Drögsler are comparatively understated in their respective denim shirt and all-black ensembles. They have a poise that probably stems from their veteran status, rising through the ranks designing for brands including Toni Gard (Ehrlich), Escada (both) and Chloé (Drögsler) before becoming joint creative directors of classic German brand René Lezard. Twelve years into the job at Lezard and frustrated with the restrictive nature of a big brand, they fantasised about starting their own label. They ended up launching Odeeh with friend and co-founder Kevin Stange (who now looks after distribution) in 2009. "We wanted each collection to be our best ever but ultimately we'd just have to jump from one to the other. It was very much about routine," says Ehrlich. "There comes a point when you can't learn anymore; you're not challenging yourself."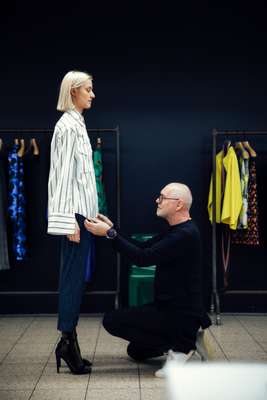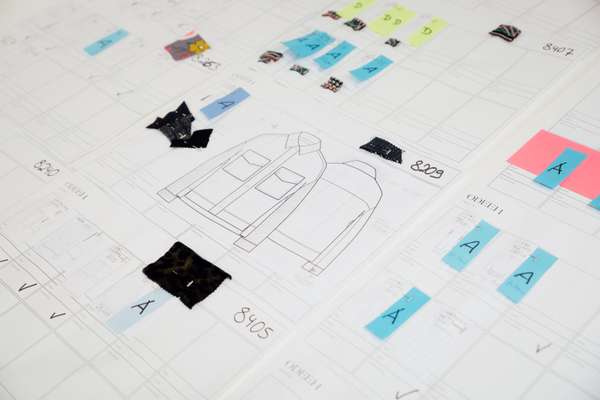 Founding their own label without any external financing or investors was a challenge. Their industry connections, from weavers to stockists, held them in good stead. "When you start so late in your career, you can do things in a calculated way," says Ehrlich.
Running their own brand meant a shift in their process. They were able to drop from 12 collections a year to four, but while the volume of products has been significantly lessened, creative demands have become more complex. "When you work at companies of a certain size, you have a big team behind you so everything can be delegated," says Ehrlich. "When we started Odeeh, we had to do everything. So we started thinking about what we could handle ourselves."
Patterns
From hearts to ornate florals, colourful patterns are an integral part of Odeeh's designs – and therefore something the designers would never dream of buying ready-made. All of the patterns are developed in collaboration with Italian textile companies, whose archives they mine for inspiration. "We go to Prèmiere Vision [the world-leading textile fair] in Paris – but just to see what others are doing and what we shouldn't do," says Ehrlich. "We're not the kind of guys who collect fabric: we work directly with the makers."
---
Initially they needed to be pragmatic, so for their debut collection they used collection they used only jersey. But they soon found freedom in their new roles. "We don't have to stick to building a collection within a strict set of colour codes, or themes. Our collection is not built as a set of 'looks'," says Ehrlich.
They now have the luxury of spending a considerable amount of time on the design process – around 25 fittings are carried out for each collection – and Ehrlich and Drögsler's high-fashion flair gives the label its seductive appeal. Collections are eclectic; each garment has a bold self-confidence. "I wouldn't say we are niche – we are competing with Dries van Noten and Marni – we're just not so well known," says Ehrlich. "That's because we don't really care too much about marketing. We don't do a big show in Paris. We're somewhat of a known secret."
After a couple of seasons on Paris' official runway calendar, the duo switched to Berlin. This saves money they'd rather use elsewhere. As fabric connoisseurs, they work with Italian jersey specialist Dondi and one of Como's best silk weavers Gentili Mosconi (who also collaborates with Céline, Dior and Gucci) on bespoke textiles and patterns, and their clothes are made in Bavaria, Croatia and Italy. "We are able to afford great quality. We're not designing for the pictures: it's about the feel of the fabric," says Drögsler, stroking the fine rust-coloured cashmere of a coat. "People have everything and nobody needs anything. So to evoke the feeling of 'I'd love to have that', you need that quality."
Inspiring this feeling of desire in customers is what Odeeh does best. There are constants in their collections – sumptuous textures, playful patterns – and each season brings about not a radical redesign of silhouettes but a selection of garments to complement an already well-stocked wardrobe. "Minimalism is over-valued," says Ehrlich. "I don't like the principle: the moral is that you only need the essential. We like the idea of doing something eccentric."
This élan has secured them 150 retailers across 13 markets (including Berlin's Andreas Murkudis, Stuttgart's Bungalow and Amsterdam's Pauw) and customers whose support has been unflinching for the past decade. "Our customers are a community of women, many of whom are our friends," says Ehrlich. "They are in their forties and fifties, they are self-driven and they don't dress to please others."
While the duo hopes to increase their reach they are mindful of the delicate balance – that sweet spot in which they are known among certain people yet not mainstream – that has been instrumental to their success. "We're trying to achieve a growth we can sustain," says Ehrlich. "We don't want to work at the industrial level that we've left behind. Otherwise we'd have to change our way of working and we'd lose the energy that helps us make things the way we do."
Apropos
Köln, Hamburg, Munich, Düsseldorf
High-fashion pieces by Gucci, Céline and Saint Laurent are stocked in this retailer's five shops.
apropos-store.com
Runway
Ho Chi Minh City, Hanoi
This chain has played a key role in bringing French, British and Japanese designers to Vietnam.
runway.vn
Imarika
Milan
Away from the main fashion district, Imarika features big labels such as Issey Miyake and smaller brands.
imarika.com