Art / Dhaka
Upping the tempo
With its scene buoyed by the Dhaka Art Summit, artists and architects are banging the drum for Bangladeshi art.
Infrastructure, landscape, and modernist architecture: a series of found photographs have been scratched and sun-bleached. These once pristine images now evoke the effects of time, climate and human history upon the clean lines of modernity. The series – entitled Threshold – comes courtesy of accomplished Bangladeshi contemporary artist Ayesha Sultana, whose growing international career is a symbol of the opportunities that are increasingly available to the nation's emerging artists.
Bangladesh may not be known for its contemporary-art scene but that is changing. For a nation with a short and turbulent history it has a rich heritage in art and architecture – it's just not well known outside the region. In the capital, Dhaka, there are respected art schools, museums and small-scale artist-run initiatives, as well as monumental modernist architecture. The Asian Art Bienniale has taken place in Dhaka since 1981; the heart of Bangladesh's art scene, however, is the Dhaka Art Summit.
Hosted every two years at Dhaka's Shilpakala Academy, the national arts school, the summit sees collectors, curators, critics and gallerists gather in the city. These visitors come to learn about the region; locals can forge connections with the international art world.
Collectors Nadia and Rajeeb Samdani work to support Bangladesh's artists and architects and are the couple behind the initiative. Rajeeb is the managing director of Golden Harvest Group, one of the largest conglomerates in the country, with operations spanning agriculture, logistics and IT. Diana Campbell Betancourt is the artistic director and chief curator, supplementing the Samdanis' boundless energy with intellectual rigour and heavyweight art-world credentials. "People think of south Asia as India and Pakistan," says Nadia. "But we have our own identity in Bangladesh – and our own art."
This sense of identity informs the very format of the Dhaka Art Summit. Delhi hosts the annual India Art Fair and Lahore is soon to have a biennale too. But the Samdanis have specifically rejected both formats in order to create "a generative space for art and exchange" – an approach that has directly benefitted artists such as Sultana.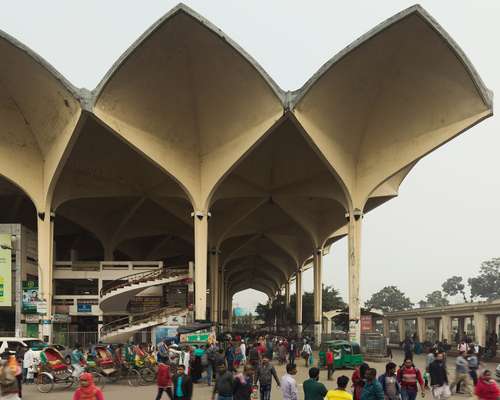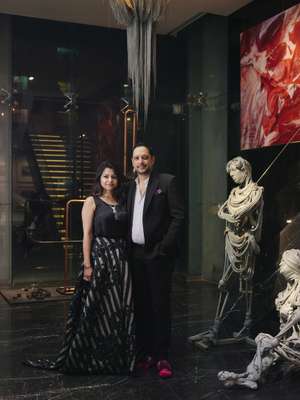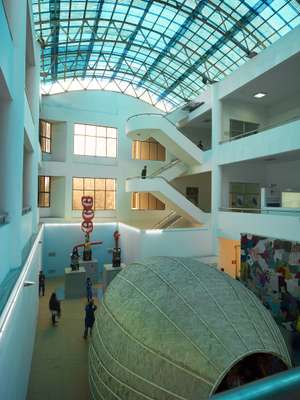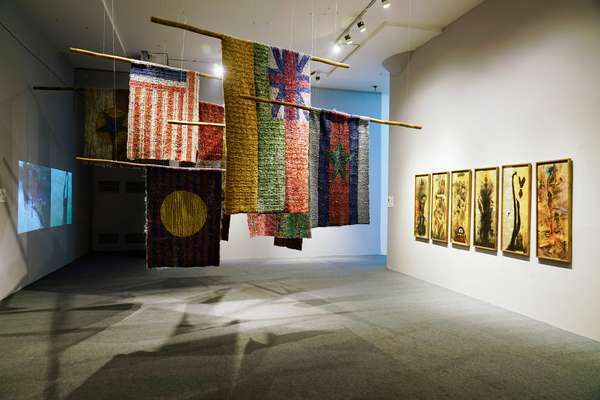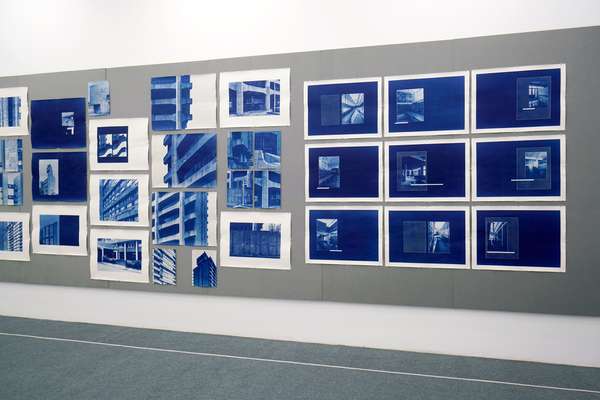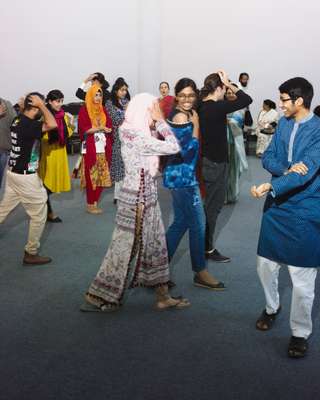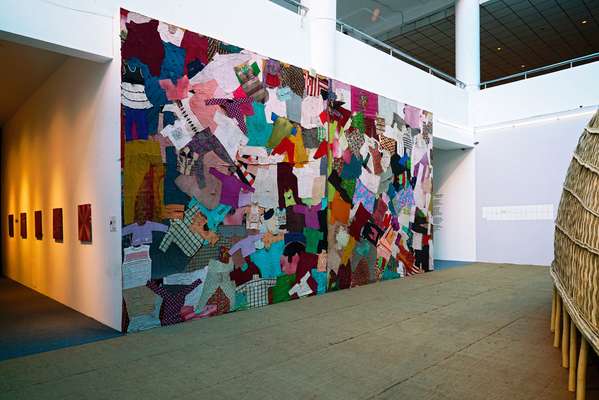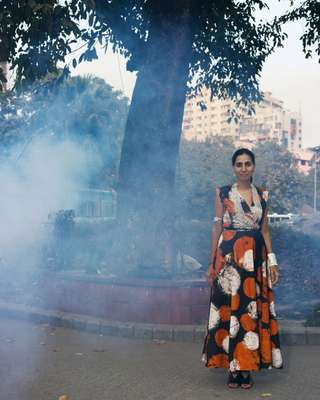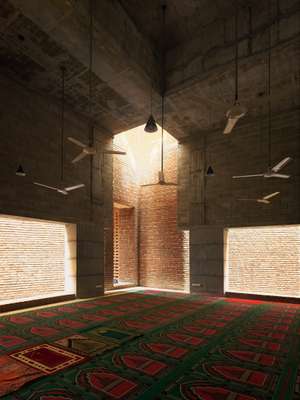 As well as the Threshold series on show at the Dhaka Art Summit, Sultana's previous projects include inserting gold leaf into the cracks between the bricks of Dhaka's old Shyam Bazaar. In 2014 she was awarded the Samdani Art award – also established by the Samdani Art Foundation – which effectively launched her career on the international stage. She has since exhibited in Rome, Kolkata in India and at the fiac art fair in Paris. The award's other previous winners include photographer Rasel Chowdhury and photojournalist Khaled Hasan. The art world expects great things from 2018 winner Mizanur Rahman Chowdhury – presented with the award by Tate director Maria Balshaw – whose work spans sculpture, installations and video art.
Across the rest of the summit, works by more than 300 artists are shown across 10 free-to-enter exhibitions. It's not obvious that the art is for sale; it's not a fair. But several collectors have made purchases over the opening weekend. There is also a busy schedule of workshops, lectures, events and discussions, as well as a section devoted to existing art initiatives from across Bangladesh. They include Artpro, an artist collective that runs workshops with marginalised groups; Back Art, which launched a new performance-art festival; and Gidree Bawlee Foundation of Arts, a rural artist residency retreat. Meanwhile, new initiatives such as the Education Pavilion, a boat-like bamboo structure designed by student Maksudul Karim, look to emphasise the power of architecture in building community and identity. The packed programme has seen more than 300,000 make the journey to the Bangladesh capital, from rickshaw drivers to Moma director Glenn Lowry.
Bangladesh's own identity as a modern nation dates to the Liberation War of 1971. Following the Partition of India by the British in 1947, the region was known as East Bengal then East Pakistan. Across these seismic shifts in political and national identity, the region's most prominent – and lasting – cultural statements have been architectural. While Louis Kahn's monumental parliament building takes many of the plaudits, it was Muzharul Islam who laid the foundations for Bengali modernism.
After studying at the University of Oregon, London's AA School and Yale, Islam pioneered a regional approach to modernism that sought to break from colonial aesthetics without resorting to vernacular pastiche. His key works in Dhaka include the Central Public Library and the faculty of fine arts at the University of Dhaka. Islam also designed the masterplan of Dhaka City, following the decision in 1959 to make Dhaka the second capital of Pakistan.
"This is what the local work is," says Delhi-based photographer Randhir Singh about Islam's legacy. "This is what we should be talking about." On show at the Dhaka Art Summit is a series of cyanotypes produced by Singh in collaboration with artist Seher Shah. Closely cropped exterior images of modernist buildings in London, New Delhi and Tokyo combine to emphasise both modernism's international tendencies and its regional differences. The result is a gallery of vivid blue that draws gasps from visitors as they turn the corner into the room.
Many of Bangladesh's finest artists learned their trade at the University of Dhaka's faculty of fine arts. The building's lightness and elegance is reminiscent of Alvar Aalto and Islam made use of terracotta and red brick for the building's accents. In the centre, a drained natural lake forms a bowl of welcome greenery in a city now heavily polluted.
Perhaps Islam's greatest deed, however, was in the building he declined: the National Assembly of Bangladesh. He turned down the commission and instead invited his former teacher Kahn to design it. Kahn's building is anything but humble. It was conceived as a new civic centre, an urban monument to inspire citizens to come together in a shared belief in liberal democracy. The result is a looming structure that looks almost like an ancient fortification. Access is limited and photographs of the interior strictly forbidden (democracy requires citizens to be engaged – but not too closely). Construction began in 1961 but was put on hold during the Liberation War. It was 1982 by the time the building was completed – a symbol of the power of western values at a time of Cold War geopolitics.
But times have changed. One text at the Dhaka Art Summit notes "a generalised loss of confidence in the ideals and certainties of western liberal democracy". Bangladesh has changed too and the parliament building is not the only modernist masterpiece confronting new challenges. Bangladesh had the second-fastest growing major economy of 2016, with a rate of 7 per cent. Dhaka accounts for 35 per cent of the national economy. Trains stretch for more than a kilometre outside Kamalapur Railway Station, while queues snake outside Dhaka's Shahjalal International Airport despite its recent upgrade. Elsewhere traffic is a major problem, exacerbated by a lack of investment in roads and public transport. Indeed, Dhaka only has a bus map thanks to a recent initiative from the MIT.
With this is mind, artists and architects are rethinking modernism for a new era. On the outskirts of Dhaka is Bait Ur Rouf Mosque, designed by Dhaka-based Marina Tabassum Architects and completed in 2010. Its strong exterior and the deft ways it plays with light show a debt to Kahn. Kashef Chowdhury, the architect responsible for some of the country's most intelligent contemporary architecture, also describes Kahn as his "biggest influence". Chowdhury's key projects include the Friendship Centre, an open-air rural community centre in the north of Bangladesh, and the gleaming Gulshan society mosque, which stands out in a city where many buildings have remained unfinished for years.
Chowdhury is currently working on a major commission for the Samdani Art Foundation. He is building a new arts space in the agricultural district of Sylhet, northeast of Dhaka, to house the Samdanis' art collection, which includes works by Bangladeshi artists alongside those by international names such as Mona Hatoum, Anish Kapoor and Ai Weiwei.
The aim is to educate the population about Bangladeshi and international contemporary art while encouraging visitors from around the world through residency programmes and events. Campbell Betancourt notes that the Bangladesh passport is one of the least powerful in the world so the Samdani collection will be used as a teaching aid for local artists for whom global travel is difficult. "We realise how important it is for us to build something, give artists a platform and invite the world to come and see it," says Nadia.
Projects such as this one underscore the power of art and architecture in Bangladesh today. Campbell Betancourt argues that culture can help to build better worlds that are not limited by the borders of the nation state and that, with a loss of faith in liberal democracy, this is an urgent imperative – both in Bangladesh and across the world. "We are in a crisis," she says. "We need to create new worlds – now." Artists may be adept at imagining such new worlds and architects trained to build them but, as Bangladesh's history has shown, they cannot do it alone.