Ceramics / Portugal
All fired up
A storied Portuguese ceramics brand has been rescued from oblivion – with some vivid results.
A bright-red lobster straddles a dinner plate, green tree frogs clamber across a cocoa-coloured vase, cabbage-leaf plates and aubergine-shaped bowls sit beside a life-sized hissing cat. They may not be to everyone's taste but the designs created by Portuguese ceramics brand Bordallo Pinheiro are quirky and colourful, eschewing understatement in favour of an over-the-top, knowingly tongue-in-cheek aesthetic. And for all their oddness, these products are experiencing something of a moment.
The brand's first international stand-alone shops will open in Madrid and Paris this spring. Further outposts are planned for Milan, Valencia and Bilbao, reflecting the company's focus on its key European markets of France, Italy and Spain. Meanwhile, to meet growing demand, management is investing €7m in upgrading factory capacity and hiring an additional 35 staff, taking the total number of employees to 254. Year-on-year growth stands at an impressive 10 per cent.
All this success is noteworthy because, until very recently, it seemed hopelessly unlikely. Ten years ago Bordallo Pinheiro was teetering on the edge of bankruptcy. Founded in 1884, the company's ceramics are rooted in Portuguese culture, from food-based references such as sardines and seafood to figurines caricaturing cultural and political personalities. Such pieces graced Portuguese homes for more than 100 years but in the late 1980s the brand fell into a long and steady decline. Tastes changed, customer numbers sank and the company retreated from creativity and began competing on price. By 2008 staff salaries weren't being paid and the company was about to close.
Two influential fans – artist Joana Vasconcelos and Catarina Portas, founder of Lisbon design-store group A Vida Portuguesa – led a public outcry. In March 2009, with government support, the Portuguese conglomerate Visabeira stepped in and reportedly acquired 76 per cent of the company for €300,000 and then injected a further €1.5m to keep it operational. "Things were very bad when we took over but we felt a company like this should be a success, that it had real potential if things were done differently," says Nuno Barra, Bordallo Pinheiro board member and marketing director. "The previous owners didn't realise the value of the brand. They were producing pieces for other companies and selling items below cost in some cases."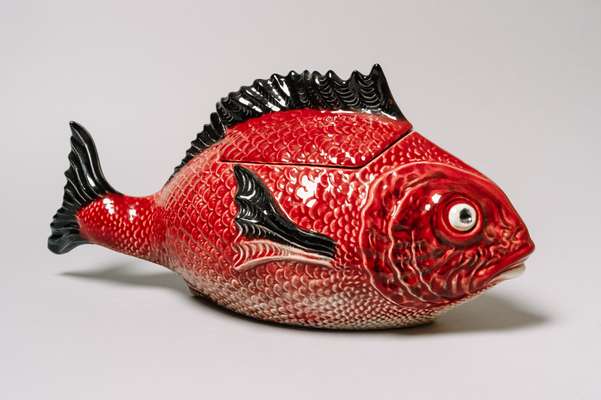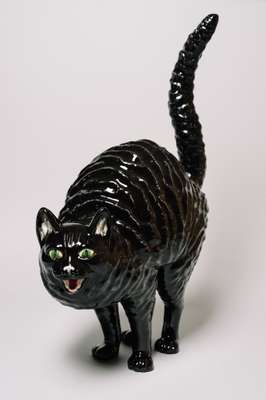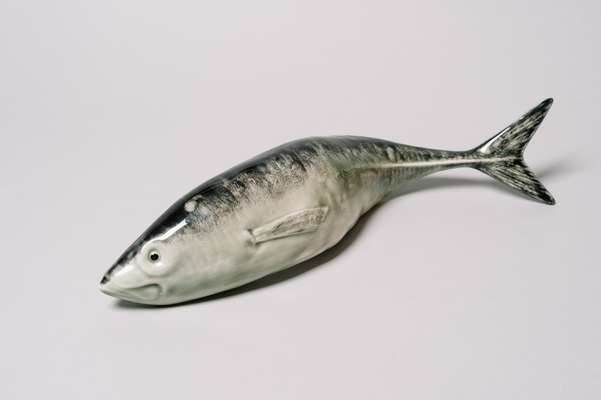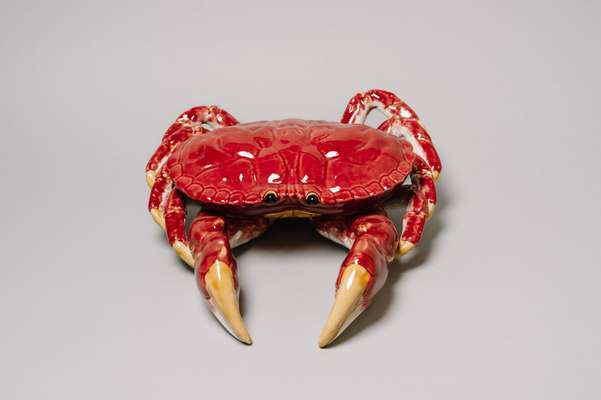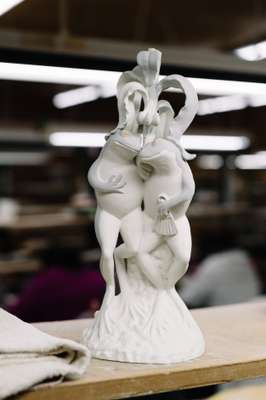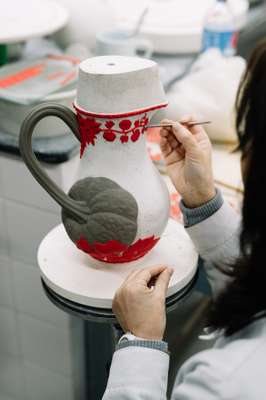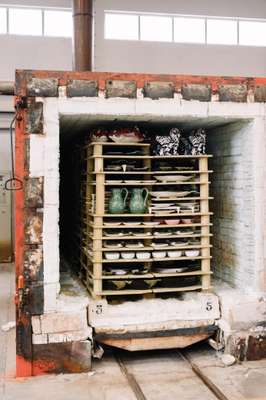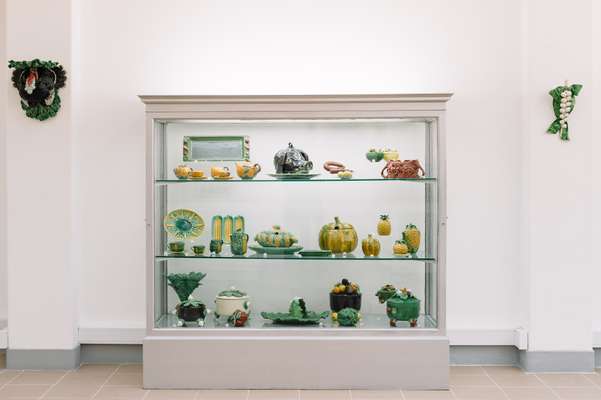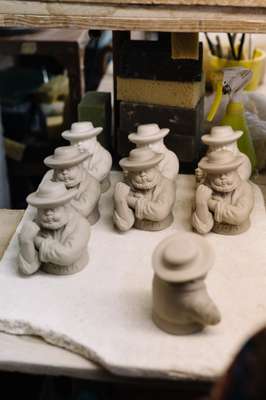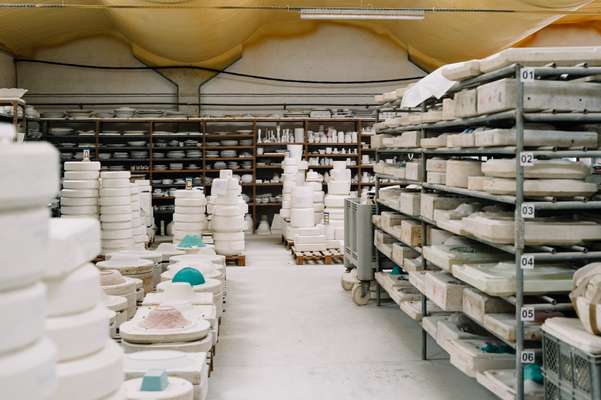 The new team cut back the number of products from 4,000 to just 700, turned down orders for white-label commissions and focused on rebuilding the brand. Portas placed a large order for the quintessentially Portuguese swallow design and began selling it in her shops. "That was very important. People started to have a different view of the products and recognise their strong relationship to Portuguese culture," says Barra. Fast-forward seven years and Bordallo Pinheiro is stocked around the world, from South Korea to the US, and is being name-checked by fans as diverse as Philippe Starck and Claudia Schiffer. In 2017 the business turned over €6m and was profitable for the second year in a row.
Aside from better management, what has caused this revival in fortunes? British interior designer Christopher Jenner attributes the company's new-found popularity in part to a growing preference for brands that are "rich in heritage, craft and design" and in part to the trend towards greater exuberance in interiors. "Consumers today feel empowered to express their own style more freely and Bordallo Pinheiro's pieces are emotive, whimsical and fun," he says.
Katie Earl, co-founder of London-based design practice No 12, believes that the company is tapping into a sense of nostalgia. "Bordallo Pinheiro reminds me of childhood holidays spent in the country," she says. "My favourites from the range are the cabbage plates. They're nostalgic pieces that we believe will stand the test of time."
The exuberance of the company's products and their focus on natural references are down to the founder, Raphael Bordallo Pinheiro. A journalist, caricaturist and sculptor, he loved nature and had a passion for theatre. Before launching the eponymous brand with his brother when he was 38, the polymath's career spanned everything from interior and set design to publishing satirical newspapers.
He was provocative, with an artist's disregard for convention, and the company's pieces retain an element of his unruly nature. "The Bordallo Pinheiro product is subversive," says Barra. "It's a little bit ironic, a bit provocative. Especially today when a lot of brands are very conservative and don't take risks, Bordallo Pinheiro is willing to push the boundaries a bit."
Considering prices start at less than €10 it's remarkable that all products are handcrafted. The Bordallo Pinheiro factory sits on a pine-lined side street on the outskirts of Caldas da Rainha, a city that is some 75km north of Lisbon, and has the feel of an atelier in that it is light, calm and quiet. There is little in the way of mechanisation as virtually all pieces are handmade, hand-glazed and hand-finished.
Sculptors make each mould by hand. Complex pieces, some requiring as many as 25 moulds, are painstakingly created by staff, some of whom define the word "loyal" having worked at the factory for more than 30 years. The painting room looks like an artist's studio, with up to 20 employees using tiny brushes to apply glazes to the designs.
Building on its creative heritage, in 2011 the company invited seven Portuguese artists to create pieces for the launch of a new range. Collaborations with Brazilian artists followed and last year it was artist Paula Rego's turn: her fig design sold out within two months.
"Investing at an artistic level really changed the positioning of the brand," says Barra. "These contemporary-art pieces helped bring us to the attention of a new audience but they also fit with our history, which is all about this crazy genius who criticised politicians and had strong ties to art and artists."
The making of a Bordallo Pinheiro design:
1.
Moulding: A "mother" mould is made in silicon, either from an original Raphael Bordallo Pinheiro design or a new creation by in-house designers or artist collaborators. Some require up to 25 separate moulds.

2.
Taking shape: A plaster of Paris mould is handmade from the mother. For the art collection and historic pieces, moulds are used no more than 60 times before the level of detail is deemed to be deteriorating.

3.
Filling: Moulds are filled by hand with clay – either liquid or solid, depending on the shape of the product – and allowed to dry, a process that can take from 40 minutes to four hours.

4.
Constructing: The pieces are then constructed by hand, joining elements from all the necessary moulds, a painstaking and detailed procedure. The design is hand-finished, with sponges and other tools, to ensure that there are no imperfections.
5.
Glazing: After a first firing designs are hand-glazed or, for more detailed works, hand-painted in the atelier.
6.
Final check: Quality control ensures only perfect pieces are dispatched. Those with minor glazing faults are returned for a touch up, others are discarded.